It's Time for Sam Bradford to Put Up or Shut Up on Thursday Night Football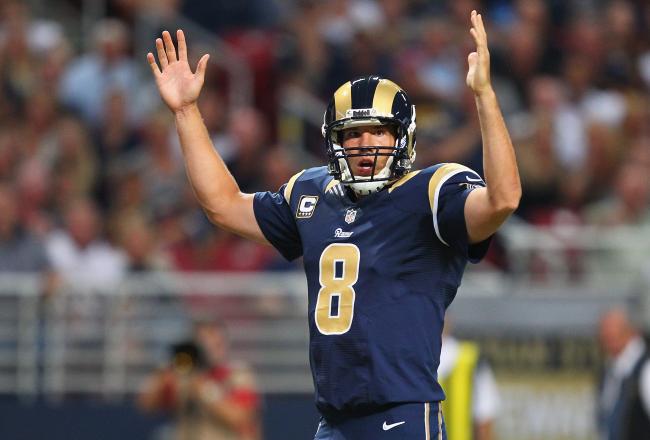 Dilip Vishwanat/Getty Images
Prior to the season, pundits praised the St. Louis Rams and their offseason efforts, and through the first three games of the season, the fruits of that labor have paid off. However, with a Thursday Night Football matchup with the San Francisco 49ers in Week 4, franchise quarterback Sam Bradford may be in for a rude awakening.
Head coach Jeff Fisher and general manager Les Snead added viable weapons to Bradford's arsenal in the offseason: Wide receivers Tavon Austin and Stedman Bailey were brought in during the draft, and tight end Jared Cook was added in free agency.
Moreover, Fisher and Snead equipped Bradford with one of the best all-around left tackles in the NFL, Jake Long.
According to the analysts at Pro Football Focus (subscription required), Long is the 11th-best blind-side protector, and the Rams' aerial attack is averaging 282.7 yards per game. That makes them the eighth-best passing team in the league.
Aside from strong protection up front and a playmaking wide receiver corps, Bradford has single-handedly taken offensive coordinator Brian Schottenheimer's offense to new horizons. Heading into Week 4, the fourth-year signal-caller out of Oklahoma has completed 62.4 percent of his passes, thrown for 891 yards and posted a quarterback rating of 88.7.
Sam Bradford's 2013 Regular Season Game Log

| | | | | | | | |
| --- | --- | --- | --- | --- | --- | --- | --- |
| OPP | CMP | ATT | YDS | CMP% | TD | INT | RAT |
| ARI | 27 | 38 | 299 | 71.1 | 2 | 1 | 100.7 |
| ATL | 32 | 55 | 352 | 58.2 | 3 | 1 | 87.8 |
| DAL | 29 | 48 | 240 | 60.4 | 1 | 0 | 80.2 |
| Totals | 88 | 141 | 891 | 62.4 | 6 | 2 | 88.7 |
ESPN.com
Unfortunately for Bradford, his eye-opening performances have come against three of the worst pass defenses the NFL has to offer. As it sits right now, the Arizona Cardinals have the seventh-worst pass defense, the Atlanta Falcons have the eighth-worst pass defense and the Dallas Cowboys have the 11th-worst pass defense.
The San Francisco 49ers, on the other hand, are doing an incredible job of playing the pass—despite losing two games in a row and starting the season 1-2. Their eighth-ranked pass defense is only allowing 197.3 yards per game, and opposing quarterbacks are completing 56.1 percent of their passes.
In a rare opportunity under the spotlight, Bradford will have to either put up or shut up.
The good news is St. Louis has had San Francisco's number with Coach Fisher at the helm. In two meetings last season, the Rams tied the Niners (24-24) on the road, and beat them (16-13) in overtime at home.
Let's go to the tape and break down how Bradford will be able to pull this off.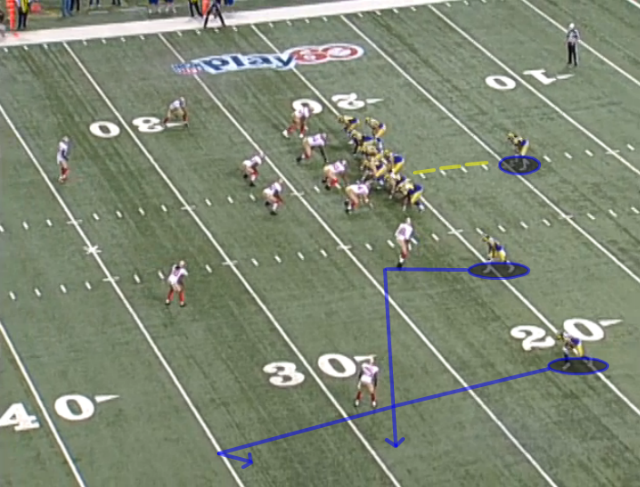 On this third-quarter play from Week 13 of the 2012 season, the Rams offense deployed a "12 personnel" look. Two wide receivers were split out to the left, two tight ends were on the line of scrimmage, and one running back was in the backfield.
Bradford's primary target on the play-action pass was slot receiver Chris Givens. Givens was facing man-to-man coverage from All-Pro safety Dashon Goldson.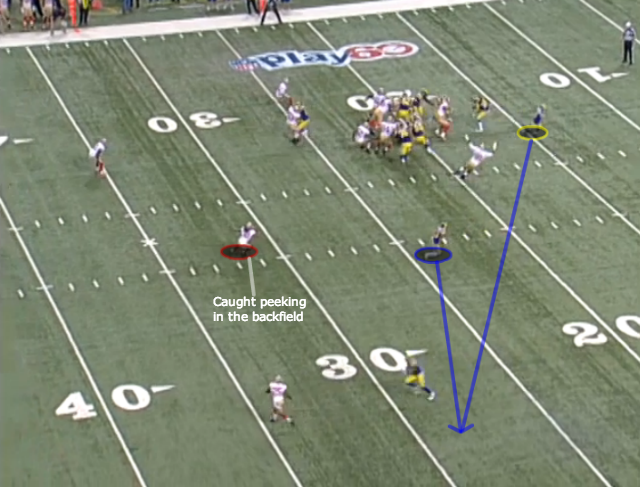 As soon as Bradford took the snap from under center, he faked the handoff to running back Steven Jackson. The fake worked beautifully, sucking defenders up like a vacuum. This, in turn, meant wideouts were given more time to separate, and Bradford had bigger throwing windows.
The biggest throwing window was to his primary receiving target, Givens. Givens' defender (Goldson) had got caught peeking in the backfield, which made for an easy catch and throw. Additionally, you can see left wide receiver Brandon Gibson played a huge role in the execution of this play, because he ran off right cornerback Tarell Brown.
The end result was a well-designed pass play that went for 11 yards and a first down.
An 11-yard gain may not seem like a game-changer, but this play proved that the Rams were doing an exceptional job of mixing their offensive play calls and setting up the pass with the run. The play-action pass can only be successful when a team is running the ball efficiently.
Bradford and Co. will need to do whatever it takes on Thursday to pound the rock and control the clock. Steven Jackson is long gone, so it will be up to second-year backs Daryl Richardson and Isaiah Pead to turn in a good body of work to set up the play-action game.
As the great Bill Walsh once said, via Chris Brown of SmartFootball.com:
I truly believe it [play-action pass] is the single best tool available to take advantage of a disciplined defense. By using the play-pass as an integral part of your offense you are trying to take advantage of a defensive team that is very anxious very intense and very fired-up to play football.
The second key to Bradford's impending success is the implementation of a well-timed screen game. Over the course of the final two quarters in last year's Week 13 contest, Bradford killed defensive coordinator Vic Fangio's defense with the screen pass.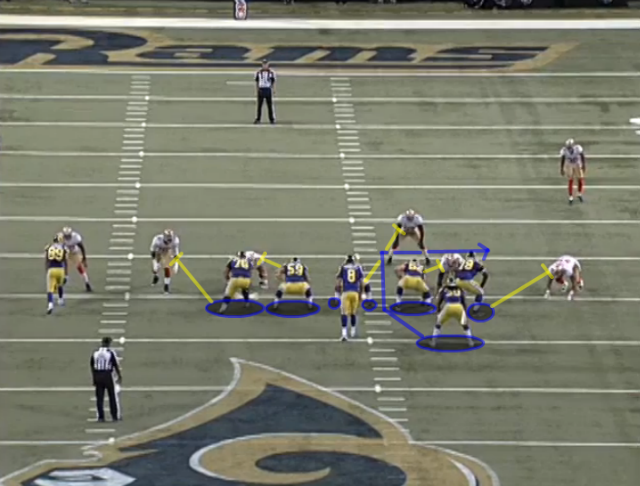 This third-quarter slip screen was the most lethal of any the Rams had run up to this point. Schottenheimer's offense used an "11 personnel" design. Two wide receivers were on the left side of the formation, one was on the right, a tight end was in the slot and a back was aligned next to Bradford.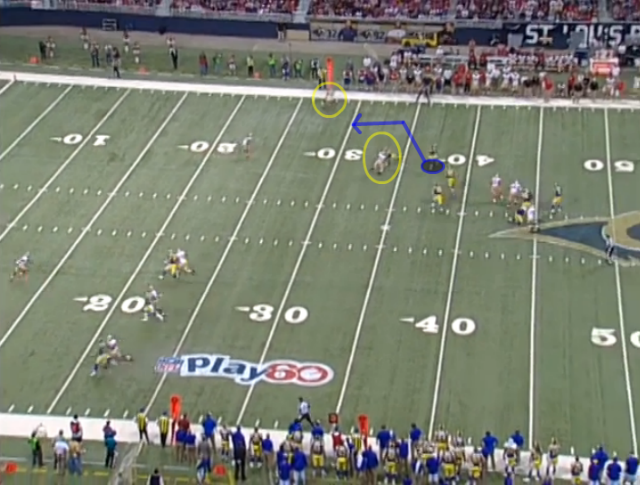 As soon as Bradford took the snap, Jackson slipped out of the backfield and into the flat. The flat was wide-open because center Scott Wells did a phenomenal job of locking up All-Pro inside linebacker NaVorro Bowman in space. In addition, right wide receiver Brian Quick locked up left cornerback Chris Culliver down the right sideline.
Wells and Quick's blocks were the two that sprung Jackson on the big gainer.
After Jackson made a couple of tacklers miss in the open field, he made it a point to cut the run back up to pick up additional yardage. When it was all said and done, the catch and throw went for 22 yards. Furthermore, it ended up being the Rams' only explosive play of the third quarter.
Based on the fact that inside linebacker Patrick Willis is dealing with a groin injury, one should expect St. Louis' screen game to be top-notch come Thursday.
Sure, a plan focused around the play-action game and the screen game for Bradford sounds simple, yet there are so many things that will have to go the Rams' way for these two aspects to work out.
Playing the Niners is always an uphill battle—Bradford knows that.
However, there is one more thing he needs to do to ensure he puts up instead of shuts up. He needs to protect the ball the way he did in 2012 against the 49ers. On 78 pass attempts in two games, Bradford didn't throw a single interception or lose a fumble.
Do you think Sam Bradford is one of the 10 best quarterbacks in the NFL?
Safeguarding the football versus a ball-hawking defense that forced 25 turnovers last year will be crucial.
If the stars align and Bradford shines bright under the spotlight, is it time to anoint him as an upper-echelon quarterback? Or do we need to see more consistent play from him on a weekly basis before we crown him?
Nonetheless, all eyes will be on Bradford as he tries to turn the non-believers around in, arguably, the biggest game of his career.
This article is
What is the duplicate article?
Why is this article offensive?
Where is this article plagiarized from?
Why is this article poorly edited?

St. Louis Rams: Like this team?