As the first slate of bye weeks come in, Week 4 of the NFL season is going to provide some very exciting matchups.
There are some undefeated teams that have struggled, like the New England Patriots, and then there have been some teams like the Washington Redskins which simply need to turn it around or risk missing the playoffs.
Let's take a look at predictions for all the games coming up this week, followed by breakdowns of the biggest.
Week 4 NFL Predictions

| | | | |
| --- | --- | --- | --- |
| Date | Away | Prediction | Home |
| Thursday, Sept. 26 | San Francsico 49ers | 24-10 | St. Louis Rams |
| Sunday, Sept. 29 | Cincinnati Bengals | 30-14 | Cleveland Browns |
| Sunday, Sept. 29 | Baltimore Ravens | 17-14 | Buffalo Bills |
| Sunday, Sept. 29 | Arizona Cardinals | 14-21 | Tampa Bay Buccaneers |
| Sunday, Sept. 29 | Indianapolis Colts | 30-10 | Jacksonville Jaguars |
| Sunday, Sept. 29 | Seattle Seahawks | 27-17 | Houston Texans |
| Sunday, Sept. 29 | Chicago Bears | 28-31 | Detroit Lions |
| Sunday, Sept. 29 | New York Giants | 3-21 | Kansas City Chiefs |
| Sunday, Sept. 29 | Pittsburgh Steelers | 24-17 | Minnesota Vikings |
| Sunday, Sept. 29 | New York Jets | 17-14 | Tennessee Titans |
| Sunday, Sept. 29 | Washington Redskins | 21-13 | Oakland Raiders |
| Sunday, Sept. 29 | Dallas Cowboys | 31-24 | San Diego Chargers |
| Sunday, Sept. 29 | Philadelphia Eagles | 21-35 | Denver Broncos |
| Sunday, Sept. 29 | New England Patriots | 17-20 | Atlanta Falcons |
| Monday, Sept. 30 | Miami Dolphins | 20-27 | New Orleans Saints |
Predictions by Tyler Brooke
San Francisco 49ers (1-2) at St. Louis Rams (1-2)
Date: Thursday, Sept. 26
Time: 8:25 p.m. ET
TV: NFL Network
Prediction: 49ers 24, Rams 10
This is not the start that the San Francisco 49ers were expecting.
After plenty of people had this team in Super Bowl at the beginning of the season, the 49ers offense has looked lost, putting up just 10 points over the past two games.
The team will now be without star pass-rusher Aldon Smith for the foreseeable future after he checked into rehab. The 49ers' Twitter account released the following statement:
#49ers @AldonSmith: ""I am taking a leave of absence to address my health. I am sorry that I have affected my team…" http://t.co/F8rNt8Yn80

— San Francisco 49ers (@49ers) September 23, 2013
For the St. Louis Rams, they have looked very inconsistent through three games. Things started off on the right foot with a 27-24 win over the Arizona Cardinals, but St. Louis has lost the past two, including a bad 7-31 loss against the Dallas Cowboys.
Sam Bradford has been given some new weapons in Jared Cook and Tavon Austin, but he's still trying to lead the offense to consistent production.
This is a must-win game for the 49ers, who went 0-1-1 against the Rams last season, with both games going to overtime.
For the 49ers, it's time for payback.
Dallas Cowboys (2-1) at San Diego Chargers (1-2)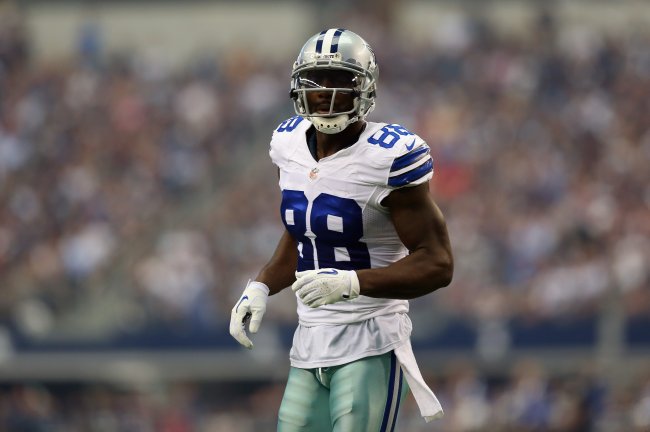 Ronald Martinez/Getty Images
Date: Sunday, Sept. 29
Time: 4:25 p.m. ET
TV: Fox
Prediction: Chargers 31, Cowboys 24
These are two teams that we are still trying to figure out through three weeks, but this should be the game that we finally get a real good look at both of them.
The Cowboys have surprisingly looked like the team to beat in the NFC East, with the New York Giants, Washington Redskins and Philadelphia Eagles all having their own problems. Dallas is 2-1, with its only loss coming in a close, 16-17 battle against the currently undefeated Kansas City Chiefs.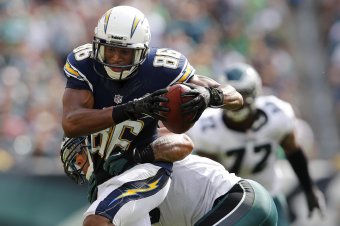 Rich Schultz/Getty Images
The Cowboys offense has looked balanced up to this point. Tony Romo has completed 72.2 percent of his passes for 771 yards, six touchdowns and just one interception, spreading the ball around to his playmakers. DeMarco Murray has been great out of the backfield, putting up around 400 total yards and a touchdown.
On defense, the Cowboys have improved week by week, giving up just seven points against the Rams this past week. They're currently second in the NFL against the run, allowing just 66.3 rushing yards per game.
For the San Diego Chargers, Philip Rivers has looked much improved, but that's really it. Rivers has thrown for 798 yards and eight touchdowns with just a single interception.
The defense, on the other hand, has been brutal. It's giving up 470.7 yards per game, the second worst in the league behind the Washington Redskins.
This is going to be a high-scoring affair, with both quarterbacks shining, but the Cowboys will wind up with the win thanks to the Chargers' struggling pass defense.
New England Patriots (3-0) at Atlanta Falcons (1-2)
Date: Sunday, Sept. 29
Time: 8:30 p.m. ET
TV: NBC
Prediction: Falcons 20, Patriots 17
The New England Patriots might be undefeated, but it hasn't been the most promising of starts.
The offense has had its troubles through three weeks. It's yet to have scored more than 23 points in a game, and Tom Brady has a passer rating of 79.4. Young receivers Kenbrell Thompkins and Aaron Dobson have struggled, and the offense is eagerly awaiting the return of Danny Amendola and Rob Gronkowski.
The defense has kept the Patriots in contention in all of their games. Opponents are averaging just over 11 points, and the secondary is holding opposing QBs to just 188.3 yards through the air per game.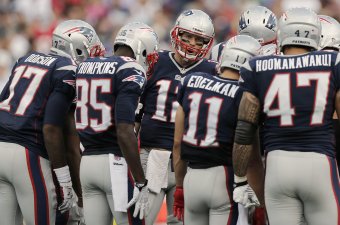 Winslow Townson/Getty Images
The Falcons' two losses have been close contests against good teams, but that's not an excuse for a team that's trying to make a deep playoff run. Injuries have hobbled players like Roddy White, Julio Jones and Steven Jackson on offense, while the defense has lost key players like Kroy Biermann for the season.
The secondary's inexperience has shown over the first three games, and that's something that's going to be a problem throughout the year, especially with quarterbacks like Russell Wilson and Aaron Rodgers on the schedule down the road. This means that Matt Ryan is going to have to carry the struggling defense and continue making big-time throws.
Despite the issues with the Falcons defense, the Patriots offense is still going to struggle, and I like the Falcons offense to make enough plays to come out on top.