Virginia Tech vs. Georgia Tech: Live Score and Highlights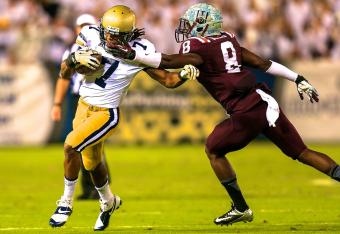 Virginia Tech 17, Georgia Tech 10, Final
The Hokies kicked off the ACC season with an impressive win over Coastal Division rival, Georgia Tech. Virginia Tech improves to 4-1 on the season, 1-0 in the ACC.
The Yellow Jackets fall to 3-1, but are 2-1 in conference play.
Continue to stay with us here for detailed postgame analysis. Full box score available at NCAA.com.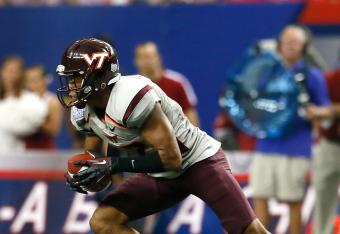 Player of the Game: Kyle Fuller
Logan Thomas was a close second, but Fuller set the tone from the beginning. The senior cornerback moved to whip linebacker for this game, where his physicality was put to good use. Fuller was in the backfield on Georgia Tech's first three plays and helped force a turnover.
He continued to disrupt Georgia Tech's option offense throughout the game. When he didn't make a tackle, he was forcing the ball-carrier to cut back inside toward the Hokies' outstanding defensive tackles.
There were plenty of choices for the Hokies defense, but Fuller gets the nod on this night.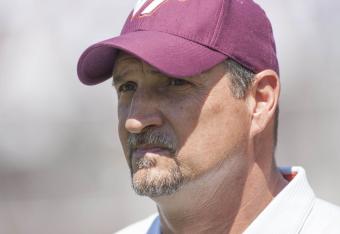 What Went Right for the Hokies?
Bud Foster is arguably the best defensive coordinator in the country. He showed why against the Yellow Jackets. Foster's defense forced three turnovers and held Georgia Tech to just 273 total yards. The Hokies forced the Jackets to throw the ball 24 times and held them to just 129 yards rushing.
Logan Thomas played his best game in two years. He was efficient running the ball, but he truly made his difference in the passing game. He finished 19-of-25 for 221 yards. The most important stat: He didn't turn the ball over. There were very few of Thomas' trademark low throws.
Can Thomas build off this positive momentum?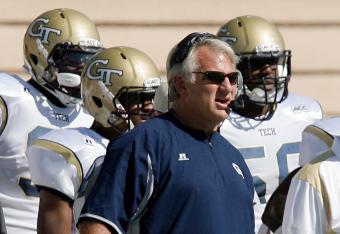 What Went Wrong for the Yellow Jackets?
Defensive coordinator Ted Roof had a solid game plan: Stop Virginia Tech's running game and force Logan Thomas to beat them through the air. Thomas did just that. Roof's plan worked as he held the Hokies to 55 yards on 27 carries, but his team couldn't make enough plays in the passing game to limit Thomas.
Paul Johnson's option offense is dependent upon the run. When you run for just 129 yards on 42 attempts, chances are you will lose the game. When Johnson looks back at this loss and sees that his quarterback attempted 24 passes, he will be upset.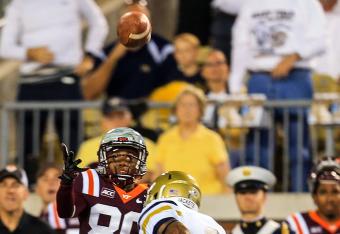 Virginia Tech Offensive Stats
Passing: Logan Thomas - 19-of-25, 221 yards, one touchdown
Rushing: Logan Thomas - 16 carries, 57 yards, one touchdown
Receiving: Demitri Knowles - 5 receptions, 67 yards
Georgia Tech Offensive Stats
Passing: Vad Lee - 7-of-24, 144 yards, two interceptions
Rushing: Zach Laskey - 7 carries, 43 yards
Receiving: DeAndre Smelter - 3 receptions, 76 yards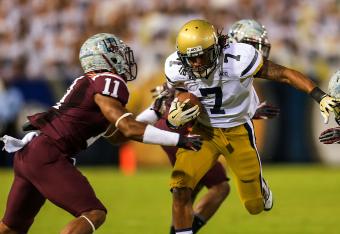 Interception, Hokies
Kendall Fuller intercepts Lee's Hail Mary attempt to seal the win for the Hokies, 17-10.
Foster should rush four and play coverage here. Georgia Tech is expecting heavy pressure.
Virginia Tech 17, Georgia Tech 10, 1:33 remaining in the fourth quarter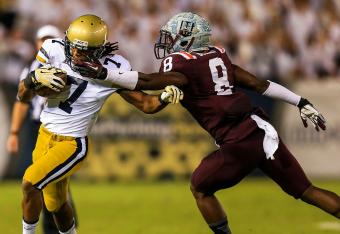 Detrick Bonner—AGAIN. Pass interference, the second one of the night for the Hokies free safety. Huge play for the Yellow Jackets.
Georgia Tech needs to hurry up here. Johnson must get the plays in faster.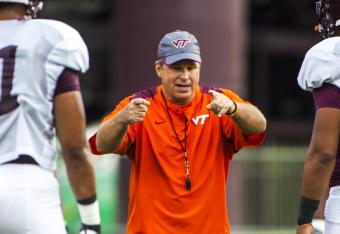 The Hokies apparently playing not to lose. Scot Loeffler looks a lot like Bryan Stinespring.
Virginia Tech's defense is one of the best in the country. But don't sleep on Georgia Tech's D. They are pretty good, too. The Hokies cannot run the ball.
Virginia Tech gets the ball back with 4:56 remaining in the fourth quarter. Georgia Tech has all three timeouts remaining.
Drops, drops and more drops.
Paul Johnson finally realized he actually has a punter on his roster.
Cody Journell bails out Paul Johnson. Journell continues to miss easy kicks. Beamer should have went against his conservative values and went for it there.
Big third-down opportunity for Virginia Tech. And they failed. Loeffler seems to only know one play: Thomas up the middle.
Will the Hokies go for it?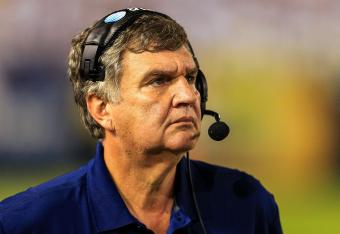 Should Paul Johnson have punted there? I realize he likes to go for it on fourth down often, but there is too much time left in this game. This could be the end for the Jackets.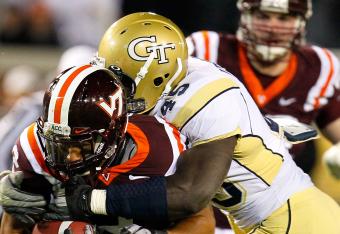 Something to keep an eye on when Virginia Tech goes back on offense. True freshman left tackle, Jonathan McLaughlin, is beginning to struggle with Jeremiah Attaochu. The Hokies need to slide protection to the left to give him some help.
Field Goal, Hokies - Virginia Tech 17, Georgia Tech 10
Big stop for the Yellow Jackets. Holding the Hokies to a field goal was critical. And the Hokies actually made a field goal after missing five in the past two games.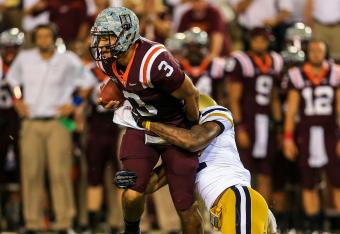 Classic Virginia Tech offense right there. Let the play clock expire and follow it up with Thomas throwing at Willie Byrn's feet. Haven't we seen this before?
D.J. Coles with another drop. He is the only senior receiver on this team. Hey Frank, prove a point, bench him. He is hurting Thomas every week. Need fifth-year seniors to step up. Coles has not done that.
The Yellow Jackets continue to hurt themselves. Another procedure penalty makes it third-and-long and the Jackets cannot convert. Too many offensive penalties for a team at home.
As bad as Georgia Tech played in the first half, they have an opportunity to take the lead here.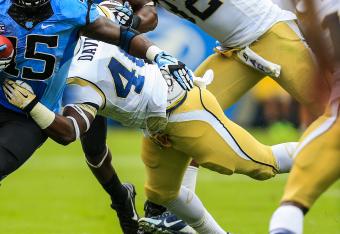 Great play by Paul Davis for the Yellow Jackets. Screen was set up nicely and Davis fought through a block to make the tackle for a short loss.
The Hokies are lucky they got the pass interference call here. Right tackle Laurence Gibson appeared to have gotten away with a hold.
This article is
What is the duplicate article?
Why is this article offensive?
Where is this article plagiarized from?
Why is this article poorly edited?