Biggest Roadblocks to LA Lakers Executing Another Blockbuster Trade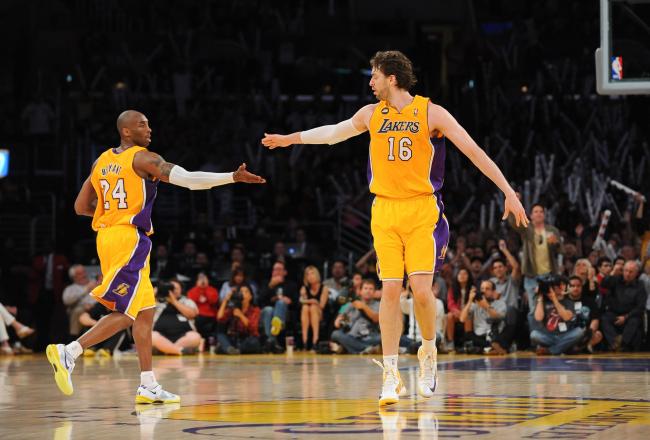 Noah Graham/Getty Images
February 1, 2008. That's the date the Los Angeles Lakers, fresh off a 42-40 season and a first-round playoff exit, somehow managed to pull off a midseason deal for Pau Gasol.
The move paid immediate dividends. Kobe Bryant was thrilled to play with someone who could actually catch the ball, and the Lakers ended up winning 15 of their first 17 games with Gasol in purple and gold.
The deal sparked a mini-dynasty. The Lakers immediately appeared in three straight NBA Finals and won two championships behind the dominant combination of Bryant and Gasol.
Now, once again, the Lakers seem to be trending downhill after a rough season and first-round beating at the hands of the San Antonio Spurs. Bryant and Gasol are still around, but they need more help.
With Bryant's status after surgery still up in the air and Gasol and Steve Nash a year older, the potential pitfalls are everywhere. The supporting cast is Kwame Brown-esque once again, and this time, there's no Phil Jackson roaming the sidelines.
Being optimistic about the Lakers' chances to contend for a title this season requires the belief that Kobe Bryant is not human—and that the Lakers can swing another huge blockbuster.
Although I wouldn't necessarily say he's the voice of the people, the sentiment shared by Metta World Peace isn't uncommon:
The Lakers are gonna make a big trade like they always do. They're gonna get another good player, boom, boom, and they're gonna go to the Finals. I believe it. Kobe's gonna come back, he's gonna play team ball, and Pau's gonna play well.
It's true that betting against Bryant is always unadvised and that Gasol is a prime candidate for a bounce-back campaign with more post touches coming his way.
But those big trades the Lakers always seem to make, like the one for Gasol, are almost certainly out of the picture this year.
Here's why.

The Stepien Rule
For those who are unfamiliar with it, here's CBA guru Larry Coon's thorough explanation of the Stepien Rule.
Teams are restricted from trading away future first round draft picks in consecutive years. This is known as the "Ted Stepien Rule." Stepien owned the Cavs from 1980-83, and made a series of bad trades (...) as a result of Stepien's ineptitude, teams are now prevented from making trades which might leave them without a first round pick in consecutive future years.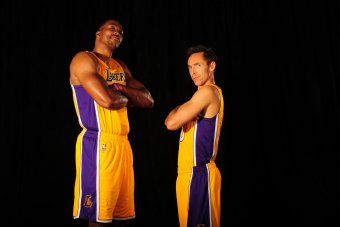 Noah Graham/Getty Images
This is pertinent because the Lakers already made their blockbuster trades, and they involved future draft picks.
The trade with the Phoenix Suns for Steve Nash cost the Lakers a 2015 first-round pick, and the trade with the Orlando Magic for Dwight Howard cost them a 2017 first-rounder. That means the Lakers can't trade a future first-round pick until the year 2019, and it will need to have some sort of protection on it.
Six drafts is an awfully long time to wait. The careers of most general managers and coaches never last that long.
The Lakers could get around the Stepien rule by offering to swap first-round picks with a team in 2014 or 2016. Even then, though, a team would be banking on the Lakers crumbling completely down the line, which doesn't seem like the logical thing to do after handing over a great player.
When the Lakers traded for Gasol many moons ago, they had two future first-round picks—and Marc Gasol—to offer up. There just isn't a lot of ammo to work with now, unless a team is willing to wait around six to eight years for the picks to come to fruition. That seems unlikely.
Expiring Salaries, But No Sweeteners
Possessing multiple expiring salaries can often be conducive to a trade, as there always seems to be at least a few teams eager to shed cap space in advance of free agency. Since Steve Nash is the only significant salary not expiring this year, you would think that the Lakers have plenty of trade bait.
Problem is, there are just not a lot of good matches out there for the Lakers.
If a team is trading a high-caliber player the Lakers would want, chances are they want the wheel greased a bit. Without any intriguing young players or draft picks to offer, the Lakers aren't in a position to do that. Any team trading with the Lakers has to want a pure salary dump and very little else, and that narrows down the field of trading partners significantly.
Without the aid of other assets, it's hard to see the Lakers turning the expiring deals of Chris Kaman, Jordan Hill and Steve Blake into anything substantial.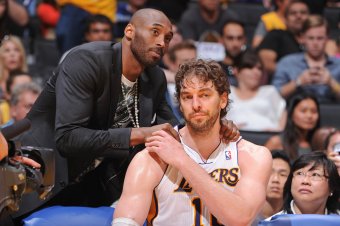 Andrew D. Bernstein/Getty Images
The Kobe Factor
Rebuilding is not an option. It's not something the Lakers do, and it's not something Kobe Bryant would stand for. The window of opportunity for another title is closing rapidly for Nash, Gasol and Bryant, and this could very well be the last shot at it.
Even if the Lakers are hovering around .500 when the trade deadline approaches, selling won't be an option. The Lakers have to play for this year, they have to be healthy, and they have to hope that some team is willing to give up an expensive talent for almost nothing in return.
Realistically, the bed was made with the Dwight Howard trade. Now it looks like the Lakers will have to lie in it.
This article is
What is the duplicate article?
Why is this article offensive?
Where is this article plagiarized from?
Why is this article poorly edited?