West Brom vs. Arsenal: 6 Things We Learned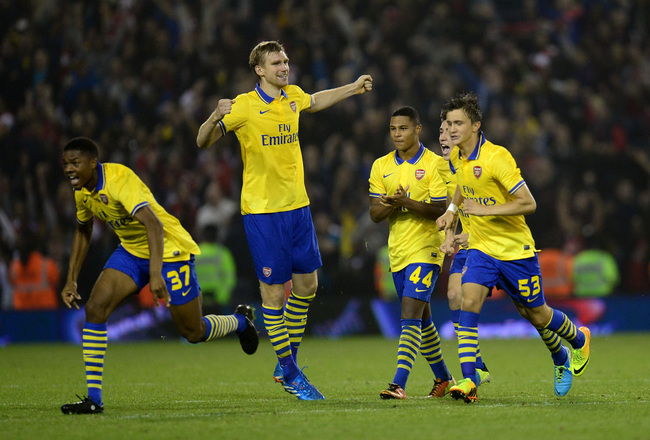 Jamie McDonald/Getty Images
It wasn't easy for Arsenal, but the Gunners just managed to see off West Brom 4-3 on penalties following a 1-1 draw after extra time.
Arsene Wenger will be dissatisfied with the fact that his players—including a few key first-teamers—had to exert themselves so much in a competition that is the least prestigious of any the club will compete in this season.
Still, Arsenal showed remarkable resilience and fortitude to advance in the Capital One Cup and secure a match at Chelsea in the tournament that represents the Gunners' best shot at a trophy this season.
Let's look at six things we learned from the match.
Key Players Need a Rest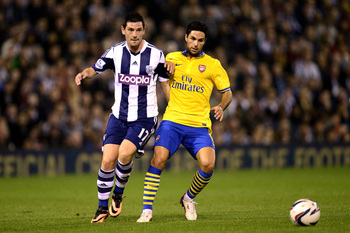 Jamie McDonald/Getty Images
Arsene Wenger started more important players than he perhaps would have liked to because of Arsenal's perpetual struggles with depth and injuries.
He did manage to fit several youngsters into the team, but Thomas Vermaelen, Mikel Arteta and Per Mertesacker were all started in a very tough game. The former two have just returned from injury, and Vermaelen and Mertesacker played all 120 minutes.
Arteta was removed after 95 minutes because of cramps, and he can hardly be blamed for succumbing to fatigue so soon after coming back into the first team.
Wenger will once again have to carefully rotate his squad for the weekend; Laurent Koscielny is the only senior defender who did not play every minute of this draining fixture.
Carl Jenkinson Deserves a Hand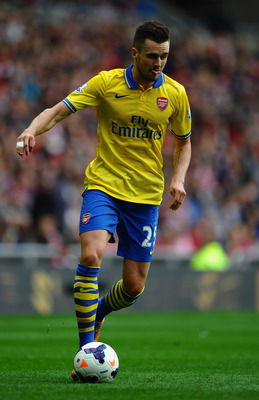 Laurence Griffiths/Getty Images
Carl Jenkinson was one of the players that I said to keep an eye on before the match, and it was certainly worth paying attention to the tireless right-back.
As is his modus operandi, Jenkinson never ceased running all over his right flank, getting forward more effectively than perhaps any other player in the squad and constantly getting stuck in in defense.
He always seems to be one of the fittest players in the squad, and it was remarkable to witness his Herculean work rate as the match dragged on into extra time.
Jenkinson still must take a back seat to Bacary Sagna, but he must have massively impressed the manager on a night when he really needed to.
Nicklas Bendtner Is a Legitimate Option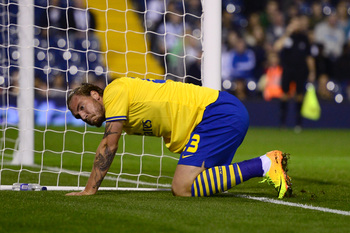 Jamie McDonald/Getty Images
Arsene Wenger put it best after the match.
"Overall I think he had a good game for a guy who has not played for such a long time on his own up front," the French manager told Arsenal.com. "He did very well."
The manager obviously has an incentive to not speak ill of his players in public, but his analysis of Bendtner is spot on. The Dane was somewhat effective in his first Arsenal start in years, though he showed some signs of rust and did not capitalize on some great opportunities.
However, Bendtner is not being asked to be Arsenal's starting striker for any length of time. Based on his performance against West Brom, fans can be confident that there is a quality backup to Olivier Giroud in the ranks.
Thomas Eisfeld Has Potential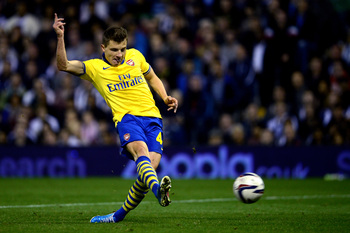 Jamie McDonald/Getty Images
Thomas Eisfeld has always been touted because of his footballing resemblance to Freddie Ljungberg, and the fact that he has been extremely effective at the youth level since signing from Borussia Dortmund in January of 2012.
It is important to note, though, that Eisfeld is 20 years old, and needs to be given more first-team opportunities if he is to materialize into a top-quality footballer.
His finish against West Brom suggests that there is more than a dash of Ljungberg in him. The composedness with which he slotted the ball into the back of the net belies impressive technical ability of the sort that is largely inherent.
It will be interesting to see where his career goes from here.
James Morrison Can Take a Penalty
Tony Marshall/Getty Images
If you will indulge me in a minor moment of personal interest, allow me to wax lyrical about James Morrison's utterly perfect penalty kick.
If he can replicate this exquisite piece of technique on even a semi-regular basis, the Scot will be regarded as one of the best penalty-takers in Europe.
Morrison has been impressing for the Baggies for a while, but examine this combination of sublime technique, bulging confidence and, ultimately, unalloyed perfection.
It likely won't get the attention that it deserves, but this was perhaps the best penalty that I have ever seen.
Arsenal's Youngsters Are a Stern Bunch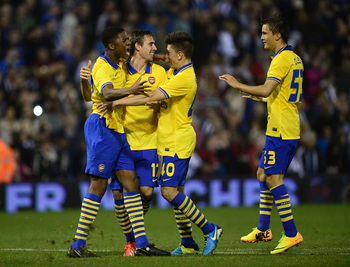 Jamie McDonald/Getty Images
Bleacher Report's own James McNicholas correctly wrote after the match that Arsenal did not lack leadership or experience in this match. Indeed, both the captain and vice-captain started.
But most of the starting XI was composed of very young and inexperienced players who have not experienced much first-team football.
They largely held tough against what was more or less a Premier League side, battling West Brom for 120 minutes. Perhaps most impressive, though, was the fact that two players under the age of 20 were allowed to take, and scored, penalties under suffocating pressure.
It will be interesting to see how many fringe and Academy players, like Eisfeld, Isaac Hayden and Ryo Miyaichi, Arsene Wenger will decide to start against a very deep Chelsea team at Stamford Bridge. The kids have already coped very well with intensity.
Keep Reading

Arsenal: Like this team?