Ranking the Top 15 Players in the NBA Entering 2013-14 Training Camp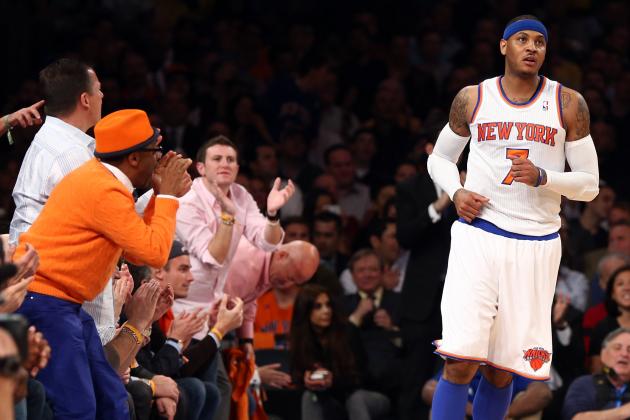 USA TODAY Sports

How high can they rise?
Isn't that question at the heart of virtually every type of NBA analysis?
As fans, we wonder how good our favorite basketball players can become. Teams have to evaluate the ceilings of players and then act accordingly. Those who choose to gamble on sports (legally, of course) must determine the upper limits of performances.
It's all about upside. Or potential. Or the ceiling. Or whatever you want to call it.
That's why these player rankings are introducing a new element. Not only will they identify how the Association's top players currently stack up, but they'll also show just how high each star can rise during the 2013-14 season.
Long-term potential is another story, though, so keep in mind that this isn't displaying the upper limit for each player's career.
Just as is the case with every NBA season, we could be in for some shake-ups once the action begins.
Begin Slideshow

»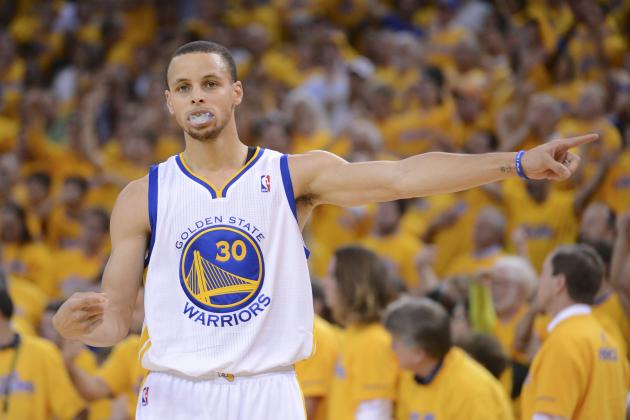 Kyle Terada-USA TODAY Sports

Stephen Curry, PG, Golden State Warriors
Paul George, SG/SF, Indiana Pacers
Kyrie Irving, PG, Cleveland Cavaliers
Don't sleep on any of these three young studs.
Each of them is undoubtedly on the rise, and they all have plenty of years left before they hit their primes. Curry has established himself as the best shooter in basketball, George is a standout defender and versatile offensive contributor, and Irving is already one of the top scorers in the game.
That said, they all have weaknesses that need fixing before they can continue climbing the ranks of the Association's superstars.
While Curry and Irving both have to exert a little more energy on defense, George's turnovers have to go down, and his shooting percentage must trend in the opposite direction.
They're all close and could easily jump into the top 10 by the end of the year, but it's premature to put any of them in the numbered portion of the rankings quite yet.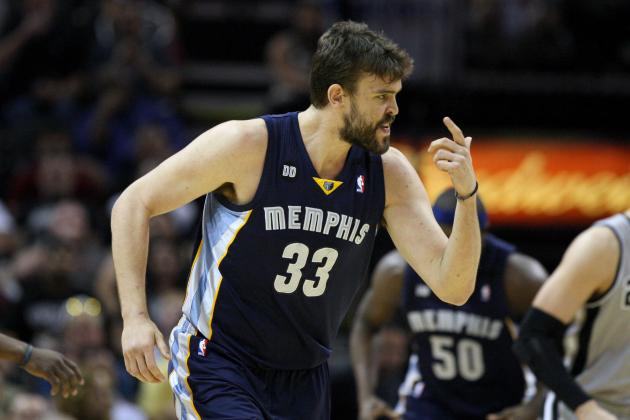 Troy Taormina-USA TODAY Sports

Team: Memphis Grizzlies
Position: C
Age: 28
2012-13 Per-Game Stats: 14.1 points, 7.8 rebounds, 4.0 assists, 1.0 steals, 1.7 blocks, 19.5 PER
If Marc Gasol is going to move up any higher, he'll have to become more of a go-to scorer for the Memphis Grizzlies.
Right now, the big man is an offensive hub, but he rarely finishes plays himself. Instead, the Grizz run sets through him, and he makes them work thanks to his incredible passing ability and knack for confusing defenses. Few players—if any—can hit the behind-the-back pass to a cutter like the younger of the two professional Gasol brothers.
At what point does he start scoring for himself?
Take a look at the Spaniard's usage rates over the course of his career, courtesy of Basketball-Reference:
| Year | USG% |
| --- | --- |
| 2008-09 | 18.3 |
| 2009-10 | 16.9 |
| 2010-11 | 16.9 |
| 2011-12 | 19.1 |
| 2012-13 | 19.2 |
That usage rate needs to experience another jump like it did two offseasons ago. If that happens, Gasol will be able to maintain his overall efficiency and assert himself as a bona fide top-10 player while challenging Dwight Howard for the best-center-in-basketball title.
2013-14 Ceiling: No. 9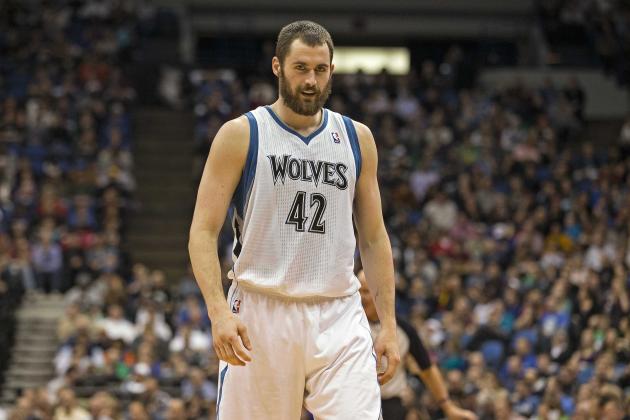 USA TODAY Sports

Team: Minnesota Timberwolves
Position: PF
Age: 25
2012-13 Per-Game Stats: 18.3 points, 14.0 rebounds, 2.3 assists, 0.7 steals, 0.5 blocks, 17.9 PER
Let's not forget just how good Kevin Love was before he injured his hand and struggled to remain healthy and/or effective throughout the 2013-14 season.
In April of 2012, I ranked the top 100 players in the NBA and had Love checking in at No. 8 with per-game averages of 26.0 points, 13.3 rebounds, 2.0 assists, 0.5 blocks and 0.9 steals. And, as written on his slide, "I seriously considered bumping him up as high as No. 5."
Love has that type of potential, and according to Charley Walters of the Pioneer Press, he's now in the best shape of his playing career. It's safe to bet on him bouncing back in a big way.
Even though he struggled to find the bottom of the net in 2012-13 (he would have ranked dead last in my pure shooting metric had he played enough games to qualify), Love was still a valuable contributor because he drew so much defensive attention and dominated on the boards.
If he's not right up there in the hunt for the rebounding title, it would be absolutely shocking. But for now, he just needs to prove that he's healthy and dominant once more, then ride his upgraded roster to the first postseason berth of his career.
2013-14 Ceiling: No. 5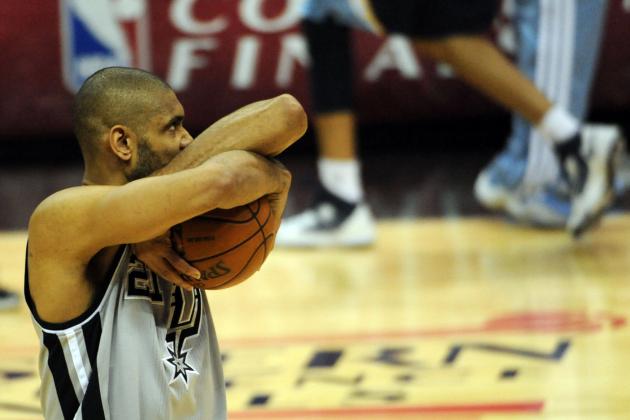 Brendan Maloney-USA TODAY Sports

Team: San Antonio Spurs
Position: PF/C
Age: 37
2012-13 Per-Game Stats: 17.8 points, 9.9 rebounds, 2.7 assists, 0.7 steals, 2.7 blocks, 24.4 PER
The only way Tim Duncan can rise back into the top 10 of the player rankings is by showing that eerie consistency he's displayed throughout his career. But he also can't miss too much time.
Gregg Popovich is the biggest thing holding back The Big Fundamental, simply because he's limiting the number of minutes his aging superstar can spend on the court. It's not just the "DNP-Old"s, but rather the fact that he only gets about 30 minutes of action on any given night.
Pop is making the right decision by preserving his big man for the most crucial part of the season. But he's also making it tough for the big man to stand out as an individual.
Duncan's per-36-minute numbers are staggeringly consistent over the course of his time in the NBA, and that's not likely to change. He's too technically gifted for old age to slow him down now, especially because he and Father Time like to spend the offseason fishing together.
It's just all about how much time he can spend off the bench.
2013-14 Ceiling: No. 10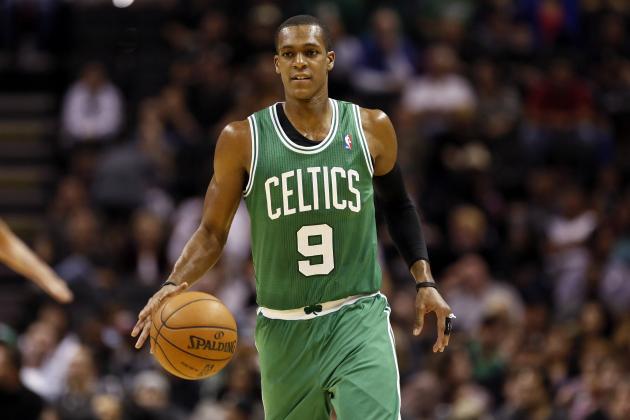 USA TODAY Sports

Team: Boston Celtics
Position: PG
Age: 27
2012-13 Per-Game Stats: 13.7 points, 5.6 rebounds, 11.1 assists, 1.8 steals, 0.2 blocks, 18.1 PER
Rajon Rondo's 2013-14 season is going to be absolutely fascinating. Of all the many compelling storylines that exist going into the year, his is right up there at the top.
Will he thrive as the unquestioned leader of the Boston Celtics now that Paul Pierce and Kevin Garnett have departed for the Brooklyn Nets? Will his success in the past emerge as a mirage now that he doesn't have as much offensive talent surrounding him?
I lean toward the former, but it's still up in the air. And until we have a more definitive answer, his stock is in complete and utter flux.
Rondo has the ability to drop out of the top 15 entirely, but he could also rise as high as the top five should he prove that he really is a franchise star capable of carrying a team on both ends of the court.
I can't wait for clarity.
2013-14 Ceiling: No. 5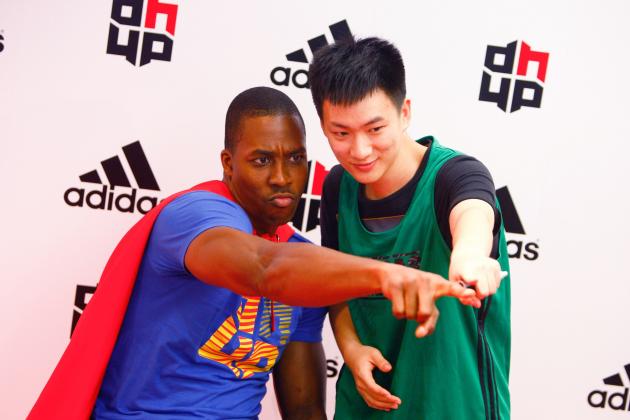 ChinaFotoPress/Getty Images

Team: Houston Rockets
Position: C
Age: 27
2012-13 Per-Game Stats: 17.1 points, 12.4 rebounds, 1.4 assists, 1.1 steals, 2.4 blocks, 19.4 PER
Dwight Howard—when healthy—is still the best center in basketball. And we aren't too far removed from a time in which many people considered him one of the three premier players to suit up for an NBA squad.
What happened?
Well, that would be a combination of injuries and perception. His popularity has been in a downward spiral ever since the all-too-public feud with Stan Van Gundy and the Orlando Magic, and his back has limited his effectiveness regardless of the jersey he's worn.
But even while wearing a compression shirt that kept everything in place, D12 led the league in rebounding, contributed quite a bit on offense and played better defense than most. According to Synergy Sports (subscription required), Howard allowed only 0.74 points per possession with the Los Angeles Lakers, the No. 20 mark in the league.
Now he's in a situation that seems tailor-made for his talents.
If he can thrive next to James Harden, taking a backseat on offense and allowing opportunities to come to him while focusing all his energy on preventing points, he'll shoot right back up to his more customary spot in the player rankings.
2013-14 Ceiling: No. 3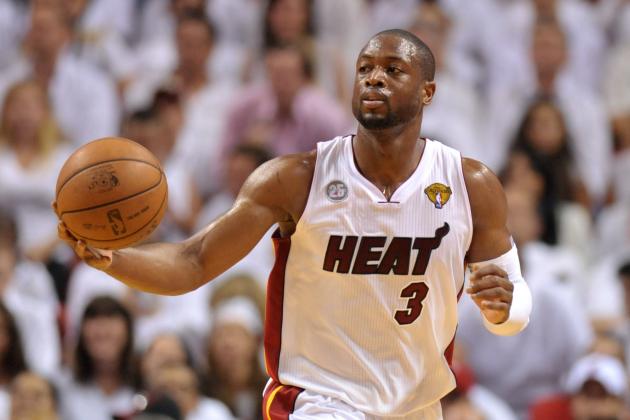 Steve Mitchell-USA TODAY Sports

Team: Miami Heat
Position: SG
Age: 31
2012-13 Per-Game Stats: 21.2 points, 5.0 rebounds, 5.1 assists, 1.9 steals, 0.8 blocks, 24.0 PER
Remember Dwyane Wade's 2007-08 and 2008-09 seasons? Just to refresh your memory, here are the per-game stats, courtesy of Basketball-Reference:
| Year | Points | Rebounds | Assists | Steals | Blocks | FG% | PER |
| --- | --- | --- | --- | --- | --- | --- | --- |
| 2007-08 | 24.6 | 4.2 | 6.9 | 1.7 | 0.7 | 46.9 | 21.5 |
| 2008-09 | 30.2 | 5.0 | 7.5 | 2.2 | 1.3 | 49.1 | 30.4 |
2008-09 was the year that Wade experienced one hell of a resurgence, leading the league in scoring as he posted the best individual season of his career. It also came directly after an offseason in which he had OssaTron shock therapy to heal his knees, and that's the reason I'm bringing it up.
That's the same non-surgical procedure Wade utilized this offseason, and he'll be hoping to see a similar jump in production. His role on the Miami Heat and advancing age prevent such a massive improvement from occurring once more, but there's no decline happening here.
And if Wade is fully healthy, he'll still be the top-five player he's been throughout his non-injured prime thanks to his efficient two-way contributions.
2013-14 Ceiling: No. 3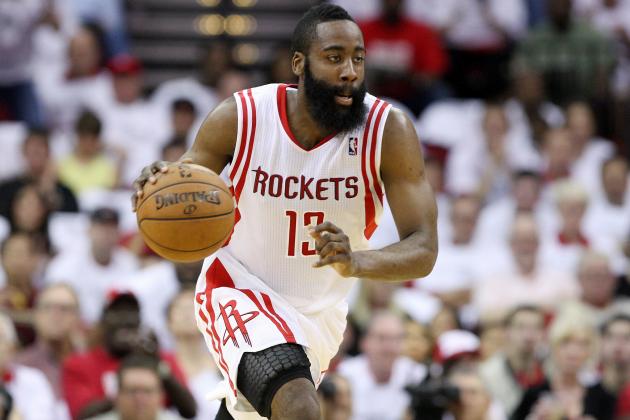 Troy Taormina-USA TODAY Sports

Team: Houston Rockets
Position: SG
Age: 24
2012-13 Per-Game Stats: 25.9 points, 4.9 rebounds, 5.8 assists, 1.8 steals, 0.5 blocks, 23.0 PER
You can read a full explanation of why James Harden comes in slightly ahead of Dwyane Wade here, but current rankings aren't the same thing as 2013-14 ceilings.
While Harden is clearly trending up, he still doesn't possess the same level of immediate upside as Wade, simply because he abhors defense. Seriously, the bearded shooting guard's philosophy toward preventing points is eerily similar to his feelings about razors.
According to Basketball-Reference, the Houston Rockets allowed 4.2 more points per 100 possessions when Harden was on the court. And while he's offensive dynamite, the 2-guard can only rise as high as his defense will take him.
Generally, players in the second year of a go-to role experience a defensive improvement. They're more accustomed to carrying the offensive load and don't have to conserve as much energy for that end of the court.
But still, it's not like Harden is going to become anything more than a mediocre defender in 2013-14. Down the road, it could be different.
Just not yet.
2013-14 Ceiling: No. 6
USA TODAY Sports

Team: Oklahoma City Thunder
Position: PG
Age: 24
2012-13 Per-Game Stats: 23.2 points, 5.2 rebounds, 7.4 assists, 1.8 steals, 0.3 blocks, 23.9 PER
Could Russell Westbrook emerge as the best point guard in the NBA by the end of the 2013-14 campaign?
Right now, there are still three floor generals ahead of him. I don't think I'm spoiling anything by telling you right now that they're Tony Parker, Chris Paul and Derrick Rose (in alphabetical order).
But given the fact that Westbrook has improved each and every year of his career, surpassing that trinity of point guards is not outside the realm of realistic possibilities. He'll have to overcome the meniscus injury and sharing the ball with Kevin Durant, but a massive defensive improvement could do the trick and leave him as the No. 3 player in the NBA.
Westbrook hunkered down more often during the 2012-13 season, but he still has a long way to go thanks to his penchant for ill-advised gambles. Last year, the Oklahoma City Thunder allowed 1.8 more points per 100 possessions when he was on the court, according to Basketball-Reference, and that has to change quickly.
I acknowledge that this is a bold ceiling, and a lot would have to go right for him to reach it, but it's not impossible for Westbrook to make me look like I have a crystal ball.
2013-14 Ceiling: No. 3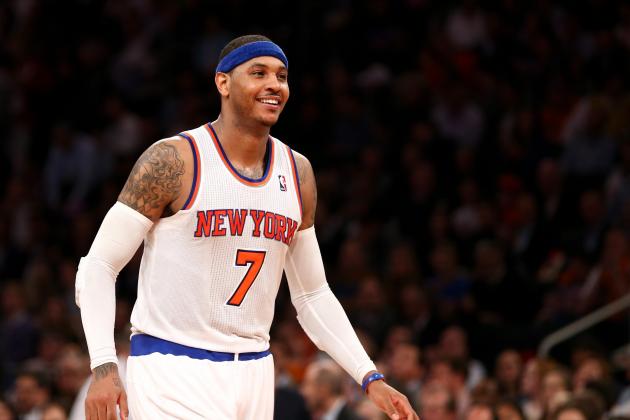 USA TODAY Sports

Team: New York Knicks
Position: SF
Age: 29
2012-13 Per-Game Stats: 28.7 points, 6.9 rebounds, 2.6 assists, 0.8 steals, 0.5 blocks, 24.8 PER
Can you imagine what would happen if Carmelo Anthony suddenly started playing good defense and passing the ball to his teammates with more frequency?
I've predicted before that 'Melo will set a career high in assists per game this season, checking in at around four each contest, and I stand by that prediction. The lack of established tertiary options on the New York Knicks roster means that he'll have to work harder to get everyone involved.
And if that does come to fruition, the small forward will also start shooting the ball more efficiently.
It won't be a positive for New York if 'Melo wins a second scoring title in a row. The Knicks need for him to become more of a facilitator and stop taking bad looks. He's fully capable of making those changes, but I'm a bit more hesitant to predict a similar improvement on the less glamorous end of the court.
Anthony is still one of the premier scorers in basketball, and he's an underrated rebounder for his position as well. Just a few slight changes to his style of play, and we could be talking about him as a true top-five player.
2013-14 Ceiling: No. 4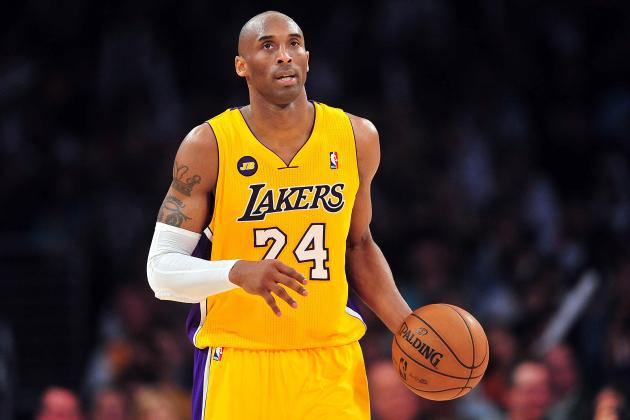 Gary A. Vasquez-USA TODAY Sports

Team: Los Angeles Lakers
Position: SG
Age: 35
2012-13 Per-Game Stats: 27.3 points, 5.6 rebounds, 6.0 assists, 1.4 steals, 0.3 blocks, 23.0 PER
I hate to break it to Los Angeles Lakers fans, but Kobe Bryant's days of challenging for either the No. 1 or No. 2 spots in the player rankings are behind him.
The Mamba has too much working against him this season to rise any higher than No. 3.
Starting out with the most obvious factor, Kobe has to recover from his ruptured Achilles. We still have no idea when he'll be healthy enough to suit up again, much less play while at 100 percent. Plus, aging athletes have typically struggled to regain their old form after such a severe injury.
But on top of health, Kobe has to carry this Lakers squad. There isn't as much talent as a typical Lake Show outfit, and he'll be expending a lot of energy to make sure that the offense remains competitive.
Given his 35-year-old motor, that doesn't leave much for defense, and one-way players aren't going to be able to rise too much higher than the spot Kobe already finds himself in.
2013-14 Ceiling: No. 3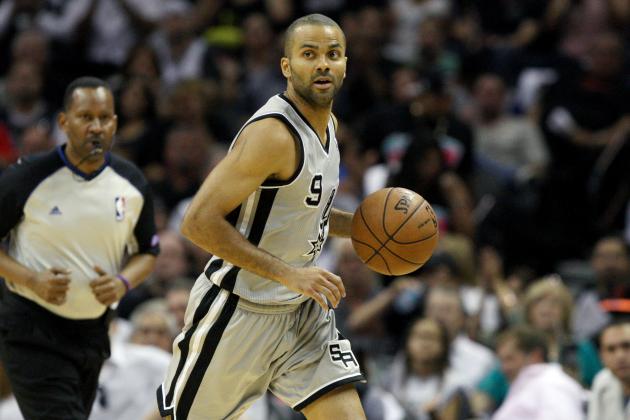 Troy Taormina-USA TODAY Sports

Team: San Antonio Spurs
Position: PG
Age: 31
2012-13 Per-Game Stats: 20.3 points, 3.0 rebounds, 7.6 assists, 0.8 steals, 0.1 blocks, 23.0 PER
In order to rise any higher in the player rankings, Tony Parker has to become a true No. 1 option for the San Antonio Spurs.
He looked like one at times throughout the 2012-13 season, even asserting himself as a de facto MVP candidate for stretches of the year before an ankle injury essentially derailed his candidacy. But the San Antonio Spurs' system still prevents even the best players from taking on too much individual responsibility.
Parker has become a more efficient scorer and more effective defender as his career has progressed, but it's tough to imagine him growing into an increasingly cerebral player. He already plays like a basketball savant.
The 31-year-old point guard is one of the more steady players in the NBA, and that applies to the potential fluctuation of his ranking as well. He's not going to experience a massive drop-off—excelling without elite athleticism helps with that—but he's also not going to rise too much higher.
2013-14 Ceiling: No. 4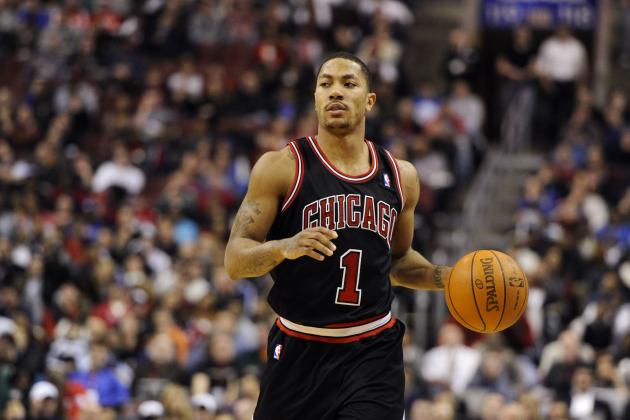 Howard Smith-USA TODAY Sports

Team: Chicago Bulls
Position: PG
Age: 24
2012-13 Per-Game Stats: N/A
As Derrick Rose told Slam Magazine's Adam Figman, he's going into the season feeling stronger and more athletic than ever before. Oh, and he's improved his jumper rather dramatically, thus shoring up his biggest weakness.
That wasn't enough already, so the dynamic point guard also told the Chicago Tribune's K.C. Johnson that he was more confident, both in his play and the Chicago Bulls' championship chances.
If all of that is true, then D-Rose could be right in his assessment that he's the best player in the NBA. He obviously has a long way to go before he catches the dynamic duo that is Kevin Durant and LeBron James, but it's doable if all his claims are true.
After all, Rose already beat LeBron for MVP once, and he's still only 24 years old. He was unstoppable even before developing a consistent jumper, and his defense has steadily improved throughout his career.
Just as is the case when he uses the springs he has instead of calves, the sky is the limit for D-Rose.
2013-14 Ceiling: No. 1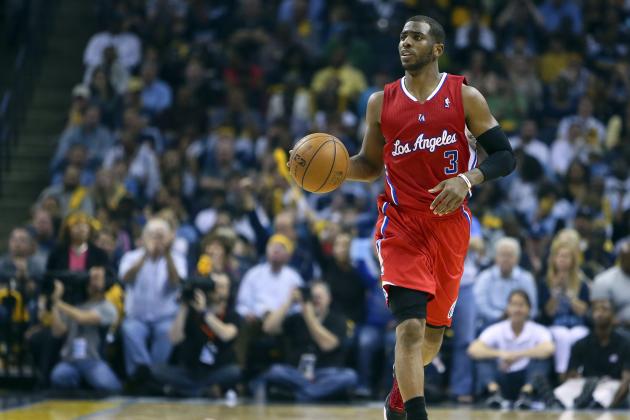 Spruce Derden-USA TODAY Sports

Team: Los Angeles Clippers
Position: PG
Age: 28
2012-13 Per-Game Stats: 16.9 points, 3.7 rebounds, 9.7 assists, 2.4 steals, 0.1 blocks, 26.4 PER
If anyone can point out a part of Chris Paul's game that he can improve dramatically enough to ascend into the top two, please do so.
He's the best point guard in the NBA thanks to his versatility, functioning as a top-notch scorer one night, a defensive stopper on the next and a Stocktonian distributor on the third. You name it, and CP3 can do it. Unless we're talking about blocking shots, of course.
But there's only so much that a diminutive point guard can do.
While Paul has held the point guard title for a while now, his grasp is starting to slip.
There are plenty of challengers, as evidenced by the fact that—including the honorable mentions—there were six other floor generals featured in these rankings. It'll take another phenomenal season and set of postseason performances to hold onto the title.
But as The Wire's Omar Little might say, "You come at the king, you best not miss."
2013-14 Ceiling: No. 3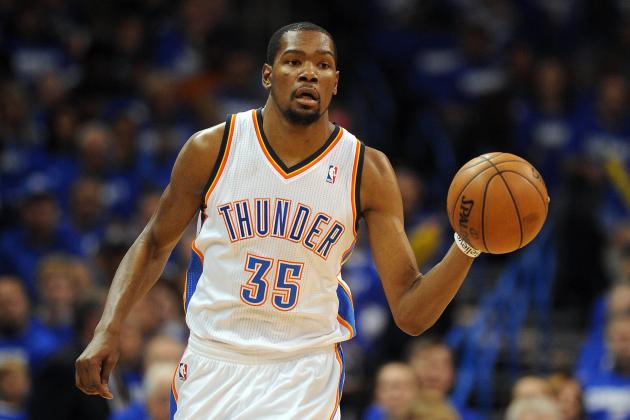 Mark D. Smith-USA TODAY Sports

Team: Oklahoma City Thunder
Position: SF
Age: 24
2012-13 Per-Game Stats: 28.1 points, 7.9 rebounds, 4.6 assists, 1.4 steals, 1.3 blocks, 28.3 PER
Is this the year that Kevin Durant takes over for LeBron James as the No. 1 player in the world?
Probably not, but it is possible.
We aren't going to see a decline from the incumbent, but Durant is still only 24 years old. There's the potential for another massive leap in production, and it would have to come in two areas.
Durant is already established as the best scorer in basketball. Only he and Larry Bird have ever truly competed for a scoring crown while shooting 50 percent from the field, 40 percent from downtown and 90 percent from behind the three-point arc, and Durant could end up going 52/42/92 this year without surprising anyone.
It's defense and facilitating that could still use some work.
Durant took strides in both areas last year, but he's still too turnover prone when passing the ball, and his defense doesn't blow anyone away. He must establish himself as a true stopper in order to challenge LeBron.
According to Synergy, Durant allowed 0.8 points per possession throughout the 2012-13 season, good for No. 60 among all qualified players. He thrived guarding pick-and-roll ball-handlers and anything that required a chase, but he has to improve against both post-up players and isolations sets.
Essentially, Durant can't be a target of the offense. The other team must actively try to avoid attacking him in order for him to take that next step.
Again, it's highly unlikely, but it's possible that we see that type of improvement over the course of just one season from this MVP candidate.
2013-14 Ceiling: No. 1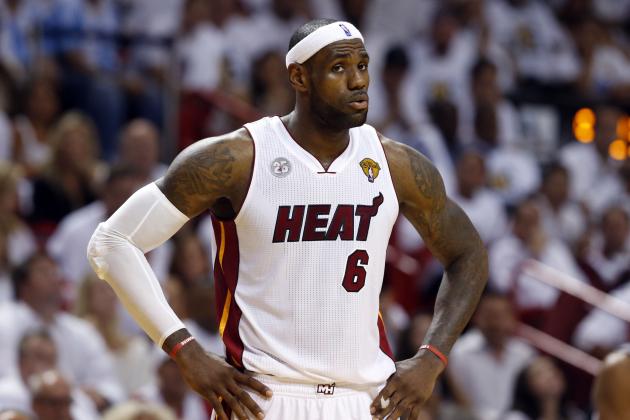 Derick E. Hingle-USA TODAY Sport

Team: Miami Heat
Position: SF/PF
Age: 28
2012-13 Per-Game Stats: 26.8 points, 8.0 rebounds, 7.3 assists, 1.7 steals, 0.9 blocks, 31.6 PER
Duh?
LeBron James clearly stands out as the best player in the world right now thanks to his sheer dominance in every facet of the game. But the scary thing is that he might not be done improving yet.
Still only 28 years old, LeBron is getting better as a post-up player, his shot is improving and he still has plenty of work left to do at the charity stripe. Additionally, his defensive instincts will only continue to get better as experience hones them.
If it were possible to rank higher than No. 1, that would be LeBron's ceiling. Nothing more needs to be said, as historical comparisons are now more apt than modern-day ones.
2013-14 Ceiling: No. 1