SEC Football 2013 Week 5 Simulation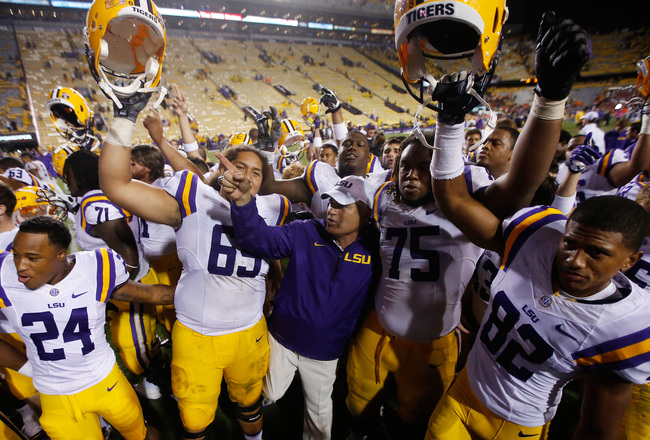 Chris Graythen/Getty Images
Another week, another domination.
The computer picked several games accurately, predicting a 28-6 Vanderbilt win with an actual result of 24-7 and a 38-20 Georgia win with an actual 45-21 Bulldogs win.
Ultimately it didn't matter, though. I'm up by six games now, and almost a quarter into the season, that's a pretty big lead. Against the spread, it's a different story. I was out to a huge lead, and now it's a close race.
In other news, LSU silenced the doubters with a big win over Auburn while Alabama caused some questions by struggling with Colorado State.
The big question is: who's the top in the SEC? This week should help us figure that out.
---
| | | |
| --- | --- | --- |
| | This Week | Overall |
| EA Straight-Up | 6-3 | 30-12 |
| Me Straight-Up | 8-1 | 36-6 |
| | | |
| EA vs. Spread | 6-3 | 21-21 |
| Me vs. Spread | 5-4 | 22-20 |
No. 12 South Carolina [45] vs. UCF [17]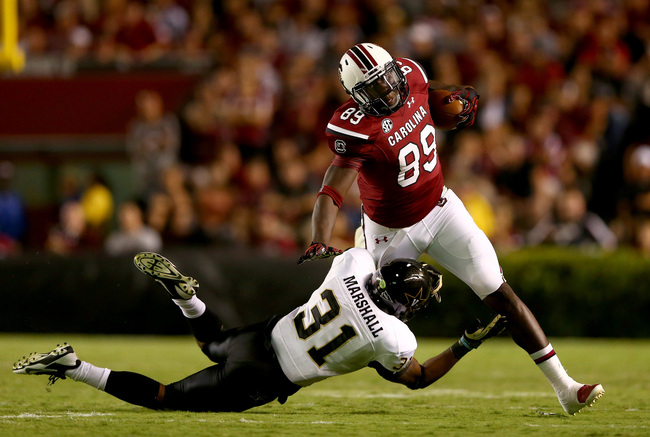 Streeter Lecka/Getty Images
I'm not exactly sure why the Gamecocks are playing this game, actually.
After a first quarter that sees two big drives from both teams end in a touchdown, Dylan Thompson hits for two scores in the second to start a 38-10 run to easily put the game away.
The computer is not so high on Connor Shaw as it simulated Thompson taking the starting role. He goes 14-of-28 for 218 yards and five touchdowns with an interception, while Shaw misses seven out of his 12 pass attempts.
The computer has done a great job understanding Jadeveon Clowney's underwhelming year. In real life, he's got a total of 10 tackles on the year and has only four in this simulation.
UCF, to be fair, is off to a 3-0 start with a win over Penn State, but Carolina is too complete for the Knights to make this a game.
---
EA PICKS: South Carolina to win, South Carolina (-7)
MY PICKS: South Carolina to win, South Carolina (-7)
South Alabama [14] vs. Tennessee [37]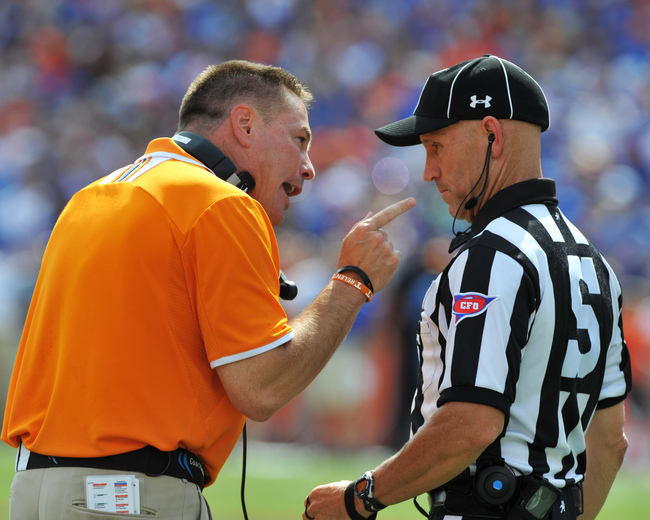 Al Messerschmidt/Getty Images
After #Derpfest2013, questions abound for the Vols. Nate Peterman proved he might be a backup, but he's not a quarterback, and six turnovers might be a few too many.
South Alabama has beaten a solid WKU squad (who, by the way, destroyed Kentucky).
With that said, this one was never in doubt. The Vols score the first 17 points and never look back. UT out gains the Jaguars by 203 yards, assisted by 268 from Tim Worley's bounce-back game on 22-of-37 passing.
Rajion Neal hits triple digits in rushing and Vincent Dallas does the same in receiving yards.
Although this has the potential to be a letdown game, I'll take the Vols and the points.
---
EA PICKS: Tennessee to win, Tennessee (-20)
MY PICKS: Tennessee to win, Tennessee (-20)
#6 LSU [27] at #9 Georgia [35]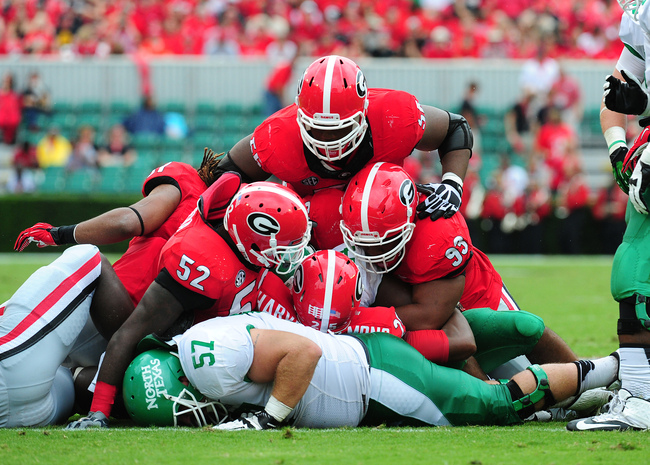 Scott Cunningham/Getty Images
Perhaps the biggest East versus West match-up of the season ends in a big victory for the Bulldogs. And a hell of an ending.
The game opens in exciting fashion, as UGA's Damian Swann jumps in front of a Mettenberger pass and takes it 35 yards for a touchdown. The Georgia offense struggles early, ending in a couple of three-and-outs in the first quarter and the Tigers move with ease on their way to ten-straight points.
Murray picks it up in the second, hitting Lynch and Conley for a touchdown each and UGA leads at halftime 21-10.
LSU's defense stacks it up again in the third, and a couple of Hairston field goals beyond 40 yards puts the Tigers within five, down 21-16.
Mettenberger marches down the field again and scores on a six-yard pass, and a two-point conversion puts Miles' squad up by a field goal. Another Hairston field goal with 3:17 gives LSU its 20th-straight point and a solid 27-21 lead.
With just 1:03 left, Murray leads a spirited 75-yard drive that ends in a touchdown from Murray to Conley and gives the Bulldogs a fragile 28-27 lead.
Metternberger steps up to the plate. After a couple of first downs, the redshirt senior goes for the homerun ball with three seconds left...and it's returned for a touchdown by Chase Vasser. Game.
Another big game, another difficult call. The Bulldogs haven't shown a lot of weakness and I'm not sold on the LSU defense. At home, I'm going with Georgia.
---
EA PICKS: Georgia to win, Georgia (-3.5)
MY PICKS: Georgia to win, Georgia (-3.5)
No. 21 Ole Miss [9] vs. No. 1 Alabama [34]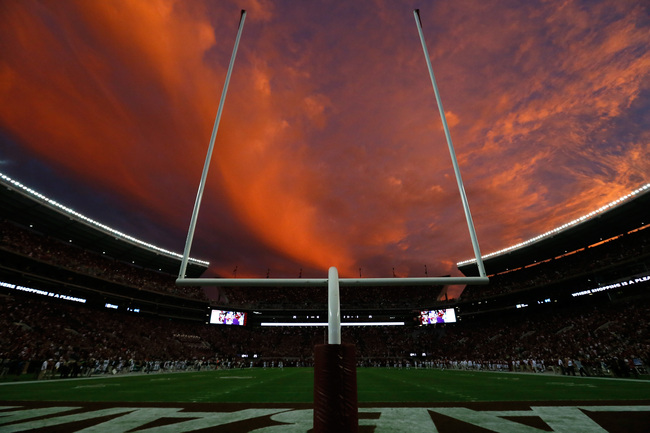 Kevin C. Cox/Getty Images
You can believe it all you want, Rebels fans, but this game isn't going to be close.
Alabama's defense hasn't really lived up to expectations, which could be an opportunity for Ole Miss, however, in the simulation, it isn't. The Rebels manage three field goals to Alabama's 401 yards and 24 first downs.
A.J. McCarron was less than efficient (which won't happen), hitting 15-of-31 passes for 202 yards, a couple of touchdowns and an interception. T.J. Yeldon's 98 yards and a touchdown was added to the mix.
Bo Wallace turned the ball over once and hit just 50 percent of his passes, while Jaylen Walton and his 97 yards was the only Ole Miss player to run for more than 10 yards.
Here's the thing: When Nick Saban's team is on and focused, which is most of the time, Alabama doesn't really lose. And the Crimson Tide won't—not at home.
---
EA PICKS: Alabama to win, Alabama (-14)
MY PICKS: Alabama to win, Alabama (-14)
No. 10 Texas A&M [21] vs. Arkansas [14]
Scott Halleran/Getty Images
Yep, okay, the computer is on crack. The same Arkansas team that lost to Rutgers manages to keep a game against the Aggies within a touchdown? Probably not.
Not only is this game close, the Razorbacks score first on a 44-yard field goal and leads 3-0 until the 7:11 mark in the second quarter.
Brandon Allen has a flat-out bad game for Arkansas, but the real story is Johnny Manziel. Arkansas defense magically manages to hold the reigning Heisman Trophy winner to 179 yards, one touchdown and an interception on 20-of-40 passing.
I'm just not feeling this. Too many miracles, and I'm not expecting this game to have many.
---
EA PICKS: Texas A&M to win, Arkansas (+14)
MY PICKS: Texas A&M to win, Texas A&M (-14)
No. 20 Florida [49] vs. Kentucky [32]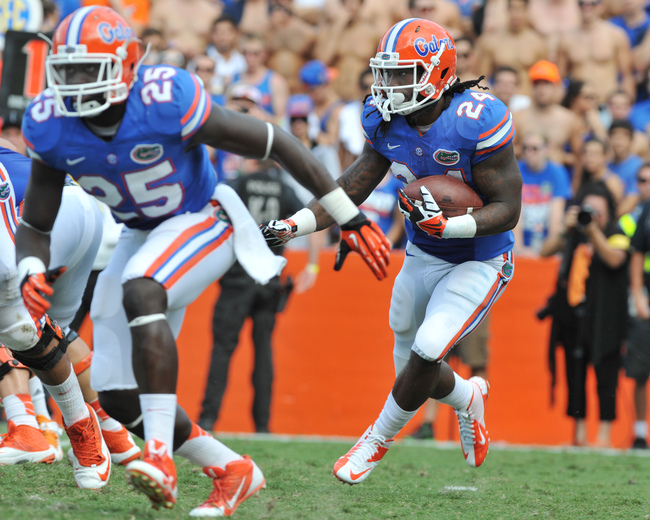 Al Messerschmidt/Getty Images
Malfunctioning offense. Key injuries. Near-miss embarrassing losses. This is Florida folks, and Kentucky's story is even worse.
The Gators begin the game predictably, scoring the first 14 points of the game on big drives. After a lucky 55-yard pass for a touchdown from UK, Florida runs off 21-straight and the game isn't ever really in question.
Appropriately, Florida is involved in a game with five turnovers—not many compared to its last—and three of those were interceptions off of UK's Maxwell Smith. Jeff Driskel, who's injured eye is well, hits on 15-of-23 attempts for a meager 173 yards and two touchdowns. Florida's run game was more potent, with Jones rushing 19 times for 100 yards and a score.
If the Wildcats weren't so terrible, I'd give them a chance in this one. The Gators are vastly overrated at this point and will soon be outed—but not by Kentucky.
---
EA PICKS: Florida to win, Florida (-12)
MY PICKS: Florida to win, Florida (-12)
UAB [24] vs. Vanderbilt [49]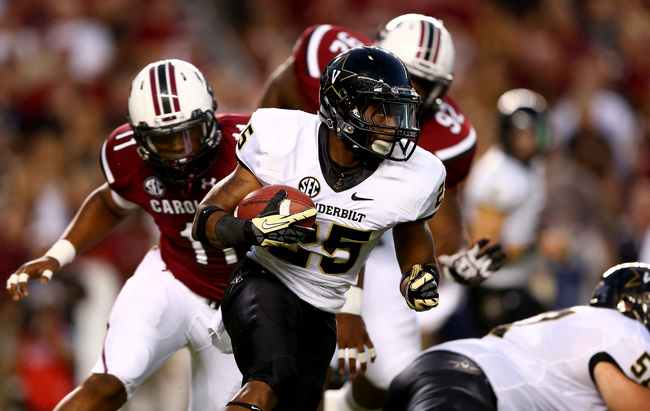 Streeter Lecka/Getty Images
Against smaller competition, the Commodores defense has been decent. Against South Carolina and Ole Miss it...wasn't.
UAB, luckily, falls into the latter category. In the simulation, Vanderbilt controls the game from its outset, including a 21-point fourth quarter, but the defense struggles despite allowing just 274 yards of offense. Three turnovers may have something to do with that.
Austyn Carta-Samuels goes 20-for-33 with 385 yards and four touchdowns, pushing his QB rating close to the 200s.
My perception of the Dores thus far is a close comparison to Mississippi State: Talented and well-coached, but not quite ready to break through to the top.
---
EA PICKS: Vanderbilt to win, Vanderbilt (-20)
MY PICKS: Vanderbilt to win, UAB (+20)
Arkansas State [42] vs. Missouri [45]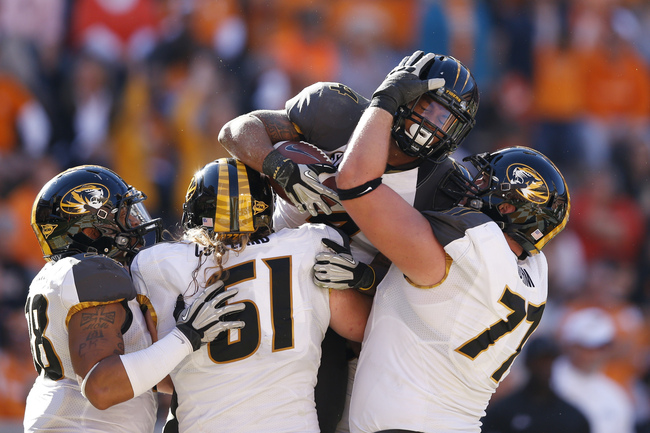 Joe Robbins/Getty Images
Some of the most volatile and difficult to predict outcomes are born from games pitting two potent offenses and weak defenses. This is one such game.
The first quarter looks like a disaster in the making for Mizzou. The Red Wolves march down the field easily three times, with a separate player scoring each touchdown and ASU leads 21-3 heading into the second.
The tables turn in the second, as the Tigers run game catches on and score 21 in the second to trail 28-24 at halftime.
The advantage came in the third for Mizzou on a four-yard run from L'Damian Washington, giving the SEC team the final four-point advantage over the Sun Belt team.
Both of these teams are tough to read. Missouri has struggled with terrible competition but is 3-0 with a win over a BCS opponent. Arkansas State has underwhelmed, but has a win against a solid Troy squad and an atrocious loss to, well, Memphis.
I tend to side with the computer on this one. I don't think it'll be within three points, but it'll be under the spread.
---
EA PICKS: Missouri to win, Arkansas State (+21.5)
MY PICKS: Missouri to win, Arkansas State (+21.5)
Big-Time Divisional Clash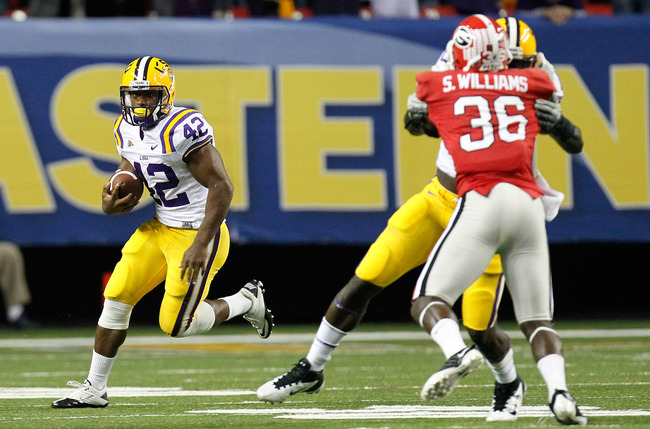 Kevin C. Cox/Getty Images
There are only a select few games each season that have as much on the line as this Saturday's LSU-Georgia matchup.
Two top ten teams. Both teams with a very real possibility of playing for a national title. Both teams with elite coaches and future NFL players.
This is why America loves, or in some cases hates, the SEC. Soak up every second of it.
Follow me on Twitter @SEC_Nerd
Keep Reading