Fantasy Football Week 4: Essential Stats to Dominate Your League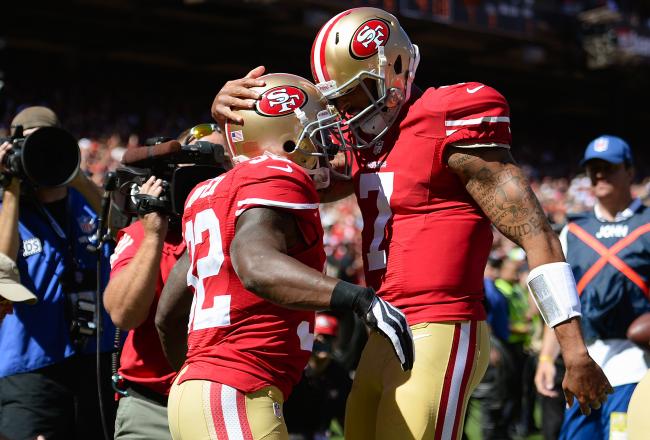 Thearon W. Henderson/Getty Images
Growing up, I loved to collect baseball cards. I would make lopsided trades to ensure I had my favorite players, carefully wrapping the cards in thin plastic sleeves first before sliding them into the thicker, more protective ones.
But after a while, my hobby became financial in nature. I'd search Beckett to see how valuable my cards were. I'd sell some and collect others, anticipating which cards would see their value rise. It was no longer enough to simply have a player's card—now, I was playing the baseball card stock market.
In fantasy football, stats are the same. There's a lot of information jammed down your throat on a weekly basis, but if you can't analyze that information and use it to make educated projections or decisions about trades, what good is it to you?
Here, I've collected some of the most intriguing stats I've found over the week and what I think it means for fantasy owners. Unlike my baseball cards, these findings I'm willing to share.
Stat: We start with a stat from Sigmund Bloom of Bleacher Report that will terrify fantasy owners facing an opponent who has Denver Broncos players in their starting lineup this week:
Just to put fine point on it, combined #2 WR facing #eagles this year (Hankerson-Royal-Avery) would be #1 WR in fantasy football right now

— Sigmund Bloom (@SigmundBloom) September 23, 2013
Why You Should Care: Um, Wes Welker is going to absolutely destroy the Philadelphia Eagles secondary. It's going to be ugly. If you have Welker (or Peyton Manning), just go ahead and start worrying about next week.
Stat: Here's an excellent stat from Dave Richard of CBS Sports.

On Thursdays in 2012 only six quarterbacks had 20-plus fantasy points, 23 running backs had 10-plus points (11 had 15-plus points), 24 receivers had 10-plus fantasy points (just seven had 15-plus points) and four tight ends had 10-plus Fantasy points.
Why You Should Care: Running backs generally seem safe on Thursday nights, but the other positions are more questionable. Disregarding the Week 1 Thursday game (since it technically didn't come on a short week), no quarterbacks have reached 20 points, and just three non-running backs at the skill positions have reached double-digit points.
In other words, you might want to weigh your options carefully before starting players like Colin Kaepernick, Anquan Boldin or Tavon Austin, while Frank Gore should be a safe start. I have Kaepernick as my No. 10 quarterback this week, but don't expect week-winning fantasy numbers from him.
Stat: Our next stat comes from Trey Wingo of ESPN.
The Giants can't sustain a drive. They've averaged just 4.45 plays per drive this season, which is the lowest average in the league

— trey wingo (@wingoz) September 25, 2013
Why You Should Care: Unless you are in a pinch, the only player on the New York Giants you should be starting is Victor Cruz. Until this team figures out how to sustain a drive, protect Eli Manning, limit the turnovers and establish a running game, there isn't a lot of fantasy value on this offense.
Stat: Cecil Shorts leads the NFL with 39 targets.
Why You Should Care: He's a garbage-time MVP, ladies and gentlemen. He's turned all of those targets into nine fantasy points per week, making him a pretty safe flex in all formats. And don't worry about the return of Blaine Gabbert eating into his targets—he saw 10 in Week 1 with Gabbert starting.
Stat: This little tidbit comes via Mike Clay of Pro Football Focus.
Lamar Miller has yet to attempt a carry inside the opponent's 10-yard line this year. #Dolphins http://t.co/B05SNwIUrv

— Mike Clay (@MikeClayNFL) September 25, 2013
Why You Should Care: Well, seeing as Daniel Thomas has more fantasy points (20) than Lamar Miller (18) thus far, the fact that Miller isn't seeing any touches near the goal line is somewhat concerning. This seems pretty close to a time share at this point, with Miller receiving 32 carries thus far to 21 for Thomas.
Miller is the more compelling runner, but he's only flex material for fantasy owners, at least for the time being.
Stat: 23 players have rushed for more yards than the 151 yards on the ground posted by the Pittsburgh Steelers as a team this season. One of those players is quarterback Terrelle Pryor (198 rushing yards).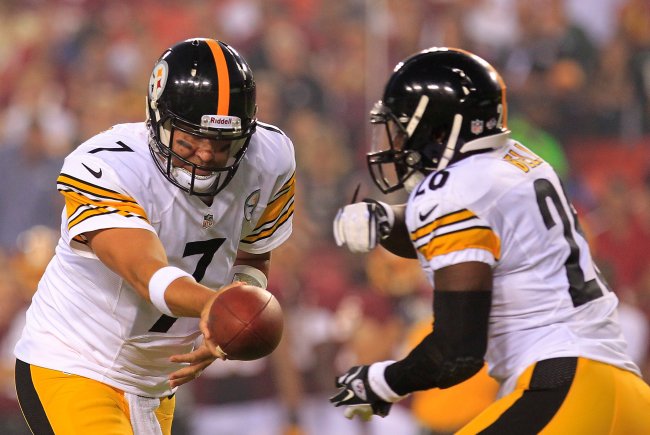 Geoff Burke-USA TODAY Sports
Why You Should Care: There are two ways to interpret this stat. The first is that Le'Veon Bell won't have much competition for touches upon his return (though expect him to be limited if he plays this week). The second is that, a lack of competition or not, this Pittsburgh offensive line isn't very good. Bell becomes a flex in Week 5 assuming he plays this week, but keep temper your expectations.
Stat: We get this little ditty from CBS Fantasy Football on Twitter:
Maurice Jones-Drew has at least 100 yards on the ground in five of his last six meetings with the Indy: http://t.co/aIRW1swois #Jaguars

— CBS Fantasy Football (@CBSFantasyFB) September 24, 2013
Why You Should Care: To be honest, I just figured Maurice Jones-Drew owners needed a little bit of hope heading into this week. And hey, you guys, like Shorts he has immense garbage-time MVP potential.
Stat: The Chiefs' next opponent, the New York Giants, are allowing 20.0 fantasy points to opposing defenses per week.
Why You Should Care: The Chiefs D/ST is a great play this week if you are streaming defenses. While it is always possible Eli Manning and the Giants passing game will blow up, it's just as likely they'll turn the ball over a handful of times.
Stat: Via Rotoworld, we get the following stat.
"Broncos K Matt Prater currently holds the NFL record for best percentage from 50 yards or longer. Prater easily knocked a 53-yarder through on Monday night, making him 16-of-21 (76.1 percent) in his career."
Why You Should Care: Hey, as kickers go, he's the one you want this season, especially if your league gives more points for longer field goals. There, we've covered our kicker quota for this article.
Stat: Here comes some knowledge from ESPN Stats and information.
The Redskins average starting field position (own 22.2) is the worst by any team through 3 games since the 2006 Broncos.

— ESPN Stats & Info (@ESPNStatsInfo) September 23, 2013
Why You Should Care: There are a lot of reasons why Robert Griffin III has been disappointing to start the season. Timidness after his knee injury. Basic rust. A lack of weapons in the passing game. Offensive line struggles. And, it turns out, absolutely atrocious field position.
It's pretty hard to throw or rush for touchdowns when you have to go 77.8 yards on every drive to do so. One would guess Washington would improve upon this stat, thereby increasing the odds of Griffin finding paydirt.
Stat: Peyton Manning is the only quarterback in the NFL with 20 or more fantasy points in every week. LeSean McCoy, Jamaal Charles, Matt Forte, Doug Martin, Darren McFadden and Fred Jackson are the only running backs with double-digit fantasy points in all three weeks. Julio Jones is the only wide receiver in the NFL with double-digit points in the first three weeks, and Jimmy Graham is the only tight end.
Why You Should Care: Outside of the top tier of running backs, consistency is hard to come by this season. It's especially true at tight end in general, probably the most fickle of the fantasy positions. That makes Graham especially valuable.
More on that below.
Stat: In 10-team standard-scoring leagues, the most valuable players compared to a replacement player at their position are LeSean McCoy (12.6 points added per week) Peyton Manning (+12.3), Jimmy Graham (+11.3), Jamaal Charles (+10) and Adrian Peterson (+9).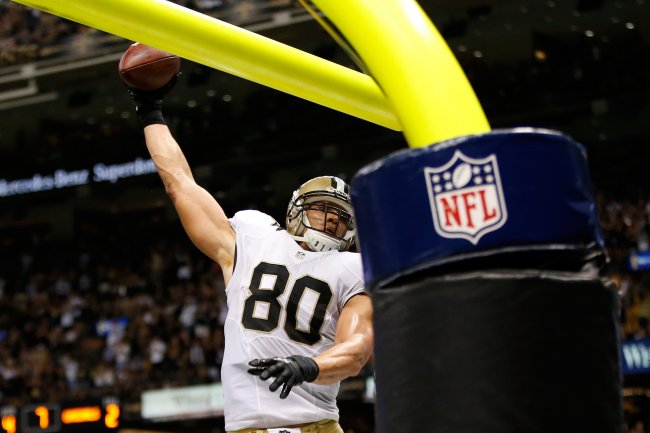 Chris Graythen/Getty Images
Why You Should Care: For the purposes of this stat, a replacement player means a player that shouldn't be started based on their ranking. So, for 10-team leagues, the No. 11 quarterback and tight end and the No. 26 running back and wide receiver (taking into account flex starters).
The point to take away from this is just how valuable Graham is in fantasy leagues. I've seen people say they would never trade a good running back or receiver for a tight end like Graham. But not only is Graham outscoring every wide receiver thus far, there is only one running back that is more valuable when compared to a replacement player.
In other words, you would be justified after the first three weeks if you decided to trade a player like Charles for Graham.
But should you? Well, that depends on whether or not you think Graham can keep up this level of production. Charles will probably stay close to his current average of 17.6 points per week, but it's harder to imagine Graham maintaining a 19.3 points-per-week mark.
But if someone offered me Graham for, say, Alfred Morris? Sign me up.
Hit me up on Twitter—I'll answer your fantasy lineup questions, make ill-fated NFL predictions and tweet cheesy jokes. Excessive celebration encouraged.
This article is
What is the duplicate article?
Why is this article offensive?
Where is this article plagiarized from?
Why is this article poorly edited?