6 Things We Learned from Real Madrid's Win over Elche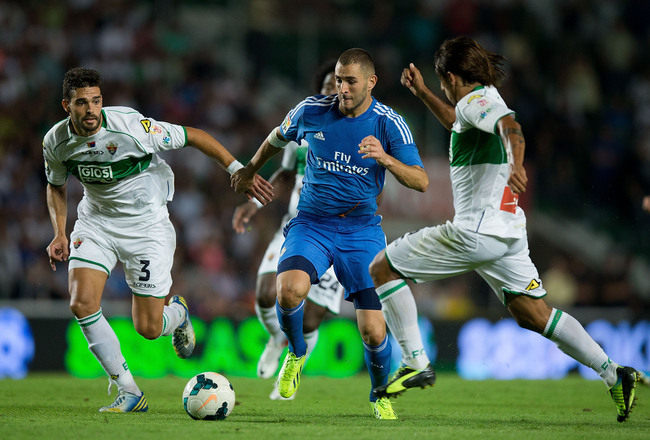 Gonzalo Arroyo Moreno/Getty Images
Real Madrid struck it lucky as a last-minute Cristiano Ronaldo penalty stole three points deep into stoppage time against Elche.
Ronaldo had previously given Los Blancos a second-half lead with a free-kick thanks to a dodgy wall and some questionable goalkeeping from Manu Herrera.
Elche may have felt aggrieved to find themselves behind having played with an intensity that took the game to Madrid.
However, if they did, it didn't show as they continued to chase an equaliser.
It eventually came when substitute Richmond Boakye headed past Diego Lopez in stoppage time to seal what looked like a well-earned point.
There was somehow still time for more action, though, and referee Muniz Fernandez stole the show when he awarded Real Madrid a late, late penalty to decide the match.
Here are the major talking points from Madrid's controversial win on the Spanish coast.
Muniz Fernandez Has a Shocker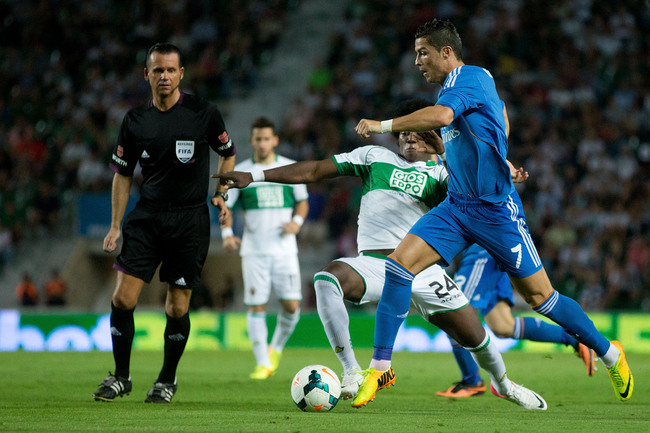 Gonzalo Arroyo Moreno/Getty Images
No wonder the lesser teams in Spain feel that referees favour the duopoly of Real Madrid and Barcelona.
When Pepe and Carlos Sanchez tangled in the box with stoppage time already up, the scenes were no different to many of the schoolboy scraps we see week in and week out in penalty areas across the world that precede corners.
Muniz Fernandez saw something that nobody else did, though, and he awarded a penalty to Madrid after Elche had appeared to snatch a point.
After a stream of protestations from the home team, Cristiano Ronaldo eventually dispatched the spot kick.
The full-time whistle brought more demonstrations from Elche's rightfully aggrieved players. After all, it wasn't Fernandez's first error of the night in favour of Los Blancos.
Ramos Should Have Walked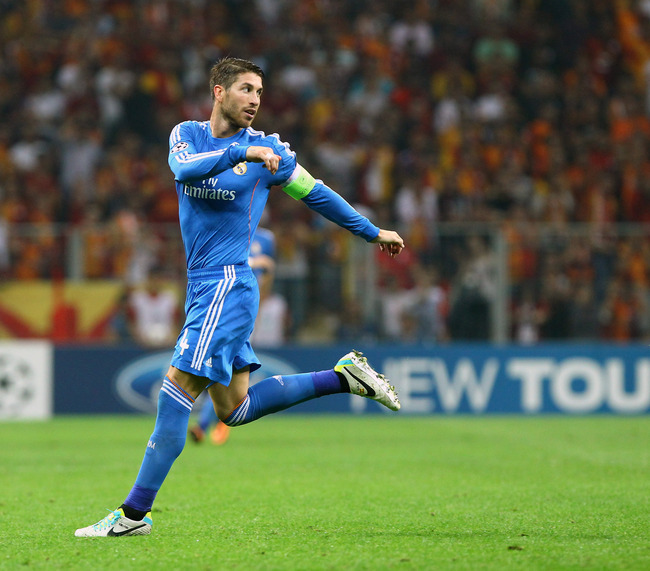 EuroFootball/Getty Images
Sergio Ramos has been shown a red card on a club-record 16 occasions for Real Madrid, with 12 coming in La Liga.
With that in mind, nobody would have been surprised to see him given his first marching orders of the season in Wednesday's win at Elche.
In fact, everyone was expecting it at one point.
Having already been booked for a clumsy, borderline last-man challenge in the opening 10 minutes, Madrid's captain found himself in a similar position just after half an hour.
Elche fans, players and viewers around the world waited for a dash of red to slide from the pocket of Muniz Fernandez, but it never came.
The referee felt it wasn't necessary to show a second yellow and Ramos must have breathed a huge sigh of relief.
Madrid Still Not in Top Form Ahead of Derby
Gonzalo Arroyo Moreno/Getty Images
Two points behind Barcelona and Atletico Madrid, who remain perfect, Real Madrid have made a satisfactory start to their league campaign on the face of things.
Wednesday night's controversial win at Elche adds to the nagging feeling they've not found their feet yet under Carlo Ancelotti.
Even before Richmond Boakye's late equaliser, the home side had looked good value for a point.
Cristiano Ronaldo's penalty may gloss over some points, but it won't detract from the point that Madrid are yet to really hit top gear under their new manager.
Saturday brings the Madrid derby. It could be the perfect time to slide into fifth gear, or Atletico Madrid could revel in the deficiencies that Granada, Elche and others haven't quite been able to exploit.
Benzema Still Toiling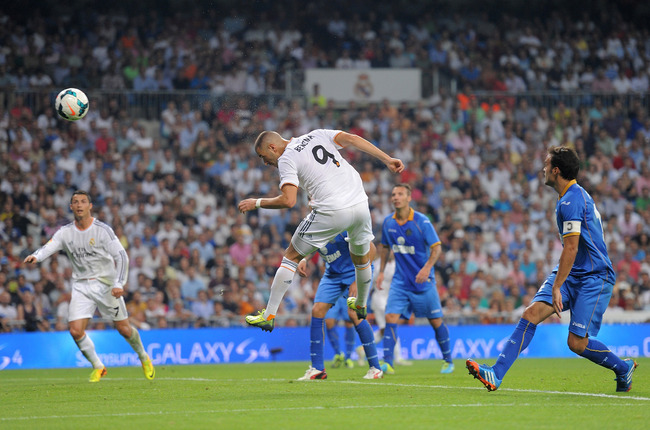 Denis Doyle/Getty Images
Karim Benzema's 65th minute shot—which came closer to the corner flag than the goal—just about summed up the Frenchman at the moment.
After missing two appetising headers against Getafe at the Bernabeu on Sunday, he again failed to register in Wednesday night's win over Elche.
It's emerging as common knowledge that the Bernabeu crowd are beginning to lose patience with him.
Also on the agenda of more and more people is the inclusion of one of Carlo Ancelotti's younger options—Jese Rodriguez or Alvaro Morata.
The Italian remains committed to Benzema, though, with his assistant Zinedine Zidane seemingly a fan as well. However, as the 25-year-old continues to hit the wrong notes, could he be a bad performance in the Madrid derby away from the chop?
Too Many Loans Spoil the Broth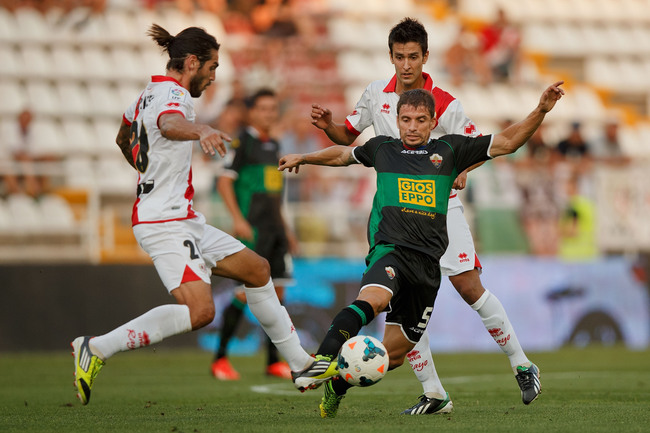 Gonzalo Arroyo Moreno/Getty Images
Following their promotion to La Liga last season, Elche have undergone some serious changes in personnel over the summer.
Fran Escriba has mainly been forced to deal in the loan market, though, and that could cause problems when the time comes for Los Franjiverdes to roll their sleeves up.
It's all very well putting in encouraging performances against Los Blancos when the shop window is at it's biggest, but how keen will they be come April?
Of the players that started the game against Real Madrid, five were borrowed from other clubs—nearly 50 percent of the first XI.
Therefore, if Elche get embroiled in a scrap at the bottom, how much will the likes of Carles Gil (Valencia), Ruben Perez (Atletico Madrid) and Manu del Moral (Sevilla), among others, really be bothered about feeling the pinch of relegation?
Kids Waiting in the Wings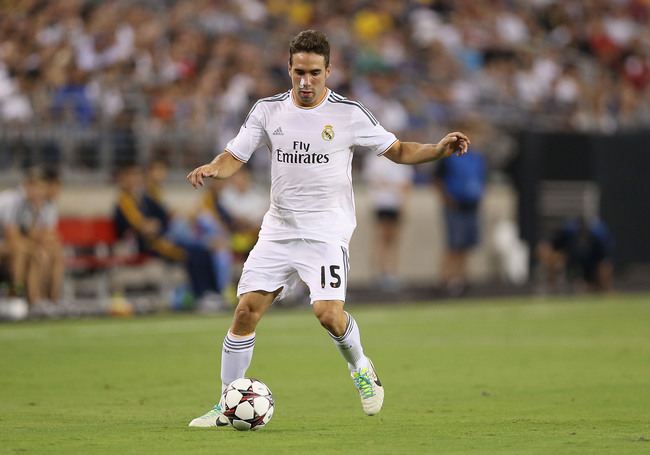 Christian Petersen/Getty Images
Carlo Ancelotti has shown a preference toward his more experienced players in the early stages of his managerial career at Real Madrid, and Wednesday night's win at Elche proved no different.
Iker Casillas aside, his substitutes for the La Liga match featured a crop of players who could form Los Blancos' side for the next decade.
Defenders Raphael Varane (20) and Dani Carvajal (21) were seated with midfielders Asier Illarramendi (23) and Casemiro (20), while young Spanish forwards Jese Rodriguez (20) and Alvaro Morata completed the bench.
With Casillas, the seven subs have an average age of 22.43. Without San Iker, the average age of the six outfield subs is a staggeringly low 20.83 years old.
Throw Isco (21) and Gareth Bale (24) into the mix, and it becomes obvious that Madrid are developing a young, talented squad.

Ancelotti doesn't seem to be in a rush to throw them all in at once, though.
Keep Reading

Real Madrid: Like this team?