In the second game of a three-Test netball series with South Africa, England emerged victorious at London's Wembley Arena on Wednesday evening.
With the 51-33 victory, England is now assured of a series win, regardless of Friday's score.
Shooter Jo Harten and attacker Pamela Cookey had their way with the South Africa defence for most of the game, playing off each other nicely to create passing lanes and scoring opportunities for each other.
England turned up their effort on defence during the second half, allowing just 14 points over the final two quarters to pull away down the stretch. England Netball on Twitter had some analysis as the score went final:
Final score England 51 SA 33, Eng not at their best but a good performance in patches gets the job done. A fast game and action packed

— England Netball (@England_Netball) September 25, 2013
South Africa's netball Twitter account had a different view:
Full-time: Eng 51 -- 33 SA. Tough day at the office but commitment can't be faulted. One more chance on Friday.

— Netball South Africa (@Netball_SA) September 25, 2013
After grinding out a 49-38 win in the first Test, England wanted to use Test No. 2 to work out some of the kinks. As BBC Sport's Paul Glynn reported on Monday, England head coach Anna Mayes was looking for her side to produce more consistently on Wednesday.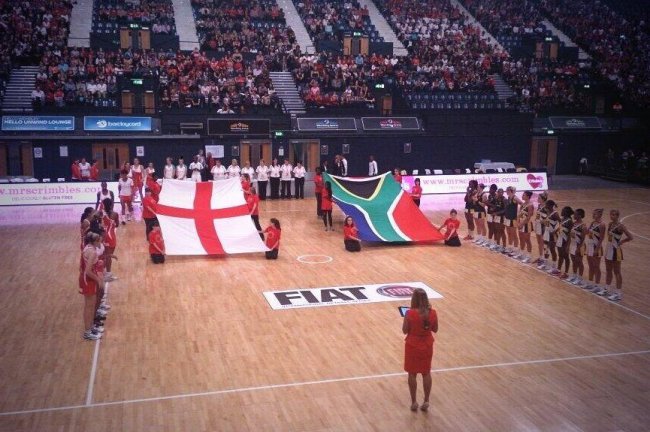 South Africa was poised to give the home side more trouble after the opening centre pass, jumping out to a 2-0 lead and forcing an early turnover.
England turned things around from there.
The home side took control shortly after South Africa's hot start, responding well to early adversity by pushing the pace and finding favourable passing lanes in the middle of the court. By the end of the first period, England held a 13-9 lead.
The team's Twitter account had a few positives to share with fans after the opening frame:
End of Q1: Eng 13 SA 9. Harten finds the net right before quarter time, Eng showing fluency in attack and will look to push home advantage

— England Netball (@England_Netball) September 25, 2013
Unable to cut into the lead in the second quarter, South Africa was down by nine heading into the half. England did a nice job of forcing the ball away from the hoop, a strategy that played to their favour as South Africa chose unsuccessfully to launch the outside shot.
As noted by BBC Sport's Jessica Creighton, the defence picked up the slack for England en route to a comfortable lead:
HALF-TIME: England 29-18 South Africa. Solid display from @England_Netball, defense across the court is impressive.

— Jessica Creighton (@Jess_BBCSport) September 25, 2013
Olympic sprinter Jeanette Kwakye was loving the overall intensity England brought to the table:
So, @England_Netball are handling South Africa nicely!! 2 quarters left to play! Love watching @Sasha_Corbin #Fierce

— Jeanette Kwakye (@JNETTEKWAKYE) September 25, 2013
Mayes' side further increased their lead over the final two quarters. England led by 16 (41-25) at the end of the third quarte, and added two more digits to that point spread by the end of the game.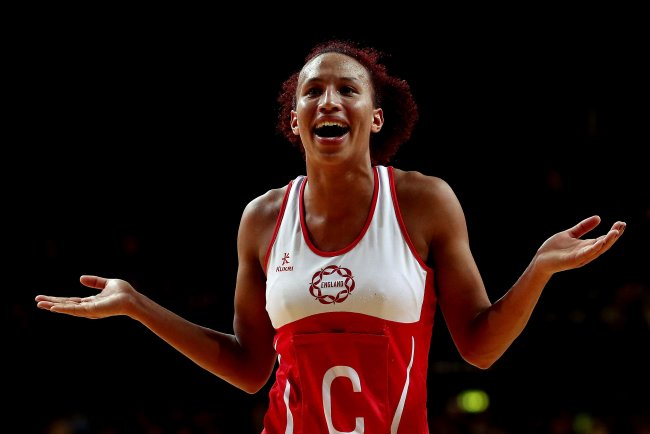 Scott Heavey/Getty Images
With the second Test now in the books, England have still lost only one game—at Netball Europe Open Championships to Wales—this year.
With England clearly one of the best teams in the world right now, it will be tough for South Africa to salvage a little pride by taking down England in the third Test.
The third and final Test in the series will take place in Worcester on Friday.
Follow B/R's Ethan Grant on Twitter.