While there is still a lot of NFL season ahead of us, Week 4 is the time when teams might start to panic. Fortunately, a few of them will come through with big victories this week.
Although every win during the year counts the same in the standings, some games are more important than others. A win over a division rival or tough opponent certainly means a lot, while other times a win to turn things around can be huge for the rest of the season.
These squads are in desperate situations but will feel much better after the week after coming away with big performances.
Pittsburgh Steelers vs. Minnesota Vikings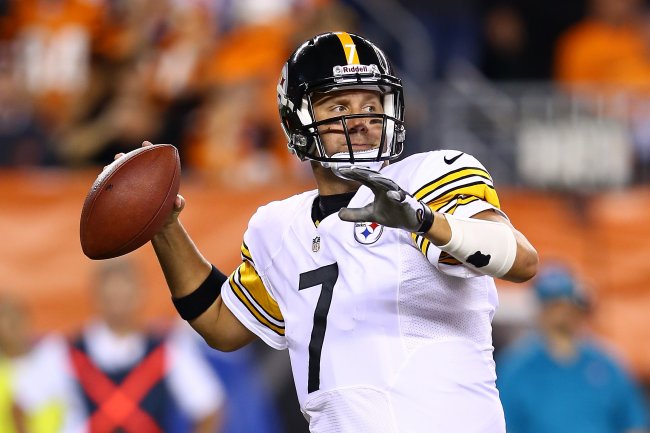 Andy Lyons/Getty Images
The current NFL standings certainly look strange to anyone who has followed the league over the past few years. Along with a few other perennial playoff contenders, the Steelers have started 0-3.
They will look to get their first win of the year against the 0-3 Minnesota Vikings in London.
Pittsburgh's biggest problem is the offensive line, which has had two tough matchups in the past two weeks in the Cincinnati Bengals and Chicago Bears. After this stretch, the unit should be ready for anything.
Additionally, Heath Miller's return to the field will give Ben Roethlisberger a check-down option when he gets under too much pressure.
On the other side of the field, the Vikings struggle with everything besides handing the ball to Adrian Peterson. The experienced Steelers defense should be able to slow down the running back, forcing Christian Ponder to beat them.
Combine this with the fact that Minnesota has been awful defensively to start the year, and Pittsburgh should be able to get their first win of the season.
Houston Texans vs. Seattle Seahawks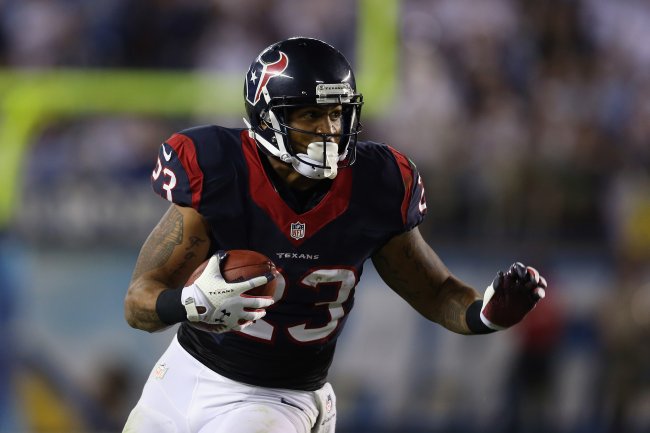 Jeff Gross/Getty Images
Despite starting with a 2-1 record, there is not a lot of reason for the Texans to feel comfortable. They barely escaped for their first two wins and then were blown out by the Baltimore Ravens.
With games against the Seahawks and San Francisco 49ers in the next two weeks, Houston could fall into a lot of trouble.
Fortunately, the squad has a good chance of turning things around in this game. The Texans face an opponent that only went 3-5 on the road last year and scored only 12 points in its only road game of this season.
Houston also has more balance offensively than it has had in years, thanks to the emergence of DeAndre Hopkins and the strong play of Ben Tate. These guys have taken the pressure off of superstars Arian Foster and Andre Johnson.
The only issue has been the poor mistakes by Matt Schaub. If he can cut down on the turnovers (especially those that lead to defensive touchdowns), the Texans can come away with an upset victory in this game.
Washington Redskins vs. Oakland Raiders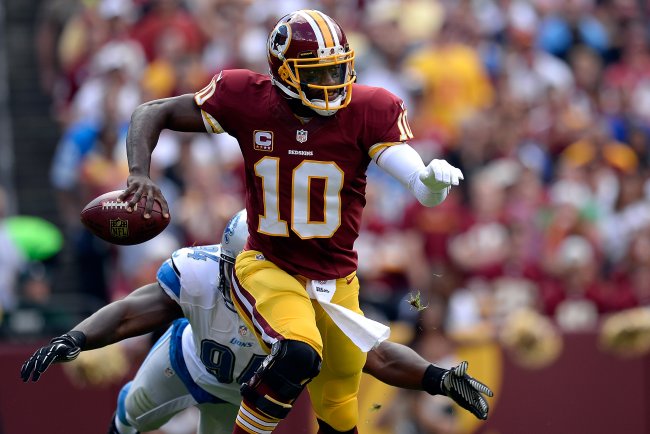 Patrick McDermott/Getty Images
As another playoff team from last season that is off to an 0-3 start, the Redskins are in trouble. The defense has allowed the most yards in football, and star quarterback Robert Griffin III seems to be out of rhythm.
The good news is that they play in the NFC East, which seems to be a division no one wants to win.
Additionally, there were some positive takeaways from the most recent loss to the Detroit Lions. Most notably, Griffin appeared willing to leave the pocket and run, which he did for a total of 37 yards on six carries.
His mobility is what made the offense what it was last year, and it will get the unit back on track this season as well.
On the other side of the ball, the Redskins defense will only have to face a passing offense currently ranked 28th in the NFL in yards. With starting quarterback Terrelle Pryor questionable for the game after sustaining a concussion Monday night, the Raiders offense could be even worse.
Even on the road, the Redskins have a good chance to get back on track with a win.
Full NFL Week 4 Picks

| | |
| --- | --- |
| Game | Winner |
| San Francisco 49ers at St. Louis Rams | Rams |
| Baltimore Ravens at Buffalo Bills | Ravens |
| Cincinnati Bengals at Cleveland Browns | Bengals |
| Chicago Bears at Detroit Lions | Bears |
| New York Giants at Kansas City Chiefs | Chiefs |
| Pittsburgh Steelers at Minnesota Vikings (London) | Steelers |
| Arizona Cardinals at Tampa Bay Buccaneers | Buccaneers |
| Indianapolis Colts at Jacksonville Jaguars | Colts |
| Seattle Seahawks at Houston Texans | Texans |
| New York Jets at Tennessee Titans | Titans |
| Philadelphia Eagles at Denver Broncos | Broncos |
| Washington Redskins at Oakland Raiders | Redskins |
| Dallas Cowboys at San Diego Chargers | Cowboys |
| New England Patriots at Atlanta Falcons | Patriots |
| Miami Dolphins at New Orleans Saints | Saints |
Follow Rob Goldberg on Twitter for the latest breaking news and analysis.