Texas Rangers vs. Houston Astros Live Blog: Instant Reactions and Analysis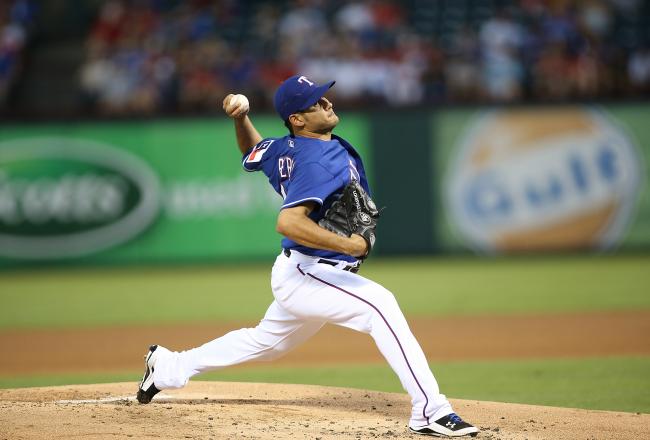 Martin Perez and the Rangers pitching staff need a big week to propel Texas into the playoffs.
Rick Yeatts/Getty Images
The Texas Rangers recovered from an early two-run deficit to beat the Houston Astros 7-3. The win marked the first series sweep for the Rangers since Aug. 26-28 in Seattle.
The Rangers and Astros took advantage of early mistakes to score the first runs of the game. Martin Perez cruised through the first three innings before giving up three runs in the fourth, highlighted by Brandon Laird's homer over the center field wall.
Texas responded quickly.
After two quick outs to start the bottom of the fourth, the next seven Rangers hitters got on base. Leonys Martin delivered a bases-clearing double and was followed by an Ian Kinsler RBI-single. Two batters later, Alex Rios provided another single to put Texas up 6-3.
Kinsler added another run with a solo blast to left field in the sixth, sending Houston starter Dallas Kuechel out of the game.
Southpaw Martin Perez was solid for Texas, allowing only three runs in seven innings of work. His ability to go deep into the game is valuable for the Rangers bullpen, which needs to be at full strength heading into the season's last four games against the Los Angeles Angels of Anaheim.
Unfortunately for Texas, the series sweep didn't allow the team to gain any ground on wild card leaders Tampa Bay and Cleveland. The Rangers remain two back of the Rays and one back of Cleveland.
Soria comes in and finishes off the Astros in the ninth.
Rangers win, 7-3, beating the Astros for the 17th time this season.
Despite the sweep, Texas does not gain any ground on Tampa Bay or Cleveland in the wild card standings.
Jorge de Leon in to pitch for Houston.
Frasor didn't look very sharp out there, but he did get through the inning without any runs.
Score remains the same: Texas 7, Astros 3
Jason Frasor is in to pitch for Texas in the 8th. Scheppers will likely get the night off after throwing 32 pitches last night.
Rangers threaten again, but Astros pitcher Rhiner Cruz gets Gentry to pop out with the bases loaded. Cruz has done a nice job in relief.
Indians 7, White Sox 2 (Final)
Give Cleveland credit, the Indians aren't giving up their one-game lead easily.
Indians are going to go 17-2 this year against the White Sox....Rangers went 2-4 against the White Sox

— Mike Peasley (@PeasESPN) September 26, 2013
Cleveland has treated the White Sox like Texas has treated Houston.
Will Perez come back out for another inning? He's at 100 pitches through seven.
That was Ian Kinsler's first home run at Rangers Ballpark since July 3 against Seattle.

— Todd Wills (@wtwills09) September 26, 2013
Here's a rather interesting, maybe even disturbing, stat for Rangers fans.
Rangers have scored all but their first run with two outs tonight.

— Evan Grant (@Evan_P_Grant) September 26, 2013
Kinsler takes Kuechel deep and out of the game.
Kuechel leaves after surrendering 7 earned runs in 5 2/3 innings. The last six runs came with two outs.
Rhiner Cruz takes over for the Astros.
Perez gets out of trouble in the sixth by getting L.J. Hoes to ground out to first. He hasn't been his best tonight, but he's been good enough. It's really amazing the run differential for the Rangers' offense when he pitches compared to when Darvish pitches.
Uh ohh...Robbie Ross is up in the Rangers bullpen. I don't think he's part of the "circle of trust".
Perez struggled through the top of the fifth but didn't allow any runs, and Kuechel comes back with a nice rebound inning of his own.
Rangers lead by three.
Dominguez flies out on the first pitch of the at bat, and the Rangers' lead stays at three.
Matt Dominguez now has a chance to get the Astros back in this game. Two on, two outs.
Beltre smashes a line drive to third base, but Dominguez makes a nice play on it to end the inning.
through four innings:
Rangers 6, Astros 3
Rios chops another single up the middle that scores Kinsler. Andrus to third.
Kinsler rips a single that plates Martin. Andrus follows with a single to right. Six straight Rangers have reached with two outs.
Bases are loaded after a Jeff Baker single, Mitch Moreland walk, and Craig Gentry hit by pitch.
Wild card scores:
Tampa Bay 3, New York Yankees 2- top 6th
Cleveland 4, Chicago White Sox 2, bottom 6th
That's one thing Rangers pitchers haven't done well this year—deliver the shut down inning after taking the lead. Everyone gives Darvish a hard time for it, but Perez did the same thing here.
With the bases full in the 4th, @leonys27martin answered the call. Take a look: http://t.co/tOqwD09NmJ #Rangers

— Texas Rangers (@Rangers) September 26, 2013
Brandon Laird takes Perez deep with a two-run shot over the center field wall. It looked like Leonys Martin had a play on it, but it deflected off his glove over the wall.
Astros even it up in the third on Chris Carter bloop single to right field. Both teams have scored off the other's mistakes.
Great jump throw from Andrus at shortstop for the first out of the inning.
Altuve goes to third during next at bat as Perez throws pick off throw to center.
This article is
What is the duplicate article?
Why is this article offensive?
Where is this article plagiarized from?
Why is this article poorly edited?