Manchester United vs. Liverpool: 6 Things We Learned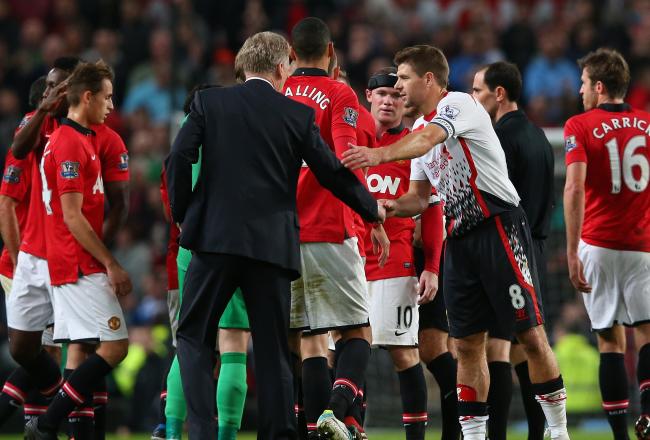 Julian Finney/Getty Images
A reshuffled Manchester United put their crushing Premier League defeat to Manchester City behind them with a 1-0 victory over Liverpool in the League Cup 3rd Round.
Talk before kick off was dominated by the return of Luis Suarez and the inclusion of Javier Hernandez and Shinji Kagawa in United's line-up.
But what were the big talking points after the game? Here are six things we learned from United versus Liverpool:
1. Moyes' selection played into his high risk squad motivation strategy
Moyes raised some eyebrows with his comments following United's humiliating 4-1 defeat to City telling the press:
"I think also a lot of people thought Manchester United [winning the title] last season was probably the fault of other teams that were poor."

Questioning the quality of your players after a devastating defeat is certainly an interesting approach to squad motivation. However, having ditched all but Wayne Rooney (who was made captain), David De Gea and a centrally deployed Chris Smalling from his starting line-up to face Liverpool, the manager's gamble to throw down the gauntlet to his new team to raise their standards may yet come off.
With a 1-0 win in the bag, secured by a bold and hungry selection of players who have so far missed out on opportunities under him, Moyes can go back into the dressing room with an example to those who floundered at the Etihad. Match winning goal scorer Hernandez will also head back into training with the ammunition to demand more games.
Had Liverpool been able to get the breakthrough they perhaps deserved however, Moyes' Russian roulette style response to the Manchester derby thrashing could well have blown up in his face. A risky strategy by the United manager, but one he may have had to make in order to assert his authority on the club. Judging by his previous comments on Rooney, he may have even considered the state of the team he found on arrival to be a bit "soft".
2. Suarez will need more than a hostile atmosphere to get back up to speed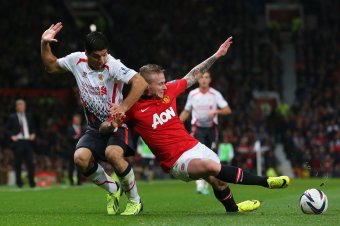 Julian Finney/Getty Images
Back in 1995, having served his eight month ban for kicking out at a fan, Eric Cantona returned to action against Liverpool on October 1st to score a penalty and secure a point in a 2-2 draw, capped off by his memorable celebration.
Although he went close on a couple of occasions, Suarez wasn't able to put in such a decisive performance for the Reds against United at Old Trafford as the Frenchman had in his comeback almost eight years ago.
Suarez did grow into the match however and was well involved with much of Liverpool's best football down the left. The margins were telling however, with his mischievousness and busy attempts to snatch chances and beat defenders a few milliseconds and inches away from where they need to be.
It shouldn't take too long for the Uruguayan to return to his usual semblance of efficacious chaos but the big game against United perhaps came a little too soon for him and Liverpool, who would have benefitted more from a match fit Philippe Coutinho.
3. Evans, Smalling, Jones and Rafael must play in order for United to push on up-front
Selecting a new look defence to the one that was faced down and beaten four times by City may well have been part of Moyes' ploy to rattle the players who let him down in United's last match, but introducing Jonny Evans, Phil Jones and Rafael back into the team also had a tactical purpose.
Against City, United sat far too deep. Rio Ferdinand and Nemanja Vidic's lack of mobility meant that while the workman-like front four pressed hard up front they did so without any support from the back, and the team quickly pulled itself apart. With a gaping chasm in place of a midfield Marouane Fellaini was soon overburdened while Michael Carrick, who we now know was suffering from flu, was unable to make his usual ability to collect and redistribute the ball count. This isolated Rooney who received little help from the flanks, who themselves were overrun and unsupported.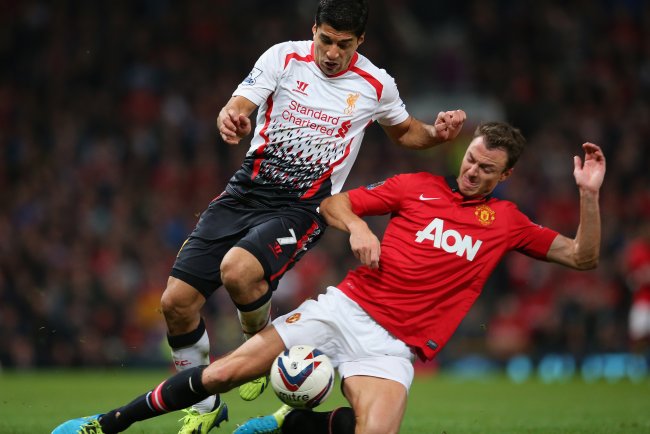 Julian Finney/Getty Images
By contrast, Evans and Smalling were able to use their added agility and speed to push the defensive line higher, supporting the midfield and Jones' hyperactive defensive work between the lines.
Overlapping, under-lapping and generally linking up the play from the right, Rafael was a sight for sore eyes for United fans even if he looked slightly out of sorts due to his quick return from injury. Alexander Buttner also put in an assured performance on the other flank, although the Dutch wing-back was undoubtably the junior member of the back line.
United's younger defenders also looked more comfortable under pressure compared to their veteran counterparts who seemed to be playing under siege and out from the trenches against City. With their extra mobility, Evans and Smalling and co looked better able to contract, flex and expand with the flow of the game, springing forth to retake the territory in their own half after repelling Liverpool's advances. Unlike Rio and Vidic, they didn't allow themselves to be pinned back and overwhelmed by a team whose attack of late has arguably been in greater form than the one that eviscerated United 4-1.
A higher defensive line is a must for United in games where they need to assert their ideas of how they want to play, and for that Moyes must trust in his young charges. Whether that means pairing Evans, Jones or Smalling with one of Vidic or Rio depending on the opposition as Ferguson did - Rio and Evans for maximum ball retention or Vidic and Jones for the most physical contests - or switching between youth and experience, only time will tell. Rafael must be returned to first team action as soon as possible due to his importance to the team's shape in defence and fluidity going forward.
While there were still defensive issues for United against Liverpool, most of them seemed down to rustiness on the part of players who had been denied first team football and they will only become sharper through playing more games. This lack of preparation for those returning to action however was an clear indictment of Moyes' limited squad rotation policy so far this year which must be improved.
4. Rodgers' impressive 3-5-2 system is another step in the right direction for Liverpool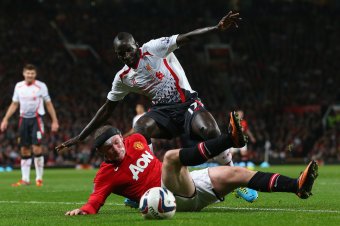 Julian Finney/Getty Images
Roberto Mancini's doomed attempts to impose a 3-5-2 system upon City last season led some to paint the three-at-the-back based formation as something of a trigger for deriding hipsters and coaches out of touches with the reality of the game.
Liverpool's use of the 3-5-2, in contrast to Mancini's forced and fragile formation, worked extremely well, and took United by surprise with the way Steven Gerrard and co moved the ball into unexpected and uncomfortable pockets of space.
The system gave surprising freedom to Kolo Toure, especially late on, who arguably played as Liverpool's sweeper. Some of his individual highlights include charges into the United box, a shot on target and a very dangerous looking cross from Liverpool's right wing.
Jordan Henderson qualities as a box-to-box player suited the right wing-back role handed to him by Rodgers exceptionally well, as he shuttled up and down the flank to break down attacks and start some of his own. Meanwhile, Gerrard performed his duties as the side's main passing hub diligently and with minimal fuss, although Lucas Leiva sometimes looked to be a superfluous in his overly defensive role. Had the Brazilian been able to step up and contribute more to the attacking play, Liverpool's overlaps and use of space between United's lines could have been irresistible.
Having enjoyed a very promising start to the season, Rodgers' decision to develop a dairly drastic but very potent alternative way of playing could prove to be a shrewd move as the club looks to battle through the squad testing trudge of winter towards their goal of a Champions League berth.
5. Kagawa really does makes United more fluent
Against Bayer Leverkusen, Kagawa was the quiet yet effective pivot point around which United swirled and overloaded their more direct German foes.
Handed his second game of the season against Liverpool, the Japanese midfielder's contributions were more obvious with a shot that hit the crossbar and a number of long passes and crosses, but his movement and ability to find space for others was again his greatest input.
Kagawa will likely remain a frustrating player for those fans who prefer the application and qualities of their footballers to be self-evident, but the ex-Dortmund playmaker can be a less direct catalyst to help enhance those around him.
Substituted for youngster Adnan Januzaj in the 73rd minute, his removal from action was hopefully a sign that Moyes wished to keep Kagawa fresh for United next match against West Bromwich Albion.
Having spoken about his lack of appearances before the match however, the jury is still out on whether United's manager appreciates or rates a player many believe should be his key attacking midfielder:
"Everybody tells me how good Kagawa is, but I've not got to know him yet."
Is Kagawa failing to impress in training or does Moyes distrust players who lack the physicality and defensive work rate of Rooney and Antonio Valencia?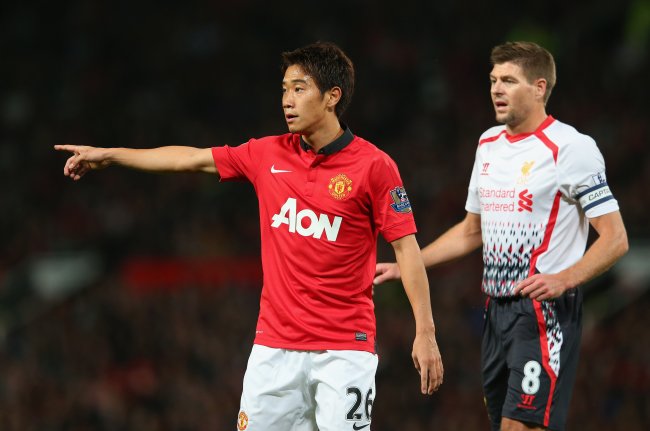 Julian Finney/Getty Images
6. The North West derby is once more about the football
No racism, red cards, contentious decisions or otherwise irrelevant subtext. For once, the North West derby was all about and decided by high quality football.
From back heels from the right flanks into the box from both sides, Toure's aforementioned heroics, some promising counter attack combinations approach play and exquisite touches and take ons by Nani, Kagawa, Victor Moses and Daniel Sturridge, the game offered plenty to enjoy rather than endure.
Whether that will satisfy the Liverpool fans who finished the game defeated 1-0 after having played so well is another matter all together.
This article is
What is the duplicate article?
Why is this article offensive?
Where is this article plagiarized from?
Why is this article poorly edited?

Manchester United: Like this team?