Full Week 4 Stat Predictions for Every Dallas Cowboys Offensive Player
Brian Bahr/Getty Images
Tony Romo and the Dallas offense
While we can't exactly say that the Dallas Cowboys are on a roll following last weekend's trouncing of the St. Louis Rams, it's important to note that the running game certainly did roll. Only Dallas' defensive performance outshined another dominant performance by starting running back DeMarco Murray against St. Louis. Murray totaled 175 yards on 26 carries and also picked up his first rushing touchdown of the season against St. Louis.
Week 4 brings another tough test in the form of Dallas' second road game against an AFC West opponent, this time in San Diego. A number of signs point to a big day for a Dallas offense that may be establishing exactly what it is in 2013.
For starters, Qualcomm Stadium isn't exactly a tough place to play. The weather is generally great and I'd bet that close to half of the fans in attendance on Sunday will be there to see the Cowboys. In other words, crowd noise will be a non-issue for a Dallas offense that still loves to throw the ball. I actually attended the last meeting between these two teams in San Diego and the number of Cowboys supporters in attendance was incredible. Things should be no different this time around.
San Diego still has quarterback Phillip Rivers but little else that should be of big concern to the Cowboys. The Chargers have a first-year head coach, a new general manager, lots of new offensive linemen—some not even healthy—and a former first-round draft choice at running back that has yet to break the end zone in 2013. Tight end Antonio Gates is a guy who needs to be accounted for, obviously.
I mention the state of the Chargers because this plays right into the hands of the Dallas offense, at least on paper. With the Cowboys defense playing the way it is right now, it's hard to imagine Rivers controlling this game like he might have in years past.
On the contrary, Dallas quarterback Tony Romo has thrown just a single interception this season, and that one wasn't his fault. He's played well enough to put his Cowboys within two points of a 3-0 record this season. With Murray and his offensive line performing anywhere close to the way he did last week, I expect Romo to have plenty of opportunities to hit his array of weapons in the passing game.
Here's a look at how the Dallas offense should fare in sunny California on Sunday afternoon.
All stats courtesy of NFL.com
Begin Slideshow

»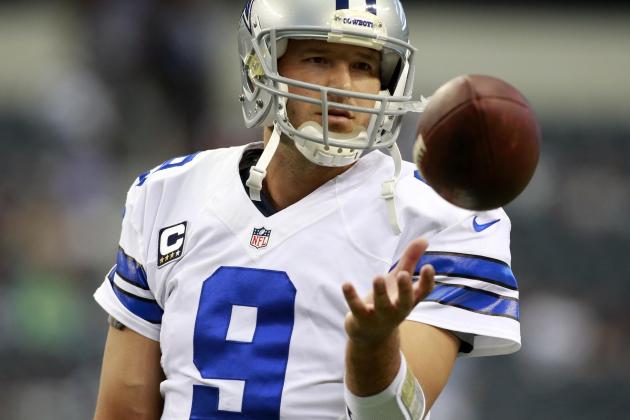 Tim Heitman-USA TODAY Sports

Heading into Week 4, San Diego occupies the cellar in terms of pass defense, not a good place to be with Romo and his offense coming to town. In other words, the Chargers can't take much comfort in the fact that Romo, clearly a passer that's capable of throwing for 5,000 yards in a season, has yet to go beyond just 300 yards in a game this year.
Prior to last week's blowout victory over the Rams, new San Diego head coach Mike McCoy, an offensive-minded coach, might have decided to dare Dallas to run the ball while playing mostly heavy pass coverage all day—that's probably out the window now given Murray's performance against St. Louis.
Romo should have plenty of time to operate however he chooses since San Diego also brings the 28th-ranked run defense into this game while giving up 5.1 yards per carry. I look for Romo to cross 300 yards in the air for the first time this season on Sunday as the Chargers have to stuff the box to stop the ground game.
Projected Stats
Attempts: 36
Completions: 28
Yards: 374
Touchdowns: 3
Interceptions: 0
Sacks: 1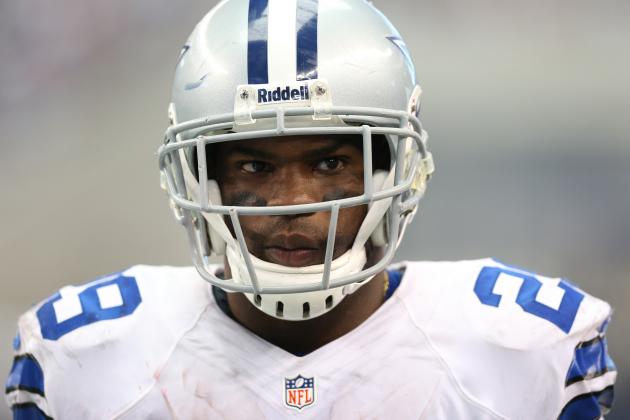 Matthew Emmons-USA TODAY Sports

Health and durability have never been strong points for Murray, now in his third season out of the University of Oklahoma.
When Murray is healthy, lookout.
The Rams know better than any team in the NFL just how dominant Murray can be. Now Murray has to bring that kind of production into most of Dallas' remaining games; if this happens against San Diego it could be a lopsided affair.
The Chargers aren't defending the run very well, giving up 130.0 yards per game. Murray might benefit from this deficiency even more than Romo. I'm not certain that the passing game isn't the real killer for San Diego on Sunday, so I'm not predicting another explosion from Murray in terms of rushing yards. I do think that he'll break the goal line a couple of times, once in the air and once on the ground for his first multiple touchdown game as a pro.
When Murray gets 20 or more touches in a game, the Cowboys are undefeated with a 10-0 mark.
Projected Stats
Rushing
Carries: 18
Yards: 131
Touchdowns: 1
Receiving
Receptions: 6
Yards: 45
Touchdowns: 1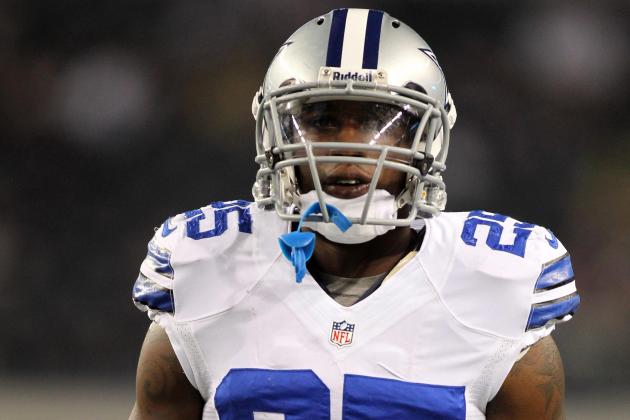 Tim Heitman-USA TODAY Sports

Make no mistake, Murray is the workhorse in this contest, and rightly so. But I do think that second-year runner Lance Dunbar could surprise in this game, provided that he can hold the ball.
Dunbar might be the one guy on the field, on a few occasions, that the Chargers completely fail to account for. Even if picked up, the San Diego linebackers will be taxed heavily in bringing Dunbar down in the open field.
All in all, it should be another modest effort for Dunbar in terms of stats. I do think he'll have between four to six touches in the contest and he'll help keep the chains moving with the possibility of a big play in the mix.
Projected Stats
Rushing
Carries: 3
Yards: 18
Touchdowns: 0
Receiving
Receptions: 4
Yards: 32
Touchdowns: 0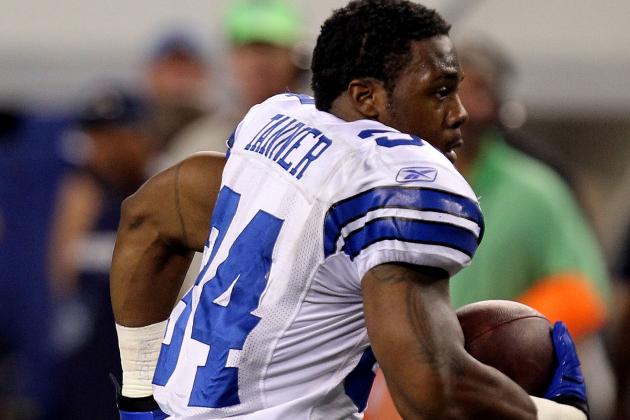 Ronald Martinez/Getty Images

Phillip Tanner has not been used a whole lot in 2013. Ever since his fumble against the New York Giants in a Week 1 victory at home, offensive coordinator Bill Callahan has seemed reluctant to have him on the field very often.
Tanner has just four carries, three of those coming in mop-up duty last week against St. Louis, and a single reception on the season thus far. I'm hard-pressed to predict a very different scenario at San Diego unless injuries or the scoreboard dictate otherwise.
Tanner has a history of losing his helmet while running the ball, the first time coming during a preseason game against the Chargers in 2011. It's not likely he'll be using it much against San Diego this time around.
Projected Stats
Rushing
Carries: 2
Yards: 8
Touchdowns: 0
Receiving
Receptions: 0
Yards: 0
Touchdowns: 0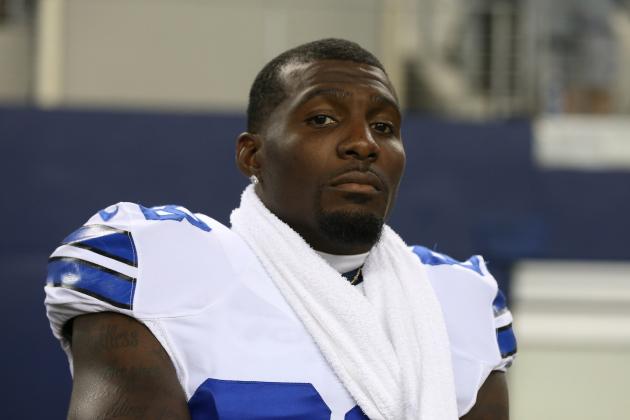 Matthew Emmons-USA TODAY Sports

There was concern heading into the Week 2 contest at Kansas City regarding the back of Dez Bryant. Nine receptions and 145 yards later at Arrowhead Stadium, all is well.
Against St. Louis, the fourth-year veteran receiver had a modest day with just four receptions for 38 yards. I would certainly argue that the performance of Murray simply made it less of a priority to go to Bryant a whole lot.
I assume that Chargers cornerback Derek Cox will draw Bryant most often in man coverage—he'll need help as well. At 6'1'', Cox has better height in this matchup than counterpart Shareece Wright, who's 5'11'' and has no career interceptions.
Since San Diego will have to honor the Dallas running game, I expect Bryant to have another solid performance, although I don't think he'll be the primary scorer at Qualcomm Stadium. That honor should go to a couple of other wideouts to be discussed later.
Projected Stats
Receptions: 7
Yards: 72
Touchdowns: 0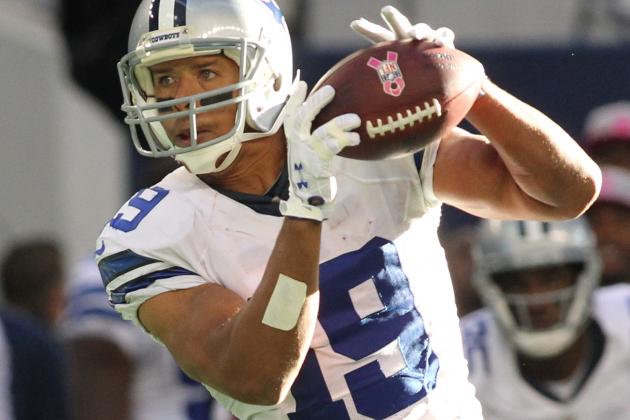 Tim Heitman-USA TODAY Sports

Big performances at AFC West stadiums certainly aren't unheard of for wide receiver Miles Austin, but a tweaked hamstring during last week's game against the Rams puts his production in San Diego in some doubt. It doesn't look like the eighth-year receiver is poised for another performance quite like he had at Arrowhead Stadium in 2009.
It remains to be seen how much work Austin gets during preparations for the Chargers this week. According to Todd Archer of ESPN, Dallas does not believe that Austin's hamstring situation is as serious as what he's suffered in the past. However, per Rainer Sabin of The Dallas Morning News, Austin did not practice with the team on Wednesday, a decision possibly made in the spirit of damage control.
I'm going to keep things modest for Austin given the presence of rookie wideout Terrance Williams and special teams man Dwayne Harris, who definitely has better command of the Dallas offense.
Projected Stats
Receptions: 3
Yards: 22
Touchdowns: 0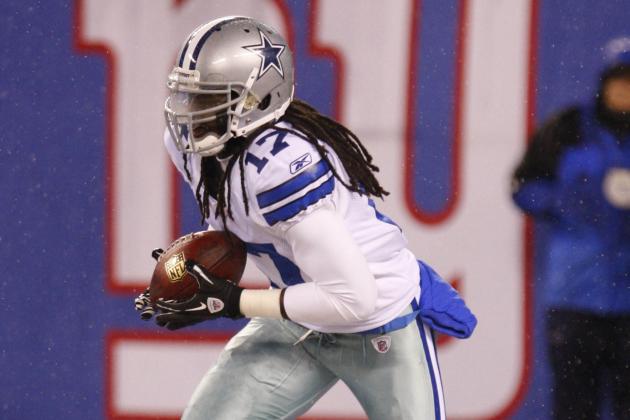 Jim O'Connor-USA TODAY Sports

Harris had a gorgeous touchdown reception against St. Louis which proved again that Romo has no problem with going to the third-year veteran for a big play.
Whether it's the health of Bryant's back, Austin's hamstrings or the fact that the Chargers secondary can't really cover anybody, I'm suspect that Harris might be in for some action on Sunday. This could be especially true when considering the added attention that Dallas tight ends Jason Witten, Gavin Escobar and James Hanna could draw.
I'm not predicting a huge day for Harris, especially coming off last week's injury, but I think Romo will find him a couple of times downfield and one of those chances could earn points like last week.
Projected Stats
Receptions: 2
Yards: 22
Touchdowns: 1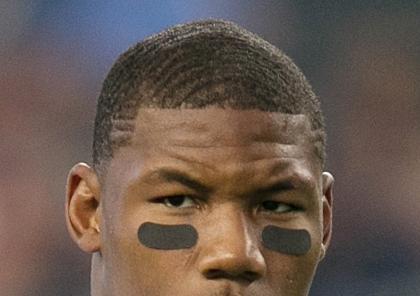 Tim Heitman-USA TODAY Sports

Legendary Dallas wide receiver Drew Pearson knows a thing or two about the desire and focus necessary to become a top-flight pass-catcher in the NFL. The Dallas Morning News recently quoted Pearson's comments about rookie wide receiver Terrance Williams to radio station 1660AM:
He has to act like he wants it. To me, he doesn't act like he wants it bad enough. This is the NFL. If they stick you in there, you have to be ready. When they call your number on a key third down situation in the red zone, you have to be ready to make that play. I'm even thinking Dwayne Harris should be in there instead of him at this point, until he gets up to speed on what's going on, learning his assignments, learning where he needs to be and eventually gaining that trust.
The lone interception thrown by Romo this season came during the regular-season opener against the Giants. On that particular play, Williams clearly ran the wrong route which resulted in an interception by New York safety Ryan Mundy that was returned 91 yards and almost scored a touchdown.
Williams is going to break out one week and stake his claim to more playing time. While this week is probably not that week, I think the matchup problems faced by the Chargers secondary might tempt Romo to take a shot deep where he could hit Williams on a relatively safe deep route—and the rookie's first touchdown.
Projected Stats
Receptions: 1
Yards: 37
Touchdown: 1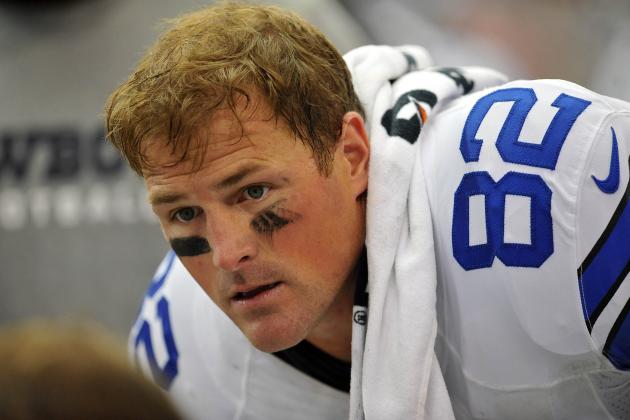 Gary A. Vasquez-USA TODAY Sports

For Witten, a perennial Pro Bowl talent if there ever was one, second place is a great place to be. The 11th-year veteran is tied for second in team receptions with 16. He stands alone in second with 149 yards—but Witten is actually tied for first in touchdown catches with two.
Enough said.
I expect San Diego to gamble a little with Dallas' top two wide receivers being a little less than 100 percent, hence my reasoning for Harris and Williams to make the scoring impact that they could.
In other words, Witten should draw plenty of coverage on passing plays against a San Diego defense that has only 6.0 sacks on the season. Why not try taking away the easiest possible passing target for Romo? In other words, if you can't force sacks quickly, then coverage sacks are the only other option.
This is not to say that Witten will be completely shut down by any means, but I think that in this game there will be opportunities that might be a little more attractive.
Projected Stats
Receptions: 4
Yards: 62
Touchdowns: 0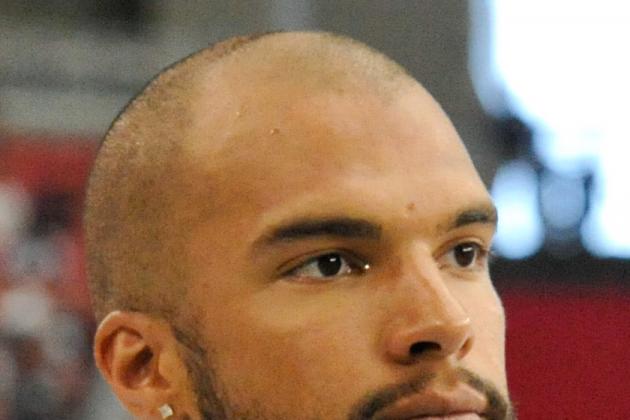 Casey Sapio-USA TODAY Sports

Second-year tight end Hanna has quietly caught four passes for 20 yards in 2013, an indication that Escobar, a 2013 second-round draft selection, isn't necessarily the immediate future at the backup tight end spot.
The Cowboys decided long ago to ditch the fullback and go with more "12 Personnel," essentially meaning two tight formations. His experience in the offense probably gives him a better chance to get a few more looks against the Chargers defense, which will have its hands full with the Cowboys' other weapons.
Hanna likely won't make a big impact on the stat sheet, but I expect to see more of him than Escobar as he's a better run blocker right now and still very capable of running patterns and making catches. If Witten draws the most attention of the Dallas tight ends, which should be the case, I think Hanna might slip through for a nice gain.
Projected Stats
Receptions: 1
Yards: 27
Touchdowns: 0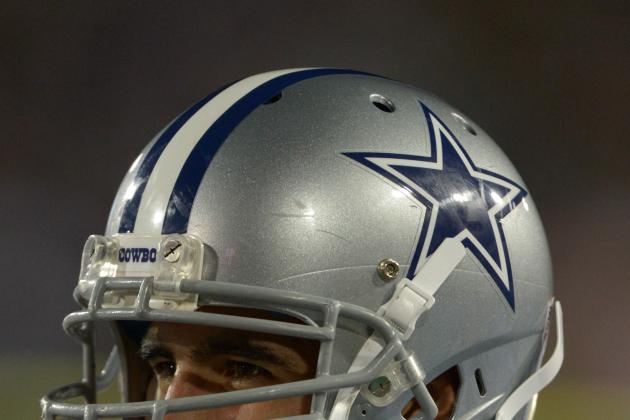 Kirby Lee-USA TODAY Sports

His draft status just mentioned, it's worth noting that Escobar is a pass-catching tight end that does little else at the moment. His future in the Dallas offense isn't really a question as Romo has managed to get him the football once in each game thus far. Last week Escobar scored his first professional touchdown, a third quarter score that all but put the game out of reach for the Rams. It's possible that he may be targeted a little more in his second road game.
At Arrowhead Stadium two weeks ago, it was Hanna that saw most of the action as all four of his receptions this year came in that contest. Again, I feel like Hanna will be relied upon more, especially early on, as Callahan tries to get the ground game going for the second straight game.
Bigger days may lie ahead for Escobar than what he'll see in San Diego, but a player with natural receiving skills like his is going to see the field a few times and be targeted at least a time or two.
Escobar should be motivated by the fact he'll be playing near his hometown of Rancho Santa Margarita and also in the same stadium he called home while with the San Diego State Aztecs.
Stat Projections
Receptions: 2
Yards: 55
Touchdowns: 0