Miami Hurricanes vs. South Florida Bulls Complete Game Preview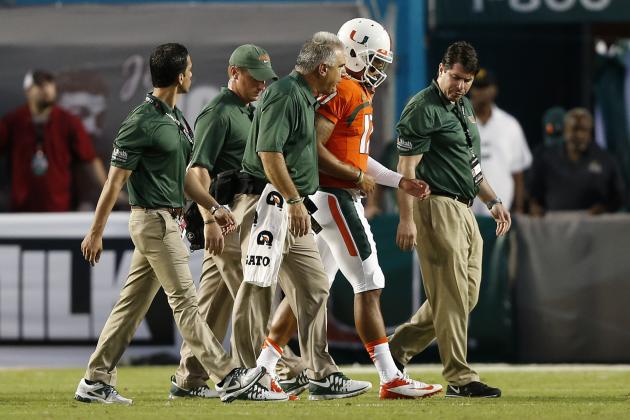 Joel Auerbach/Getty Images
After a scare against Savannah State, quarterback Stephen Morris is expected back against South Florida this weekend.
Once expected to be a budding Sunshine State rivalry, Miami and South Florida appear to be going in different directions. The Hurricanes enter the contest 3-0 under third-year head coach Al Golden, while the Bulls limp in 0-3 behind first-year leader Willie Taggart.

Miami had a scare last week when senior quarterback Stephen Morris was rolled up against Savannah State and appeared to have sprained an ankle. Per Susan Miller Degnan of the Miami Herald, X-rays proved negative and Morris' injury was downgraded to a right ankle bone bruise, making him available for this weekend's road trip to Raymond James Stadium, UM's first away game of the season.

South Florida has been in disarray for years. There has been a coaching carousel that saw original coach Jim Leavitt fired after the 2009 season, Skip Holtz's disastrous three-year stint and now Taggart, who has taken the reigns after coaching at his alma mater, Western Kentucky, for three seasons.

The Hurricanes notched wins against Florida Atlantic, Florida and Savannah State while the Bulls have fallen to McNeese State, Michigan State and Florida Atlantic.

Miami and South Florida have met five times, with the Hurricanes holding a 4-1 series lead. Miami won last year's contest 40-9 at Sun Life Stadium. The squads last met in Tampa in 2011, with the Hurricanes kicking a last-second field goal, taking the defensive battle, 6-3.


Time: 12:00 p.m. ET

Place: Raymond James Stadium, Tampa, FL

TV: ESPN U/WatchESPN

Radio: WQAM 560 (Miami)—WHFS 98.7 (South Florida)

Spread: Miami -20 (DSOpen)





Begin Slideshow

»
A documentary crew called 3 Penny Films ("CanesAllAccess" on YouTube) created the "Raising Canes" series that has run the past three seasons. Season Two, Episode 21 was titled "Senior Send Off" as Miami closed its home schedule with last year's showdown against South Florida on November 17.

Game-day footage kicks in around the three-minute mark and the clip is chock-full of professionally shot and edited highlights from Miami's 40-9 win.
Stephen Morris was masterful for the Hurricanes, throwing for 413 yards and three touchdowns while spreading the ball around to a bevy of receivers.
Tight end Clive Walford led with 135 yards, including a 67-yard touchdown, but the longest hook-up of the day was between Morris and then-freshman wide receiver Herb Waters, who had an 87-yard touchdown reception late in the third quarter.
Phillip Dorsett had 11 grabs for 104 yards, while senior Kendal Thompkins shined in his final afternoon in a Miami uniform with three receptions for 80 yards and the games first touchdown.
Miami amassed 548 yards on the afternoon in the win, while holding South Florida to 358 total yards and forcing three turnovers.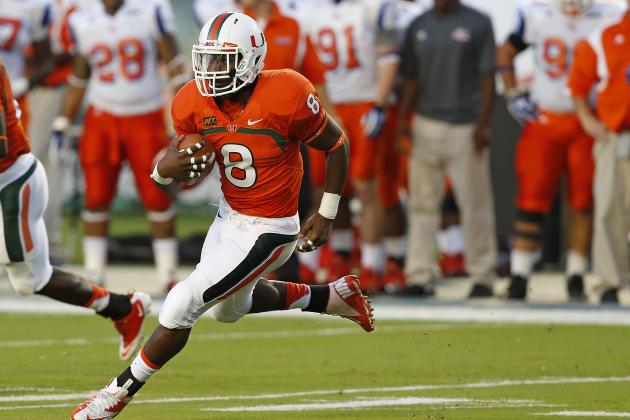 Joel Auerbach/Getty Images
Get Duke Johnson in the game early and then yield to three capable back-up.
Win the Mental Battle Early Against the Bulls

South Florida is a fragile bunch right now, having lost 12 of its last 13 games. Willie Taggart is a good coach that will eventually get this program on a better track, but for now, the Bulls are battered and Miami needs to take advantage early.

Last year, the Hurricanes settled for field goals early and it was a 9-0 game midway through the second quarter. Two years ago, it was a 3-3 battle until the final minutes before UM kicked the game-winner.

If Miami has any aspirations of sitting Stephen Morris in the second half, the Hurricanes need to pounce on the Bulls early, jump out to a lead, killing South Florida's spirit and squashing any notion of an upset.


Pound the Rock, Ease Morris Back in

South Florida's defense gave up 424 yards to FCS squad McNeese State in a 53-21 loss. The Hurricanes offense should be able to move the ball with relative ease through the air or on the ground, but a heavy dose of Duke Johnson out of the gate would help ease the injured Morris back in, allowing him to get a feel for the game.

Morris played one half against Florida Atlantic, saw little action against Florida (the Gators won the time of possession battle 38:20 to 21:40) and was injured midway through the first quarter versus Savannah State. Miami also had a Week 3 bye.

The senior quarterback still isn't in game shape and has had timing issues with receivers, so loosen up the passing game with a dominant, four-pronged ground attack.


Get Backups Quality Playing Time

That was the modus operandi against Savannah State and it needs to be the case again this week. ACC season is around the corner and Miami needs second- and third-stringers to be game-ready. Especially at running back, wide receiver, tight end and in the secondary.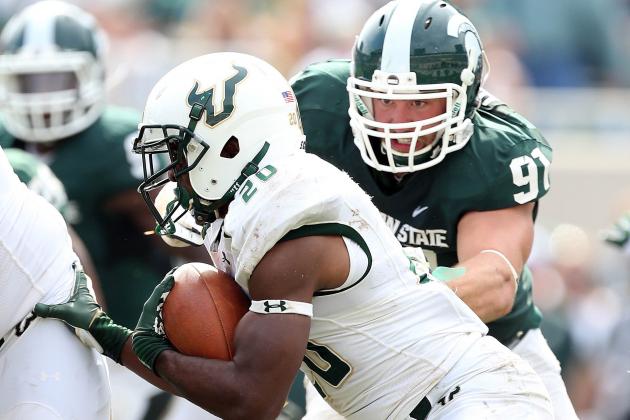 Mike Carter-USA TODAY Sports
South Florida running back Marcus Shaw has 398 yards and a score on 57 carries this season.
Channel Some Sunshine State Mojo

It may feel like ancient history, but South Florida upset Florida State (in Tallahassee) in 2009 and topped Miami (in Miami Gardens) in 2010. The Bulls also earned a mid-October No. 2 ranking back in 2007.

This program has won before, and like many other smaller Sunshine State programs, it always has a roster full of kids who either wanted to play for The Big Three or grew up playing against kids who are now with the Hurricanes, Seminoles or Gators.

For South Florida to make it a game, it has to strike first and get Miami on its heels. Gain some momentum early and anything can happen. Fall into an early hole, and things will unravel quickly.


Shut down the Hurricanes Ground Game

Easier said than done, but if South Florida can slow Miami's running backs, it can hope for another off game from Stephen Morris and the Hurricanes passing attack. UM is deep behind Duke Johnson, with Dallas Crawford, Eduardo Clements and Gus Edwards all shining last week against Savannah State.


Don't Give Up the Big Play

Wide receiver Herb Waters took a pitch on an end around and turned it into a 63-yard touchdown against Florida Atlantic. A week later, Morris went deep to Phillip Dorsett for a 52-yard score against Florida. In the 77-7 win over Savannah State, there is a highlight reel full of monster plays.

For South Florida to pull the upset, it needs to win the time of possession battle and limit big-play opportunities. Force some three-and-outs, capitalize and throw Miami off it's game.

Big plays are deflating and the last thing a 20-point underdog needs is to have momentum snatched by backbreaking completions and conversions.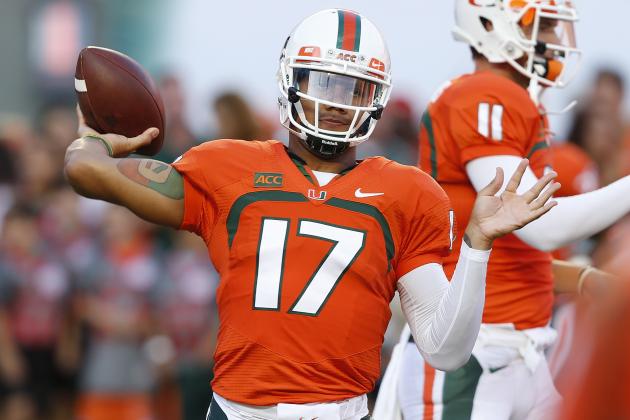 Joel Auerbach/Getty Images
Three games into the season, quarterback Stephen Morris is still looking for a groove.
Stephen Morris

Morris was 3-for-4 for 82 yards with an 80-yard touchdown before getting knocked out of the eventual rout over Savannah State. By the time Miami takes the field this weekend, Morris will have been all but sidelined for three weeks since the upset of Florida on September 7.

ACC play kicks off October 5. Morris doesn't need to play four quarters against South Florida, but he needs a solid half to get his groove back.
Stacy Coley
Coley has been moved up the depth chart this week, earning co-starter honors in the slot (with Herb Waters), as well as co-first team for kickoffs and punt returns. Coley had an 88-yard kickoff return for score last week and has five receptions for 35 yards in two games. If the true freshman is going to see quality minutes against Georgia Tech and North Carolina in the coming weeks, he needs to again prove himself this week.
Deon Bush
Bush sat out the first two games of the season and had a limited role against Savannah State. The sophomore safety is recovering from offseason hernia surgery and is working to get back to playing shape. Yet another Hurricane who needs to bounce back before conference play kicks off. Bush was a bright spot in Miami's secondary as a freshman and is expected to play a major role this season.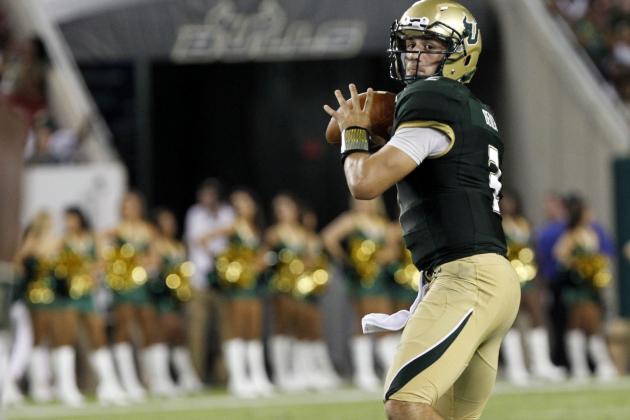 Kim Klement-USA TODAY Sports
Sophomore quarterback Steven Bench will make his first career start against Miami this weekend.
Steven Bench
Senior quarterback Bobby Eveld started the season and took the majority of the snaps the first two games, but Willie Taggart is handing the keys to Steven Bench this week.
Bench was 8-of-23 for 128 yards with one touchdown and one interception in the loss to Florida Atlantic last week. He'll now face a Miami defense that forced Florida into five turnovers Week 2. Bench will have to limit mistakes and learn quickly against a speedy Hurricanes bunch.
Marcus Shaw
The senior running back has 398 yards in three games and needs to get something going on first and second down to take the pressure off Bench and the passing game.
Andre Davis
The junior wide receiver has nine receptions on the season for 116 yards and a score. Davis will need to do a lot to help his new quarterback on Saturday.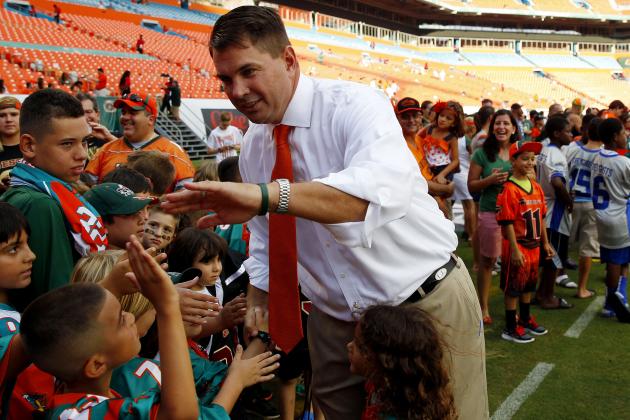 Robert Mayer-USA TODAY Sports
Head coach Al Golden knows that South Florida has pulled colossal upsets in the past.
South Florida is reeling, Miami has already notched a huge upset and Hurricanes head coach Al Golden knows his team better show up prepared for its showdown with the Bulls.
Golden told Christy Cabrera Chirinos of The Sun-Sentinel that South Florida has been plagued by untimely turnover, but is still fielding a veteran defense and has earned some quality wins over ranked opponents, including a win over Notre Dame in South Bend in 2011.
If we're not mentally tough and mature, and we don't have the leadership and we're letting things get into this building that really have no impact on the game, then maybe we're not the team I thought we were. Maybe we're not the type of leadership I thought we were. That's the challenge. You turn on the film, that's not a winless team you're watching. They've got a back that's in the top 10, they've got a heck of a tight end. I'm sure they spent the last 14 days figuring out which quarterback they were going to run and getting him situated…The challenge for our team is hey, it's been about us. Keep it about us.
Miami natives defensive tackle Todd Chandler and wide receiver Derrick Hopkins talked with Joey Johnston of The Tampa Tribune about the hometown Hurricanes heading north this weekend. Chandler was a 3-star prospect out of Miami Northwestern—a top program that sent eight prospects to UM in 2008—while Hopkins was a 2-star out of Monsignor Pace.

Hopkins dreamed about playing for Miami growing up.
Every Saturday, we would go to the Hurricane games after our little-league football games. The Canes were a big part of our lives as kids. I lived about 15 minutes from the Orange Bowl. I loved that place. I was a Hurricane fan, all the way, but my loyalty is with USF now. But for those of us from Miami, of course this is a huge game. You grow up there and you know what it's like. You're bonded. You kind of talk the same language. Miami kids stick together.

Chandler echoed his teammate and praised the level of talent in Miami.
The Miami guys don't separate ourselves from the team, but we connect because we know what's down there. Miami is the football capital. We prove that every year. The best football is played in Miami. Pretty much, it's always the same. You root for the Hurricanes and want to play on that team one day. But for us, now the special factor is getting a chance to beat the Hurricanes.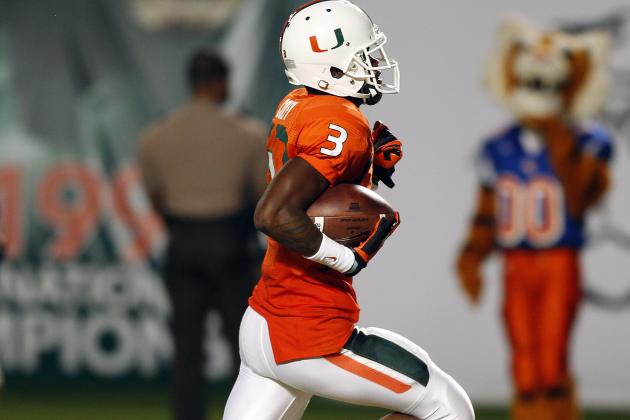 Robert Mayer-USA TODAY Sports

Miami handled South Florida properly last year at home but struggled two years back in Tampa. The Hurricanes look improved from 2012, while the Bulls' struggles continue early this season.

South Florida's lone win against Miami came in 2010 when the wheels were falling off Year 4 of the Randy Shannon era, with the former head coach fired hours after the 23-20 overtime loss.

In looking what McNeese State, Michigan State and even Florida Atlantic were able to do to South Florida, Miami would be hard-pressed to not run away with this one.

In-state rival and the type of game that could turn the Bulls' season around? Sure. Starting a new quarterback against the Hurricanes defense? Not pretty. Same for South Florida's defense, which gave up 53 points to McNeese State.

This one could get off to another slow start, but once both sides settle in, Miami should again run away with in-state showdown.


Prediction: Miami 41, South Florida 13