Regrettably, NFL injuries do not always occur on the field, and now, no one knows that better than Detroit Lions wide receiver Nate Burleson.
According to Dave Birkett of the Detroit Free Press, Burleson suffered a broken arm as a result of a car accident earlier this week. Fortunately, Birkett also reports the Lions wideout sustained no other serious injuries, and alcohol did not contribute to the crash. Rather, CBS' Detroit affiliate states that a simple brief moment of distraction is to blame.
Nate Burleson broke his arm in 2 places in an early morning car accident. Will undergo surgery. Obviously a huge loss for the #Lions.

— Dave Birkett (@davebirkett) September 24, 2013
Burleson was returning home after watching MNF with teammates. It was a single-car accident. He's OK other than the arm, thankfully.

— Dave Birkett (@davebirkett) September 24, 2013
As the story developed, the NFL community's thoughts turned toward wishing Burleson a speedy recovery. By piecing together the available information, it becomes possible to project a few of the potential scenarios that may lie ahead.
A Primer on Forearm Anatomy
Before diving into recovery timetables, let's break down the relevant anatomy.
In a general sense, it's not too complicated.
Two bones comprise the forearm—the radius and the ulna—and both connect the elbow to the wrist. The radius runs along the thumb's side of the forearm, while the ulna makes up the pinky finger's side.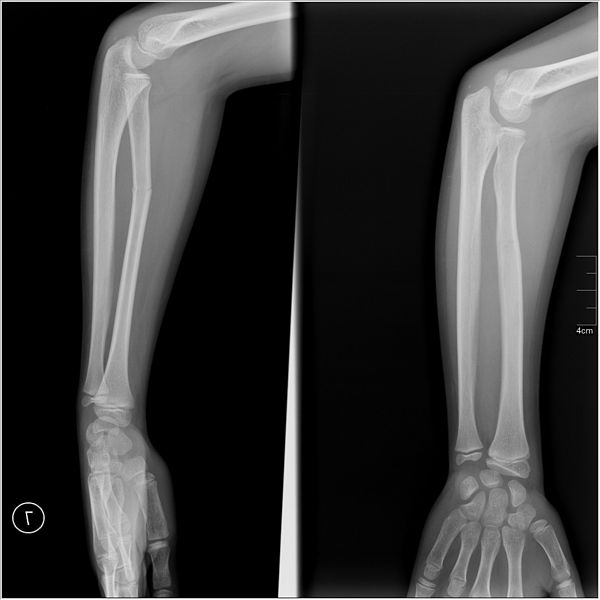 During supination—turning the palm from facedown to faceup—and pronation—the opposite of supination—the bones rotate about one another. They also provide stability to the forearm and protect the soft tissues within.
Non-Displaced Fractures vs. Displaced, Unstable Fractures
Doctors divide various fractures into many different types, subtypes and sub-subtypes. However, the distinction of "non-displaced" versus "displaced" represents a simple starting point.
In a non-displaced fracture, a bone cracks or splits, but the overall anatomical position of the bone stays intact.
On the other hand, in a displaced or unstable fracture, the anatomy changes. Bones may separate entirely, or a new, abnormal bone angle forms, for example.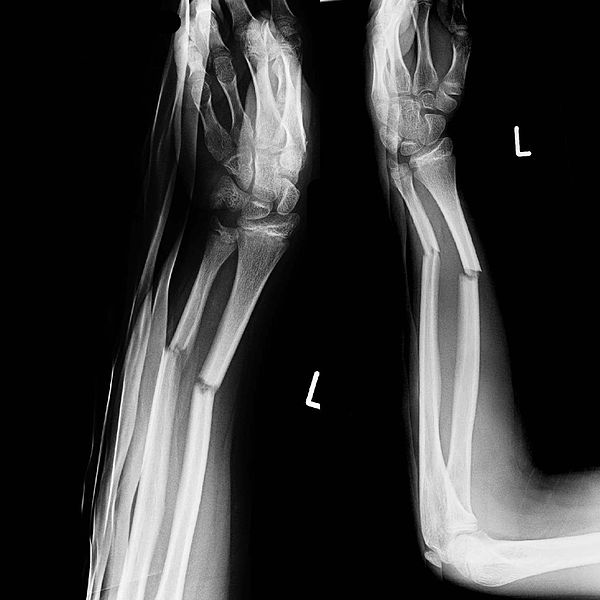 For a clearer picture of a non-displaced fracture, imagine straightening a previously bent drinking straw. The straw remains somewhat deformed, but it's overall structure is grossly normal.
Conversely, a snapped toothpick better represents a displaced fracture. The break exists, of course, but so does a permanent alteration of the toothpick's overall structure.
Best-Case Scenario: Mid- to Late-Season Return
Though precise medical details are unavailable to the public, make no mistake: Burleson's fracture is not trivial.
According to Tim Twentyman of the official Lions website, the veteran receiver broke both his radius and ulna.
Schwartz said Burleson broke both bones in his forearm and will have surgery tomorrow. Same doctor that operated on broken leg.

— Tim Twentyman (@ttwentyman) September 24, 2013
Dual fractures such as Burleson's are inherently unstable, and they almost always require surgery to ensure definitive healing.
As Twentyman reports, Burleson will undergo that surgery on Wednesday.
During surgery, surgeons work to realign the fractured bones. To accomplish this, they manually work the segments of broken bone back into their normal positions. Then, they employ metal implants—rods, plates or screws, for example—to fix the bones in place while they heal.
Metal reinforcement helps protect against malunion and nonunion—where the bones heal improperly or not at all, respectively. Additionally, most of the time the metal hardware remains in the patient indefinitely.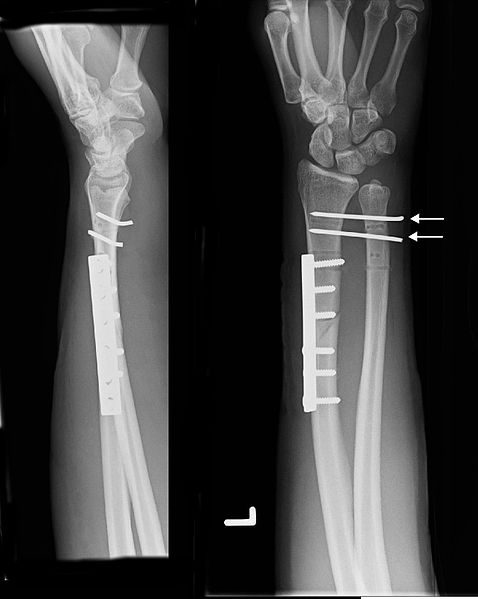 Usually, sufficient bone healing requires at least six weeks, but it can also take up to three to four months. The extent and type of damage, as well as the amount of surgical manipulation, determines the exact timetable, as does a patient's age and other athlete-specific attributes.
Furthermore, optimal physical therapy and rehab techniques are vitally important.
If Burleson's forearm fractures are on the minor end of the severity spectrum, he could return to the field well before the 2013 season comes to a close.
Worst-Case Scenario: Complex Fractures End Burleson's 2013 Season
As mentioned, the length of rehab depends largely on the nature of the fracture itself.
In the worst-case scenario, a comminuted fracture—where a bone breaks into many pieces at the fracture site—of either Burleson's radius or ulna could necessitate multiple surgical revisions.
A compound fracture—where the broken bone punctures the skin and leads to a higher risk of infection—could similarly cause significant downstream problems.
That said, according to the official Lions Twitter account, coach Jim Schwartz sounds optimistic:
Schwartz: "Nate will be back at some point." Right now no plans to place him on IR.

— Detroit Lions (@DetroitLionsNFL) September 24, 2013
Can the Lions offense survive without Burleson?
Bottom Line
Hopefully, Burleson's injury is relatively straightforward and allows for a simple surgical repair.
If so, and if he progresses through rehab without any setbacks, the 32-year-old could very well see the field again by late November.
Dr. Dave Siebert is a resident physician at the University of Washington who plans to pursue fellowship training in Primary Care (non-operative) Sports Medicine.