With the final week of Major League Baseball underway and the 2013 playoffs just around the corner, the top division leaders around both leagues are gearing up for their postseason prospects.
A few teams, like the St. Louis Cardinals, are no surprise to be playing in October. Others, like the Pittsburgh Pirates, have opened eyes.
Yet once the playoffs begin, a few of these teams will be in for a tough road vying for a World Series championship. Pittsburgh, the Los Angeles Dodgers, the Oakland Athletics and Boston Red Sox may have a much more difficult road ahead than what appears on the surface.
There are a number of reasons why. Some teams lack practical postseason experience. Others, depending on how the rest of the regular season pans out, may have to open up their respective division series without home-field advantage.
While each of these teams can be classified as top-tier in 2013, the road ahead will be more difficult for some. Here are two teams from each league that will be in for a shock come the playoffs.
---
National League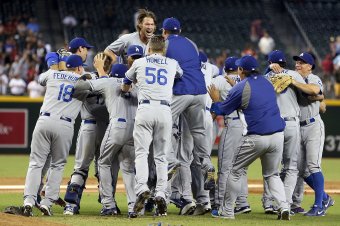 Christian Petersen/Getty Images
Los Angeles Dodgers
If any team in the National League West was expected to overtake the 2012 World Series champion San Francisco Giants, it was the Dodgers.
Not only did they do so, the Dodgers did it in dramatic fashion. Forget for a moment about Los Angeles having the highest payroll in MLB this year. The Dodgers have a ton of talent, both up-and-down the lineup and on the mound.
ESPN's Tim Kurkjian elaborated on this via Dodgers Nation by saying:
They have a chance to be as good as there is in the major leagues because you can throw Kershaw, Greinke and then Ryu, that'll matchup with anyone. If Kenley Jansen is the real thing and they have a closer, then that's covered. If they ever get Matt Kemp back, they have star power all over the place. Hanley Ramirez is an amazing hitter and he's right when he's healthy. Puig, Adrian Gonzalez—they're loaded and could be a very difficult out.
That, combined with their historic 40-8 stretch from June 22 through August speaks measures about what these guys can do when they get hot.
That is great and all, but what does it matter come the playoffs?
With the NL Wild Card coming out of the tough NL Central, there is a chance Los Angeles plays either the Pirates or the Cincinnati Reds in the division series. Yet if the season ended today, the Dodgers would square off with the Cardinals.
If #NLDS began today, #Braves would host winner of #Reds #Pirates #WildCard game & #Cardinals would host #Dodgers. #Postseason

— MLB Public Relations (@MLB_PR) September 19, 2013
St. Louis has plenty of what Los Angeles lacks—postseason experience. The experience lies not only with the Cardinals' players, but also with their manager Mike Matheny. While a few members of the Dodgers' roster have October experience, their net playoff expertise is nothing like that of St. Louis.
It is also worth noting that Dodgers manager Don Mattingly has never managed in the postseason.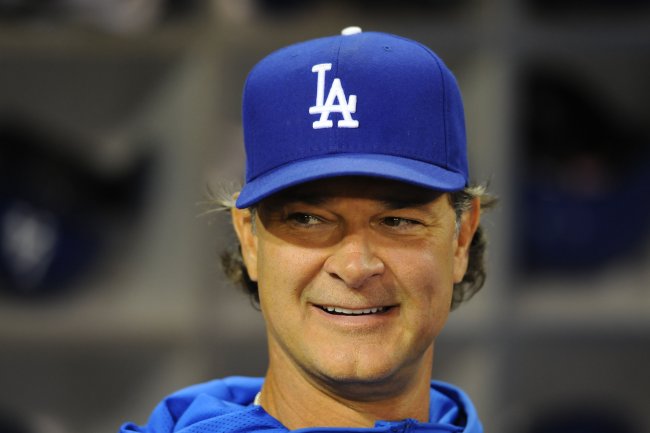 Christopher Hanewinckel-USA TODA
In addition, the Cardinals' lineup looks much like a talented American League lineup as stated by San Francisco Chronicle writer Henry Schulman on an interview with the San Francisco-based KNBR radio station. St. Louis' pitching staff is pretty solid too.
If any team has the firepower to thwart the Cardinals' chances in the playoffs, Los Angeles is it. Yet that road will not be easy.
Expect a fierce playoff matchup between these two teams if, and most likely when, that happens.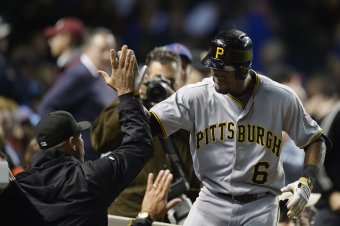 Brian Kersey/Getty Images
Pittsburgh Pirates
The Pirates were one of the feel-good stories of the 2013 season. For the past few years, Pittsburgh fans have seen their beloved team start off promising, only to fall flat in the second half of the season.
Now it appears as if the Pirates have finally put everything into place, securing a playoff berth for the first time since Barry Bonds wore the black and yellow. There are plenty of reasons why.
Closer Jason Grilli broke this down in an interview after the Pirates clinched a postseason berth.
Closer @GrillCheese49 talks about the @Pirates' #postseason celebration, getting the final out & visiting @twitter: http://t.co/UIzK6oujX9

— Intentional Talk (@IntentionalTalk) September 25, 2013
Yet similar to the Dodgers, Pittsburgh lacks playoff experience. While struggling to compete for a wild-card berth can create playoff atmosphere-like games—especially in the NL Central—the Pirates will have to show that they are for real come October.
They will have to start by taking on the Cincinnati Reds in a one-game playoff to determine which team advances. That alone will be tough. The Reds experienced their own postseason meltdown last year and do not expect Cincinnati to throw in the towel easily.
If Pittsburgh manages to defeat the Reds, they will have to take on either the Dodgers or Atlanta Braves in the division series depending on how the remainder of the regular season finishes out.
Danny Knobler of CBS Sports illustrates just how difficult that road will be by saying:
This team won't go into October as a favorite. The Pirates may not even get an October home game. They're battling the Reds this week for the first wild-card spot; if they finish behind the Reds, they'd need to win the wild-card game next Tuesday in Cincinnati to get a game at home.
That sure sounds like a tough road ahead, especially considering the playoff history that both Cincinnati and Atlanta possess. All of the talent in Los Angeles looms large against Pittsburgh as well.
It is possible, perhaps even likely, that the Pirates' memorable 2013 run will end before a trip to the World Series. There is a lot of talent and experience standing in their way.
Still, this story is worth following, and whatever the outcome, Pirates fans will remember this year.
American League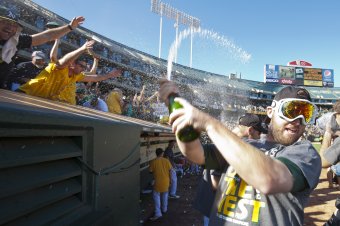 Jason O. Watson/Getty Images
Oakland Athletics
I personally feel that the A's are the dark-horse American League candidate to make it to the World Series.
While most of the country would probably rather focus on teams like the Red Sox or Detroit Tigers, Oakland has put together one of the more remarkable seasons in 2013 and has a shot to finish the year with the best record in baseball—they currently are second behind the Red Sox with 94 wins as of September 25.
Yet, the A's are going to have to get over the hump that eluded them in the division series last year.
In 2012, Oakland lost to the Tigers in five games. Depending on how the AL Wild Card pans out, the A's could face off with Detroit again in the division series. Oakland is 4-3 in the season series against Detroit and a five game series could easily go either way.
Remember: Oakland won season series vs Detroit. So A's effectively have 2-game lead over Tigers for home-field in potential ALDS.

— Jon Morosi (@jonmorosi) September 22, 2013
If the A's are able to overcome the division series hurdle, they could potentially face a team like the Red Sox who are 3-3 against Oakland this season.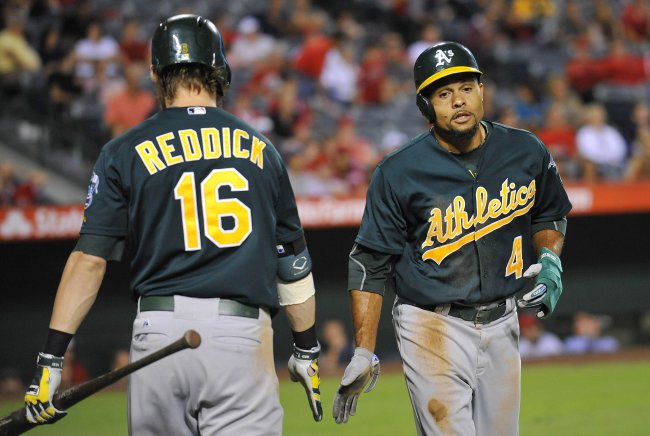 Gary A. Vasquez-USA TODAY Sports
Regardless, there are a few things that the A's have going for them this postseason. They have pitching and timely hitting. Their bullpen is excellent. Flying under the radar has also benefited this team. Come October however, will those elements be enough to power past teams like Boston and Detroit?
I still feel the A's have what it takes to emerge as American League champions. Yet that road will be tough, and it is reasonable to assume Oakland will see a few elimination games along the way.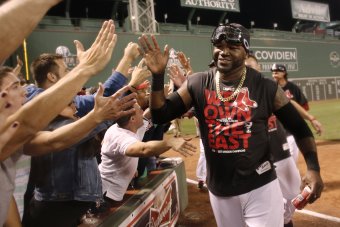 Winslow Townson-USA TODAY Sports
Boston Red Sox
Following a number of shake-ups that took place before the season, the 2013 Red Sox have once again returned to prominence in the American League.
As of September 25, Boston boasts the best record in baseball and has returned to the dynamic status they enjoyed for much of the last decade.
What makes this Red Sox team so special is how well balanced they are; a fact tweeted out by FOX Sports MLB insider Jon Morosi.
The Red Sox are a great, balanced *team*. Best record in MLB and might not have a player finish in top 5 of AL MVP voting.

— Jon Morosi (@jonmorosi) September 24, 2013
With the AL East championship under their belt, the Red Sox look to secure home-field advantage throughout the playoffs.
The @RedSox can clinch home field in the ALDS if they beat Colorado (8:40pm ET) and Minnesota beats Detroit.

— MLB (@MLB) September 25, 2013
In the best-case scenario, Boston would finish with the best record in the American League and division rival Tampa Bay would lose the Wild Card Game to the Cleveland Indians. Boston would then play Cleveland in the division series—a team they went 6-1 against in 2013—and easily advance to the ALCS.
Yet the Red Sox will have their hands full when it comes to a couple of potential matchups. The aforementioned Athletics could thwart Boston's chances in any postseason series, and while it is a long shot the two meet in the division series, a short playoff matchup could spell problems against a team that can match their pitching.
Granted, Boston boasts a talented lineup combined with a solid rotation and great bullpen. Both Oakland and Detroit can boast those too. Perhaps here is where home-field advantage will be tremendously valuable.
The Red Sox are 3-3 against Oakland this year and 3-4 against the Tigers. Expect either one of those clubs to put up a staunch fight against Boston.
It is possible, perhaps likely, that Boston emerges as the American League champions. Yet the road to get there is quite precarious, and with expectations no shorter than a World Series title, a premature departure would have to be viewed as a rude awakening.
---
One could say that entering the regular and playoff schedules are two entirely different seasons. In a way, anything can happen come the postseason.
Which team will be shocked by what happens in the 2013 postseason?
Yet the aforementioned teams may have difficult roads ahead of them based on a number of various facts and circumstances. Some, due to their regular season accolades and expectations, may be viewed as favorites but will have to endure a difficult road along the way.
Others may find the pressure incumbent with October baseball too much to handle.
Whatever the case may be, a few of baseball's best in 2013 are due for a shock in the playoffs. These shocks may not be eliminating, but they will certainly open some eyes.
If anything, these teams and their storylines will be worth watching once the postseason begins.
All statistics, records and accolades courtesy of Baseball-Reference.com unless otherwise indicated.
Peter Panacy is a featured columnist for Bleacher Report. Follow him @PeterMcShots on Twitter.