Most Dangerous Teams Heading into the 2013 MLB Playoffs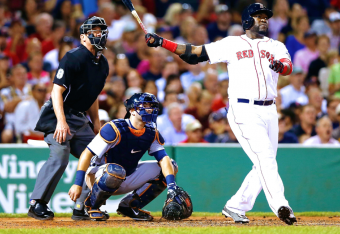 The 2013 MLB postseason is right around the corner, with the National League Wild Card Game scheduled to be played on October 1 and the American League Wild Card Game on October 2.
Who is the most dangerous team heading into the the playoffs?
As we head toward the final weekend of the regular season, there are still a pair of postseason spots up for grabs in the AL, and the NL Central division title needs to be sorted out, but the front-runners to win it all this season have already emerged.
Anything can happen in October, which has proven to be all too true time and again, but in the final days of September, four teams in particular look to be built for a lengthy postseason run and a push at a World Series title.
Whether it is a dominant pitching staff, shutdown bullpen, high-powered offense or some combination of all of those things, some teams look poised to make a long run in October.
With that, here is a breakdown of those four teams, with my projected postseason rosters for each of them and an overview of what makes them so dangerous in a postseason series.
Detroit Tigers
Projected Postseason Roster (position players)

| | |
| --- | --- |
| Starting Lineup | Bench |
| CF Austin Jackson | C Brayan Pena |
| RF Torii Hunter | IF Ramon Santiago |
| 3B Miguel Cabrera | IF/OF Don Kelly |
| 1B Prince Fielder | IF/OF Matt Tuiasosopo |
| DH Victor Martinez | SS Jhonny Peralta* |
| LF Andy Dirks | |
| 2B Omar Infante | |
| C Alex Avila | *suspended, eligible to rejoin team for playoffs |
| SS Jose Iglesias | |
Baseball Prospectus
The health of Miguel Cabrera remains a major question mark for the Tigers, as the all-world slugger has hit just .246/.380/.308 with one home run in the month of September while nursing a strained groin.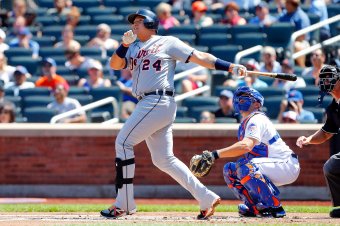 Jim McIsaac/Getty Images
That said, although Cabrera is hobbled, the Tigers have a deep offense, with Austin Jackson among the best leadoff hitters in the game, Torii Hunter again enjoying a solid year in the twilight of his career and the Prince Fielder/Victor Martinez duo doing a great job protecting Cabrera and driving in runs.
Left field could be a revolving door in the postseason, with Andy Dirks and Matt Tuiasosopo splitting time of late and Jhonny Peralta returning from suspension and set to get a look there as well, according to a tweet from the Detroit Free Press. If he can bring some consistent offense to that position, the Tigers offense could be even scarier.
Projected Postseason Roster (pitchers)

| | | |
| --- | --- | --- |
| Starting Rotation | Bullpen (middle relief) | Bullpen (late inning) |
| RHP Max Scherzer | LR Rick Porcello | SU Drew Smyly |
| RHP Anibal Sanchez | MR Jose Alvarez | SU Jose Veras |
| RHP Justin Verlander | MR Al Alburquerque | CP Joaquin Benoit |
| RHP Doug Fister | MR Bruce Rondon | |
Baseball Prospectus
Max Scherzer has been the story of the season for the Tigers pitching staff, but top to bottom, they boast the best staff in the American League and perhaps the best in all of baseball (though the Dodgers would likely have something to say about that).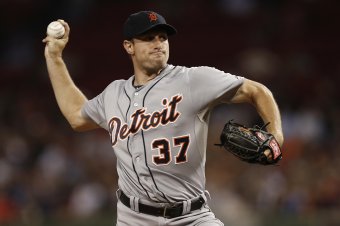 Winslow Townson/Getty Images
Anibal Sanchez has been well worth the massive contract the team gave him in the offseason, and while Justin Verlander has not been the same lights-out pitcher this season, he has a 3.03 ERA over his last six starts and should be a more-than-suitable No. 3 starter come October. Even the forgotten man of sorts, Doug Fister, was nearly unhittable in the postseason last year.
The bullpen was a huge question mark early on in the season, but the trio of Drew Smyly, Jose Veras and Joaquin Benoit have fixed that issue and should see plenty of action in October. Who fills out the rest of the bullpen after Bruce Rondon and Rick Porcello is still up in the air, and the team has a lot of options to choose from for the final two spots.
St. Louis Cardinals
Projected Postseason Roster (position players)

| | |
| --- | --- |
| Starting Lineup | Bench |
| 2B Matt Carpenter | C Tony Cruz |
| RF Carlos Beltran | IF Pete Kozma |
| LF Matt Holliday | IF Kolten Wong |
| 1B Matt Adams | OF Shane Robinson |
| C Yadier Molina | OF Adron Chambers |
| 3B David Freese | |
| CF Jon Jay | 1B Allen Craig (questionable for start of postseason) |
| SS Daniel Descalso | |
Baseball Prospectus
The Cardinals' lineup depth has taken a hit with Allen Craig, whose status for the postseason is undecided, on the sidelines due to a sprained right foot. Regarding his health GM John Mozeliak said on Tuesday to Rick Hummel of St. Louis Post-Dispatch, "The way I'm always more comfortable dealing with players is when they're cleared to go do baseball-related activities. He hasn't been cleared for that yet."
As a result, arguably the most dangerous pinch hitter in baseball, Matt Adams, has been forced into the starting lineup. That said, he's more than held his own in an everyday role, and the lineup remains one of the best around.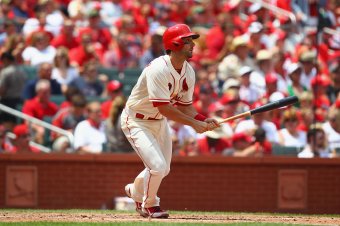 Dilip Vishwanat/Getty Images
They are hitting .330/.401/.461 this year with runners in scoring position, and that team-wide clutch hitting is going to go a long way in helping the team in October.
Matt Carpenter has been a legitimate MVP candidate setting the table, and the veteran trio of Matt Holliday, Carlos Beltran and Yadier Molina is as clutch as it gets. If Adams can continue to hold down the fort with Craig gone, the Cards should be able to put up runs against any team in baseball.
Projected Postseason Roster (pitchers)

| | | |
| --- | --- | --- |
| Starting Rotation | Bullpen (middle relief) | Bullpen (late inning) |
| RHP Adam Wainwright | LR Lance Lynn | SU Edward Mujica |
| RHP Michael Wacha | MR Carlos Martinez | SU Randy Choate |
| RHP Shelby Miller | MR Seth Maness | SU John Axford |
| RHP Joe Kelly | MR Kevin Siegrist | CP Trevor Rosenthal |
Baseball Prospectus
The rotation for the Cardinals may be the weakest of any of the teams listed here, as they lack an experienced second arm behind Adam Wainwright. However, the talented young trio of Michael Wacha, Shelby Miller and Joe Kelly are all capable of throwing a gem, with Wacha proving that last time out when he threw 8.2 innings before allowing a hit.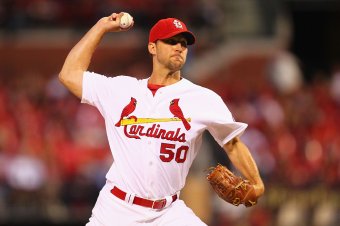 Dilip Vishwanat/Getty Images
Lance Lynn may yet edge out Kelly for the fourth rotation spot, though both pitchers will be on the postseason roster and both have experience pitching out of the 'pen. It's that bullpen that may be the biggest question mark for the Cardinals right now.
Edward Mujica was recently removed from the closer role, and while Trevor Rosenthal and John Axford give them a pair of solid replacement options, the late innings look to be far from a sure thing. Still, the Cardinals have a talented crop of relief arms and should be able to piece things together, much like they did in 2011.
Boston Red Sox
Projected Postseason Roster (position players)

| | |
| --- | --- |
| Starting Lineup | Bench |
| CF Jacoby Ellsbury | C David Ross |
| RF Shane Victorino | IF Xander Bogaerts |
| 2B Dustin Pedroia | 1B/OF Mike Carp |
| DH David Ortiz | OF Daniel Nava |
| 1B Mike Napoli | OF Quintin Berry |
| LF Jonny Gomes | |
| C Jarrod Saltalamacchia | |
| SS Stephen Drew | |
| 3B Will Middlebrooks | |
Baseball Prospectus
Most would agree that pitching wins championships, and while the Red Sox do have a solid staff, it's their relentless offensive attack that will likely be their ticket to a World Series title if they are able to bring it home this season.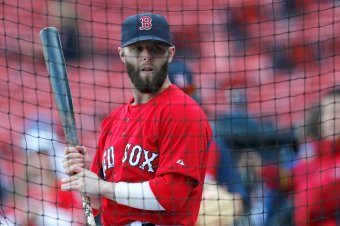 Jim Rogash/Getty Images
Getting Jacoby Ellsbury back healthy certainly helps the offensive attack, but even without him the team has one of the best offenses in baseball. His return to the top of the lineup allows the team to move Dustin Pedroia back into his usual No. 3 spot in the lineup and makes the entire lineup better as a result.
Who plays left field between Daniel Nava, Jonny Gomes and Mike Carp is something of a question, but they all have their place on the team and all have produced at times this season. Will Middlebrooks and Stephen Drew have been the weak spots in the lineup, but even they are producing at a viable rate right now.
Projected Postseason Roster (pitchers)

| | | |
| --- | --- | --- |
| Starting Rotation | Bullpen (middle relief) | Bullpen (late inning) |
| LHP Jon Lester | LR Ryan Dempster | SU Craig Breslow |
| RHP Clay Buchholz | MR Felix Doubront | SU Junichi Tazawa |
| RHP Jake Peavy | MR Brandon Workman | CP Koji Uehara |
| RHP John Lackey | MR Franklin Morales | |
Baseball Prospectus
The return of Clay Buchholz to the rotation is huge, as it gives the Red Sox four plus starting pitching options and turns the deadline acquisition of Jake Peavy from a necessary insurance move to a rotation-bolstering pickup.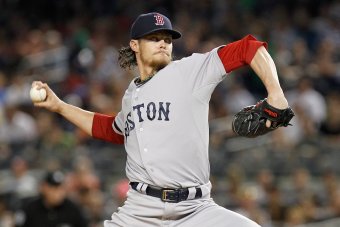 Mike Stobe/Getty Images
What the team decides to do with remaining starters Ryan Dempster and Felix Doubront is unknown, but the pitchers could earn spots in the bullpen and still play a role in the playoffs. The same goes for the lefty specialist role, where Franklin Morales and Matt Thornton are both options, and both could find their way onto the roster.
Then there's closer Koji Uehara, who has been absolutely lights out all season and particularly good since assuming the closer's role. He's 17-of-18 on save chances with a 0.23 ERA since July 1, and he recently had a streak of 37 straight batters retired.
Los Angeles Dodgers
Projected Postseason Roster (position players)

| | |
| --- | --- |
| Starting Lineup | Bench |
| RF Yasiel Puig | C Tim Federowicz |
| LF Carl Crawford | IF Nick Punto |
| SS Hanley Ramirez | IF Michael Young |
| 1B Adrian Gonzalez | IF/OF Skip Schumaker |
| CF Matt Kemp | OF Andre Ethier |
| 3B Juan Uribe | |
| C A.J. Ellis | |
| 2B Mark Ellis | |
Baseball Prospectus
The bottom of the Dodgers lineup—Juan Uribe, A.J. Ellis, Mark Ellis—may not strike fear into the hearts of opponents, but they've done enough to hold onto their everyday jobs, and the rest of the lineup is talented enough to more than make up for any lack of production there.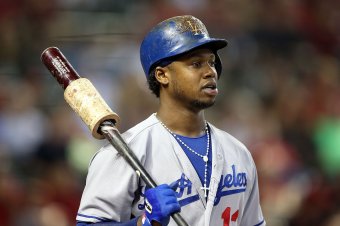 Christian Petersen/Getty Images
The return of Matt Kemp leaves the team with an outfield logjam—provided Andre Ethier gets back to full strength from the ankle injury that has sidelined him for the better part of the last two weeks—but that's a great problem to have, and a healthy Kemp could certainly be an X-factor in October.
There is plenty of depth on the bench, and guys like Dee Gordon, Jerry Hairston and Scott Van Slyke would likely make most contenders' benches but look like the odd men out here. Michael Young has hit .349 since joining the Dodgers in August, so he could steal a start or two and will almost certainly be the first bat off the bench.
Projected Postseason Roster (pitchers)

| | | |
| --- | --- | --- |
| Starting Rotation | Bullpen (middle relief) | Bullpen (late inning) |
| LHP Clayton Kershaw | LR Edinson Volquez | SU Brian Wilson |
| RHP Zack Greinke | MR Carlos Marmol | SU Ronald Belisario |
| RHP Ricky Nolasco | MR Chris Withrow | SU Paco Rodriguez |
| LHP Hyun-Jin Ryu | MR J.P. Howell | CP Kenley Jansen |
Baseball Prospectus
The offense for the Dodgers is certainly a plus, but it's their pitching staff that will determine how far they make it this October, and if their rotation performs up to their potential, it could carry the team all the way to a title.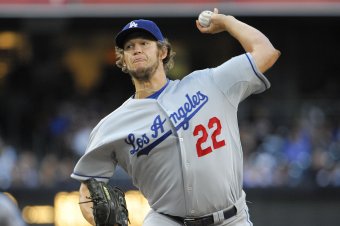 Denis Poroy/Getty Images
Most would agree Clayton Kershaw is the best pitcher in baseball, and Zack Greinke has given them the second ace they were looking for when they gave him a six-year, $147 million deal in the offseason. Ricky Nolasco has gone 8-3 with a 3.56 ERA in 15 starts since coming over from the Marlins, while Hyun-Jin Ryu has made a seamless transition from Korea, going 14-7 with a 2.97 ERA and leading all rookies in innings pitched at 188.
Kenley Jansen is one of the best closers in baseball, and while the setup duo of Paco Rodriguez and Ronald Belisario has been solid, the rest of the Dodgers bullpen is a question mark. Ideally, that would be offset by lengthy outings from their starters, but the 'pen has been able to piece things together in the second half regardless.
This article is
What is the duplicate article?
Why is this article offensive?
Where is this article plagiarized from?
Why is this article poorly edited?