NFL Power Rankings: Risers and Fallers Heading into Week 4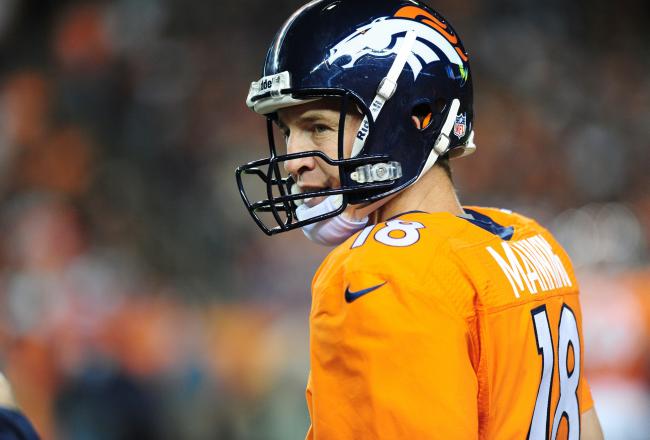 Chris Humphreys-USA TODAY Sports
Three weeks into the season, we're finally starting to see patterns emerge, identities forged and players that are either blowing up or disappointing in a big way.
The top two teams in these power rankings won't come as a surprise to anyone, but some of the teams near the bottom certainly weren't projected to be there when the season began. In the NFL, stocks rise and fall quickly.
On this week's power rankings, that fact is plenty evident.
1. Seattle Seahawks, 3-0
Stock: Holding
Analysis: If you hold true to the old adage that defense wins championships—even in the offense-heavy NFL of today—then the Seahawks have to top your rankings.
Add in a strong running game behind Marshawn Lynch and Russell Wilson finally getting on track—he had four touchdown passes against the Jaguars—and this looks like the NFL's most balanced team.
2. Denver Broncos, 3-0
Stock: Holding
Analysis: Peyton Manning currently has one fewer touchdown pass (12) than the entirety of the AFC South (13). Chew on that one for a moment.
The Broncos keep rolling along, and now the NFL's best offense has a matchup against the atrocious secondary of the Philadelphia Eagles. Expect a big performance from Manning, Wes Welker, Demaryius Thomas, Eric Decker and Julius Thomas.
And to think, the team has started 3-0 without two of its best defensive players, Von Miller and Champ Bailey. The AFC already appears to be Denver's for the taking.
3. Chicago Bears, 3-0
Stock: Rising
Analysis: A word of caution before we go crowning the Bears as NFC North favorites—the team started 7-1 last year before stalling down the stretch, finishing 10-6.
Still, if Jay Cutler continues to play smart football, the Bears keep leaning on Matt Forte (363 yards from scrimmage, two touchdowns) and the defense keeps forcing turnovers, the Bears will be a team to fear in the NFC.
4. New Orleans Saints, 3-0
Stock: Rising
Analysis: Welcome back, Sean Payton. Drew Brees and Jimmy Graham are balling, but we're about to find out just how good this Saints team is, hosting the Miami Dolphins then traveling to face the Chicago Bears and New England Patriots in the next three weeks.
5. Cincinnati Bengals, 2-1
Stock: Rising
Analysis: The Bengals are one of the more complete teams in the NFL, with a very good defense and weapons on offense in A.J. Green and Giovani Bernard. The team must avoid looking past the Cleveland Browns this week, however, with the New England Patriots up next.
6. Baltimore Ravens, 2-1
Stock: Rising
Analysis: After being decimated by Manning to the tune of seven touchdown passes, the defense has allowed just 15 points total to the Cleveland Browns and Houston Texans. A win over the Buffalo Bills will be vital—the team faces the Miami Dolphins, Green Bay Packers, Cincinnati Bengals and Chicago Bears in the six weeks to follow.
7. New England Patriots, 3-0
Stock: Holding
Analysis: As 3-0 starts go, this one has been pretty ugly. With injuries to Rob Gronkowski and Danny Amendola—and no more Wes Welker or Aaron Hernandez—the offense has stalled. Still, it's a promising sign that the defense is winning this team games, and the forthcoming returns of Gronk and Amendola will really help Tom Brady.
8. Miami Dolphins, 3-0
Stock: Rising
Analysis: A busy offseason for the Dolphins is thus far paying dividends, as is the development of Ryan Tannehill. Wins over the Indianapolis Colts and Atlanta Falcons were impressive, though the team now faces the Saints, Ravens, Patriots and Bengals in four of its next five games. We'll know what the Dolphins are made of by Week 10.
9. Indianapolis Colts, 2-1
Stock: Rising
Analysis: It's not just impressive that the Colts beat the San Francisco 49ers—it's that they did it by running and stopping the run that turned a lot of heads. With Andrew Luck, Trent Richardson and Reggie Wayne on offense, the Colts look like a team that will prove last year's playoff run was no fluke.
10. Atlanta Falcons, 1-2
Stock: Falling
Analysis: Road losses against the Saints and Dolphins can be understood, but this team has failed to win a close game late. With a game against the Patriots up next, the Falcons face a stiff test to avoid starting 1-3.
11. San Francisco 49ers, 1-2
Stock: Falling
Analysis: The sky isn't falling in San Francisco just yet, but the stock of this Niners team is. The lack of quality wide receivers (outside of Anquan Boldin) is really hurting this team, as is the team's surprisingly poor run defense. But Colin Kaepernick and the 49ers will figure things out. They're too good not to.
12. Green Bay Packers, 1-2
Stock: Falling
Analysis: There isn't shame in losing to a tough Bengals team, though the manner of the loss will surely make the team sick. Heading into the bye, the Packers are pretty much what we thought they were—a very good offense and a defense with some holes. Despite a tough opening schedule, a 1-2 start is very disappointing for this team.
13. Houston Texans, 2-1
Stock: Holding
Analysis: Two comebacks against inferior competition and a blowout loss against the Ravens later, the Texans are looking like a team that will have a real battle on its hands to win another AFC South title. With Seattle and San Francisco up next, the Texans could be in trouble.
14. Kansas City Chiefs, 3-0
Stock: Rising
Analysis: Yes, the Chiefs are 3-0, but wins over the Jacksonville Jaguars, Dallas Cowboys and Philadelphia Eagles aren't overly impressive. Wins are wins—and the defense has been quite good—but it remains to be seen if the Chiefs are for real or the benefactors of an easy early schedule.
15. Dallas Cowboys, 2-1
Stock: Holding
Analysis: At this point, the Cowboys might win the NFC East by default. Behind Tony Romo, Dez Bryant and DeMarco Murray—and with the NFC East in shambles—the Cowboys look like a team headed for 10 wins.
16. Detroit Lions, 2-1
Stock: Rising
Analysis: If the Lions could stop beating themselves with stupid penalties, this team could be really good, though the loss of Nate Burleson hurts. The Lions enter the key portion of their schedule, facing the Bears (twice), Packers, Bengals and Cowboys in five of their next six games.
17. Tennessee Titans, 2-1
Stock: Rising
Analysis: The Titans could easily be 3-0 right now behind the pretty strong play of Jake Locker. If this team could get Chris Johnson really going on the ground, look out.
18. New York Jets, 2-1
Stock: Rising
Analysis: The Jets don't have the playmakers on offense to make a playoff run this year, but Rex Ryan has this defense playing excellent football. Geno Smith looks as though he is going to be the man to lead this team into the future, pretty much putting an end to the Mark Sanchez era.
19. St. Louis Rams, 1-2
Stock: Holding
Analysis: The Rams played the Niners tough last year, beating them and tying, so there is no reason to think they'll roll over and die on Thursday night. Sam Bradford and this offense need to take the next step, and the defense needs to start playing much better than it has so far, however. Thus far, a team I thought would sneak into the playoffs this season has been disappointing.
20. San Diego Chargers, 1-2
Stock: Holding
Analysis: It's hard to have a grasp on what the Chargers are as a team. They nearly beat the Texans. They went into Philadelphia on a short week and beat the Philadelphia Eagles, then they go and lose to the Titans. Philip Rivers seems rejuvenated, but he doesn't have the talent around to do anything more than perhaps reach eight wins this year.
21. Philadelphia Eagles, 1-2
Stock: Falling
Analysis: After a blistering start to the season, Chip Kelly's speed demons have dropped two games. The reason? The defense can't...stop...anyone. The secondary is terrible, and the team needs Michael Vick to be much better than he was last Thursday night against the Chiefs. The Eagles are fun to watch, but they aren't very good.
22. Carolina Panthers, 1-2
Stock: Holding
Analysis: The Panthers will go as far as Cam Newton takes them. If this team could get the passing game going like they did against the New York Giants, the Panthers could be dangerous.
23. Arizona Cardinals, 1-2
Stock: Holding
Analysis: At this point, you could probably fill in at running back for the Cardinals. The defense is supposed to be the stronger unit on this team, but allowing 297 passing yards per game (26th in the NFL) is currently undermining that theory.
24. Buffalo Bills, 1-2
Stock: Holding
Analysis: EJ Manuel has played pretty well, but until the defense can stop the run, the Bills will lose more than they win. If this team doesn't get C.J. Spiller going, it's going to be a very, very long season in Buffalo.
25. Cleveland Browns, 1-2
Stock: Rising
Analysis: Brian Hoyer for president! With Jordan Cameron and Josh Gibson, at least he has some weapons to work with. But even with a nice win over the Minnesota Vikings, let's keep it real—the Browns aren't very good.
26. Pittsburgh Steelers, 0-3
Stock: Falling
Analysis: It's pretty shocking that the Steelers started 0-3. It's also pretty shocking how putrid they've been at running the ball. If Ben Roethlisberger and offensive coordinator Todd Haley don't get on the same page soon in the passing game, it's going to be one ugly season for Pittsburgh.
27. Tampa Bay Buccaneers, 0-3
Stock: Falling
Analysis: Josh Freeman is out, Mike Glennon is in, and the Bucs are a mess. Greg Schiano is coaching for his job right now. Given the talent on this team, an 0-3 start is inexcusable.
28. Washington, 0-3
Stock: Falling
Analysis: Washington came into this season overrated after reaching the playoffs last year, but you have to think they are also better than this 0-3 start suggests. Once Robert Griffin III gets things going, Washington will be better. Not playoff better, but better.
29. Minnesota Vikings, 0-3
Stock: Falling
Analysis: Adrian Peterson could rush for 3,000 yards, but if Christian Ponder continues to play poorly and the defense continues to be more porous than a dam made of coffee filters, this team will continue to lose. Like Washington, the Vikings came into this season overrated, and it's showing.
30. Oakland Raiders, 1-2
Stock: Holding
Analysis: Get excited, Raiders fans—Terrelle Pryor looks good. Stay disappointed, Raiders fans—the rest of the team isn't very good.
31. New York Giants, 0-3
Stock: Falling
Analysis: You can't win games allowing 13 turnovers and 11 sacks in three weeks. The Giants have the talent to turn things around, but Eli Manning has to be better, Tom Coughlin needs to trust David Wilson again and the defense needs to start getting pressure on the quarterback.
32. Jacksonville Jaguars, 0-3
Stock: Holding
Analysis: There is no hope. Seriously. This team is really, really bad. It's hard to imagine another team selecting ahead of the Jags in next year's draft.
This article is
What is the duplicate article?
Why is this article offensive?
Where is this article plagiarized from?
Why is this article poorly edited?