The Ultimate Fighter 18: Team Rousey vs. Team Tate, Episode 4 Live Results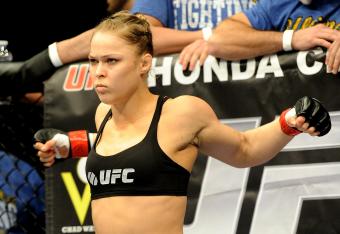 Jayne Kamin-Oncea-USA TODAY Sports
Team Rousey is reeling from back-to-back losses to Team Tate, as both its top male fighter and its top female fighter have been eliminated.
Ronda Rousey once again found herself at the mercy of Miesha Tate's matchup choices and this time has to deal with a matchup of the last-picked female fighters from both teams, veteran mixed martial artist Roxanne Modafferi and highly ranked female boxer Jessica Rakoczy.
Tune your TV to The Ultimate Fighter on Fox Sports 1, and tune your computer here!
Check out our blog with Jessamyn Duke!
Uh oh!
Ronda's mom is there to yell at them next week.
Jessica gives Rousey some much-needed respite.
Fight announcement time!
Ronda picks Louis Fisette to face David Grant.
Roxy is no longer the Happy Warrior. Right now, she's the Emotionally Devastated Warrior, crying a bit and yelling from her back. She calls for Jessica and they hug before she starts crying hard.
Jessica consoles her and helps her to her feet.
On the walk back to the locker room, Shayna and Roxy hug and they start to both cry a bit. Shayna cries to the camera, lamenting how they're both out of the running.
Roxy plucks up a bit after her teammates console her.
Jessica Rakoczy vs. Roxanne Modafferi Round 2
Jessica lands a hard left hand early. Roxy is floord and Jessica goes for the finish. Roxy attempts an armbar, but Jessica steps back and lets her up. Roxy shoots for an ugly takedown against the cage and eats hands all over the place.
The ref stops the fight. Jessica flagrantly used the fence to avoid a takedown. Really deserved to have a point taken.
Action restarts against the cage and Jessica clinches, throwing some harsh knees. Again, Roxy lands a trip and gets mount. Rakoczy powers out of it and gets top position. Roxy goes for an armbar but Rakoczy slams her way out of it, a la Sarah Kaufmann.
Roxy is very, very unconscious, but the ref lets it keep going and she eats a huge hand. The ref still lets it go and Jessica, finally, gets the stoppage.
Horrible job by the ref.
Jessica Rakoczy vs. Roxanne Modafferi Round 1
Rakoczy comes out showing some fearsome combinations. Roxy gets the trip and takes top guard position. Jessica kicks her off and Roxy tries to get back on top, fending off upkicks and hands. Roxy takes side control but Jessica tangles their legs into a sort of half-half-guard.
Jessica keeps fence-grabbing to keep Roxy from advancing position. Roxy gets a mounted crucifix but Jessica flips out of it. Roxanne takes the back but can't get hooks in. Jessica powers through her and gets into top guard position. Roxy goes for a kimura but Jessica muscles out of it.
Roxanne then slaps on a great armbar but again, Jessica just powers out of it. Jessica comes back down into guard with some hard hands. Roxanne again goes up high with her legs to threaten, but Rakoczy escapes and goes back standing.
Roxy is tired, and throws some of the ugliest kicks you'll ever see in MMA. She shoots for a takedown, doesn't get it and clinches. She gets another trip and gets top position. The horn sounds with her landing some modest ground and pound.
Rakoczy, understandably, misses her son. She isn't the only mother in the house, though, and nowhere near the only parent.
Roxanne gets a hand-written note from Julianna Pena. Roxy, unlike Chris Holdsworth, keeps it classy and doesn't show everyone and doesn't throw around every euphemism possible! Good on you, Roxy.
Roxy has built a person from paper towel tubes. Rakoczy discusses the awkward nature of sleeping in the same room as her opponent.
Roxy weights in, fully clothed, without cutting weight, at 133 lbs. Jessica weighs in at 132 without clothes.
The two fool around at the showdown, but then put their serious face on.
Dramatic music!
Jessica is reflecting on her troubled past. Her stepfather was physically abusive, forcing her out of her home at age 15. Her mother was murdered in 1993 on Christmas, and she breaks down discussing it.
After, she dropped out of school and turned to boxing, trained hard, becoming a champ.
Now time for Roxanne!
Starwipe to Shayna Baszler reflecting on her relationship with Modafferi, and how they first met during a fight in Japan. They maintained their friendship and it shows in the house. Her housemates also have positive things to say, as Jessamyn, Anthony and Louis all talk about her perkiness.
Roxy goes over her martial arts background, which went from Taekwondo to Karate to Judo to Brazilian Jiu-Jitsu. Modafferi is a 10-year veteran who has been fighting since women's fights were just a sideshow act, and taught English in Japan to support her mixed martial arts training.
On Caraway, from last week's blog:
The TUF contestants are brought to...somewhere to watch the TUF: Brazil 2 Finale.

Rousey goes off to get some wine and quickly gets into a thing with Miesha, who battle for positioning at the bar. Miesha says Rousey doesn't know how to throw punches and Rousey quickly brings her coach into things. Her coach is quick to pick a fight with Caraway and brings up his less-than-intelligent tweet from when Tate and Rousey were about to fight the first time in Strikeforce.

Tate says they shouldn't dwell on it, but it also isn't the only trouble Caraway has found himself in with "alleged" violence against women.
Back to the house! Jessica Rakoczy is, apparently, the "mom" of the house. Everyone discusses how much they appreciate her during a series of clips showing Rakoczy doing laundry, cleaning dishes, washing the bathroom and bandaging boo boos.
Rakoczy talks about her shoulder, saying she can move it freely, it just "isn't 100%". Rakoczy's pure handspeed is awesome.
Team Tate coaching session montage! Raquel Pennington discusses her dissatisfaction with sparring with her female teammates and wants to go practice with the guys. Tate obliges and the team mixes together.
Cut to Sarah Moras sparring with Louis Fisette. Fisette talks about how he roughed Moras up to teach her a lesson...not the best look.
The episode opens with Jessica Rakoczy expressing her confidence to her Team Rousey teammates. Rousey says that she is suffering from a shoulder injury.
Roxanne Modafferi is equally confident, and wants to keep Team Tate's winning streak going. Julianna tells her that Rakoczy can't compete with her ground game.
Rousey's coach, Edmond Tarverdyan logs more screen time by getting into a little thing with Tate's guest coach, UFC vet Dennis Hallman. Edmond gave Hallman the once-over, who takes offense to it. Rousey defends her coach in somewhat silly fashion.
Things once again go back to the Bryan Caraway incident (more on that later). Dana White tells them to call a truce and that seems to, for now, tone things down.
Or no commercials and we get right into it...I'm not gonna complain!
One commercial break away from getting into it!
An hour and counting until tonight's episode. You can catch up on last week's The Ultimate Fighter right now, though!
Want to bone up on the resumes of tonight's fighters?
Make sure to check out my preview of the eight ladies of TUF18!
This article is
What is the duplicate article?
Why is this article offensive?
Where is this article plagiarized from?
Why is this article poorly edited?