Jose Mourinho's Treatment of Juan Mata Could Lead to a New Type of Criticism
Ben Hoskins/Getty Images
"We all remember your first press conference. Are you still a special one?"
That was the first question (via the Daily Mail) to Jose Mourinho after he returned to Chelsea this summer. You can almost see the journalists twirling their hair round in their fingers, eyes glazed and with beatific smiles on their faces.
Mourinho's return to England was welcomed by most in the press for understandable reasons. He's obviously a quote machine, allowing sub-editors across the land to knock off early and pour themselves a mojito, safe in the knowledge that Jose would be writing their headlines today. He's also entertaining, and in a football world where the self-preservation tactic of many is to be as bland as humanly possible, it's easy to see why that's attractive.
There were dissenting voices, of course. Some of Mourinho's antics are undoubtedly unpleasant, and this does not sit well with those who still regard football as a place in which honour resides.
One particularly strong piece in The Daily Express, written shortly after Mourinho's return was confirmed, called him a "graceless winner, spiteful loser, calculated and callous defamer" and accused him of "debasing the sport which rewards him so handsomely."
Opposing Mourinho on an almost moral basis—given this is a man who has driven referees from the game, poked people in the eye and belittled managers who have the misfortune not to be Jose—is perhaps a little pious but understandable.
What there has been very little criticism of is his abilities as a manager. That same Express piece stated "He will be successful at Chelsea" without question, despite the last season of his tenure at Real Madrid revealing some potential weaknesses in a previously impenetrable aura.
One of his key tactics at previous clubs was to very much get the "core" of his squads (John Terry, Frank Lampard, Javier Zanetti, Zlatan Ibrahimovic) on side, but in Madrid he alienated Iker Casillas, Pepe and Sergio Ramos, and there were even reports of disagreements with Cristiano Ronaldo.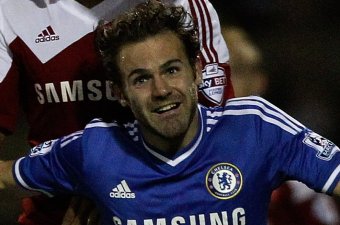 Ben Hoskins/Getty Images
The absence of criticism could be on the verge of changing now, and it's largely because of Juan Mata.
Over the summer, there was a drip, drip, drip of stories claiming that Mourinho wanted to sell Mata, or that he would be used in some sort of makeweight in a deal for Wayne Rooney. These were eventually rubbished, but not with the haste of a manager who wanted to reassure his No. 10 (in the literal sense, that being Mata's squad number, if not the positional sense) that he had nothing to worry about.
However, Mata's fears were eventually confirmed when he wasn't selected for Chelsea's first few games of the season, with the initial explanation of fitness dismissed when Mourinho said Mata would need to "adapt" to play in his side—as per Sky Sports, and this week his coach Steve Holland told Mata he needed to "contribute defensively," as reported by Yahoo UK.

And so, the criticism has started, but in a relatively gentle way. It's almost as if the gentlemen of the press think Mourinho has made an absent-minded error in his handling of this rather than a blunder.
The most stinging rebuttal in one of the few opinion pieces (there have been plenty of news stories) dedicated to the Mata conundrum in The Daily Telegraph warned that if the Spaniard wasn't picked and Chelsea lost more games, it was a "potential problem between Mourinho and those who populate the terraces." Hardly excoriating. The Daily Mail called Mata's "fall from grace" a "mystery," and some have expressed slightly more strident criticism on Twitter, but only slightly.
Of course, it is early in the season and Mourinho has an extensive collection of medals to back him up, so perhaps it is too soon for this sort of thing. However, this could be the start of something we have rarely seen before. To doubt Jose because of his antics is one thing, but to doubt his methods and decisions—well, that's quite another.
This article is
What is the duplicate article?
Why is this article offensive?
Where is this article plagiarized from?
Why is this article poorly edited?

Chelsea: Like this team?