5 Bold Predictions for Washington Redskins' Week 4 Matchup vs. Oakland Raiders
Patrick McDermott/Getty Images
Robert Griffin III has had a difficult return from injury.
At this point, fans of the Washington Redskins don't care about predictions, stats or improvements. They just want their team to get its first win of the season. However, their Week 4 matchup with the Oakland Raiders offers an opportunity to both improve and go into the bye week at 1-3.
After the bye, the team will face the Dallas Cowboys, Chicago Bears and Denver Broncos. At 0-4, none of those games look winnable. At 1-3, confidence will creep back and a useful bye offers a chance to regroup.
With that in mind, here are some bold predictions for the Redskins when they take the field at the O.co. Coliseum on Sunday.
Begin Slideshow

»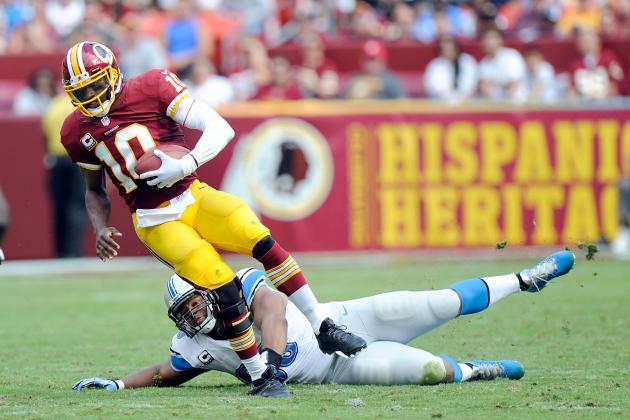 Greg Fiume/Getty Images
In 2013, Griffin is yet to throw a TD in the opening 30 minutes of a game.
It's safe to say that Robert Griffin III hasn't been "RG3" for much of this year. However, he's on an upward trend. During the Detroit Lions game, he showed a new willingness to get out of the pocket and extend plays with his feet.
He's got some way to go with his sliding, but it's an encouraging sign. If the offense is ever going to get moving, though, he needs to start throwing touchdowns in the early part of the game.
When DeAngelo Hall has twice as many touchdowns—two—in the first half of games as the entire Redskins offense, there's definitely something wrong.
The Raiders have conceded an average of 15.6 points per half in their opening three games, so there are definitely points up for grabs.
The Redskins have to get the running game going early, utilizing the play-action fake that Griffin sells so well and opening up holes for Alfred Morris to exploit. In turn, this will give Griffin that little bit more time to find an open receiver and put points on the board through the air.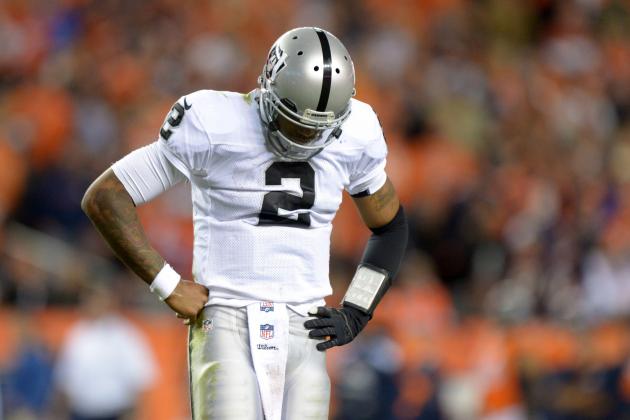 Kirby Lee-USA TODAY Sports
Terrelle Pryor has started brightly, but is returning from a concussion.
The Redskins have the worst defense in football right now. In fact, as Adam Vingan at NBC Washington pointed out, the secondary is on pace to concede enough yards to be the worst in the history of the NFL. Therefore, the likelihood of keeping anyone off the scoreboard for 30 minutes is quite low.
Despite this, the Raiders have only scored seven points in the first quarter this season, and that was against the Jacksonville Jaguars. What's more, they've only scored a total of 24 points in the first half this year.
Of course, that's still better than Washington. However, with Terrelle Pryor returning from a concussion, there's a chance for the Redskins' front seven to unsettle him.
Ryan Kerrigan has been one of the few highlights on defense this season. Consistent pressure from the pass rush could force Pryor into mistakes and prevent him from getting into a rhythm.
Basically, the Redskins need to do to Pryor what opposing teams have done to Griffin all year by getting in his face and keeping the pressure on.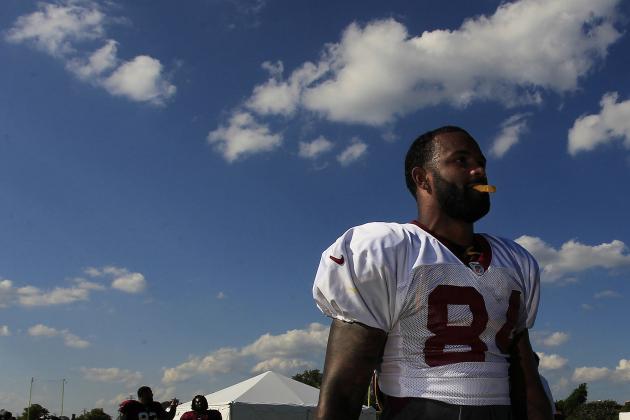 Geoff Burke-USA TODAY Sports
Niles Paul and the special teams unit have been sloppy so far.
When a bold prediction is that the special teams unit will actually do their job in Week 4, it's definitely not been a good start to the season.
The Redskins haven't been good on offense, but the special teams unit hasn't helped at all. Chris Thompson and Josh Wilson have both handled kick and punt returns with limited success, and the field position for the start of each drive has been poor.
On the coverage team, missed tackles and penalties have given opposing teams an advantage they barely had to work for.
Jacoby Ford is an excellent return man for Oakland, so the Redskins have to find their spark on special teams this week. Niles Paul needs to step into the shoes of Lorenzo Alexander and be the gunner and leader the team requires.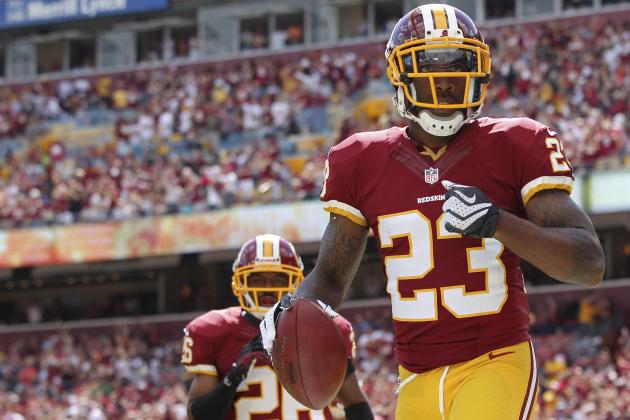 Geoff Burke-USA TODAY Sports
DeAngelo Hall has scored two touchdowns this season, but he's also given up free yards via penalties.
According to TeamRankings.com, the Redskins are averaging 7.7 penalties per game at a cost of 66 yards. With all the problems on offense and defense, giving up unearned yards is just something they cannot do.
Significant gains have been called back due to penalty flags, while defensive players have lost their cool and given up additional yardage.
It's understandably frustrating for players that the team isn't performing well, but it's also frustrating having to talk about such basic football principles in an article with "bold predictions" in the title.
Washington's penalties are on the downturn, however, which is encouraging. Sunday needs to be a composed performance all around. If not, the opposing offense will march up the field as quickly as the Redskins are called back.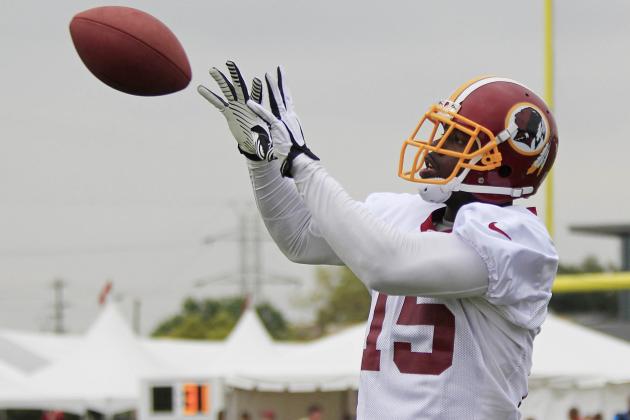 Geoff Burke-USA TODAY Sports
Josh Morgan has dropped two passes already this year.
Although it's yet another fundamental football concept, the Redskins receivers have nevertheless dropped seven passes across three games. There's only six teams with more in the league right now.
If the franchise quarterback is recovering from ACL surgery, he needs all the help he can get. Dropping passes on fourth down that get tipped for interceptions don't do that, as Josh Morgan showed against Green Bay.
Neither does collecting a 57-yard pass in the end zone but failing to control it on the way down. That drop by Aldrick Robinson could have won the game for the Redskins against Detroit, as could Griffin's 21-yard scramble to the Lions' 29-yard line.
His slide was necessary to avoid taking a hit, but his decision to go head-first meant that he wasn't ruled down. The ball was still live and the Redskins lost possession.
The Lions took the ball and drove up the field for the go-ahead score. We can only hope that Washington is learning from these lessons, and that Sunday is the day they turn things around.