Middle Tennessee vs. BYU: Live Score and Highlights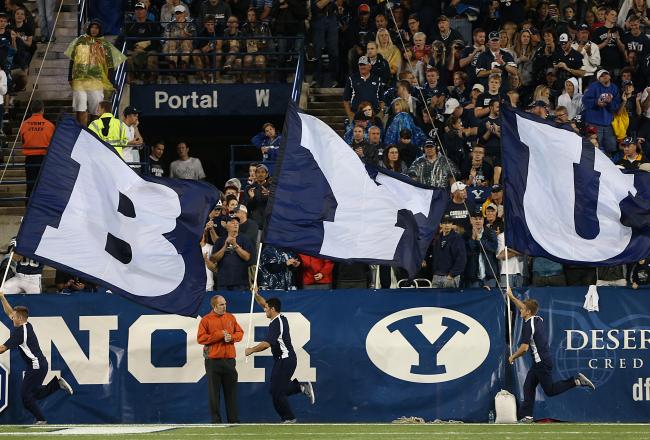 George Frey/Getty Images
BYU: 37
Middle Tennessee: 10
FINAL
It was an ugly 27-point win but BYU will take it to improve to 2-2 on the season. Middle Tennessee will drop to 3-2, as the Blue Raiders weren't able to take advantage of BYU's five turnovers.
Cougars quarterback Taysom Hill was the player of the game, passing for 177 yards, rushing for 165 yards and scoring two touchdowns.
The Blue Raiders put up a solid fight in the first 15 minutes, but they fell apart for the final three quarters.
It wasn't the prettiest game, but the Cougars got the job done and the fan base can sleep a little better tonight. Middle Tennessee will play East Carolina next week and BYU will travel to Utah State.
Here's what we learned from the blowout win:
FINAL THOUGHTS
What's there really to say?
BYU wins another ugly game, which seems to have become a trend with this team. From the five turnovers to the nine penalties, the Cougars are lucky they weren't playing one of the better teams on their schedule. Still, a win is a win and quarterback Taysom Hill looked fabulous tonight. It's going to be interesting to see if he can build on this performance.
Middle Tennessee played well for what it's worth but wasn't able to capitalize on BYU's mistakes. The Blue Raiders scored 10 points in the first quarter and didn't score again in the final three. If you can't make a team pay when it counts, the chances for the upset aren't very good.
Both teams proved there is still a lot of work that needs to be done.
Thanks to my man @CougarStats, #BYU has now won two games in its history with 5 turnovers. Tonight and 1984 Holiday Bowl vs. Michigan

— CougarCast (@CougarCast) September 28, 2013
This isn't the first time BYU has won ugly:
BYU: 37
Middle Tennessee: 10
This ugly ball game has finally come to an end!
Start hiding the children now for BYU's road trip to Wisconsin on Nov. 9. And start an ice bath.

— Paul Myerberg (@PaulMyerberg) September 28, 2013
Now is the time to start looking ahead...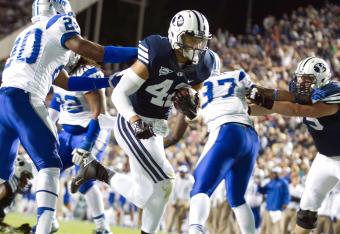 Middle Tennessee squanders another opportunity to score, as the Cougars defense comes up with another stop on fourth down. There are plenty of people in Vegas who were hoping for a Blue Raiders touchdown.
Oh, well.
BYU safety Craig Bills barely avoided a targeting call. If he was called for the penalty, he would have been suspended for the first half of next week's game against Utah State.
Logan Kilgore needs to make quicker decisions with the ball. Take what the defense gives you and pickup positive yards. It's quite obvious Middle Tennessee isn't capable of hitting the homerun, so get rid of the ball sooner and make moving the chains a lot easier.
Over the last 12 years, teams with 5 turnovers have won 86 and lost 488. #BYU up 27 with 5 turnovers.

— CougarStats (@CougarStats) September 28, 2013
Absolutely incredible.
Tysom Hill throws an interception that was picked off by Kevin Byard. That's now five turnovers for the Cougars and they're still winning by 27 points.
Meanwhile, Logan Kilgore gives the ball right back by throwing an interception to Daniel Sorensen. It will be a long flight back home for the Blue Raiders.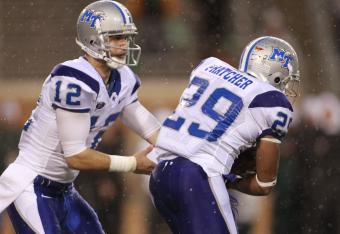 Middle Tennessee running back William Pratcher seems to have suffered a serious leg injury. He will leave the field on a cart and his leg heavily wrapped. The senior has rushed for 750 yards and five touchdowns in his career.
Not sure where to do the research, but I bet you'd be hard pressed to find another instance of a +4 in the TO dept and a 27 point deficit.

— BlueRaiderZone (@BlueRaiderZone) September 28, 2013
This!
BYU's defense is now dialing up the blitz and flying out there on the field. Middle Tennessee can't fly back home soon enough. Hopefully you already put the kids to bed because this is ugly.
BYU: 37
Middle Tennessee: 10
And that will do it, folks.
Josh Davis returns a punt 49 yards for the touchdown. There is nothing Middle Tennessee can do that will make this a game again. The offense can't put together any consistency and the defense struggles just as much.
Goodnight.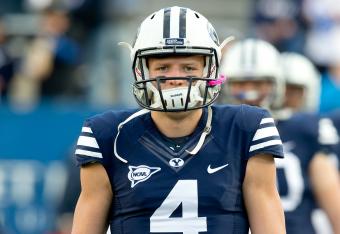 Guess what?
Taysom Hill rushes for ANOTHER first down.
It's amazing how Middle Tennessee has absolutely no answer for the dual-threat quarterback.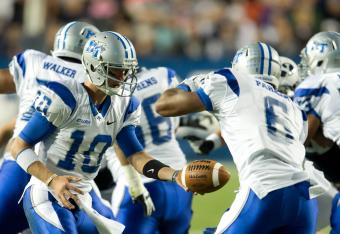 Middle Tennessee can't convert on fourth down, which gives BYU the ball back in great field possession. With the third quarter coming to an end in about five minutes, it's safe to say the Cougars have won this game barring a miracle.
It's starting to get ugly.
Taysom Hill now has more than 150 rushing yards in this game. You'd think Middle Tennessee would put some type of spy on him or something.
Nope.
He continues to run and move the chains for BYU.
The Cougars will get the ball at their own one-yard line after the defense forced another stop. If you're a Middle Tennessee fan, this would be the perfect time for the defense to force a turnover. Time is running out for the Blue Raiders.
BYU's Adam Hine diagnosed with a concussion, will not return to the game.

— Jay Drew (@drewjay) September 28, 2013
Update on BYU running back Adam Hine, who was injured in the first half:
With 2 rush TD in the 1st half, BYU's Taysom Hill now has 6 Rush TD, tying C.J. Brown for the most by a QB in FBS this season.

— ESPN Stats & Info (@ESPNStatsInfo) September 28, 2013
With the way this game is going, he may take the lead:
BYU: 30
Middle Tennessee: 10
BYU comes out of halftime with a strong opening drive, as running back Michael Alisa rushes for his second touchdown of the game. It's gut check time for Middle Tennessee. The offense needs to answer or the fat lady will begin to sing.
Yikes.
You know your special teams is bad when the Cougars start at their own 40-yard line on a Middle Tennessee pooch kick.
What are your predictions for the second half?
Can BYU continue to build momentum and run away with this thing or will Middle Tennessee make the comeback?
The second half is soon underway and hopefully it's a lot cleaner than the first.
Here's why time of possession is a very overrated stat: MTSU has had the ball for 19:48, #BYU for only 10:12

— CougarStats (@CougarStats) September 28, 2013
It's all about what you do with that time.
First Half Stats
Passing Yards: BYU - 96 Middle Tennessee - 45
Rushing Yards: BYU - 181 Middle Tennessee - 78
Total Yards: BYU - 277 Middle Tennessee - 123
TOP: BYU - 10:12 Middle Tennessee - 19:48
BYU Key Player: Taysom Hill, QB - 8/9 passing, 96 yards; 142 rushing yards and two touchdowns
Middle Tennessee Key Player: Marcus Henry, WR - Two receptions, 22 yards and a touchdown
This article is
What is the duplicate article?
Why is this article offensive?
Where is this article plagiarized from?
Why is this article poorly edited?

BYU Football: Like this team?