MLB MVP 2013: Projecting Finish for American League's Top Stars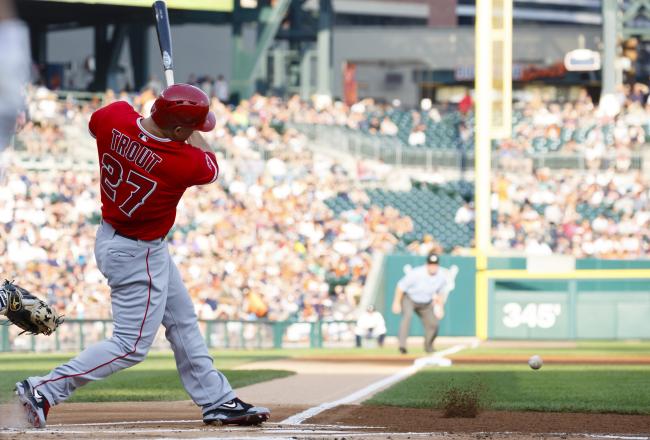 Rick Osentoski-USA TODAY Sports
The 2013 MLB American League MVP race looks a lot like it did in 2012.
Reigning MVP and Detroit Tigers third baseman Miguel Cabrera might come up short in his pursuit of consecutive Triple Crowns, but he and Los Angeles Angels outfielder Mike Trout appear set to lock horns once again with AL honors on the line.
Cabrera and Trout once again lead the pack, but a strong group contenders waits in the wings. From Baltimore Orioles first baseman Chris Davis to Oakland Athletics third baseman Josh Donaldson, a number of players are poised to make things interesting on voting day.
Feel free to weigh in on the projections you see below in the comments section. After all, this year's MVP race in both leagues is very much up for debate.
Others in the Conversation
Texas Rangers 3B Adrian Beltre
Baltimore Orioles 1B Chris Davis
Detroit Tigers SP Max Scherzer
New York Yankees 2B Robinson Cano
Boston Red Sox 2B Dustin Pedroia
Projected Top Vote-Getters
3. Oakland Athletics 3B Josh Donaldson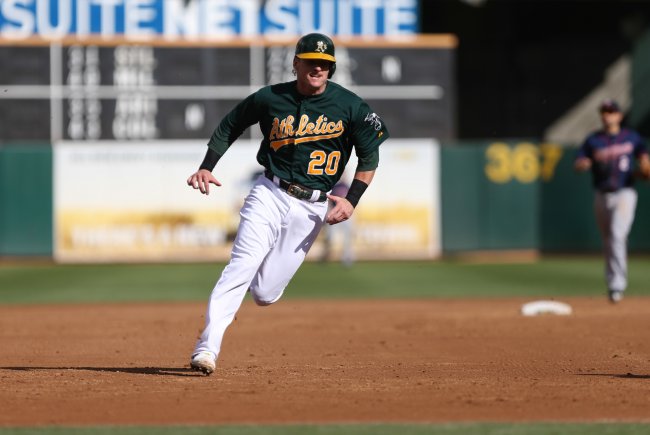 Kelley L Cox-USA TODAY Sports
It's time the A's got some love from the national media.
Specifically, it's time Josh Donaldson got some love.
With .307/.510/.898 (batting average/slugging percentage/on-base plus slugging) splits and WAR (wins above replacement) of 8.1 as of Tuesday morning, Donaldson continues to impress baseball fans both from a traditional and sabermetric standpoint.
According to CBS Sports' Jon Heyman, the 27-year-old might even grab a few first-place votes:
WAR (plus heroics/big finish) make Josh Donaldson a legit MVP candidate. #Stockwatch http://t.co/La4fQzxkeF

— Jon Heyman (@JonHeymanCBS) September 23, 2013
Oakland is well on its way to winning the AL West, and Donaldson has been a big part of that effort. He has 24 home runs and 92 RBI, and he finds himself among the league leaders in a number of flashy offensive categories.
As noted by ESPN Stats & Info, he's also been clutch:
Josh Donaldson's walk-off single gives @Athletics 2-1 win. It's his 3rd walk-off hit this year, tied for second most in MLB.

— ESPN Stats & Info (@ESPNStatsInfo) September 18, 2013
The A's rarely produce a star worthy of attention with respect to an award like MVP, but Donaldson has broken that mold in 2013.
Although he doesn't quite have the juice to stand up to our next two stars, Donaldson gets the nod at No. 3 over Chris Davis and Adrian Beltre because he has an outstanding resume at the plate and has put a playoff team on his back when necessary.
2. Los Angeles Angels OF Mike Trout
If you thought Mike Trout was good, think again.
This young man is great. Heck, he might even be legendary.
That's high praise for a 22-year-old in his second season, but Trout has done nothing but impress since he joined the big club despite his team's success not matching his own. As this tweet from Grantland suggests, Trout's greatness is not going to be connected to his early MVP voting history:
Even if Mike Trout isn't named MVP, no other hitter has been this great at such a young age, by @jazayerli http://t.co/PFFCv5ZZIC

— Grantland (@Grantland33) September 24, 2013
A year after leading the AL in runs, stolen bases and WAR, Trout has followed up with an even better sophomore campaign. His .325/.560/.992 splits are rivaled by very few hitters. He's once again on pace to lead the AL in runs and WAR, but he also leads the league in walks.
It's easy to discount Trout's MVP candidacy by saying he hasn't had to produce with the pressure of a pennant on the table. But according to ESPN's Buster Olney, Los Angeles' record might not matter to voters who feel Trout's stats do the heavy lifting:
About Trout's MVP candidacy: I think this might be like Dawson in '87 and Ripken '91, when the team's record may not matter.

— Buster Olney (@Buster_ESPN) September 23, 2013
Either way, he's a lock to at least make voters think twice before submitting their final ballots. Trout has been outstanding and will win multiple MVPs before his career is over, but a certain Tiger has been too good to ignore.
1. Detroit Tigers 3B Miguel Cabrera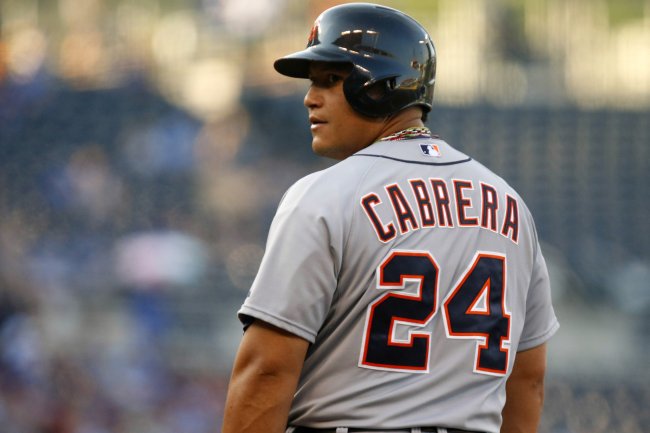 Kyle Rivas/Getty Images
For the second straight season, Miguel Cabrera will be your AL MVP.
Miggy is slumping in the month of September, but he's still in position to lead or help pace the American League in a number of offensive categories.
Supporters of sabermetrics will argue that his 7.3 WAR (heading into Tuesday night) isn't high enough to deflate Trout's case. I would point to the 2012 season, when that same number (7.3) was good enough to best Trout (10.3) in the same category.
Cabrera's other stats haven't failed to keep pace, and there's a good chance he bests all three numbers from his Triple Crown campaign by season's end.
Call it old fashioned, but to me, the MVP award has always represented a player with stats who also helps his team put wins on the board. Cabrera is just that, and very little has changed with respect to the way he lines up with Trout in a direct comparison.
Miggy will party like it's 2012 when voting numbers are revealed.
Follow B/R's Ethan Grant on Twitter.
This article is
What is the duplicate article?
Why is this article offensive?
Where is this article plagiarized from?
Why is this article poorly edited?