Grading Manuel Pellegrini's Tactics at Manchester City so Far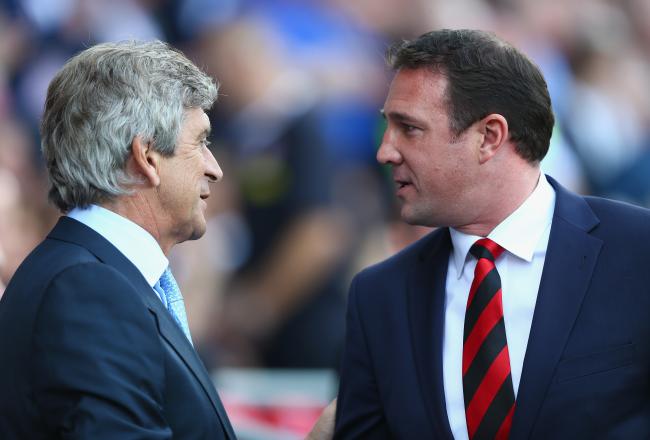 "Great win today. We are going to hang ten on you at the Etihad though."
Michael Steele/Getty Images
Manchester City have played seven competitive matches with Manuel Pellegrini at the helm.
That slate included a Premier League derby with hated Manchester United, a Champions League match in the Czech Republic and a Capital One Cup match where Pellegrini gave his squad players a run-out.
Also included was a Premier League visit to newly promoted Cardiff City.
So of course, you easily predicted that City would produce three blowout wins against United, Viktoria Plzen and Wigan Athletic but lose to Cardiff City. Certainly you did.
After one match, the Pellegrini narrative was that City might never lose. Newcastle United were blitzed at the Etihad by a pressing Sky Blues side that scored four and might have had twice as many with better finishing.
It is hard to take much from that match, though. Newcastle have recovered to bank two wins from their next four league matches, but their debut match saw them concede in the first six minutes and play the second half with 10 men.
Pellegrini's Citizens seemingly flew around the pitch without a care because that is surely how they felt.
The Newcastle match also sadly featured an injury to captain Vincent Kompany. With Kompany gone and Matija Nastasic slow to recover from an ankle injury sustained in the preseason, Pellegrini's tactics unavoidably came unglued.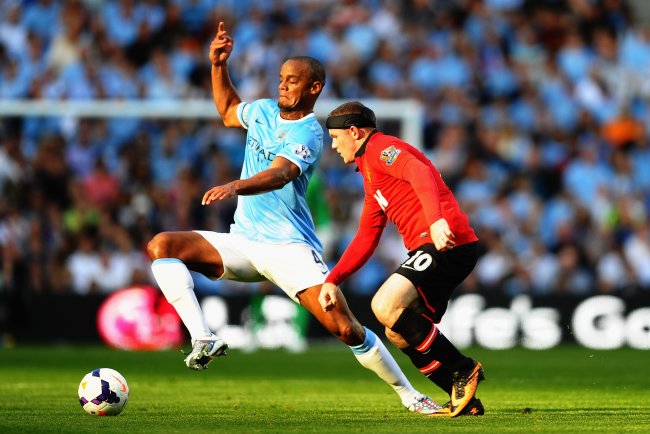 Laurence Griffiths/Getty Images
Unavoidably, because without Kompany and Nastasic the best part of Pellegrini's tactical genius simply does not work.
The hallmark of Pellegrini's 4-4-2 (or 4-2-3-1 if you must) is aggressive wing play from Jesus Navas and on occasions Samir Nasri, with frequent overlapping or supporting runs by the full-backs.
Nasri's run up the left flank with Aleksandar Kolarov which led to Sergio Aguero's opening goal against United over the weekend was a terrific example of this tactic.
Later in the same match, Navas took a Kompany pass and covered about 60 yards by himself up the right flank before whipping a cross onto the loaded foot of Nasri, who volleyed home City's fourth and final goal.
Both of these goals, as well as Aguero's second goal of the derby, found United's central defenders spread too thin due to the need to account for the play coming from the wings.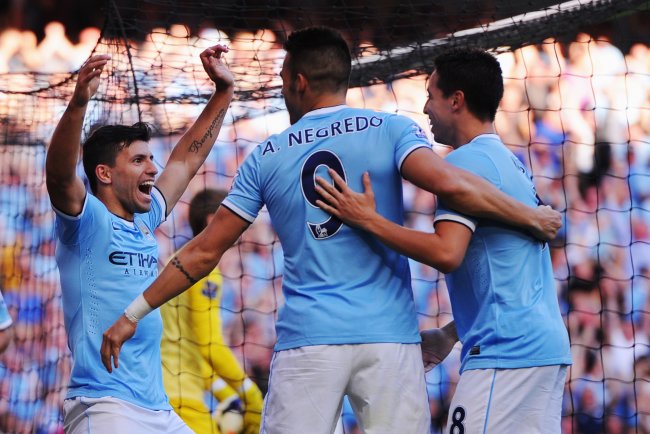 Michael Regan/Getty Images
By the time they realized that the ball was on its way to Aguero and Alvaro Negredo in front of David de Gea's goal, there was nothing to do but hope City's strikers would miss. They didn't.
This sort of attacking play, which was also featured at Plzen and against Wigan, has thus been proven effective home or away, in the Champions League or in the Premier League or even in a Capital One Cup tie City could not give seats away for.
But, as City's woeful loss at Cardiff City and punchless draw at Stoke City proved, all that forward motion and commitment of men up the sides of the pitch is desperately dependent on central midfielders and defenders who can clean up the mess if the attackers turn the ball over at the wrong time.
It is thus no surprise that the Cardiff City loss featured Javi Garcia and Joleon Lescott as the centre-backs. They both played poorly, particularly on set pieces, and City could not muster enough offense to overcome their mistakes.
Then at Stoke City, Nastasic was back at centre-back, but unfortunately so was Garcia. Pellegrini, probably realizing that his favored pressing maneuvers would again expose Garcia to City's detriment, seemed to have the brakes on his preferred aggressive style. City should have lost that unwatchable match.
Since the Stoke encounter though, City have played three times, scored 12 goals and conceded only once—a Wayne Rooney free kick which made the derby win just 4-1 instead of 4-0.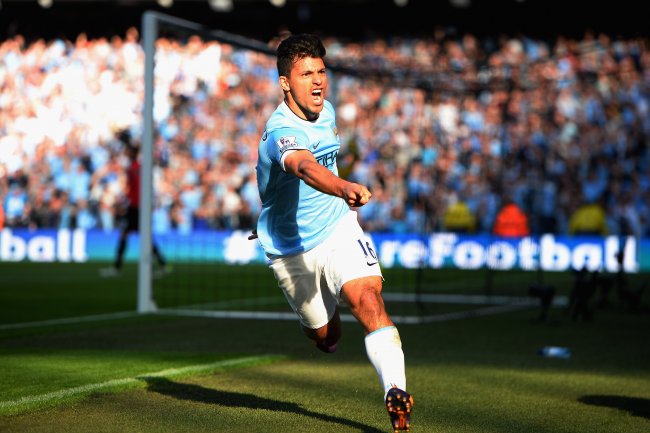 Laurence Griffiths/Getty Images
Particularly against United, City were absolutely terrifying in their manic pursuit of the ball and hair-on-fire runs at de Gea's goal. City's unrelenting thrust moved ESPNFC.com's David Hirshey to marvel that "it was only a matter of time until the Roberto Mancini-constructed squad that Pellegrini had so methodically overhauled and rebuilt in his own counterattacking image would explode into life."
Hirshey also got a bit breathless over City's cohesion and athletic unity of purpose where "all the fresh, exciting talent meshed effortlessly with the veteran core to both attack and defend as one frighteningly fluid team."
It is hard to blame him. Certainly, City fans have watched their team execute The Engineer's plans to timely, stylish and terrifically successful precision since the draw at Stoke.
What grade would you give Pellegrini's tactics so far?
And if the whole thing could just as easily come undone again should Kompany's body recurrently betray him this season, well, what of it? United were hot garbage without Robin van Persie in the derby. Take away any side's best player, especially when he is the captain, and the loss is sure to be felt and seen.
Besides, City have yet to see if Martin Demichelis can outplay Garcia at centre-back and thus be adequate cover for the days when Kompany or Nastasic cannot go. When Demichelis is fit, that answer is apt to come quickly and in the affirmative.
So Pellegrini's tactics are an "A-plus" when he has his XI intact and less, sometimes much less, when he does not.
In other words, while Pellegrini's floor is about the same as any other Premier League or Champions League manager, his ceiling seems to be a lot higher.
This article is
What is the duplicate article?
Why is this article offensive?
Where is this article plagiarized from?
Why is this article poorly edited?

Manchester City: Like this team?