Fulham vs. Everton: 6 Things We Learned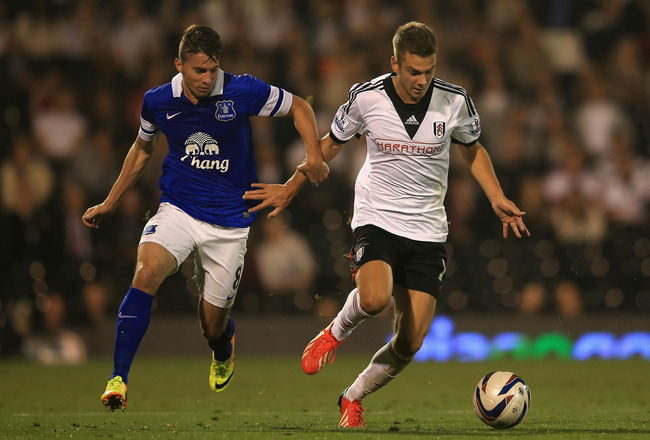 Richard Heathcote/Getty Images
Roberto Martinez has a first blemish on his Everton record as his new side fell to a 2-1 defeat away at Fulham, crashing out of the League Cup.
Having dominated the early stages, the Toffees deservedly went ahead on 12 minutes, through Steven Naismith, who slotted home after fine work from Gerard Deulofeu.
The away side continued pressing forward but, crucially, were unable to capitalise further on their initial supremacy.
As the half drew to a close, Fulham began adapting to the Toffees' style and were more of a threat after the break. They pulled level on 54 minutes, as Dimitar Berbatov reacted fastest to a fortuitous deflection, and took the lead soon after as Darren Bent caught the Toffees' napping.
Martinez's side pressed for an equaliser but were unable to pass David Stockdale for a second time.
Here's a look at a few Everton-related talking points to emerge from this contest.
Contrasting Halves, Once Again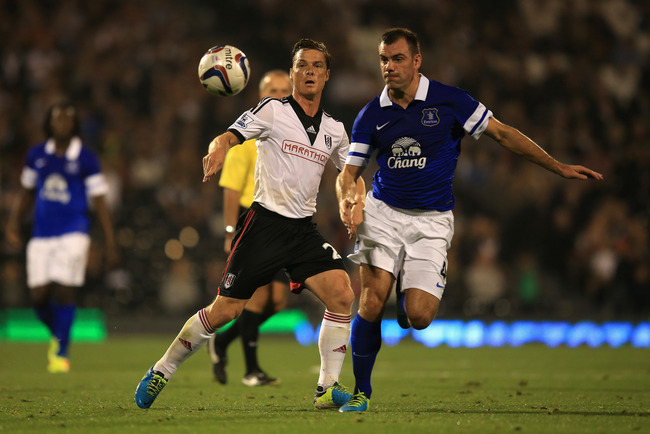 Richard Heathcote/Getty Images
For the second time in as many matches, Everton seemed to transform at half-time. Only this time, unlike against West Ham, it was the second period in which they failed to find their rhythm.
Having secured a momentous win against the Hammers, following a stunning second half comeback, the Toffees carried on from where they left off, controlling the opening proceedings.
The passing was slick, the movement bright, and the interplay between the likes of Gerard Deulofeu and Romelu Lukaku was, at times, mesmerising. The major flaw in this period of dominance was that Everton failed to put the game to bed. Where have we heard that before?
After the interval Fulham seemed a different beast, slicing through the Toffees far easier and deservedly pulled level. Their winning goal came via some sloppy defending by Everton and, although the last 20 minutes involved some more quick, incisive attacks, Martinez's side had left themselves too much to do.
Acceptable Personnel...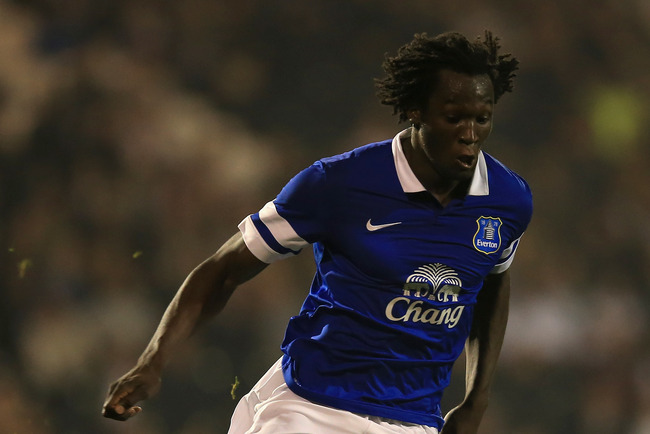 Richard Heathcote/Getty Images
Questions will certainly be asked of Martinez's selections in this match, and how seriously he took the competition. However, there wasn't a great amount wrong with the personnel chosen.
In hindsight a similar XI to the one that finished against West Ham would have obviously been better, but few of this final team were undeserving of the call.
While eight changes were made, Everton's impressive depth meant the team had more than enough quality to progress.
The back five was acceptable enough, given the impressive pre-season form of both John Stones and Bryan Oviedo. The midfield pairing of Darron Gibson and James McCarthy may eventually prove first choice and Deulofeu and Lukaku provided more than enough attacking threat.
Arguments over the inclusion of John Heitinga and Steven Naismith are perhaps more valid, but overall it seems the chosen system was perhaps more detrimental to the result.
...But a Questionable System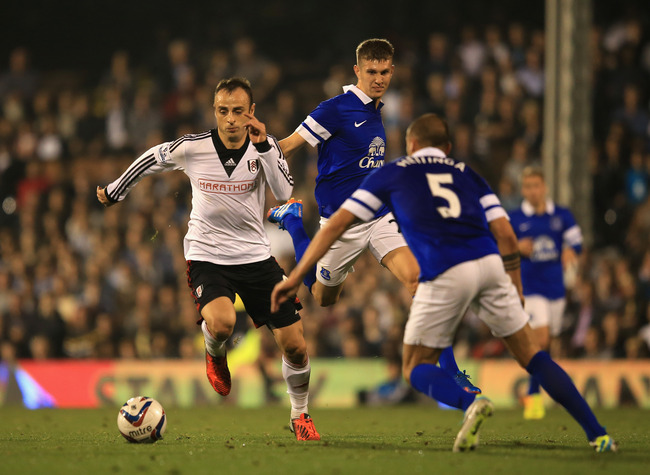 Richard Heathcote/Getty Images
Given his potential lack of a future at the club, John Heitinga was one of the less acceptable selections in this lineup, but specifically because of his role.
The Toffees have played every league match in a hybrid 4-2-3-1/4-3-3 this season, with two triangles ahead of the back four. For whatever reason, Martinez chose to alter this tonight, using Heitinga as an anchor in front of his back four, in more of a 4-1-4-1 approach.
As the game went on Fulham became more and more comfortable neutralising this system, with Everton struggling to maintain possession and weave together enough threatening phases.
They surprisingly recorded under 50 percent possession, which highlights their troubles, and also made fewer passes than Fulham—two rare statistics for a Martinez side. Without anyone playing in Ross Barkley's position there was also far too much space around Lukaku, with nobody close enough to collect his knock downs.
Deulofeu Pressing for Selection
Clive Brunskill/Getty Images
Gerard Deulofeu gave further evidence of his prodigious talent, enjoying a particularly productive first half.
Although the Barcelona loanee tired dramatically after half-time, showing a far heavier touch, he was the most persistent menace to Fulham, who doubled up on him as often as they could.
Despite the extra attention, Deulofeu still created seven of his side's 14 chances, a tally only two Everton players surpassed throughout all of last season. To put that individual impact into context, through five Premier League games only Leighton Baines has created more than seven chances for the Toffees in all of those games put together.
Deulofeu also took on his man eight times, passing him on six of those occasions, and proved he can be effective playing against Premier League defenders.
His less consistent second half was understandable given his recent lack of minutes. But this performance shows he's now ready for a larger dose of action.
League Cup Woes Continue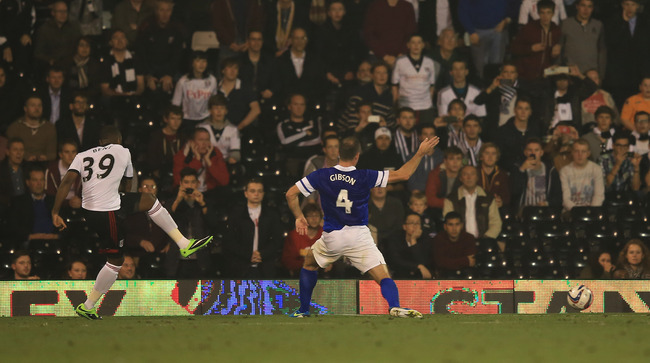 Richard Heathcote/Getty Images
The departure of David Moyes didn't seem to have any effect on Everton's dire record in the League Cup, as once again the Toffees fell to a premature defeat.
It's a competition the club have never won, with just one solitary trip to and beyond the quarterfinals since 1988.
Considering Everton have been in the top eight of the Premier League for nine of the past 11 seasons, making the League Cup's final eight just once in that time is a really poor return.
To improve their European chances, Evertonians will now be cheering on the very top teams, in order to create an extra berth via a league finish.
Reaction Required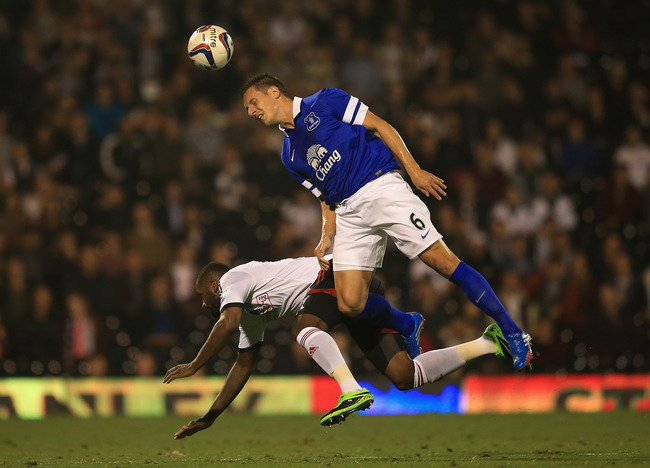 Richard Heathcote/Getty Images
After an encouraging start to the season, and two impressive wins in a row, this defeat provides Roberto Martinez with his first real setback at Everton.
He will need to rouse his squad to ensure they pick themselves up for the Monday-night match with Newcastle, and it will be interesting to see the kind of response he provokes from his new squad.
A prolonged cup run would have been ideal for the Spaniard as he settles into his new post, but this defeat makes his side's league form increasingly important.
European football is long overdue at Goodison Park and fans are desperate for a return, one way or another.

Statistics via WhoScored?.
Keep Reading

Everton: Like this team?