FIFA 14: Highlighting Revolutionary New Gameplay Features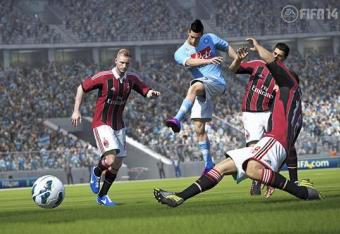 Photo via EA Sports

EA, one of the kings of sports video games—or the whole industry in general—has mastered its craft even further with the release of FIFA 14 in the United States on September 24.
Having Barcelona star Lionel Messi grace the cover by himself (recent editions typically feature three players) was far from the only change in the 2014 edition of the video game juggernaut.
One huge question facing many gamers is whether or not to make the purchase before the next generation of consoles come out. So far, the Xbox One has you covered, as FIFA 14 is one of eight games that Microsoft will allow you to upgrade for $10, per Yahoo! Sports. PS4 hasn't yet included FIFA in their similar upgrades package, according to GameSpot.
Let's dive in to some of the newest additions regarding gameplay and features included in the newly released FIFA 14.
Pure Shot and Real Ball Physics
EA Sports claims on its site that one of the biggest changes in on-pitch play is 'Pure Shot' and 'Real Ball Physics,' which changes the way players take shots—making them more realistic and unique.
The company's briefing on the new feature outlines how shots are different:
The best goals are a combination of perfect timing, anticipation, and great positioning. Fans will be rewarded for all three in FIFA 14. Players now adjust their approach angle when the shot is started looking for a more suitable angle for hitting the ball. They also understand the phases of shooting and will adjust their stride and pace to hit the ball.
No longer can FIFA shot-taking be seen as stagnant or simulated (not that it ever did), as EA Sports has taken into account positioning, timing and anticipation into the results of players' shots.
Now, shots won't be as attracted toward the goal instinctively, as it will take the proper timing to pull off a successful shot. Simply put, the overall execution of an attempt must be crisper—appealing to the flock of expert FIFA players.
Pure Shot's main goal is to allow the game to reflect exhilarating shots you haven't seen before in a FIFA game—rising shots, swerving shots, blast-dipping—all abilities affected by the trajectory of the ball and execution of the shot.
As for Real Ball Physics, the EA Sports team has added an unlimited set of trajectories for individual players. Their video showed them testing Real Madrid star Gareth Bale in studio.
This is just another attempt by FIFA to add reality to their video game and make it seem more and more like the real product itself.
Precision Movement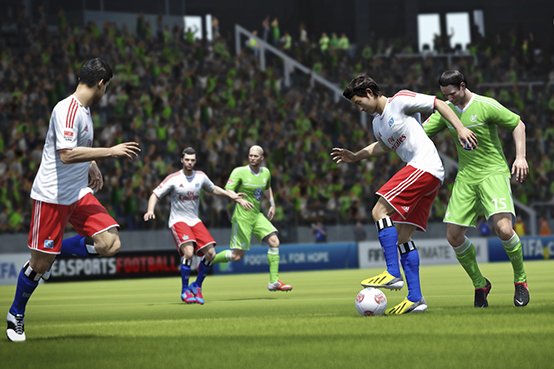 Another popular new feature for FIFA players is Precision Movement.
EA Sports lauds it as "a feature that recreates the dynamic movement of real-world players." While it's the third year in a row that the franchise has claimed revolutionized locomotion technology, there seems to be decent changes in the 2014 edition.
Players will show bursts of acceleration as they reach top speed, an added element that will allow for a more unique buildup to offensive attacks, as players' speeds will vary more than ever before.
The game also allows players to "toy with the opposition by controlling their pace before accelerating to get past their defender," per EA Sports.
Precision Movement takes into consideration this acceleration trait, momentum and change of direction, which in turn is expected to eliminate the nagging foot-sliding problems in recent editions of the game.
Teammate Intelligence
Every year EA Sports tends to add more of a brain to the computer-simulated players in the game, but they reached new heights in this year's version with Teammate Intelligence.
One of the most aggravating aspects of FIFA for gamers is the lack of attacking prowess from computerized teammates. That seems to be no more, as computer players "will have the intelligence to break down defenses by creating space for themselves and separation from defenders," per EA Sports.
EA Sports also states that players have a new awareness of avoiding offsides calls.
On defense, this new feature helps defenders to track down the ball without over-committing and instinctively apply pressure on any part on the pitch.
And as you can see below, defenders are smarter at anticipating passes and blocking off passing lanes instead of simply chasing down attackers:
Perhaps more crucial is the new AI intelligence which allows players to make smarter decisions in covering attackers. Instead of jumping to the closest opposition like in recent editions, the computer will no longer leave foes wide open in breakdowns.
Protect the Ball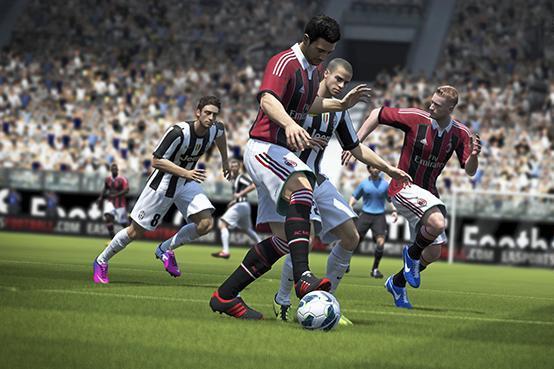 One of the aspects of soccer that gives it the nickname "The Beautiful Game" is the creative passing and team chemistry that is often shown. FIFA 14 captures that as well.
The new Protect the Ball feature is crafted to allow offensive players to block off pesky defenders while still maintaining breakaway speed.
While recent editions of FIFA featured difficulties in assuming possession, this year's edition fixed that as well. A player who has the inside track at a ball now can step in front of defenders to cut them off, or at least hold them off, until possession is secured.
Just as well, an attacking striker waiting for a pass can protect his area to make for a greater chance of completion by fending off defenders and holding his ground.
Perhaps the biggest key to winning any soccer match is holding possession, and FIFA 14 is no different.
This article is
What is the duplicate article?
Why is this article offensive?
Where is this article plagiarized from?
Why is this article poorly edited?