Jets head coach Rex Ryan is like Novocaine for his defense. Even when it looks like things might get painful, he manages to keep the agony to a minimum.
The Jets defense had a tooth pulled when the team traded All-Pro cornerback Darrelle Revis to the Tampa Bay Buccaneers, but their defense still hasn't lost its bite.
Wait, isn't Revis considered one of the best defensive players in football? Yet, somehow, the Jets defense hasn't taken a step back without him? How is that possible?
There are several reasons for the Jets' defensive dominance, and it's hard to isolate just one area as any more or less crucial to its success.
Let's take a look at some of the key reasons why the Jets remain one of the best defenses in the NFL.
Dominant Defensive Line
The Jets had many critics—myself included—when they drafted defensive tackle Sheldon Richardson with the 13th overall selection in the 2013 NFL draft. The logic behind the criticism was simple: While Richardson may very well have been the best player on the Jets board, the position was far from a need. Not, at least, after the team had spent a first-round pick on a defensive linemen in each of the two previous years.
The ends justify the means.
Those first-rounders—Richardson, Muhammad Wilkerson (2011) and Quinton Coples (2012) have given Rex Ryan exactly what he wanted: a defensive line that could plug the gaps in the trenches to allow the Jets to continue using exotic blitz packages without being exposed in run defense.
It's not just the top-billing players, however. Defensive tackles Damon Harrison and Kenrick Ellis have also contributed their share to the defense. Harrison is the fourth-best defensive tackle in the NFL through three games according to Pro Football Focus' grades (subscription required), and Ellis currently ranks 15th.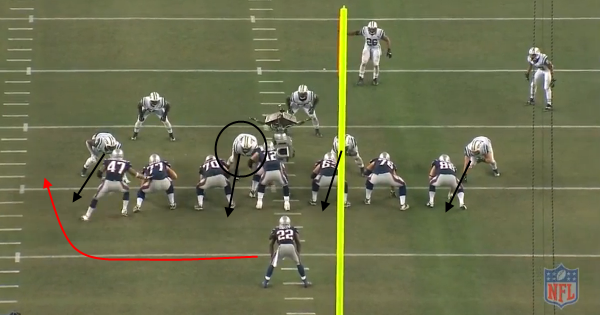 Harrison has made an impact right out of the gate, and brought down Patriots running back Stevan Ridley for a four-yard loss on this play.
The Patriots were running a zone stretch to the left side and it looked like they were trying to get a seam for Ridley between left guard Logan Mankins and center Ryan Wendell, but Harrison had other plans.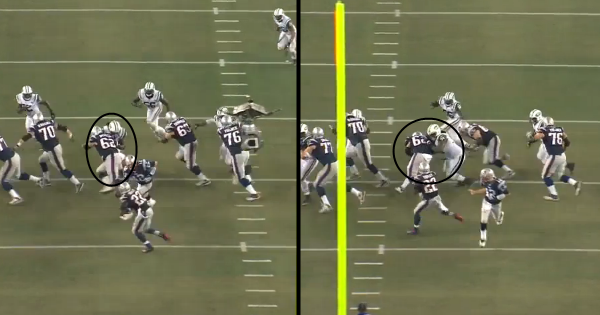 He took on the block of Wendell and was ready to get in the backfield from the moment Ridley took the handoff.
From there, he simply tossed Wendell aside and brought the runner to the ground.
In the second frame, the Jets linebackers still have not been touched. That's a testament to the defensive line absorbing its blocks and letting the linebackers run free to make the play—even though they didn't have to.
According to Football Outsiders, the Jets rank second in adjusted line yards, which measures the impact of the defensive line in run defense by assigning value to each run. With big plays like this, it's not hard to see why.
Critical Situations and Bend-Don't-Break Defense
You don't often think of an aggressive, blitz-heavy defense like the Jets as a bend-don't-break defense, but that phrase doesn't always have to be read as a back-handed compliment, and it doesn't always reflect the ideology of zone defense and soft coverage.
Jets defense, 2013

| | | | |
| --- | --- | --- | --- |
| Situation | Attempts/game | Conversions/game | Conversion % |
| Third down | 17.3 (32) | 4.7 (11) | 26.9 (2) |
| Red zone | 3 (T-13) | 0.7 (T-2) | 22.2 (1) |
TeamRankings.com (rank in parenthesis)
The Jets defense has been one of the league's best in the most critical situations. It has excelled on third downs and in the red zone.
It's had plenty of practice in those situations. It's faced more third downs than any other team in the NFL.
With an offense that has turned the ball over all too frequently over the past two years, the Jets have also had plenty of experience in situations like one they faced against the Bills on Sunday.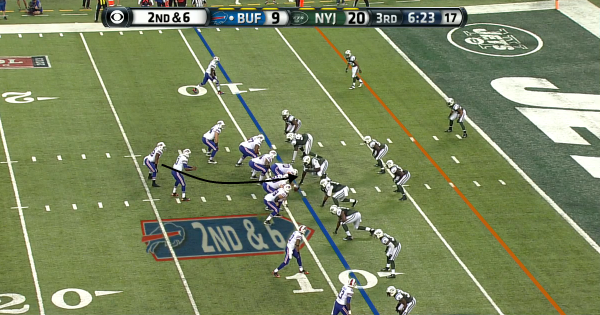 Rookie quarterback Geno Smith threw an interception in the third quarter, and the Bills returned it to the Jets' 13-yard line.
From there, the Jets held the Bills to three-and-out, forcing a field goal on a drive that began inside the red zone.
On 2nd-and-6 after a four-yard run by Bills running back Fred Jackson, the Bills tried to run a draw play from the shotgun to spread the Jets out defensively. The plan is brilliant in theory, but theory doesn't always account for a Jets defensive line that controls gaps with the best of them.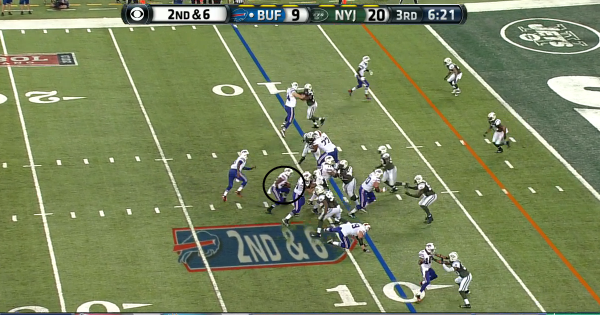 That's precisely what happened, as Jackson ran straight into a brick wall of Jets defenders. The linebackers hadn't even come up to stuff the run yet, before Jackson had already been stopped dead in his tracks by a convergence of Richardson and Kenrick Ellis.
Rex Ryan knows the importance of keeping opponents out of the end zone, but there's a certain mentality that comes with being able to get those stops.
First off, I think your mentality when you hit the field has to be that they're not in there until they're in there, and I think that's something we've always stressed. You can't affect how you get on the field. You can affect how you get off it. So, you hit the field with that (mentality).

There's an old thing we used to say, which is, "Hey, that's more TV time for us," (joking) when I was a defensive coordinator. But that has to be the mentality, 'Hey, whatever it is, they don't score.' They're not in there. And you fight it. If it's first-and-goal from the one, you still hit the field with the same mentality. We've been doing a good job. I think in the red zone in particular, we're much improved. Obviously, a lot of games are won or lost there. It's been an emphasis for us to improve in the red zone on defense and I think we've done that so far.
If the Jets continue to do it, they will remain among the best defenses in the NFL.
They Don't Bend Much, Either
Yes, the Jets defense has been great in those critical situations, but it's not too bad on an overall basis, either. In fact, it's one of the league's most efficient defenses overall.
First down, second down, passing, rushing, it doesn't matter. On a per-play basis, the Jets defense is arguably the best in football right now.
New York Jets defense, 2013

| | | |
| --- | --- | --- |
| Stats | 2013 | Rank |
| Rushing YPA | 3.2 | 3 |
| Passing YPA | 4.6 | 3 |
| 1st down average | 2.53 | 1 |
| 2nd down average | 3.9 | 3 |
Pro-Football-Reference.com
Its opponents gain an average of just 2.53 yards on first down, which is the best mark in the NFL by a fairly wide margin over the second-best Houston Texans (3.23).
It's much easier to get stops on third down when opponents are in long-yardage situations, and the Jets have done well to set themselves up in favorable situations on defensive third downs. Their opponents average 8.09 yards to go on third down, which is the sixth-highest average in the NFL.
Manageable Early Slate
The Jets' first three opponents aren't exactly lighting up scoreboards.
New York Jets first three opponents

| | | | | |
| --- | --- | --- | --- | --- |
| Week | Team | Points/game (rank) | Yards/play (rank) | DVOA (rank) |
| 1 | Buccaneers | 11.3 (31) | 4.7 (28) | -21.9% (29) |
| 2 | Patriots | 19.7 (22) | 4.5 (30) | -10.7 (23) |
| 3 | Bills | 21.7 (20) | 5 (23) | -4.9% (20) |
Pro-Football-Reference.com
Their upcoming slate poses some challenges, but overall, what looked like a brutal early schedule to start the season looks a lot more manageable now that we've actually seen these teams in action for a few weeks.
Thus far, the Jets' first three opponents are collectively averaging 17.6 points per game.
That's all well and good, but what happens when the Jets face some of the better offenses in the NFL?
New York Jets next six opponents

| | | | | |
| --- | --- | --- | --- | --- |
| Week | Team | Points/game (rank) | Yards/play (rank) | DVOA (rank) |
| 4 | Titans | 20 (21) | 4.7 (T-27) | -1.2% (18) |
| 5 | Falcons | 23.7 (T-12) | 6.2 (T-4) | 17.9% (7) |
| 6 | Steelers | 14 (30) | 5.4 (T-14) | -17.6% (27) |
| 7 | Patriots | 19.7 (22) | 4.5 (30) | -10.7% (23) |
| 8 | Bengals | 25 (10) | 5.5 (12) | 7.9% (11) |
| 9 | Saints | 23.3 (T-15) | 5.8 (T-9) | 4.3% (15) |
Pro-Football-Reference.com
The true test of the Jets' defensive dominance is yet to come, but the Jets have shown the foundation of a defense that can be among the league's best all season long.
Coaching
The Jets became the first team since 1951 to win a game while committing 20 or more penalties. Clearly, their coaching is far from perfect.
That said, Rex Ryan can match wits with some of the best minds in the NFL.
The competition may not have always been exceptional, but Ryan has drawn up some beauties this year.
Not every team holds Buccaneers running back Doug Martin to under 100 yards rushing. The Jets can tell you all about how tough it is to stop Bills running back C.J. Spiller, but they held him to just nine yards on 10 carries, and one catch for one yard.
Most teams would be damaged forever with the loss of a star player like Darrelle Revis, but the Jets have hardly taken a step back in any area that matters.
Rex may be on the hot seat, and he may be in a lame duck year, but he's proving why he may not be as expendable or as easily replaceable as some people might think.
Erik Frenz is also a Patriots/AFC East writer for Boston.com. Unless otherwise noted, all quotes obtained firsthand or via team news releases.