MLB's 'Worst of Award Winners for the 2013 Season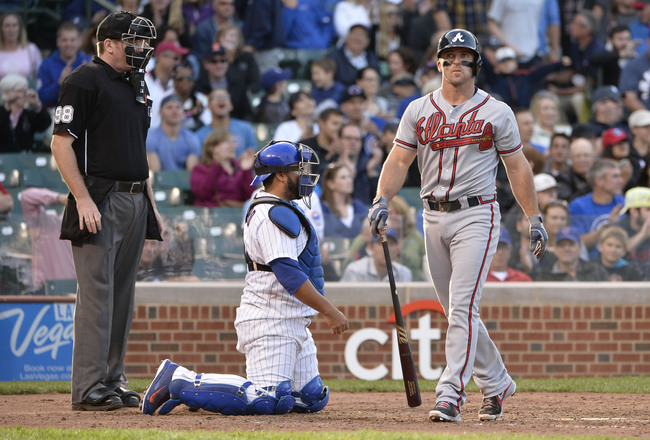 Brian Kersey/Getty Images
The 2013 MLB season has been full of highs and lows, as we've all been impressed by certain teams and individuals while shaking our heads over others.
Everyone gets a kick out of ESPN's "Not Top 10" every Friday or laughing at players who continually fail. With that in mind, a list is needed for the worst in baseball this year.
Some will make you laugh, some will make you cry (if you're a fan of that team or player), but all in all, each of these selections have helped make the 2013 baseball season what it is.
Here's a look at the worst of 2013 in the majors.
Worst Team: Houston Astros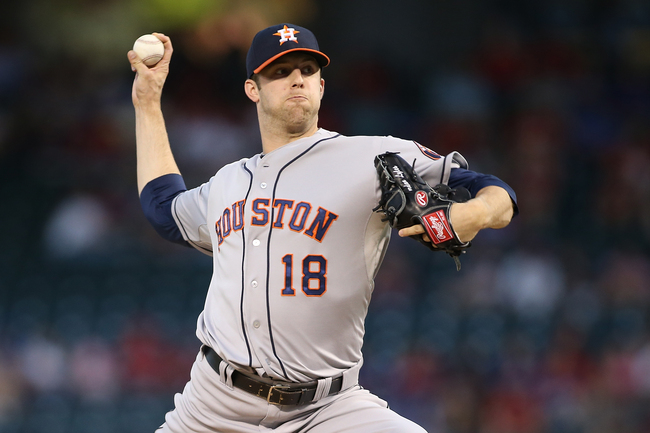 Rick Yeatts/Getty Images
This is probably one of the more obvious picks on this list, but I think we all saw it coming.
The Astros have already clinched the worst record in baseball for the third year in a row. While they haven't been as bad as the 2003 Tigers that went 43-119, three years of having the worst record in the majors is still bad.
As reported by David Barron of the Houston Chronicle, the Astros had a 0.0 Nielsen rating for Sunday's loss to the Indians.
While the ratings can be skewed in a way because they don't take every household into consideration, it does show how fans have tuned out the team.
The Astros have already set the AL record for most team strikeouts in a season with 1,477 and are only 52 Ks behind the 2010 Diamondbacks for the most in a season in MLB history. They also have the worst run differential (-228) and the fewest number of home wins (24).
No Astro is hitting above .286 while nine have at least 70 strikeouts. Meanwhile, only five Houston pitchers who pitched at least one inning have ERAs below 3.90 and only 46.5 percent of all their starts have been quality.
Houston has stunk in just about every area.
Hopefully, prospects Jonathan Singleton and George Springer can come in next year and insert a little offense into the lineup. If Mark Appel can be ready for his debut by next September, perhaps Astros fans will have something to look forward to for 2015.
Worst Hitter: Dan Uggla
Brian Garfinkel/Getty Images
Out of 141 qualified players in baseball, Dan Uggla has the worst batting average at .182. While he does have a .310 on-base percentage thanks in large part to 78 walks, he has also struck out 167 times.
Since coming to Atlanta, Uggla has struggled and has been benched on a number of occasions. Some fans have also grown tired of his play.
While fans don't have a problem with the Uggla's 22 home runs, they're growing tired of what happens when he's not hitting home runs. Of his hits, 27.5 percent have come via home runs. No other player (not even Chris Carter) has a higher percentage among qualified hitters this season.
On Aug. 13, Uggla went on the DL to get Lasik eye surgery in hopes that would fix his vision problems at the plate. But there was never anything wrong with his eyes as evident by his 74 walks this year. His problem has been timing.
When you're able to draw the number of walks he does, it's not your eyes that are to blame. Looking at his pitch outcomes for 2013 according to Brooksbaseball.net, it's clear Uggla struggles with off-speed stuff. He has missed on 23.58 percent of changeups and 18.45 percent of sliders. His fastball and cutter success rates are at 11.42 and 8.64 percent, respectively, so the issue isn't with the fast stuff.
His swing-for-the-fences mentality has been what's killing him this year. Instead, he needs to drive the ball in the direction it's pitched.
While Uggla may be disappointed in the Braves benching him, manager Fredi Gonzalez can't take any chances, especially when it comes to the playoffs.
Worst Base Stealer: Brandon Barnes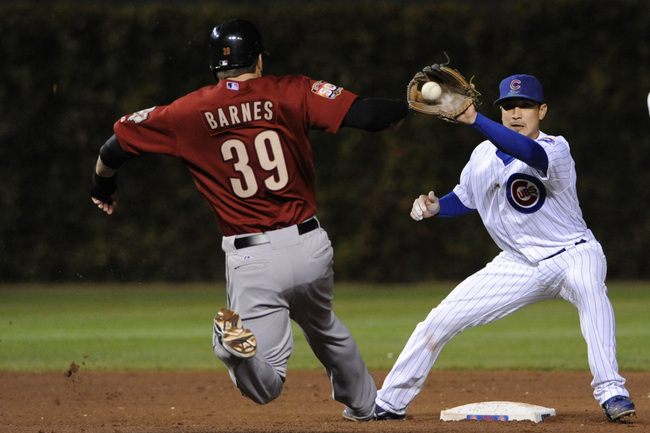 David Banks/Getty Images
When looking at the worst base stealer, I looked at players who had at least 20 attempts and there have been none worse that Brandon Barnes of the Astros, who has been caught in 11 of his 22 attempts.
Throughout his minor league career, Barnes wasn't much of a base stealer, although he did have 21 swipes in 26 attempts in 2012. Still, catchers are better in the big leagues and that's something Barnes should have figured out after the first few times of having gotten thrown out.
Some may argue that Starling Marte should be listed here since he has been caught stealing 15 times for the most in the majors this year. However, he does have 37 stolen bases, which is a better percentage than Barnes.
I understand that the Astros have been the worst team in baseball and have tried different things to see what happens. But you don't have a guy keep stealing when it's pretty obvious what's going to happen is not going to be good.
Worst WAR (Positional Player): Jeff Keppinger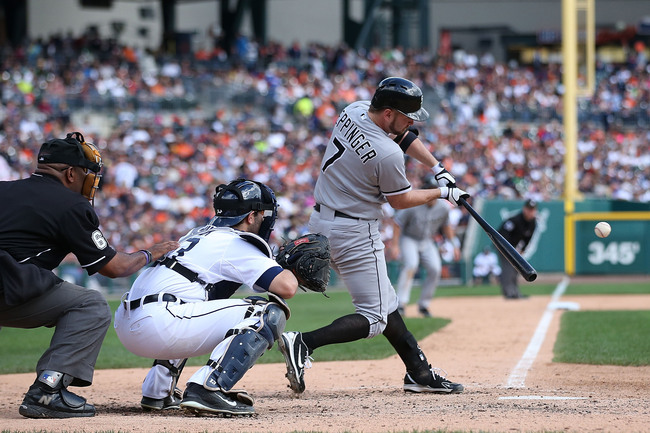 Leon Halip/Getty Images
Jeff Keppinger was the White Sox' best offseason acquisition this year, and how did he repay them? He gave them a -2.1 wins above replacement, which is tied for the worst in the league.
I could have put Adeiny Hechavarria on here as well since he has a -2.1 WAR. But Hechavarria carries a 0.2 defensive WAR while Keppinger had a -1.0 defensive WAR. There's promise for Hechavarria while there doesn't seem like much promise for Keppinger since he's 33.
Keppinger is batting .253 with four home runs and 40 RBI. His RBI totals are there from last year, but his home runs and average have gone down.
The fact that the Associated Press (h/t ESPN Chicago) reported that Keppinger has been playing with shoulder discomfort since spring training might explain some of the deficiencies. If that's the case, then that falls on the player as well for not reporting it earlier in the season.
Keppinger may be on the cheap this year at $3.5 million, but the White Sox didn't sign him to have the kind of season he is turning in. He may be a utility-type guy who can play anywhere, but he still needs to provide a little offense to stay in the lineup every day.
Worst at Making Contact: Chris Carter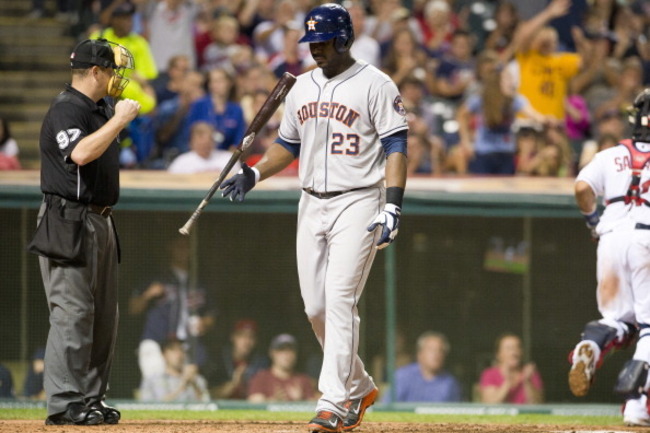 Jason Miller/Getty Images
Chris Carter has 208 strikeouts this year and is only 16 strikeouts away from breaking Mark Reynolds' all-time mark of 223 set back in 2009.
Carter has only played in 23 games where he hasn't struck out once for the Astros, with three of those coming with only one at-bat as a pinch hitter.
Carter comes up to the plate aiming to swing away, and according to Brooksbaseball.net, he misses a lot. Among those pitches he saw at least 100 times, Carter whiffed on 23.46 percent of sliders, 18.23 percent of curves and 17.58 percent of changeups. He's even missing on 15.12 percent of fastballs.
Like Dan Uggla, Carter seems to be going for the long ball every time he steps to the plate. A lot of it has to do with his zone profile as well. He's getting the stuff that's outside, but struggling with the inside stuff, a rarity among power hitters. It also shows that he's trying to pull the ball a lot, as his spray chart indicates.
When you do that, it's a recipe for disaster.
Worst Starting Pitcher: Jeremy Hellickson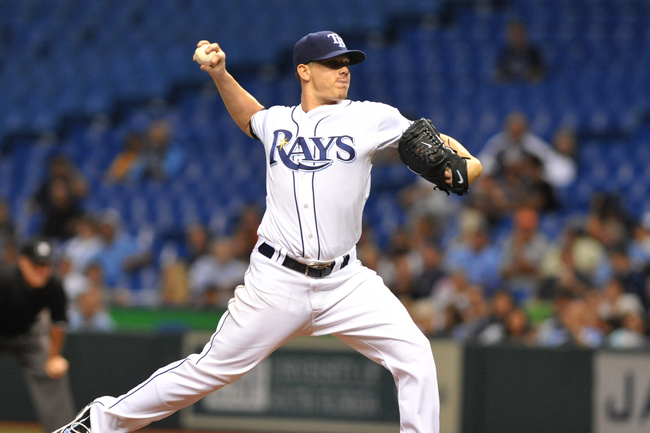 Al Messerschmidt/Getty Images
One of the more underrated stats in baseball is quality starts. Most fans, especially those in fantasy baseball leagues, hang their hats on wins.
However, wins don't tell the entire story, as a pitcher can give up eight runs in five innings and still pick up a win. Meanwhile, a pitcher can give up one run over nine innings and still lose. So, wins are just a feel-good number.
Quality starts are a big key, which is why Jeremy Hellickson is my pick for the worst starting pitcher in baseball. He's only had 11 quality starts out of 30 and carries a 5.16 ERA.
He was so bad this year that the Rays optioned him to Class-A Charlotte on Aug. 27 for a few days.
In his first start back with Tamps, he was good, allowing no runs in 5.1 innings. However, his next two starts saw him give up eight runs. He did pick up a win on Sept. 20 in 2.1 innings of relief, but will again start on Sept. 27.
Hellickson has the talent, but this season clearly hasn't been his year in terms of being a starter. He has picked up 12 wins, but that's more because his offense has picked him up.
If the Rays do hold onto a playoff spot, I don't see Hellickson starting a game in the postsaeason. He'll best serve the Rays coming out of the bullpen when they need someone to eat some innings.
There's no way they can take a chance on Hellickson, given his struggles this year.
Worst WAR (Pitcher): Barry Zito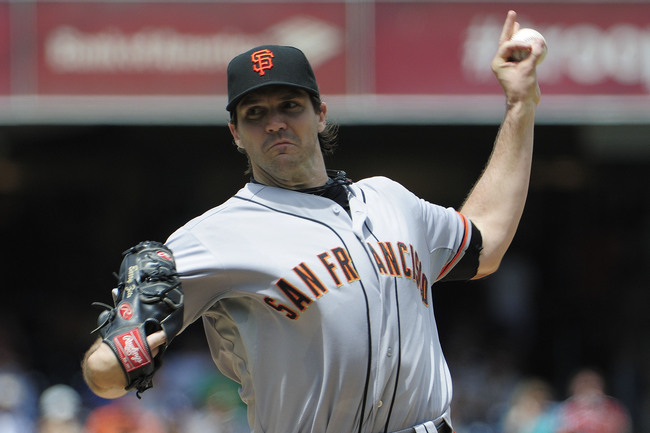 Denis Poroy/Getty Images
Barry Zito's contract finally comes to an end after this year and it couldn't come soon enough for Giants fans. After years of mostly futility, Zito will get one final start to end his career in San Francisco.
Outside of two starts in the 2012 postseason, Zito has been nothing but a headache for the Giants. He's never had an ERA below 4.00 and has never reached 200 strikeouts.
Zito struggled again this year, going 4-11 with a 5.91 ERA in 128 innings. His WAR ranking is the worst among all MLB pitchers at -2.6.
No pitcher has been the butt of more jokes over the last seven years than Zito. His time in San Francisco is coming to a close, as well as possibly his MLB career.
Worst Control: Lucas Harrell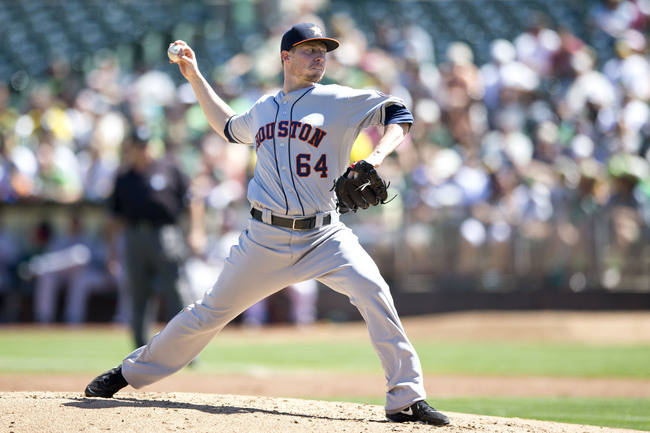 Jason O. Watson/Getty Images
Lucas Harrell makes this the third "worst of" award going to the Astros. Harrell has had control problems all year, giving up 88 walks.
Harrell did not give up a walk in only four of his 35 appearances this season (22 as a starter). In 12 of his 20 starts, he gave up at least three walks.
As well all know, when a pitcher walks hitters, bad things can happen, and they did for Harrell, who sports a 6-16 record with a 5.80 ERA.
Harrell had so many control issues that the Astros, of all teams, moved him to the bullpen. When the worst team in baseball is moving you to the bullpen, then you know something is wrong.
Ironically, RotoProfessor.com predicted as much last October:
You also have to think that his walks may increase as well. Couple the move to the AL with a minor league career mark of 4.31 and things could get ugly.

Groundballs are nice, but if he can't complement it what does it matter. With routine matchups with the Rangers, Angels and A's in his future, things could get ugly.

Harrell was a nice story in 2012, but he's going to be a pitcher to avoid in 2013.
Now only if the Astros could have seen that coming as well.
Worst Slide: Jonathan Villar
Everybody got a kick out of Mark Sanchez's butt fumble with the Jets last year, but Houston's Jonathan Villar gave baseball its own version of that play this season, except that Villar didn't fumble a ball.
Sliding into second base, Villar went right into the backside of Cincinnati second baseman Brandon Phillips.
This play was wrong on so many levels. First, there's no reason Villar should have tried to stretch a routine single into a double, especially considering the Astros were down, 4-0. Then you have him sliding headfirst with Phillips just sticking his glove behind him, knowing Villar was going to slide right into it.
Nobody could have been prepared for Villar to get a face full of Phillips' butt, something that will live in infamy alongside Sanchez's butt fumble.
The 22-year-old Villar showed that he still has a lot to learn about making smart decisions on the basepaths. I wonder which was worse, the butt-chewing in this play or the one he received once he got back to the dugout?
Worst Way to Get Out: Denard Span
There is nothing wrong with what Denard Span did on this play, but it is still one of the worst ways to be called out.
Having grounded a ball to first base with one man on, Span raced towards the bag as Freddie Freeman threw to second base. Andrellton Simmon's throw skipped off of Span's foot and went into right field. As Span headed into third, Dan Uggla whiffed on the throw and Span raced for home. What ensued was a relay to Freeman and then to Gerald Laird at the plate, where Span was tagged out.
It was your typical 3-6-4-3-2 double play. Or should there be two fours in there after Uggla misfired on the first throw?
Regardless, Span did all of that running and the same result came out of it in the end. If it were me, I would have preferred to have just been out at first and not have to had circle the bases.
It was one of those weird double plays that will likely never happen again.
Worst Free-Agent Signing (Hitter): B.J. Upton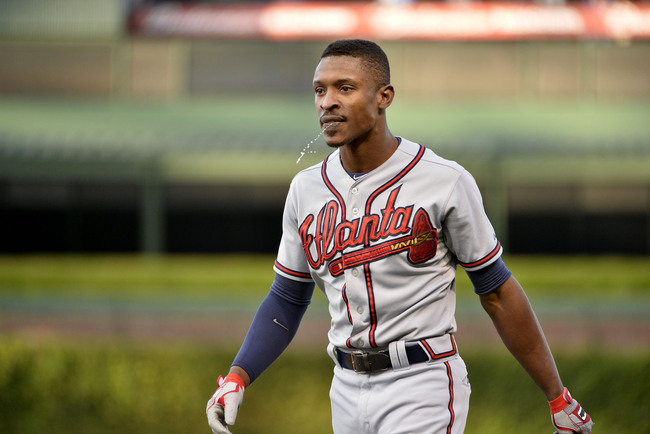 Brian Kersey/Getty Images
When the Braves signed B.J. Upton to the largest deal in team history, Atlanta fans got excited because of the potential he had. After all, Upton was coming off a year where he hit 28 home runs and 31 bases.
However, Upton has done anything like that this season, batting .186 with nine home runs and 26 RBI. He's become another Dan Uggla, except in center field.
For Braves fans, it's frustrating as there are now two Braves starters who they can't depend on to be in the lineup every day. It got so bad for Upton that the Braves considered sending him to the minors in July, according to the Associated Press (h/t ESPN.com).
Less than two weeks later, Upton was sent to the disabled list with an abductor strain, giving him a chance to rest and get in a minor league rehab assignment. Since then, Upton has continued to struggle and has only gotten one hit in his last 12 games.
It's gotten so bad that some wonder if Upton will be left off the Braves' postseason roster entirely. Yahoo! Sports contributing writer Anthony Schreiber noted that Upton does have some upside:
Upton has some odd statistical anomalies that might give the Braves pause when writing out the playoff roster. In 2008, Upton had a power-deficient season in which he belted only nine home runs—coincidentally the same number of times he has gone yard this season—yet, in the playoffs Upton exploded and hit seven more round-trippers in just 16 games.
Regardless of what happens, Braves fans aren't happy with Upton in the same way they're not happy with Uggla. To be getting paid like they are, there's no reason either player should be batting below .200.
Worst Free-Agent Signing (Pitcher): Edwin Jackson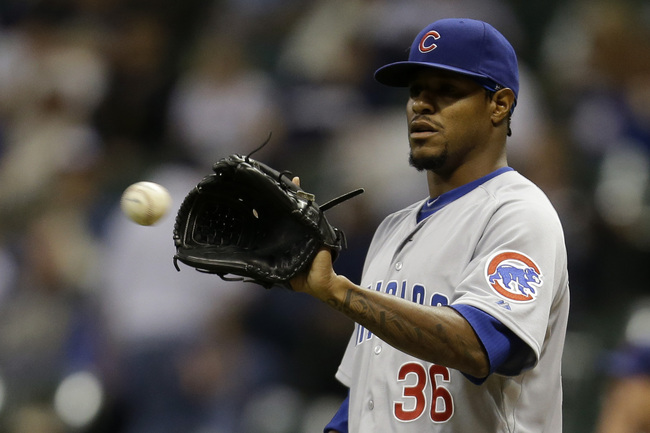 Mike McGinnis/Getty Images
The worst free-agent signing for a pitcher last offseason was Edwin Jackson by the Chicago Cubs.
It's yet another bad signing by the Cubs for a lot of money. Cubs fans are starting to get used to the idea of spending a lot of money for not a lot of output.
Jackson signed a four-year, $52 million deal with the Cubs after having a 10-11 season in Washington with a 4.03 ERA in 2012. This year, Jackson has gone 8-17 with a 4.74 ERA.
He was largely disappointing all year, losing eight of his first nine decisions. His ERA was only below 4.00 for the first game of the season. After that, it never dropped below 4.65.
Jackson still has three years left on his contract, but if 2014 is anything like this year, fans will be calling for the Cubs to get rid of Jackson in some form or fashion next offseason.
Keep Reading