The 10 Best World Football Commercials of All Time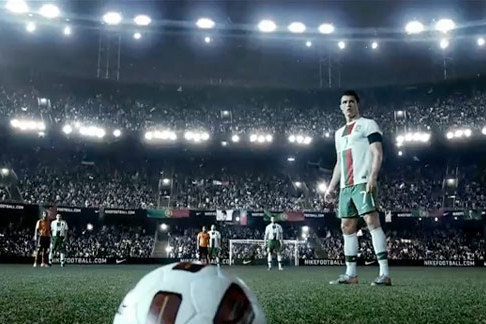 They make us laugh, they make us cry; ultimately, they make us buy stuff. TV commercials are typically an inconvenient diversion, but sometimes they are executed so well that they're worth talking about.
Here are 10 of the best football-themed adverts, a disproportionate number of which were commissioned by Nike. So, hats off to the efforts of the American sportswear company, and enjoy the fruits of their labour...
Begin Slideshow

»
Ahead of the 2006 World Cup in Germany, Pepsi got us into the Bavarian spirit with an Oktoberfest-themed advert.
Stars including Fernando Torres, David Beckham, Frank Lampard and Ronaldinho had to play against lederhosen-clad locals in order to earn a huge stein of Pepsi (which would have given them a sugar rush for days).
Predictably, the locals win, but David Beckham takes his shirt off, so everything is OK.
Those who do not speak Norwegian will have little idea what is going on here, but when John Arne Riise and Morten Gamst Pedersen are autotune singing to Erik Huseklepp about the virtues of eating fruit, it is worth paying attention.
This might be Norway's greatest musical export since A-ha.
Over the years, Danish brewer Carlsberg had made dozens of great adverts based on a single premise: "Carlsberg don't do 'x', but if they did, they'd be the best 'x' in the world."
In this 2002 clip, the beer-peddlers showed us how good they would be as football agents. The highlight is the look of disdain on Alan Hansen's face as he scrapes the mud from someone else's boots.
Peter Pan never grew up and he got to fly around all day and fight pirates, so Nike are offering some sound advice in this advert.
It juxtaposes images of Ronaldinho playing futsal in his childhood days with him pulling the same moves as an adult, teaching us to be carefree, take risks and play the beautiful game for the right reasons.
Sadly, there is no cure for the "Football-itis" epidemic that Adidas brought to our attention prior to the 2002 World Cup. Fortunately, those diagnosed with the condition just seem to be really, really good at football.
Here's another fine effort from Carlsberg, in the form of a 2006 tribute to Sunday League football.
Imagine turning out for your local pub team only to find out you're facing the likes of Bryan Robson, the Charlton brothers, Chris Waddle, Terry Butcher and Stuart Pearce...
With a running time of three minutes, this 2010 Nike clip was rarely played in full on television, but it was seen by millions online in its full glory.
The premise is that world-famous players are writing their own future with their World Cup performances. If Wayne Rooney fails to tackle Franck Ribery, for example, he will end up overweight, bearded and living in a caravan. Well, he's already done two of those things...
Created for the Euro '96 tournament, this Nike advert featured the biggest stars in world football playing against a team of demons in some kind of terrifying desert coliseum.
The highlight is the ending, where Eric Cantona pops his collar, says "au revoir" and proceeds to blast a fireball through the chest of the winged beast protecting the goal. Kids impersonated Cantona on the school playgrounds for months afterward.
In today's security-conscious climate, running amok through an airport like this would land you in some pretty serious trouble.
In the heady build-up to France '98, however, the Brazilian national team's airport jaunt made for a brilliant Nike commercial. Look out for a cameo from the man who retired from the game a year before the World Cup came to his home nation, Eric Cantona.