How the 2013 MLB Playoffs Would Play Out if Season Ended Today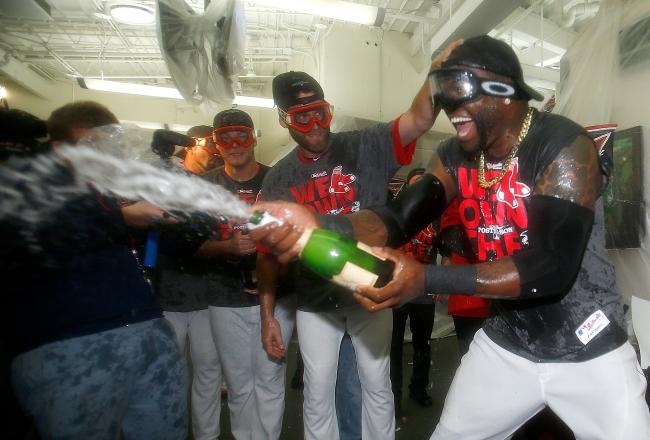 Will David Ortiz and the Red Sox be spraying champagne at the end of October, too?
Jim Rogash/Getty Images
Entering play Tuesday, there are only six days' worth of games left to play in the 2013 baseball season, and yet there is still so much to be decided.
In the National League, all five playoff clubs have been decided, but how those teams perform through Sunday, Sept. 29—that's the end of the regular season—is going to determine who plays who in October.
The American League, meanwhile, has much more up for grabs, as only two teams have clinched. That means postseason matchups and berths are on the line over the rest of this week.
Still, aside from the drama that is the AL wild-card chase—six clubs still (technically) have a shot, although it's really more like three—we already have a pretty good idea of which 10 teams will be in. Of course, trying to predict how October will go is usually a masochistic exercise in futility, but why not take a snapshot of the playoff picture as it stands today, Tuesday, Sept. 24, and play things out?
American League
Wild Card: Cleveland Indians at Tampa Bay Rays (game is played Oct. 2)
For both wild-card games, we can fairly accurately predict who the starting pitchers will be, and in the AL, it's looking like David Price for the Rays and Ubaldo Jimenez for the Indians, assuming neither is needed to pitch on the final day of the regular season to secure their teams' playoff fates.
While Jimenez's only outing against Tampa this year went swimmingly—he threw eight scoreless in an early-June win—Price's lone start against Cleveland didn't go quite so well, as he gave up eight runs in five innings. That performance, though, came way back in April, and the reigning Cy Young winner has been much more like his old self over the second half (2.98 ERA, 1.03 WHIP).
On offense, both clubs are pretty evenly matched on the year—the Rays' .736 OPS ranks seventh, while the Indians' .734 is ninth—so it's likely to come down to pitching. Even with righty Justin Masterson on the mend from a strained oblique and serving as a possible X-factor as a reliever in a win-or-go-home contest for Cleveland, it's hard to bet against the Rays in that capacity.
Winner: Rays
Division Series: Tampa Bay Rays at Boston Red Sox (series begins Oct. 4)
Coming off the wild-card win that put them behind the eight ball by having to use Price, the Rays, as pitching-rich as they are, would find the Red Sox's top-scoring offense in the majors to be a bit harder to deal with.
Perhaps the biggest question looming in Boston is just when leadoff man Jacoby Ellsbury can make it back to the lineup from a fractured foot. A return could happen as soon as Wednesday, reports Scott Lauber of the Boston Herald, which should help the center fielder get back up to speed in time for the playoffs.
That would only make Tampa's task that much tougher, and it's already a challenge as is: Boston has the best record in baseball despite playing in arguably the top division, and ace Clay Buchholz recently returned from being out three months due to injury, too.
Winner: Red Sox
Division Series: Detroit Tigers at Oakland Athletics (series begins Oct. 4)
A few weeks ago, most would have given this series to the Tigers, what with their AL-best 3.49 rotation ERA and an offense that has totaled the second-most runs in the game. And yet the A's have gone 17-5 in September, which is only the best run in the majors. Of course, these two teams battled it out all the way to five games in the ALDS last October, too.
One question for Oakland is how much of its surge this month has come from savvy manager Bob Melvin's ability to utilize the expanded 40-man roster and execute platoon splits and matchups. Another query, though, is who Melvin gives the ball to after ace Jarrod Parker, as the likes of strike-throwers A.J. Griffin and Bartolo Colon—the only other starters with playoff experience—aren't of the ilk that typically dominates in October.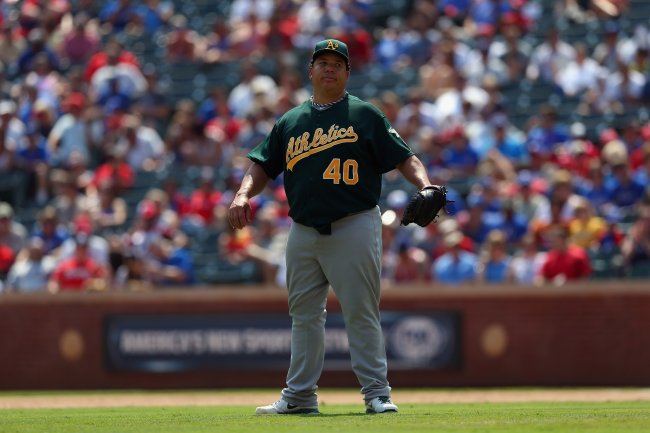 Ronald Martinez/Getty Images
There are a couple of questions in Detroit, too, where there's been speculation that the suspended Jhonny Peralta could be shifted to left field, as shortstop is now held down by defensive wizard Jose Iglesias. But the bigger issue is just how much the assorted ailments will limit AL MVP front-runner Miguel Cabrera, who has been playing at well below 100 percent health-wise for weeks.
It's shaping up to be a better matchup than one might have thought, especially since Oakland could wind up with home-field advantage again thanks to their strong September, but expect a repeat of last October's result.
Winner: Tigers
Championship Series: Detroit Tigers at Boston Red Sox (series begins Oct. 12)
As great as the Red Sox have been in bouncing back from their disastrous 2012, the Tigers still are a slightly more complete team.
Aside from speed, where the Red Sox have 120 steals (fourth-most in baseball) to Detroit's dead-last 35, the Tigers offense is nearly on par with Boston's in every way, from runs scored (812 to 788, Nos. 1 and 2 overall) to OBP (tied for first at .348) to home runs (173 to 169, both in the top 10).
Beyond that, Detroit has one of the best lineups when it comes to making contact—their 1,046 whiffs are fourth-fewest in baseball—while the Red Sox, who have 1,270 strikeouts (seventh-most), could certainly find it challenging to hit a rotation that sports an MLB-best 8.5 K/9 ratio. A rotation that is better, deeper and healthier than Boston's—and coming off a dynamic run to the World Series last year when their starters allowed exactly seven earned runs in nine games through the ALCS.
Winner: Tigers
National League
Wild Card: Pittsburgh Pirates vs. Cincinnati Reds (game is played Oct. 1)
This matchup may very well come down to who gets to play on their home turf. The Reds appear to be lining up Mat Latos and Homer Bailey, their top two arms this season, to pitch Friday and Saturday against...that's right...the Pirates, which could give them the upper hand in getting the wild-card game at Great American Ball Park.
That likely would mean Johnny Cueto, who pitched seven strong innings against the Mets on Monday, would toe the rubber in the play-in game itself—with only two starts under his belt since missing two-and-a-half months with a strained lat that's bothered him three separate times in 2013.
Pittsburgh, on the other hand, is expected to give ace Francisco Liriano his final tune-up on Wednesday against the Cubs, which sets him up to face Cueto. If the game is in Pittsburgh, that would be a great thing, as the lefty Liriano has thrived at home (1.47 ERA, 0.96 WHIP), just beat Cincy there last Friday and could neutralize the Reds biggest bats in Joey Votto, Jay Bruce and Shin-Soo Choo, all of whom bat from the left side.
But if that matchup takes place away from PNC and is played at Great American, where Liriano is 0-2 while allowing seven runs in 10.1 innings this year, it could spell trouble for the lefty, who owns a 4.15 ERA and 1.42 WHIP on the road.
As long as the increasingly injury-prone Cueto doesn't suffer another postseason ailment, he should be able to hold in check the Pirates' slumping offense—their 77 runs are the seventh-fewest in September—meaning it could be one-and-done for Pittsburgh after 21 years of waiting.
Winner: Reds
Division Series: Cincinnati Reds at Atlanta Braves (series begins Oct. 3)
There are three things working hard against the Braves. One, is injuries, which have hit everyone from Jason Heyward, the club's best hitter who recently came back, to right-handers Tim Hudson and Brandon Beachy to lefty setup men Jonny Venters and Eric O'Flaherty.
Another is slumps, which have been season-long for the likes of B.J. Upton, who is hitting .186 on the year, and Dan Uggla, who is somehow hitting worse than that at .181!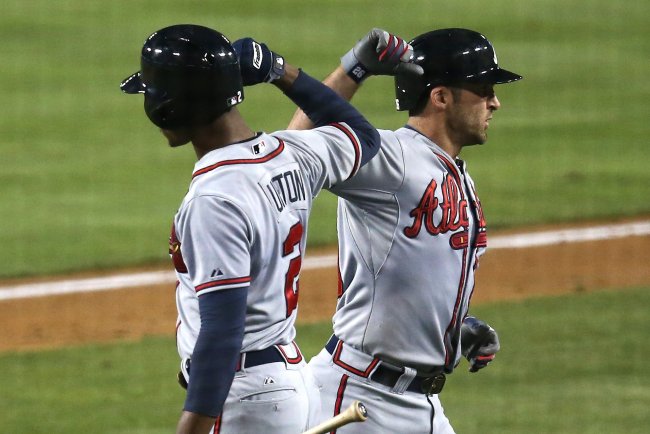 Stephen Dunn/Getty Images
And the third? Atlanta hasn't really played in a meaningful game since, like, late July. That probably can't be good.
Folks still think of Atlanta's lineup as potent, and it can be, but Cincy's lineup is just as good—their OPSes are .721 and .723, respectively—and then there's the potential for Billy Hamilton to reak havoc all over the bases.
The Reds also have the rotation depth to survive the wild card game, even if they use Cueto there. That would allow them to turn to Latos and Bailey in the NLDS, and those two have been their top arms all season long, anyway.
Winner: Reds
Division Series: Los Angeles Dodgers at St. Louis Cardinals (series begins Oct. 3)
Call this the reversal-of-fortunes series.
Which team will win the 2013 World Series?
At times earlier this season, Cardinals looked like the most complete club in the NL and maybe even the majors, but it's been a while. St. Louis isn't lacking for issues at the moment, what with the foot injury that could keep Allen Craig out of the playoffs, the ongoing struggles of potential Game 3 starter Lance Lynn (4.23 ERA, 1.45 WHIP in the second half) and concern over the fatigued Edward Mujica, who spent so much of 2013 as the team's closer. That's not to say the Cards don't still have case as a contender, because they most certainly do.
Thing is, they just might have trouble with the team that has dominated baseball since late June. To wit, at that time, the disappointing Dodgers were wallowing at 30-42 and in last place in the NL West. But since? Well, NL Rookie of the Year candidate Yasiel Puig got called up and then Hanley Ramirez and LA's many stars finally got healthy, and they've gone an MLB-best 60-24—including 43-19 in the second half. Heck, even Matt Kemp (remember him?) is back these days.
This matchup has a little bit of that tortoise-and-the-hare smell, which would seem to favor St. Louis, but it's going to be tough for any team to beat NL Cy Young fave Clayton Kershaw and Zack Greinke in a five-game set.
Winner: Dodgers
Championship Series: Cincinnati Reds versus Los Angeles Dodgers (series begins Oct. 11)
In one word, this showdown would be electric, from Votto, Bruce, Choo, Brandon Phillips and the big bats of the Reds up against the one-two postseason punch of Kershaw and Greinke; to the international star power when Puig and fellow Cuban countryman Aroldis Chapman collide with the game on the line; to the threat of Billy Hamilton stealing every base in sight.
What's more, it's been a while for these two franchises, as neither one has made it to the Fall Classic about a quarter-century: The Reds won it all in 1990 two years after the Dodgers did the same in 1988.
Now fully healthy, the Dodgers lineup is just as deep as and possesses better lefty-righty balance than the Reds one-through-eight, which could be shut down by Kershaw and late-inning southpaw weapon Paco Rodriguez, against whom lefties have an OPS that looks like a respectable slugging percentage for a middle infielder (at .382).
Winner: Dodgers
Which brings us to the...
World Series: Los Angeles Dodgers at Detroit Tigers (series begins Oct. 23)
Where to even begin with this potential matchup? Both sides have star power, glue guys and depth in every aspect of their 25-man rosters, from the rotations to the lineups to the bullpens.
Here's the key: The All-Star Game, you'll recall, went in the Junior Circuit's favor this summer—with manager Jim Leyland bringing a league-high six players with him to the game and Miguel Cabrera scoring the winning run, no less—so the Tigers get the home-field advantage. In this particular case, that's huge.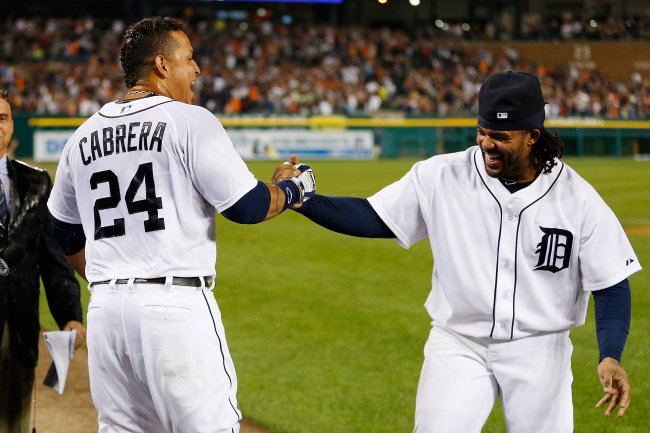 Gregory Shamus/Getty Images
Not only will that give Detroit an extra game with designated hitter and middle-of-the-lineup stalwart Victor Martinez batting behind Cabrera and Prince Fielder, the Tigers also are especially cozy at Comerica, where they own a 51-30 record—only three teams have a better home record—and sport a .300/.365/.456 triple-slash line that is an MLB-best among all teams in their own park.
In the end, the last division-leader to clinch turns out to be the last team standing.
Winner: Tigers
This article is
What is the duplicate article?
Why is this article offensive?
Where is this article plagiarized from?
Why is this article poorly edited?