FIFA 14 Review: Highlighting Best Features in Latest Edition of Video Game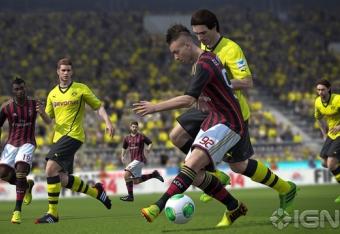 Courtesy: IGN.com

Although the number of major changes in FIFA 14 is minimal, the series continues a recent trend of making steady progress. The key pieces that have helped the game become a powerhouse remain while upgrades are made to make it more appealing to annual players.
Ultimately, huge changes are what attract attention from mainstream gamers, but it's the more subtle ones that help build a fanbase. It's important for a game to keep making positive gameplay strides in order to satisfy the diehard fans.
Knowing that, let's examine some of the best features from FIFA 14, which should make it an extremely popular title once again.
Updated Pace and Physics
One of the bothersome issues with FIFA in recent years has been the pace of play. There was really no need to have a sustained build up on the attack because players could just rush forward past defenders to create chances.
The new version of the game does well to slow things down. While players with great speed can still beat opponents with pace, the game as a whole isn't quick. It places a great emphasis on stringing together passes to move into the final third.
At the same time, the physics took another step in the right direction with better player interactions and ball movement. Those type of upgrades were necessary since those facets of the game will be more prominent with the slower pace.
Global Transfer Network
In past versions of the game, the transfer features didn't feature enough depth. You could just search by position and overall, filling holes in a squad with relative ease during the windows. The Global Transfer Network changes that.
What are you most looking forward to in FIFA 14?
Now in Career Mode, gamers are forced to use their scouting system in order to identify players based on attributes they are looking for at a particular position. Only after a scout evaluates a player does his current overall rating become available.
It makes things far more interesting and provides another layer of challenge to the game. Ultimately, the entire process should also help gamers build more well-rounded squads by targeting certain attributes instead of just the highest overall.
Improved AI Performance
A major challenge for any sports video game is getting the AI players to react correctly. It's especially important in FIFA, where well-timed runs are essential to creating scoring opportunities and defenders that work together are key.
Even though getting it perfect is nearly impossible, significant strides have been made over the past few years and that continues in FIFA 14. Players on the attack seem more willing to make driving runs instead of just drifting toward open space.
When you combine the slower pace with better AI movement, the game definitely starts to take on a more realistic feel. That's always the biggest goal. So despite the lack of any overhauls, FIFA 14 still offers plenty to get excited about.
This article is
What is the duplicate article?
Why is this article offensive?
Where is this article plagiarized from?
Why is this article poorly edited?