Washington Redskins: What You Need to Know Heading into Week 4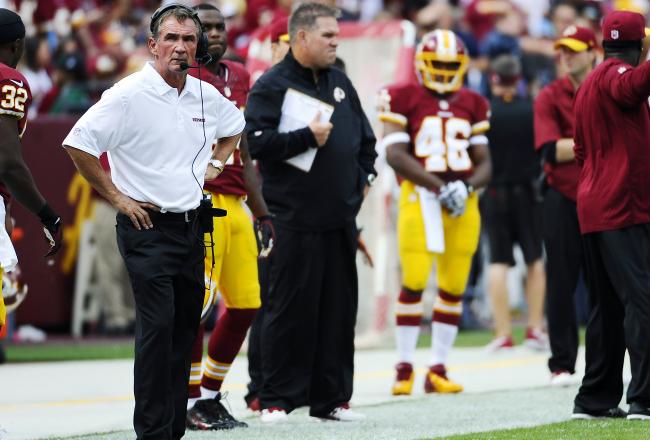 Brad Mills-USA TODAY Sports
If the Washington Redskins hope to rescue their season, they have to win on the road against the Oakland Raiders in Week 4. Head coach Mike Shanahan was likely pleased by the performance of his offense during Week 3's loss to the Detroit Lions, but the defense remains a mess.
Shanahan should also be mindful that his team is currently doing too much to beat itself. Turnovers and penalties are the byproducts of poor execution and missed assignments, and Washington's performances have been littered with both.
Division Standings
NFC East After Three Weeks

| | | | | |
| --- | --- | --- | --- | --- |
| Dallas Cowboys | 2-1 | | | |
| Philadelphia Eagles | 1-2 | | | |
| New York Giants | 0-3 | | | |
| Washington Redskins | 0-3 | | | |
via NFL.com
The Redskins are currently propping up the NFC East along with the New York Giants. Worse still, their archrivals, the Dallas Cowboys, are making an early case to claim the division Washington owned in 2012.
Not too long ago, a trip to Oakland to take on a Raiders team seemingly always in rebuilding mode would have been welcome. But the Silver and Black have been tougher than advertised this season.
They pushed the Indianapolis Colts all the way in Week 1 and swept aside the Jacksonville Jaguars in their second game.
They were vanquished by the Denver Broncos in Week 3, but Oakland is not a team to be taken lightly. The Redskins cannot afford to make that mistake.
This week, NFC East teams take to the road to battle the AFC West.
NFC East Week 4 Fixtures

| | | | | |
| --- | --- | --- | --- | --- |
| Dallas Cowboys | at San Diego Chargers | | | |
| Philadelphia Eagles | at Denver Broncos | | | |
| New York Giants | at Kansas City Chiefs | | | |
| | | | | |
via NFL.com
The Eagles face the toughest challenge against a powerful Broncos team that already looks like the class of the AFC.
The Giants could also find themselves in trouble against old foe Andy Reid, who has quickly revived the Kansas City Chiefs.
The Cowboys' clash with the San Diego Chargers is an intriguing one. The Chargers will be wounded by their failure to close out their Week 3 game against the Tennessee Titans. The Cowboys are on a roll, but the Chargers are more talented than their 1-2 record suggests.
Injury News
Promising rookie tight end Jordan Reed withdrew from the game against the Lions with a quad contusion, according to The Washington Post's Mike Jones.
Reed had been deputizing for injured starter Fred Davis. The third-round pick was enjoying a productive game, and he looked like a useful target.
If Reed is not fit to face Oakland and Davis is still hurt, Logan Paulsen will take on the brunt of the receiving duties. Niles Paul will also have to chip in.
Jones also reports rush end Brandon Jenkins sustained an ankle injury against Detroit. He is one of the players expected to help keep outside linebackers Brian Orakpo and Ryan Kerrigan fresh.
The most significant injury news for the Raiders involves exciting dual-threat quarterback Terrelle Pryor. ESPN.com's Paul Gutierrez reports Pryor suffered a concussion during his team's defeat in Denver.
According to Gutierrez, Oakland's coaches are uncertain about whether Pryor will be ready to face the Redskins. If Pryor is held out in Week 4, the hapless Matt Flynn will be thrown into the fray.
That could be good news for Washington, as Flynn does not possess Pryor's ability to challenge defenses as a runner, nor can he match Pryor's arm strength.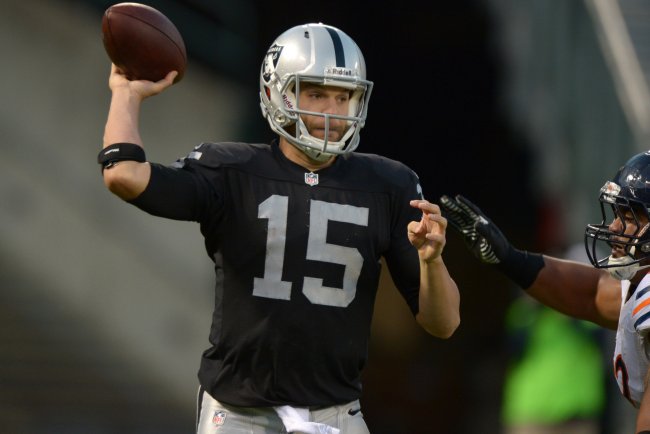 Kirby Lee-USA TODAY Sports
What Must Improve
Improvements for the Redskins could almost start and end on defense. The unit was again guilty of feeble tackling and lapses in coverage.
The roots of the problems can be attributed to overworked personnel and schematic weaknesses. ESPN.com's John Keim reports that inside linebacker London Fletcher will be rotated with fellow veteran Nick Barnett more often.
That arrangement is probably overdue for Washington's linebacker quartet. Orakpo and Kerrigan are left on the field too long, as are the men in the middle.
Week 3 saw backup nose tackle Chris Neild rotate with starter Barry Cofield. Meanwhile, end Phillip Merling also rotated with starting ends Stephen Bowen and Kedric Golston.
Rotation up front is always a good thing. But the linebackers are the playmakers of the 3-4 scheme, and coaches must do more to keep them fresh.
Brad Mills-USA TODAY Sports
Of course, rotation might not necessarily lead to better tackling. What might help more is putting players in better positions to make plays.
Washington's defense is out-thought as often as it is outfought. A perfect example was the rigid use of one coverage shell against the Lions, a problem described by CSNWashington.com's JP Finlay:
Missed tackles have plagued the Redskins this season, but against the Lions, the defensive scheme left open many holes.

They played cover one on almost every snap in the second half, Stafford said after the game.
Seeing the same coverage for so many plays enabled the Lions to quickly adjust to it, something Finlay notes the Redskins failed to answer with a counter of their own:
The single high safety look the Skins employed was likely a tactic to limit the big play potential of Lions wide receiver Calvin Johnson. Cover one, or single high, leaves one safety deep in the field to prevent long passes, but the formation allows more space over the middle of the field.

Even with the game plan designed to slow Johnson, "Megatron" still finished the game with seven catches for 115 yards and a touchdown. And with the extra focus on Johnson, other Lions receivers found themselves open, particularly Nate Burleson who finished the game with six catches for 116 yards.
Defensive coordinator Jim Haslett can't make his unit so easy to scheme against. Granted, that involves a tough balancing act for Haslett.
He is not blessed with ample talent, particularly in the secondary, so his coverage concepts cannot be that complicated. But by the same token, he must not simplify things to the point that one adjustment routinely exposes his defense.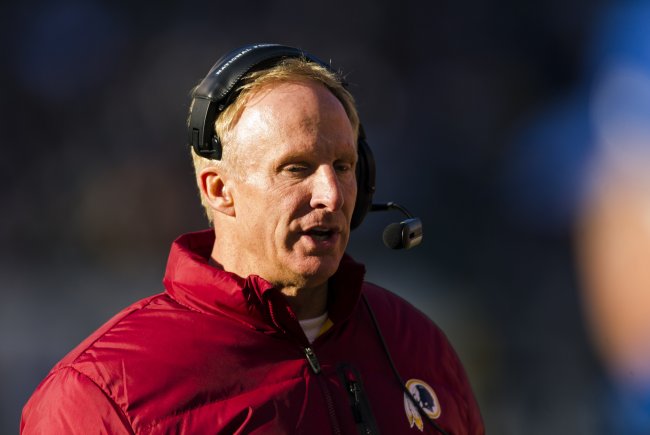 USA TODAY Sports
Haslett must implement simple-to-follow concepts but still be creative enough to surprise opponents with a few new wrinkles.
Offensively, the Redskins need to improve the run-pass balance, despite Shanahan indicating he was pleased with it against the Lions.
But there was no obvious reason to give up on the run the way the offense appeared to against the Lions. The Redskins were not chasing a big lead, and running back Alfred Morris had shown he could expose the Detroit defense for big gains.
The Raiders are currently surrendering 108.3 yards per game on the ground. Opposing rushers are averaging 4.1 yards per carry, according to NFL.com.
The Redskins would be playing it smart to feature the ground attack in Oakland.
Another area in need of rapid improvement is the return game. Mike Jones of The Washington Post reports that Shanahan is looking to use wide receiver Joshua Morgan to provide a boost.
Shanahan said josh Morgan gives team. "More wiggle" as return man than Paul who is more straight ahead guy. Paul helps more as blocker

— Mike Jones (@MikeJonesWaPo) September 23, 2013
The Redskins easily surrendered the field-position battle in their first two games. They fared only slightly better against the Lions, so Morgan could play a key role in Week 4.
In truth, Shanahan needs to try everything he can think of to inspire his team to victory. His priorities should be trusting his running game more and encouraging greater variety from his defense.
This article is
What is the duplicate article?
Why is this article offensive?
Where is this article plagiarized from?
Why is this article poorly edited?

Washington Redskins: Like this team?