The Baltimore Ravens made quite the statement with a 30-9 rout of the Houston Texans in Week 3. The Texans were a trendy preseason pick to represent the AFC in the Super Bowl, and the game was an important victory for the Ravens to reassert themselves as contenders.
Nevertheless, the offense is still a concern, and Joe Flacco and Co. will look to get on track when they take on the Buffalo Bills. Coming off a big win, traveling to Buffalo is a classic trap game for the Ravens, and they'll need to be fully focused on trying to jump-start their offense.
As Baltimore prepares to hit the road for two games, here are some things you need to know for Week 4.
Division Standings
AFC North Standings

| | | | |
| --- | --- | --- | --- |
| Team | Wins | Losses | Next Game |
| Baltimore Ravens | 2 | 1 | at Buffalo Bills |
| Cincinnati Bengals | 2 | 1 | at Cleveland Browns |
| Cleveland Browns | 1 | 2 | vs. Cincinnati Bengals |
| Pittsburgh Steelers | 0 | 3 | vs. Minnesota Vikings (London) |
ESPN.com
The Pittsburgh Steelers have looked awful in their three games, and at 0-3, they don't look like they can contend in the division. They should be able to take care of business against the Minnesota Vikings in London, but it might already be too late for them to make a playoff push.
That leaves the Cincinnati Bengals as the lone competition for the division crown. They pulled off a big win of their own in Week 3 by beating the Green Bay Packers. They'll face the Cleveland Browns this week, who looked good en route to a victory over the winless Vikings on Sunday.
The Bengals should win fairly comfortably, which means the Ravens need to win to remain in a tie for first place in the AFC North.
Injury Report
Week 4 Injury Report

| | | |
| --- | --- | --- |
| Player | Injury | Week 4 Status |
| Ray Rice | Hip flexor strain | Questionable |
| Chris Canty | Groin sprain | Questionable |
| Arthur Brown | Pectoral strain | Questionable |
| Terrence Cody | Knee sprain | Doubtful |
| Brandon Williams | Toe | Questionable |
| Deonte Thompson | Foot | Questionable |
| Shaun Draughn | High ankle sprain | Questionable |
BaltimoreRavens.com
Just like last week, the biggest injury news surrounds Ray Rice. According to BaltimoreRavens.com, head coach John Harbaugh said that Rice and Chris Canty were both close to playing against the Texans, so their chances of playing against Buffalo look fairly good.
Ray Rice could get back on the field this week after missing Sunday's game: http://t.co/OkgLBGlj45

— Baltimore Ravens (@Ravens) September 23, 2013
Terrence Cody suffered a left knee sprain and left the Houston game early in the first quarter. It is unlikely that he returns this week.
Additionally, third-string running back Shaun Draughn suffered a high ankle sprain in Week 3. If he and Rice are unable to go on Sunday, the Ravens might bring in a free-agent running back to give them depth for their Week 4 game.
Brandon Williams was a limited participant in practice last week, so he may be getting closer to making his debut. If that's the case, his timing couldn't be better as he would slide into Cody's vacated backup nose tackle role.
What Needs to Improve
Ground Game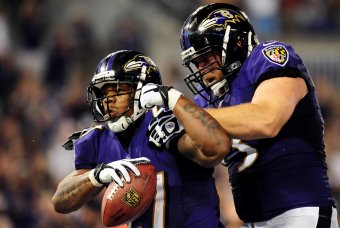 Evan Habeeb-USA TODAY Sports
This is the biggest area where Baltimore needs to improve. The running backs have struggled in all three contests, and the offensive line hasn't been able to open any running lanes for Ray Rice or Bernard Pierce.
The possible return of Rice will help, but the matchup against the Buffalo Bills could be just what the doctor ordered for the offense. The Bills are giving up 155 rushing yards per game through three weeks, and a weaker rushing defense could help the offensive line get established.
The three teams the Ravens have faced all have top-10 rushing defenses.
Aerial Attack
The lopsided 30-9 score against the Houston Texans might suggest that the Baltimore offense was rolling in Week 3. Unfortunately, it was rolling on its back, unable to get on its feet for most of that game.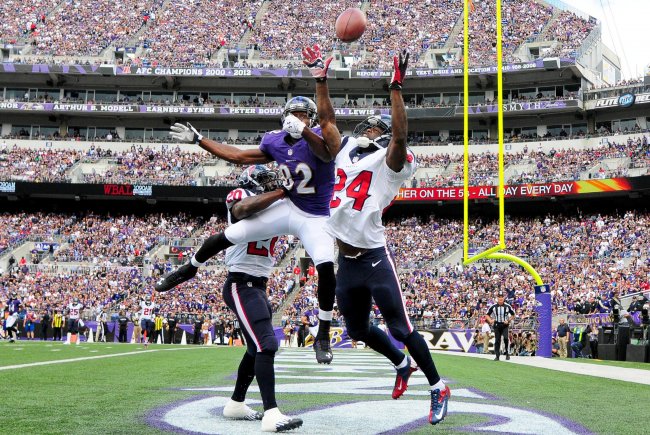 Evan Habeeb-USA TODAY Sports
Two of the three touchdowns came from the defense and special teams, and the offense never got going. Aside from one drive to start the third quarter, there wasn't much continuity and Joe Flacco once again didn't look connected with anybody outside of Torrey Smith.
Dallas Clark made some good plays, and he looks like he's begun to develop a rapport with Flacco, but the starting tight end, Ed Dickson, was nowhere to be found.
The Ravens have to get their passing attack on track against the Buffalo Bills, and Dickson could be a big part of that.
He is an athletic tight end who can make big plays down the seams of the defense. Torrey Smith has been the only receiver who has shown the ability to make plays downfield, and defenses are keying in on him to prevent that from happening.
If Ed Dickson can make some plays on Sunday, it could open up space for the entire offense.
Early Offense
In the last two games, the offense has looked good right after halftime and the defense hasn't given up any second-half points. The coaching staff is making some excellent adjustments, but Baltimore won't be able to keep winning games with sluggish starts.
The Ravens defense has been so good that a lead should be very safe going forward. If the offense can put some points on the board and take some time off the clock with long, sustained drives, the Week 4 game could be put out of reach in the early going.