College Football Week 5 Predictions: Picking All Top 25 Games Against the Spread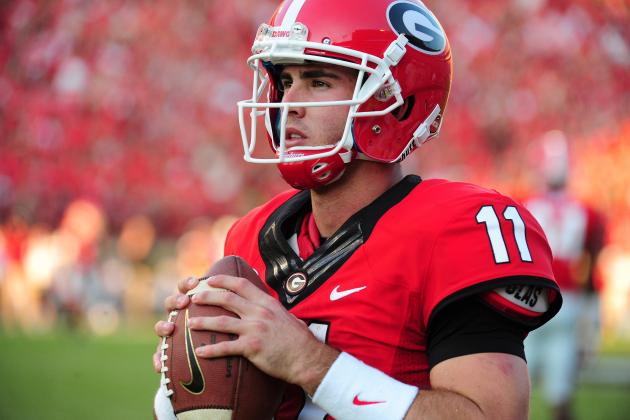 Scott Cunningham/Getty Images

Did you enjoy Week 4? You can say no; no one is judging you here.
Of all favorites, 63 percent covered their spread, and 57 of 59 favorites won their games outright in what can only be described as an uneventful, chalktacular weekend.
Last weekend's picks got on track, however, with a respectable 11-8 finish, proving sometimes you simply have to embrace the chalk. That is not the case in Week 5, however.
In fact, it's quite the opposite.
Following a dud, the schedule makers have handed us a gem of a college football weekend with Georgia-LSU serving as the filet. The undercard isn't too shabby, either.
As for Las Vegas, well, the oddsmakers may have some tricks up their sleeves. Things could get weird if (and that's a big if) the Top 25 picks against the spread go as planned.
Spreads courtesy of VegasInsider.com.
Record Against the Spread Entering Week 5: 44-31
Begin Slideshow

»
Cary Edmondson-USA TODAY Sports

This will be the final Week 5 game, kicking off at midnight eastern on Saturday.
Rough day gambling, friend? Oh, there are always Hawaii home games, better known as the degenerate special.
Fresno State is likely still celebrating its dramatic win over Boise State, and the likelihood of a letdown—especially one with Hawaii serving as the destination—feels imminent. It's also worth noting that despite their perfect record, the Bulldogs are 0-3 against the spread.
The problem, however, is that a unmotivated Fresno State team still might be capable of winning by more than three touchdowns. Hawaii is 0-3, although the Warriors will come home after two games on the road.
Still, how motivated will Fresno be? Motivated enough to win, of course, but not by three touchdowns.
The Pick: Hawaii (+19)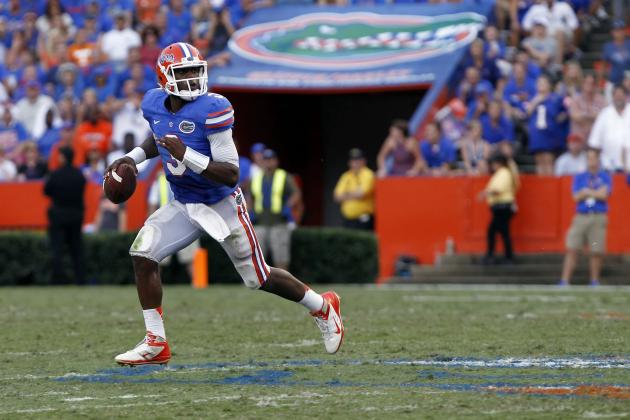 Kim Klement-USA TODAY Sports

The biggest question for the Wildcats (and this is sort of important) is, how do they plan on scoring? Will they find the end zone against one of the best defenses in the country?
Kentucky will play this game at home, however, which is significant. The defense played well against Louisville and Teddy Bridgewater in its own building, but the offense shot itself in the foot on multiple occasions.
Florida, meanwhile, is hoping that Tyler Murphy's first career start will feature more of what he showcased against Tennessee. Called upon following the injury to Jeff Driskel, Murphy played quite well.
Still, this is his first career start and it will come on the road. The Florida defense is capable of destroying this spread by its lonesome—something it has done a bit of the past few years—but two touchdowns in a potential ugly game are too much to pass up.
The Pick: Kentucky (+13.5)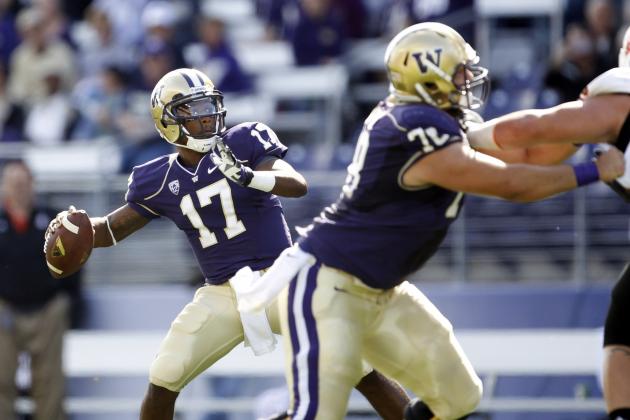 Joe Nicholson-USA TODAY Sports

This game will get overlooked given the incredible lineup, but it shouldn't be. Washington has played fabulous thus far, and Arizona has been solid, albeit against inferior opponents.
Arizona will lean heavily on running back Ka'Deem Carey, one of the best backs in the country. But he will have his work cut out for him against this stout Washington front.
For the Huskies, their running back hasn't exactly been a slouch. Bishop Sankey already has nearly 450 yards rushing on the year, averaging seven yards per carry. Keith Price has also looked good, and Washington has balance on both sides matched by few.
More importantly, Washington is a different team in its own building. The spread opened at seven and it's already on the move to double digits. It's a lot to lay, but it also feels like the right side.
The Pick: Washington (-10)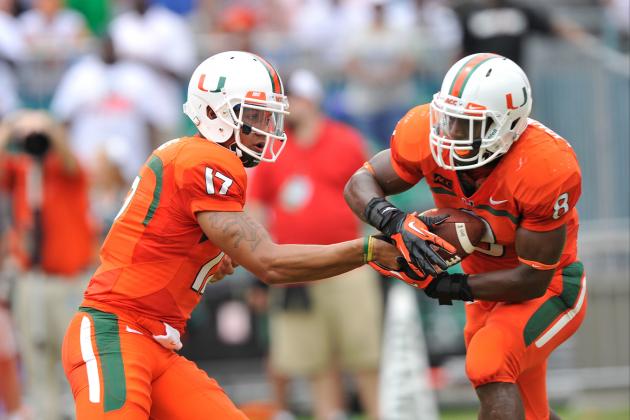 Brad Barr-USA TODAY Sports

As a 20.5-point favorite, South Florida lost to McNeese State by 32 points in the opening weekend. In Week 3, the Bulls scored only 10 points against FAU and lost by 18 as a 12.5-point favorite.
That's…not good.
South Florida's opponent in Week 5 just covered a 60-point spread, which is more or less the exact opposite of what the Bulls have been doing. Miami made quick work of Savannah State despite losing starting quarterback Stephen Morris to injury early.
According to Al Golden, however, Morris is likely to play this week. Assuming he does, it's hard to envision the Miami offense not taking complete control and eliminating the near-three-touchdown spread by halftime.
The Pick: Miami (-19)
Notre Dame has not been kind to Vegas supporters for the second consecutive season, starting 2013 with one push and three losses against the spread.
Simply put, it's been ugly. The Irish can't run the ball and the defense has not been as good as advertised. Yes, it played well against Michigan State, but it's worth noting that you and a few friends could force Sparty to punt with great regularity.
Oklahoma will head to South Bend following a bye week, and quarterback Blake Bell will attempt to repeat his dazzling start against Tulsa in Week 3. Expect the Sooners to put him in motion, because ND has had issues defending mobile QBs. (See: Temple and Michigan).
Notre Dame has a knack for winning games where we all count it out, but that has to give at some point, correct? It certainly feels like it's headed that way.
I don't love the hook or know a ton about the Sooners yet, but I will lay the points on the road.
The Pick: Oklahoma (-3.5)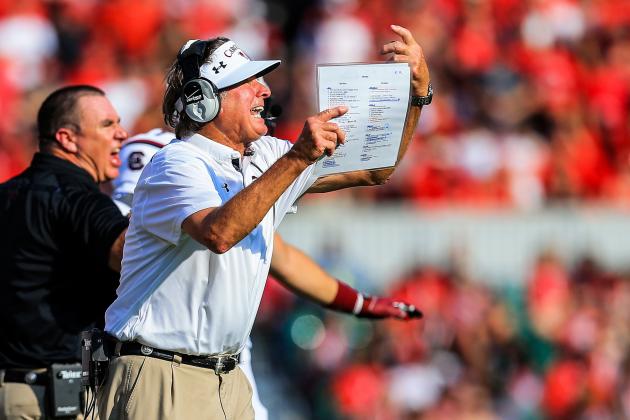 Daniel Shirey-USA TODAY Sports

[Las Vegas siren blares] [Steve Spurrier tries to hit siren with a golf club]
Now, this is interesting. If seven points may seem a little low for the No. 12 team in the country, that's because it is. But don't just lay the points and run to the window. This one requires some digging.
UCF quarterback Blake Bortles is quietly putting together a solid season, and running back Storm Johnson is averaging 5.5 yards per carry. The success of the offense (and defense) has led UCF to a 3-0 record and a 3-0 record against the spread.
South Carolina is the more talented team, clearly, but this is a strange road trip for a team that has had some defensive struggles. The Gamecock offense is solid and may play the role of bully here, but an early road game in Florida has a strange feel to it.
Not only can the Knights cover the spread; they are alive to win outright.
The Pick: UCF (+7)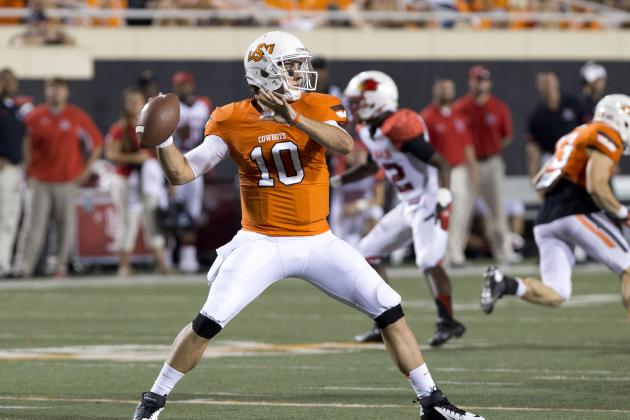 Richard Rowe-USA TODAY Sports

The Dana Holgorsen offensive machine is broken, and the result is a 19-point spread in Morgantown, a home field that is unfamiliar with such robust underdog scenarios. The Mountaineers got shutout 37-0 against Maryland, totaling just 175 yards of offense.
This team has issues, and the worst possible remedy is suddenly a reality.
Oklahoma State will head on the road after a bye week, and there's no reason to believe the offense won't take this game over. J.W. Walsh is getting more comfortable at quarterback, and he'll like destroy the box score here.
There's worse news yet for West Virginia. After this game, it's off to Baylor in Week 6. What do you possibly make that spread? Ah, we'll get to that soon enough (but it will be robust).
The Pick: Oklahoma State (-21)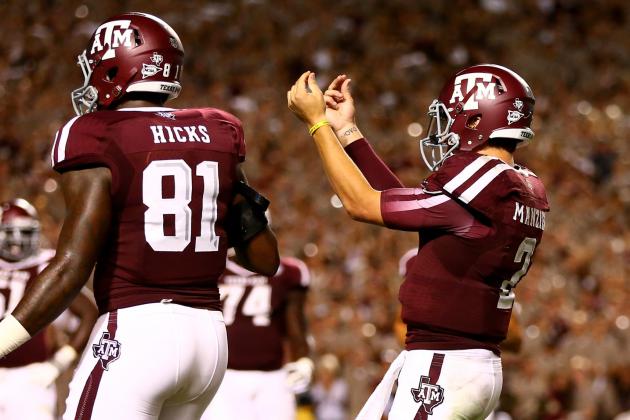 Mark J. Rebilas-USA TODAY Sports

Here's the funny thing about this game, and more specifically, the point spread. It doesn't have one, at least not as of 6:31 am on Wednesday.
It was rumored that Texas A&M was listed as only a three-point favorite in this game, although that is not the case. To everyone who flooded my phone with texts and tweets on where they could wager a mortgage payment, I'm sorry to disappoint. The reason the game is without a number is Arkansas quarterback Brandon Allen remains questionable.
Regardless of whether he plays, expect this spread to be somewhere between the neighborhood of eight and 12 points.
The Aggies are 3-1 against the spread thus far, while Arkansas enters at 1-3 against the number. No pick here, at least not yet, but Bret Bielema vs. Johnny Manziel is solid Saturday entertainment.
The Pick: TBD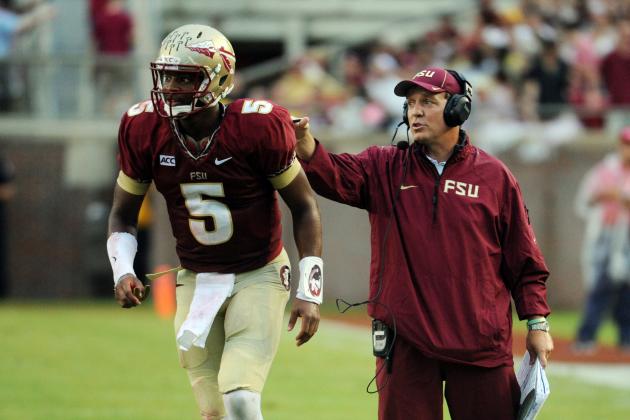 Melina Vastola-USA TODAY Sports

The Jameis Winston era has been good for Florida State bettors. The Seminoles are 3-0 against the spread, and they stayed that way by covering the 40-point number against Bethune Cookman in Week 4.
FSU will go on the road in Week 5, however, taking on a Boston College team that may be slightly better than many realize. We're not talking ACC titles, but not as bad as you might believe. Not only that, but the Eagles just had their bye week after traveling across the country to USC.
Should FSU be on upset alert? Absolutely not. But Chase Rettig can throw the ball a bit, and he should help keep this game semi-compeititve.
The Pick: Boston College (+22)
Take this for what it's worth, which isn't much (but it feels important).
When I first posted this point spread on Twitter, the overwhelming response was something along the lines of "FREE MONEY WITH LSU, GET YOUR FREE MONEY HERE." This is somewhat expected given how LSU as looked, although typically when the consensus is pouring on one side, you go the other way.
LSU has looked fabulous thus far, and Zach Mettenberger is making the offense go in ways we haven't seen in some time. Georgia, meanwhile, didn't blow North Texas out, although the Bulldogs still out-gained their opponent by nearly 400 yards in Week 4.
This is a difficult game to pick a side, although home field in the SEC cannot be overstated. And as good as LSU has been, it is not nearly as tested as this Bulldog group.
The Pick: Georgia (-3)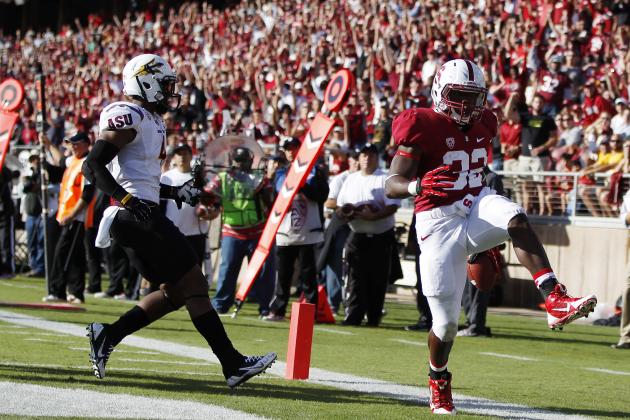 Stephen Lam/Getty Images

When the Golden Nugget released 250 college football point spreads in the summer—because we need things to do in the offseason—Stanford was favored by 18.5 points in this game. Now the spread is barely double digits, which is curious to say the least.
The timing for the game certainly works in Washington State's favor. Stanford will head on the road following its key early-season win over Arizona State, although the game will be played in Seattle.
Mike Leach's group certainly is much improved from a season ago, although the competition the last few weeks has not exactly been daunting. But Washington State can score, there's defense being played and it may catch one of the nation's best teams at the right time.
Stanford wins, but it doesn't come easy.
The Pick: Washington State (+10)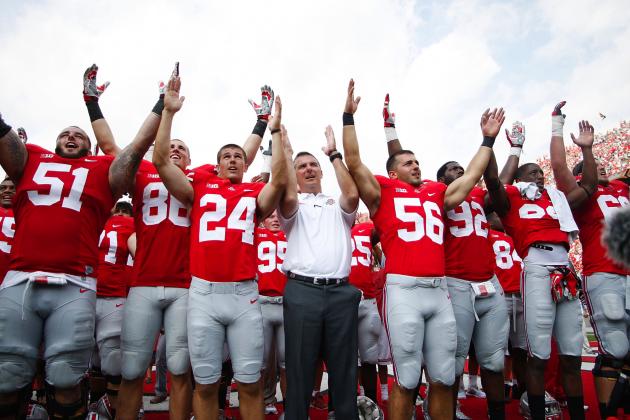 Kirk Irwin/Getty Images

The Buckeyes and Badgers enter their game a combined 7-1 against the spread, and something has to give.
Have you seen Melvin Gordon yet? I certainly hope so. The Wisconsin running back is averaging 11.8 yards per carry on the season and roughly 10 yards per carry in his young career. The Ohio State defense will likely zero in on stopping the run, although this will be easier said than done.
Quarterback Braxton Miller should be back, although backup Kenny Guiton has been fabulous in his absence. And as much as we talk about the Wisconsin running game—and deservingly so—the Buckeyes are averaging 6.7 yards per carry this season.
They are also playing this game in Columbus, which is a tremendous home-field advantage. Ohio State will take advantage.
The Pick: Ohio State (-7)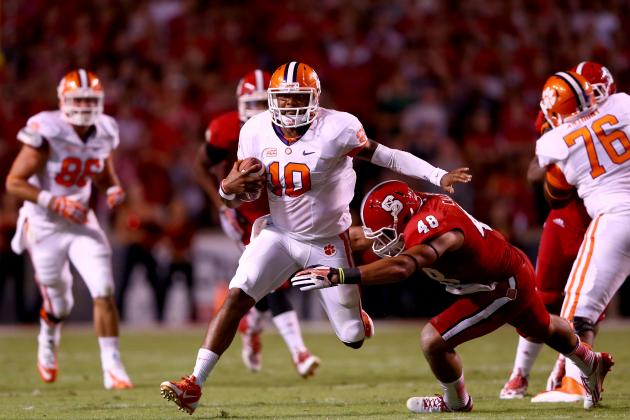 Streeter Lecka/Getty Images

Did you pick Clemson to cover against NC State? If so, you were greeted to one of the more painful backdoor covers in recent memory. (I picked NC State, for the record. This is not gloating because no one can possibly gloat after that kind of madness).
The lackluster performance, however, is bad news for Wake Forest. The Tiger offense was not sharp throughout much of the midweek showcase, although that won't last for long. Tajh Boyd is comin'.
Wake Forest will take on far and away its tough opponent yet, entering Week 5 with a 2-2 record against the spread. The win (and cover) against Army in Week 4 was solid given recent results, but this matchup does not bode well.
The Pick: Clemson (-28.5)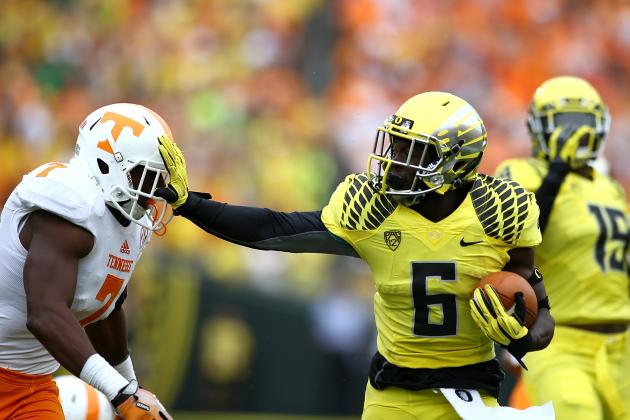 Jonathan Ferrey/Getty Images

Conference point spreads are not supposed to be this hilariously enormous, and games are not supposed to have over/unders at 84.
Yet, here we are.
Oregon is 3-0 record against the spread despite operating with at least a three-touchdown handicap each week. The number is the most ridiculous yet, and while seven touchdowns may seem excessive, who's jumping in line to bet against this offense at any spread?
Like Oregon, Cal enjoyed a bye week to gear up for this one. The Bears just gave up 52 points to Ohio State, which is not a good omen. Sonny Dykes' group can score, however, which helps with a number this large.
I don't feel great about taking the points, but this feels like a little too much, even for Oregon. (These are famous last words, by the way.)
The Pick: Cal (+36)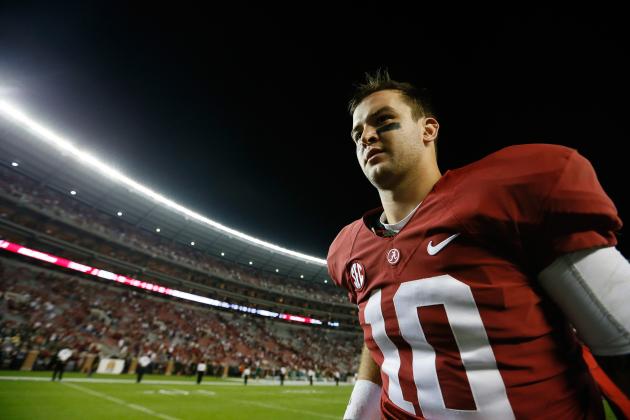 Kevin C. Cox/Getty Images

Your initial reaction of "Wow, that's a lot of points between two ranked teams" is not incorrect. For Alabama, this is actually well below average.
Over the past three years, Alabama has been (on average) a 21-point favorite each week. With a talented, youth-infused Ole Miss team coming to town, however, this three-touchdown number would simply be too high.
And after a lackluster performance by Nick Saban's group at home against Colorado State, taking the points at home with the Rebels is enticing. After all, Ole Miss heads into this game fresh off a bye after dominating Texas (which may vary in perceived impressiveness).
But even with the scenarios working in favor of Ole Miss, I will indeed lay the points. Alabama has a knack of getting up for big games, and this is indeed a big game. Hugh Freeze's group is incredibly impressive, but not there…yet.
Alabama will assume the role of bully it knows so well.
The Pick: Alabama (-16.5)