Miami Dolphins: X-Factors Primed for Huge Week 4 Performance
September 24, 2013

Mike Ehrmann/Getty Images
In the Miami Dolphins 27-23 victory over the Atlanta Falcons, there were plenty of unexpected heroes.
Rookie tight end Dion Sims caught the game-winning touchdown pass with one hand and only 38 seconds to spare. Jimmy Wilson forced Matt Ryan's final drive into a wall with an interception. Brandon Gibson made six more tough catches from the slot. Rishard Matthews made his first four receptions of the season including two critical catches during Miami's final drive.
Then there was rookie seventh-rounder Don Jones.
Jones blasted the Falcons' Harry Douglas on a punt return causing a game-altering fumble and making him Miami's top X-factor for Week 3.
Which under-the-radar Dolphins will break out in Week 4?
1. Olivier Vernon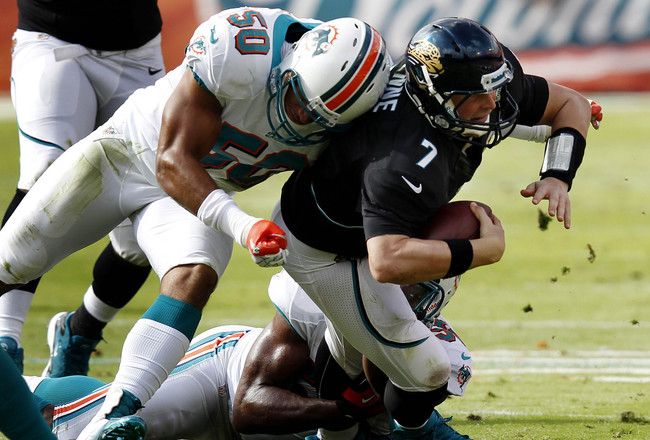 With Cameron Wake likely out against the New Orleans Saints with an MCL sprain, rookie Dion Jordan and second-year man, Olivier Vernon, will see more snaps.
While Jordan will be the popular pick to be a Monday night standout, Vernon will be the X-factor on the defensive line. According to Pro Football Focus, both Vernon and Jordan had four quarterback hurries against Atlanta, though the Oregon rookie also hit Matt Ryan on one occasion.
Also according to Pro Football Focus, it was Vernon's best game of the year, and he was among Miami's highest-rated defensive players in Week 3.
1. Dion Jordan (+4.3)
2. Olivier Vernon (+2.7)
2. Brent Grimes (+2.7)
4. Reshad Jones (+1.4)
Don't sleep on the third-rounder from the University of Miami.
2. Jonathan Martin
While defensive players are running through Daniel Thomas on their way to Miami's quarterback, Ryan Tannehill's blind side has been solidly protected throughout the season.
Jonathan Martin, who was a huge question mark before the season, has surpassed his expectations through three games. While the entire Miami offensive line is having issues with run blocking, Martin ranks second in pass protection, through three games, according to Pro Football Focus.
1. Richie Incognito (+3.0)
2. Jonathan Martin (+2.6)
3. Mike Pouncey (+2.3)
4. John Jerry (+.5)
5. Tyson Clabo (-.9)
Martin must continue to be a stalwart on the left side of the line if the Dolphins have any chance of winning at New Orleans. Miami needs to fight fire with fire, which means the second-year Texas A&M quarterback has to air it out.
3. Brandon Gibson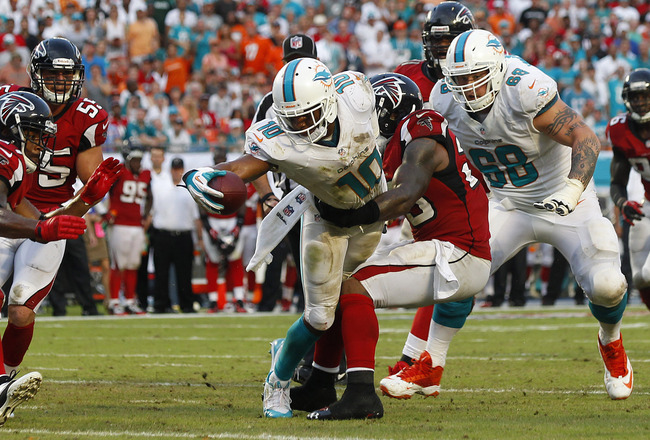 Brandon Gibson has 14 receptions for 137 yards, thus far, this season. Against Atlanta, Gibson led the team with six receptions, three of which were on Miami's game-winning drive. In that drive, Gibson converted two third downs and took the ball to Atlanta's 1-yard line on his final catch.
We know Tannehill and Brian Hartline are having stellar campaigns and, consequently, they rank eighth and sixth, respectively, in Pro Football Focus' position rankings.
Gibson ranks 47th among receivers only because he is yet to score. Expect the Washington State standout to break the plane against the Saints.