Don't look now, but the Jets, sitting at 2-1, are the top team in New York (although given the current state of the Giants, that isn't saying much).
Next up for the Green and White are the Tennessee Titans at LP Field—the exact location of last year's Monday night debacle that cost the Jets a chance at a playoff spot.
About nine months removed from that game, the Jets now have a new identity, a new quarterback and a winning record to fuel their confidence.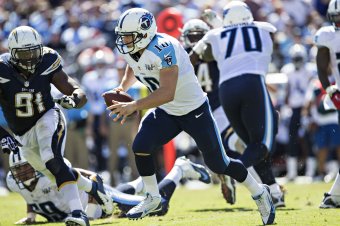 Wesley Hitt/Getty Images
Meanwhile, the Titans are enjoying a renaissance of their own. Like the Jets, few expected the Titans to enjoy much success in 2013, but they have also managed to get themselves to 2-1. As a result, this is clearly a big game, as both teams will be fighting to keep their necks above the .500 mark.
Let's break down everything you will need to know about the Jets as they prepare for Week 4.
Division Standings
While the Jets were able to gain some separation from the Bills, they are still far from the top of the division after the Dolphins and Patriots found a way to last on Sunday and remain undefeated.
The Dolphins have yet to play the Patriots, but they look like the strongest and most well-rounded team in the division. The Patriots, despite their offensive struggles, have turned in two quality defensive performances in consecutive weeks.
AFC East Standings

| | | | | |
| --- | --- | --- | --- | --- |
| Team | Wins | Losses | Points For | Points Against |
| New England Patriots | 3 | 0 | 59 | 34 |
| Miami Dolphins | 3 | 0 | 74 | 53 |
| New York Jets | 2 | 1 | 55 | 50 |
| Buffalo Bills | 1 | 2 | 65 | 73 |
http://www.nfl.com/standings
The good news for the Jets is that they have two games to play against the Dolphins later in the season that will give them an opportunity to gain some ground.
Injury Report
The Jets came away from Sunday's game relatively healthy, with one significant blemish—it appears Chris Ivory's hamstring issues from training camp have come back to haunt him, per ESPN's Rich Cimini.
Chris Ivory hamstring: Same one as camp, but injury in different spot. Given slow recovery the 1st time, team not expecting quick rebound.

— Rich Cimini (@RichCimini) September 23, 2013
Ivory was a known injury hazard when the Jets traded for him, and getting hurt in the third week of the season is no way to shake that label. As the Jets saw last year with Dustin Keller and Stephen Hill, hamstring issues tend to linger.
Hopefully, this will be the last injury issue for Ivory, but it does not bode well for his chances of returning next week.
The good news is that Quinton Coples is even further along in his recovery from a fractured ankle than the coaches expected. He played 57 out of 86 defensive snaps and could move into a full-time role next week.
What Must Improve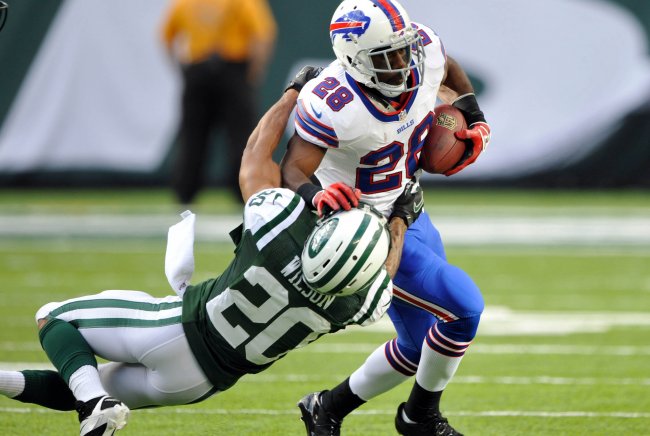 Robert Deutsch-USA TODAY Sports
The Jets actually played a very complete game on both sides of the ball, which should have resulted in a blowout victory. However, penalties and a handful of miscues gave the Bills opportunities they did not deserve.
The story of the game was the insane amount of penalties the Jets took—they would have tied the league record of 22 had it not have been for a decline and an offsetting penalty from the Bills.
The 20 penalties the Jets committed yesterday are more than 18 teams have committed all season. And Jets lead the NFL with 34 penalties.

— Brian Costello (@BrianCoz) September 23, 2013
The "highlight" of these incessant penalties came during a Bills drive that was extended multiple times thanks to continuous mistakes by Kyle Wilson. Some of the calls were questionable, but Wilson had clearly lost his cool after drawing four penalties on the same drive, which led to his (overdue) benching.
Rex praises the way Dee Milliner played. Also says Kyle Wilson was having a good game until the penalties. #nyj

— Brian Costello (@BrianCoz) September 23, 2013
Wilson was the poster boy of the penalty-ridden game, but he is not the only one to blame. Vladimir Ducasse had four penalties of his own at left guard.
Finding the right amount of emphasis on penalties can be tricky. While an increased awareness is needed, making the issue the constant center of attention can distract players from playing quickly and naturally, as they are wasting time thinking about not getting a penalty.
Rex won't divulge all of their plans for addressing penalties, but said entire org will be subject to push-ups #jets

— Kimberley A. Martin (@KMart_LI) September 23, 2013
I would not expect the Jets to draw 20 penalties per week (the Jets were the third least-penalized team in the league last year under Rex Ryan, according to TeamRankings.com), but they need to find some kind of remedy for this issue sooner than later.
And penalties were not the only issue that prevented the Jets from winning in much more convincing fashion. Turnovers and miscommunications also gave the Bills new life on a few occasions.
Here, a Jets drive is aborted because of an errant snap—Nick Mangold snapped the ball while Geno Smith was busy making line adjustments, resulting in a huge loss that flipped field position. It could have been even worse had Bilal Powell not been aware enough to run back and recover the ball.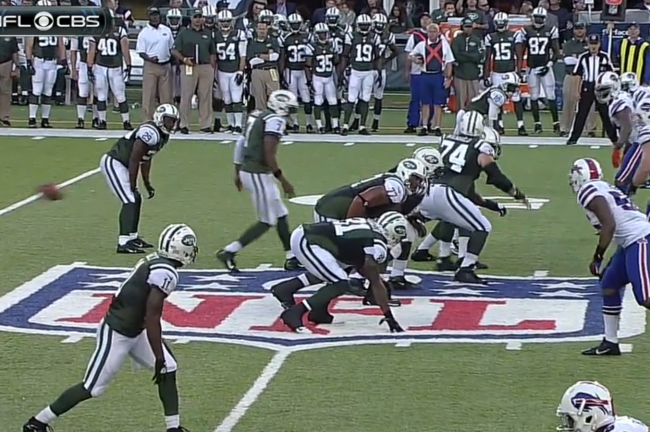 Smith's otherwise solid afternoon was marred by a pair of interceptions that revealed him as the rookie he truly is. One pass was terribly underthrown and easily picked off by former Jet Jim Leonhard.
On this second pick, Smith does not even see Kiko Alonso reading Smith's eyes in coverage to make a great play on the ball to get the interception.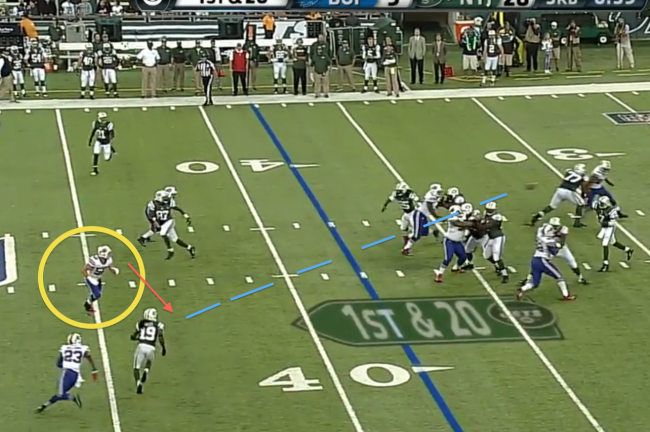 Thanks to their otherwise dominant defense, the Jets were able to overcome these mistakes, holding the Bills to four field goals despite handing them the ball in the red zone.
Geno Smith was not the only rookie to cost the Jets valuable yards because of a mistake. While he had a tremendous game otherwise, Sheldon Richardson's premature celebration on a Fred Jackson run cost the Jets about 50 yards.
Calvin Pace missed a tackle, but Richardson was too busy gloating about the run he didn't stop to catch Fred Jackson running right by him. Luckily, Antonio Cromartie made a great play to run him down and prevent the touchdown (the Bills would kick a field goal), but Richardson certainly learned the hard way to save his celebrations for after the play is over.
The good news is that there many more positives to take away from Sunday's win than negatives, no matter how embarrassing the penalty total is. After all, it is a lot easier to fix simple false starts and holding calls than it is to generate big plays and shut down dynamic running backs, both of which the Jets were able to do on Sunday.
If the Jets can just clean up their mental mistakes, they'll be a very difficult team to beat.