FIFA 14: Features and New Additions to Try Out on Release Day
EA Sports

While there can be some debate (and there obviously is) over the best sports video game on a year-to-year basis, there is no question which release wears the crown in the sales department.
EA Sports' FIFA series is nothing short of a juggernaut. Last year's FIFA 13 walked away with more than 14.5 million copies sold and included a launch that shattered records worldwide. The company claimed more than half of those copies (7.4 million, to be exact) were sold during the first month of release—the most ever for a sports game and the highest total of 2012.
Just for a fun comparison, last year's Madden 13—widely considered the most popular game in the United States—sold a record 2.55 million copies in its first month. If we're keeping score at home, that means Madden's all-time best sales month in history was a little more than a third of FIFA 13's monstrous opening.
Much like in the film industry, folks, international sales so often rule the world. And with FIFA 14 releasing Tuesday (Sept. 24) in North America with a Sept. 27 release across most of the rest of the world, let's just say EA Sports left themselves a lofty benchmark to surpass.
If you're reading this, it's either because you're on the fence or because you just want to know whether what you already plan on buying is worth the trouble. Don't worry—it is. EA Sports, as it has a tendency to do, has put a ton of effort into the Xbox 360 and PS3 versions of the game. FIFA 14 is also one of eight announced releases that Microsoft will allow you to upgrade for just $10 when making the transfer to Xbox One. (Sony has a similar upgrade system, but FIFA 14 has not been included at this time.)
So with little incentive to not go to your local store or hit the web and click "buy," let's check out a couple features and game modes that make FIFA 14 worth your time.
Career Mode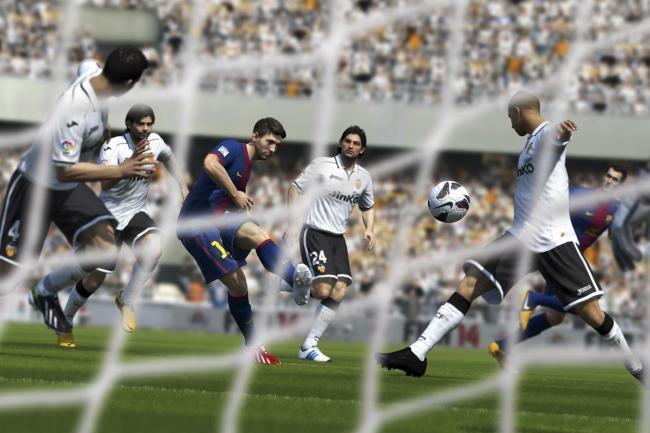 Career Mode, the game's most immersive mode, is back and better than ever in FIFA 14. For those unfamiliar with the series, Career Mode is essentially the all-encompassing hub for FIFA gamers. Like the name insinuates, you can play out a career—either as a player or manager.
Both modes are laid out like you would expect. Starting as a player allows gamers to work their way up from the lowest levels en route to becoming the next Lionel Messi—or becoming a career flameout who never amounts to all that much. Personally, I'm much more Kieran Richardson than Messi.
Alas, choosing the managerial option gives fans the more immersive experience—at least for my money. Within the mode, you can begin by managing any team in the world, starting with luminaries like Manchester City or beginning from the ground up in second-tier leagues. There have been some interface changes to the mode—notably adding the ability to forego the initial transfer window—but it'll feel mostly familiar.
Within the mode, the biggest change hardcore fans will notice is a complete revamping of the transfer and scouting portions of the game. Renamed the Global Transfer Market, gamers are given more power than they have ever had.
That can be either a good or bad thing. No longer are players easily sorted by their overall rankings, markings that automatically tell you how good or bad a player is. Instead, your scouting department, which varies in size depending on the club, will be responsible for judging whether a player is worthy of your roster. Managers of course get to choose where these scouts are stationed—and you can have up to six scouts, though that will cost a pretty penny—and the types of players you're looking for.
Sure, everyone knows Neymar is pretty good. But what about the next Neymar, languishing in his version of Santos?
Finding him will now be more your responsibility (and that of the scouts you hire) than ever.
In that same guise, player progression has also undergone a facelift. Realism has been at the height of these changes, with players going up and down in points at a much, much slower rate. Overall, FIFA 14 gamers will probably appreciate these changes—even if they aren't wholesale.
Ultimate Team
Ever want to build your own club from the ground up, only to avoid all the transfer mumbo jumbo? Well, Ultimate Team should be your cup of tea.
One of the most popular modes across EA Sports' gaming platforms, Ultimate Team has become a successful venture in and of itself. Although the mode is free to play and you can accrue currency naturally, EA Sports has made per-capita money off micro-transactions from the always-impatient consumer.
You then use that virtual currency to buy packs or enter auctions, which contain individual players or consumables (contracts, injury boosters, skill boosters, etc.).
The real winning aspect of Ultimate Team is online play. EA Sports allows you to pit your teams in tournaments, with currency being the prize for winning, and play against friends in head-to-head matches. You can, after a year of conspicuous absence, also go into traditional head-to-head matchups online. The FIFA community has always been among the best in gaming, so this is a welcome change.
In another small but welcome change, FIFA 14 also sees the number of divisions in Ultimate Team expand from five to 10. That's mostly a measure to keep people playing the mode wrong, but I'm sure as hell not going to complain about that. In accordance with the new transfer stylings of Career Mode, you should also see a sleeker, revamped transfer market screen that allows for individual player searches and other helpful features.
However, the biggest addition to Ultimate Team won't come until the next-gen consoles are released—and only then if you buy an Xbox One. The Xbox One version of FIFA 14 will allow gamers to acquire legends of the sport like Pele, Michael Owen and 37 other former greats.
Follow Tyler Conway on Twitter:
This article is
What is the duplicate article?
Why is this article offensive?
Where is this article plagiarized from?
Why is this article poorly edited?