10 MLB Rookies Who Could Make a Huge Impact in October
Stephen Dunn/Getty Images
Experience might be all the talk of sports shows as we prepare to enter the 2013 Major League Baseball postseason, but anyone watching games this year knows that the rookies can have just as much of an impact.
Talent trumps all in October. Anyone who talks about experience needs to look around the sport right now, because everything is skewing younger. That makes the game more exciting since we are able to get a lot of new blood on a national stage.
As much as the old stalwarts like Derek Jeter or Dustin Pedroia can drive ratings, I am much more interested in seeing what players like Yasiel Puig or Wil Myers can do on the biggest stage in the world.
In anticipation of this year's postseason, we found 10 rookies whose presence could play a huge role in the success of their team. Some of these names will be well known, while others might seem a little obscure, but all of them have the potential to do significant damage.
Not all of the players listed are guaranteed to be in the postseason, but their teams are still very much alive in the playoff race.
Note: All stats courtesy of Fangraphs and Baseball Reference unless otherwise noted.
Yasiel Puig, Los Angeles Dodgers

Via MLB Advanced Media

What better place to start than with the rookie who brought Hollywood to its knees?
Yasiel Puig was one of the most-hyped Cuban imports in recent memory, signed to a huge deal with the marquee franchise in Los Angeles and was tasked with taking over a spot vacated by the once-productive, still-popular Andre Ethier.
No problem.
What's been most impressive about Puig's debut season isn't just the .327/.397/.544 slash line but also the evolution in his game. He's still prone to going after the spectacular play instead of the smart play, yet we have seen some adapting to the way pitchers attack.
Puig has also gotten more selective at the plate, though I wouldn't exactly call him patient because he wants to swing from his heels the first chance he gets. But the fact that we saw his walk rate go from 4.6 percent in the first half to 10.8 in the second half is huge.
I do wonder if there is going to be a playoff game where Puig does more harm than good by trying to make a throw from right field to third base instead of hitting the cutoff man to keep a runner at first, or getting picked off first base, or some fundamental mistake he's prone to making.
It's just hard to dwell on that because the upside is so great with Puig. If anything, his star is likely to grow this October if the Dodgers are able to make a deep run.
Wil Myers, Tampa Bay Rays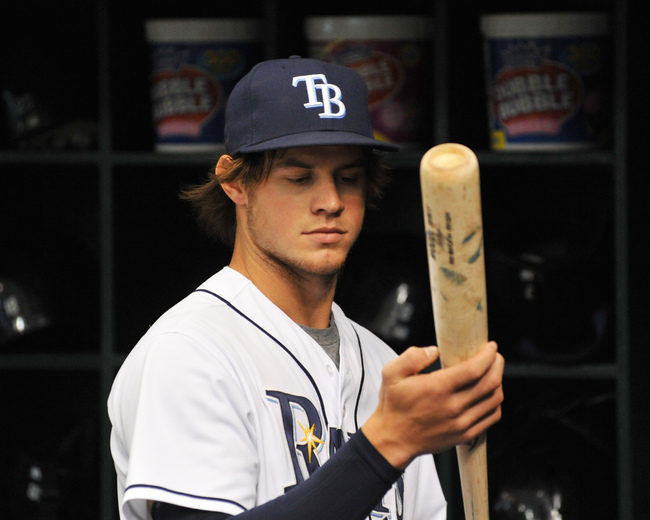 Al Messerschmidt/Getty Images
We go from arguably the top rookie in the NL to, in my opinion, the top rookie in the AL. Wil Myers was touted for his natural hitting ability and power coming up through Kansas City's system, which is why the Rays were willing to part with James Shields to acquire him.
Despite not getting called up until midseason, Myers has been the best hitting rookie in the league. Admittedly it's not a strong crop overall, but that doesn't take away from what the 22-year-old has done.
After all, Myers ranks second on the Rays in on-base percentage (.340) and slugging percentage (.480) among players with 200 plate appearances.
The Rays had a desperate need for offense last winter. They didn't have the money to sign one of the top available hitters, especially after signing Evan Longoria to a huge new extension but were able to trade from their ridiculous stable of arms to add a great, cost-controlled hitter.
Myers gives the Rays their most complete hitter since they called up Longoria back in 2008. He needs a huge postseason for them to make it out of the division series.
Julio Teheran, Atlanta Braves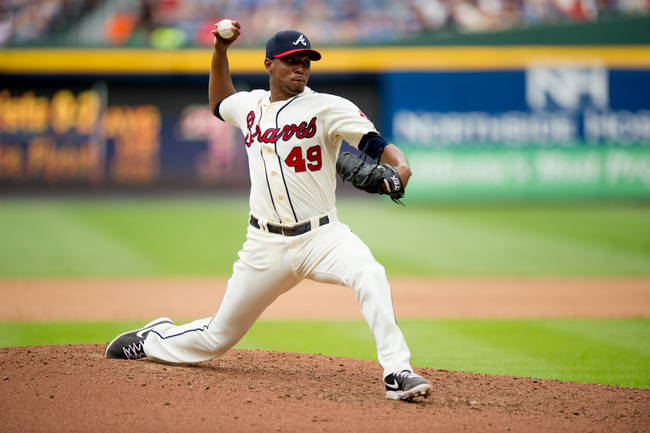 Kevin Liles/Getty Images
Like so many people who follow prospects, I had an unhealthy obsession with Julio Teheran coming up through the minors because the stuff was so good, particularly the fastball and changeup.
Then we saw him struggle in Triple-A and brief stints in the big leagues, wondering what the future held for him, and then a dominant spring seven months ago left some reasons for optimism. Of course, putting faith in spring numbers is incredibly dangerous.
But in execution during the regular season, Teheran has been everything we could have expected and more. He's made 29 starts covering 180.2 innings with 167 hits allowed, a 3.09 ERA and 3.71 strikeout-to-walk ratio.
More impressive has been the way Teheran has gotten stronger in the second half. The 22-year-old has a 2.66 ERA and 73 strikeouts in 67.2 innings. Some of those games have come against soft lineups like Miami (twice), San Diego and Chicago, but the quality of the stuff looks as good as it ever has.
The biggest addition has been a slider that gives Teheran a breaking ball that gives him something to keep right-handed hitters off balance.
Brandon Workman, Boston Red Sox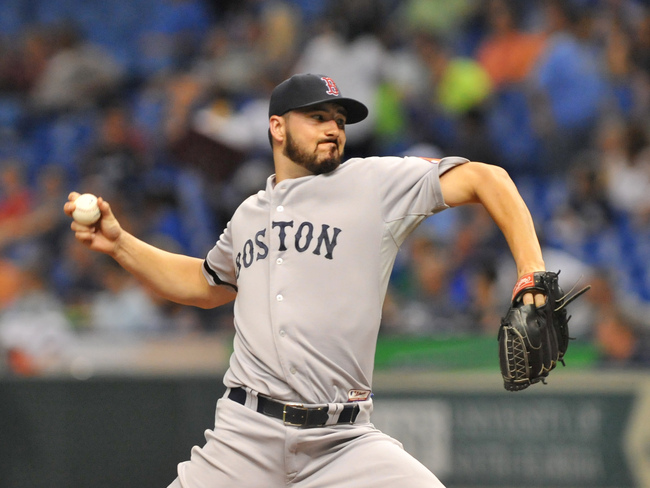 Al Messerschmidt/Getty Images
One of the reasons the Red Sox found their way back after the disaster that was 2012 is because of the bullpen. Koji Uehara is the success story in that group with 41 baserunners allowed in 72.1 innings, but there have been others who helped along the way.
Specifically, Brandon Workman has provided tremendous value to this year's Boston team thanks to his versatility. He came up from Triple-A, worked out of the rotation making three starts before moving exclusively to the 'pen.
His overall numbers don't look great with 41 hits allowed and a 46-14 strikeout-to-walk ratio in 40.2 innings, but since the start of September his strikeout rate is 11.3 per nine innings, and he has a 3.33 strikeout-to-walk ratio.
There is going to be a game or two where a Red Sox starter only goes five innings, meaning someone will be tasked with eating a few innings and keeping the team in the game. Workman has the stuff and mentality to be that kind of player.
Don't be surprised if John Farrell also starts calling on Workman in the seventh and eighth innings.
Trevor Rosenthal, St. Louis Cardinals

Via MLB Advanced Media

I am cheating a little bit here because we saw what Rosenthal can do in October last year when the flamethrower pitched 8.2 innings and gave up just two hits, two walks with 15 strikeouts.
But the rules of rookie eligibility still allow us to put Rosenthal among this year's class, thereby making it legal for us to put him on the list of impact rookies.
One of the great things about the Cardinals this season is the number of first-year players we can choose from. Shelby Miller has been one of the best young starters in the game, but he has slowed down in the second half with a 3.45 ERA and 85 base runners allowed in 62.2 innings.
Carlos Martinez could turn into this year's version of Trevor Rosenthal because the stuff is that good, and the Cardinals are likely to use his arm in relief this October, but he's still learning how to command the fastball and probably won't get as many opportunities to pitch.
Michael Wacha could be a Game 4 starter or come out of the 'pen, but since we don't know it's hard to put a lot of faith in him.
Therefore, by simple process of elimination, as well as the incredible performance he had last year and into this season (104 strikeouts in 73 innings), Rosenthal is a safe, smart, logical choice.
Sonny Gray, Oakland Athletics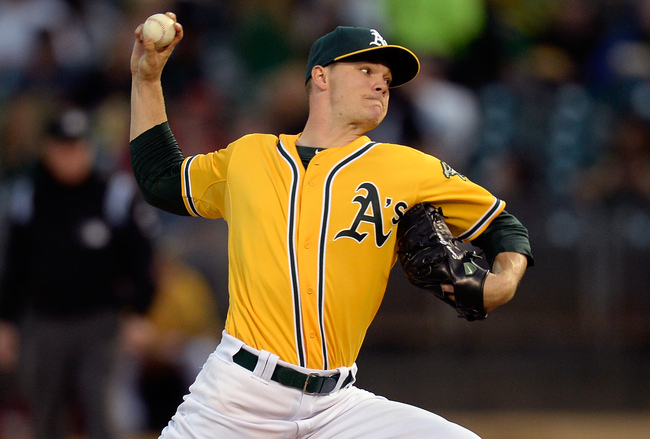 Thearon W. Henderson/Getty Images
One of my favorite players in the 2011 draft, Sonny Gray had a miserable full-season debut in the minors last year with a 4.26 ERA and 216 baserunners allowed in 152 innings. The quality of his stuff was lower than when the A's drafted him out of Vanderbilt, and the command was lacking.
Given a full offseason to prepare, Gray came back in 2013 rejuvenated and earned himself a spot on Oakland's roster after making 20 Triple-A starts in the hitter-friendly Pacific Coast League where he struck out nearly one hitter per inning (118 in 118.1 innings).
Like Brandon Workman with the Red Sox, Gray can be used in the rotation if needed or, more likely, will be a crucial weapon in relief during the postseason. Some questions about his height and lack of plane on the fastball lead some to assume that Gray's future is in the bullpen anyway, so this will provide good practice.
Considering Gray's fastball-curveball mix and dominance against right-handed hittters (30 strikeouts, 20 hits, five walks in 99 at-bats), A's manager Bob Melvin will be calling his name in big spots against hitters like Miguel Cabrera and Mike Napoli.
Billy Hamilton, Cincinnati Reds

Via MLB Advanced Media

Fans knew that Billy Hamilton was fast when the Reds called him up in early September because they had read about his insane stolen base totals in the minors the previous two years.
But the idea that anyone whose only real tool was speed would have a profound impact on a team and a playoff race doesn't really get you excited. There have been—and will be—questions about Hamilton's ability to hit enough to be an everyday player.
Still, while the long-term questions will linger going into next year when he (likely) gets the chance to make the 25-man roster out of spring training, Hamilton is proving that even in short bursts that electrifying speed is going to be a nightmare for opposing teams.
Hamilton has played in 11 games, and started just two, with 13 stolen bases and nine runs scored. He's going to get an opportunity, most likely as a pinch runner, in the postseason. It's going to force opposing teams to game-plan for him and what to do in a late-game situation.
When was the last time we thought about a player being able to steal a base as being critical to watch? That's how fast Hamilton is, and how quickly he has made his presence felt for the Reds down the stretch.
Martin Perez, Texas Rangers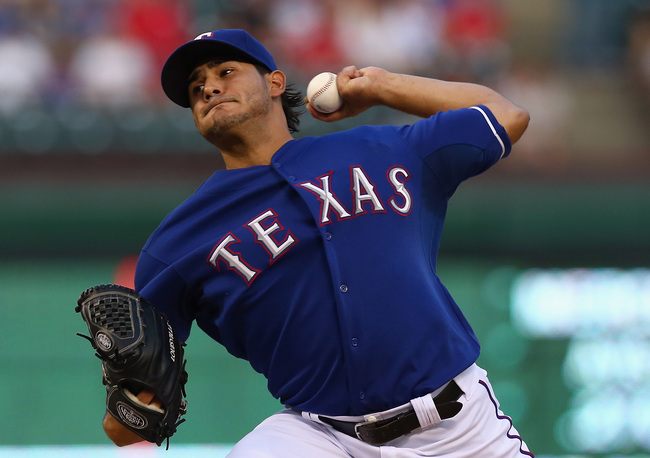 Tom Pennington/Getty Images
I will admit that of all the players on the list, Martin Perez is the one I have the least faith in making an impact. That's not meant to knock his upside at all, because I'm a huge fan of his and think the future is very bright.
But for 2013, Perez is still a little too volatile. He is still learning to command his arsenal, particularly the fastball, and has faded down the stretch as his innings climb with 23 hits allowed and eight walks in his last three starts (17 innings).
However, if the Rangers want to get creative and add depth to their bullpen, I think Perez could be a valuable asset. Let him use the fastball and slider, his two best pitches, in a one- or two-inning stint, which would also allow him to throw the heater a little harder since he doesn't have to pace himself.
That is the role I would like to see Perez in during the postseason, though I have some doubts that Ron Washington is going to do anything that creative given his general lack of strategic/tactical awareness.
Gerrit Cole, Pittsburgh Pirates

Via MLB Advanced Media

Gerrit Cole got called up too late and started too slow to really get involved in the NL Rookie of the Year debate, but he's been fantastic down the stretch for the playoff-bound Pirates. (How weird does that sound?)
In his last three starts covering 20 innings, Cole has struck out 28 and allowed just 12 hits. I know they were against Texas, Chicago and San Diego, but the quality of the stuff just gets better and better each time the 22-year-old goes out there.
If you followed Cole coming up through the minors, we have been waiting to see him dominate because the stuff is that good. Sometimes a player doesn't have it click until they reach the big leagues; other times the results won't show in the minors because they are constantly working on specific things.
Cole should be Pittsburgh's Game 1 starter, or the starter in the Wild Card playoff game, because I have infinitely more trust in him than A.J. Burnett. Francisco Liriano is a safer option based on track record, but no one offers more upside than Cole.
It's a nice dilemma for Clint Hurdle to have but one he shouldn't feel the need to think about that long.
Danny Salazar, Cleveland Indians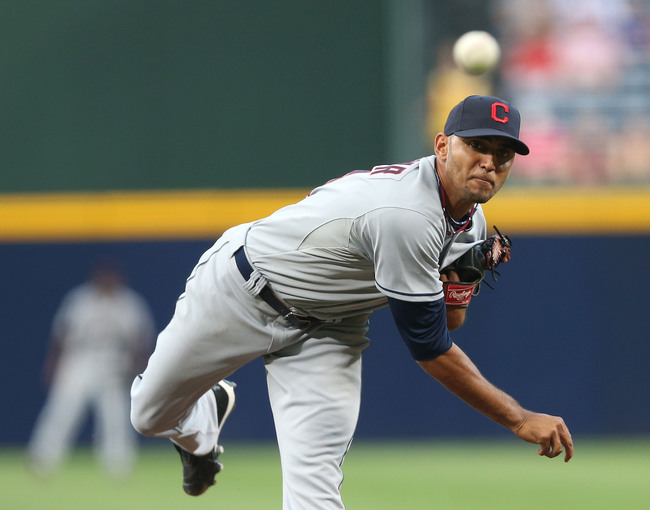 Mike Zarrilli/Getty Images
One thing the Indians have lacked over the last five years is power arms. Now, suddenly, they are flush with a lot of intriguing arms from seasons past (Scott Kazmir, Ubaldo Jimenez) and for the future (Danny Salazar).
Salazar's journey this season has been tremendous. He had Tommy John surgery in 2011 and pitched 22 games between High-A and Double-A in 2012 before spending most of this year in Triple-A.
The Indians kept him on a strict pitch count in order to protect that arm. He threw 93 innings in 21 starts before being brought to Cleveland, where the pitch counts have, for the most part, remained intact.
But his arm is electric with an easy 97 mph fastball that touches triple digits and a really good changeup. There are a lot of questions about the Indians starting pitching in a short series, so I would expect Salazar to be one of the first names Terry Francona turns to if he needs someone to throw multiple innings or get a big strikeout late in a game.
It would not be a shock to see Salazar turn into this year's version of Tim Lincecum, if the Indians are able to put together a run in October.
If you want to talk baseball, feel free to hit me up on Twitter with questions or comments.
Keep Reading