Monday Night Football Schedule 2013: Analyzing Season's Marquee Divisional Games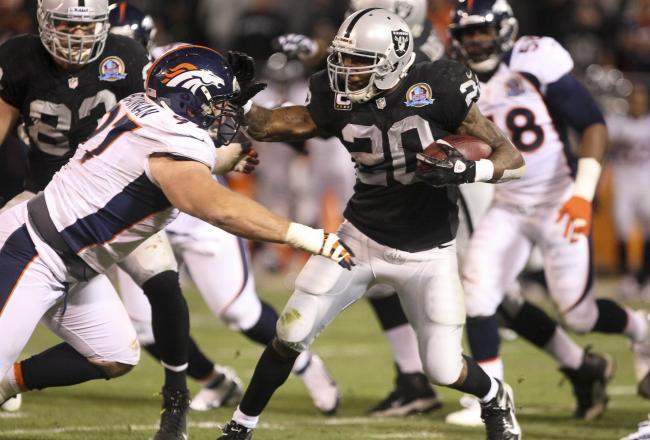 USA TODAY Sports
The 2013 Monday Night Football schedule will feature a divisional matchup for the third time in as many weeks when the Oakland Raiders take on the Denver Broncos in an AFC West battle this evening.
As prolific as the Peyton Manning-led Broncos offense has been, if the Raiders pull the upset, Denver will find itself in third place in the division, with Oakland having the head-to-head tiebreaker.
For the 1-1 Raiders, this could be a season-defining game with a victory or even a close loss. They took care of business with a win over the lowly Jacksonville Jaguars in Week 2 after playing the Indianapolis Colts tough on the road in the season opener.
Let's take a look at the entire Monday night schedule as it stands through Week 16, focusing on tonight's contest and the other divisional showdowns on tap.
Remaining 2013 Monday Night Football Schedule

| | | |
| --- | --- | --- |
| Week | Away Team | Home Team |
| 3 | Oakland Raiders | Denver Broncos |
| 4 | Miami Dolphins | New Orleans Saints |
| 5 | New York Jets | Atlanta Falcons |
| 6 | Indianapolis Colts | San Diego Chargers |
| 7 | Minnesota Vikings | New York Giants |
| 8 | Seattle Seahawks | St. Louis Rams |
| 9 | Chicago Bears | Green Bay Packers |
| 10 | Miami Dolphins | Tampa Bay Buccaneers |
| 11 | New England Patriots | Carolina Panthers |
| 12 | San Francisco 49ers | Washington Redskins |
| 13 | New Orleans Saints | Seattle Seahawks |
| 14 | Dallas Cowboys | Chicago Bears |
| 15 | Baltimore Ravens | Detroit Lions |
| 16 | Atlanta Falcons | San Francisco 49ers |
Source: ESPN.com
Week 3: Oakland Raiders vs. Denver Broncos
B/R expert Matt Bowen does a masterful job breaking down the X's and O's as to how the Broncos can limit dynamic quarterback Terrelle Pryor in the read-option attack the Raiders employ.
But a lot of that prospective effective scheme is dependent on Denver defenders making open-field tackles on Pryor on the outside or stuffing Darren McFadden between the tackles.
That's no picnic, because McFadden is one of the most talented backs in the league when healthy, and the 6'4", 233-pound Pryor delivers a vicious stiff-arm.
Tonight's starting QB: Terrelle Pryor: 162 rush yards in 2 games this season. Peyton Manning: 167 rush yards in last 10 seasons he's played.

— ESPN Stats & Info (@ESPNStatsInfo) September 23, 2013
Another potential wrinkle the Raiders could throw in is fullback Marcel Reece, who is extremely athletic and can line up as a tailback while still possessing the ability to block well.
How close will the Raiders come to beating the Broncos?
Reece can also catch the ball out of the backfield, and perhaps the Raiders were waiting for this monumental clash to fully utilize his abilities.
As Bowen points out, though, Manning and Co. threaten to overwhelm a Raider defense made up of nine new starters.
What helps Oakland is the presence of experienced safety Charles Woodson to help limit big plays down the field, but ex-Broncos corner Tracy Porter, Mike Jenkins and rookie first-rounder DJ Hayden have to step up for the Raiders to have any chance.
Star strong safety Tyvon Branch is out indefinitely, which is an absolutely devastating blow to the Oakland secondary.
This should be closer than the 16-point spread Bovada has would indicate, but the Broncos will walk away with a perfect 3-0 record. A monster performance from Manning is in order, as he has a 131 passer rating through two games.
Prediction: Broncos 38, Raiders 27
Week 8: Seattle Seahawks vs. St. Louis Rams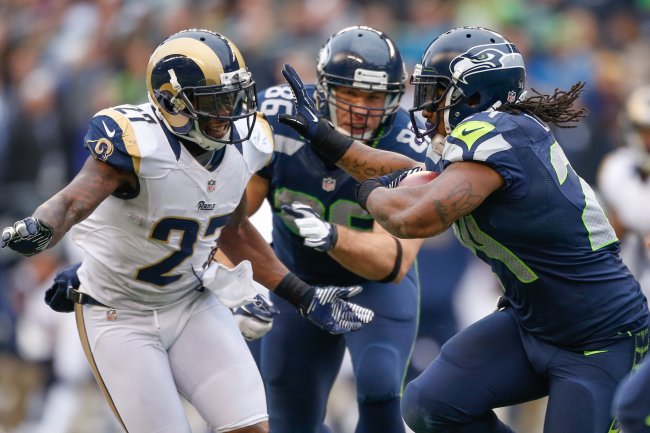 Otto Greule Jr/Getty Images
Jeff Fisher's second year roaming the Rams sidelines hasn't gotten off to an ideal start. After winning the season opener against NFC West rival Arizona, his team has dropped two straight games.
The Rams defense was meant to be formidable entering the season, and QB Sam Bradford was supposed to have his best year to date, armed with new weapons such as tight end Jared Cook and first-round receiver Tavon Austin.
St. Louis Rams remind me of 1990 Cowboys -- very young & very talented. Starting lineup has 8 first-rounders, 4 seconds & 5 thirds.

— Rick Gosselin (@RickGosselinDMN) September 20, 2013
It hasn't panned out that way. Meanwhile, the Seahawks look like the clear-cut best team in the NFC—and maybe all of football.
After surviving on the road against the Carolina Panthers in Week 1, Seattle dismantled the San Francisco 49ers and the Jaguars in successive games to move to 3-0.
Seahawks: 3 wins. The other 5 NFC playoffs teams from last year (Packers, Vikings, Redskins, 49ers, Falcons): 3 wins

— Ian Rapoport (@RapSheet) September 23, 2013
But the last time the Seahawks traveled to the Edward Jones Dome, Russell Wilson threw three interceptions and came out on the losing end, 19-13.
That was before Wilson's exponential development sparked the Seahawks to the divisional playoffs, though. Unless the Rams get their act together on defense and establish a running game (29th in the league), this could be the nail in the coffin to their 2013 season.
Week 9: Chicago Bears vs. Green Bay Packers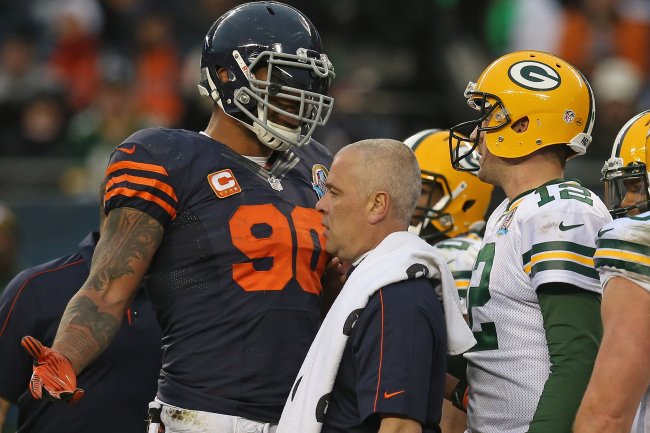 Jonathan Daniel/Getty Images
The latest chapter in the league's longest rivalry will be quite the clash. Chicago has to battle the Detroit Lions to remain atop the NFC North in Week 4 but don't have another divisional game until this one, which comes after a bye week.
The Bears have made it to the playoffs once in the previous six seasons and are going through a coaching change with Marc Trestman, while the Packers have qualified for the postseason in four of the past five years.
If you had to guess before 2013 began which team would be 1-2 and which would be 3-0, the majority would likely go with the Packers as the better team.
However, clutch play by Bears quarterback Jay Cutler and the typically rabid defense have driven Chicago to the early lead in the division and into the discussion as a legitimate Super Bowl contender.
"Jay Cutler is starting to grow up under new coach Marc Trestman." - @RealSkipBayless

— ESPN First Take (@ESPN_FirstTake) September 23, 2013
When the Pittsburgh Steelers threatened to come back in Sunday night's game, Cutler rifled this beautiful 17-yard touchdown strike to Earl Bennett in the fourth quarter:
Video Credit: NFL Network
That came after Cutler tossed game-winning touchdowns in the final quarter in each of the Bears' first two victories.
It remains to be seen how Green Bay will bounce back from a disappointing Week 3 loss in Cincinnati, but one can presume that QB Aaron Rodgers won't let his team stay down.
The Packers have a bye week to lick their wounds. In terms of what should be prioritized in that span, Dom Capers must figure out how to plug his sieve of a defense before this midseason clash takes on a little less meaning.
This article is
What is the duplicate article?
Why is this article offensive?
Where is this article plagiarized from?
Why is this article poorly edited?