Analyzing the Frightening Events Surrounding Jermichael Finley's Concussion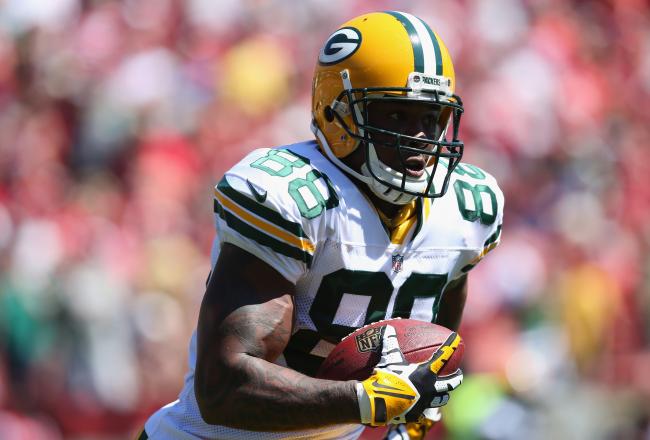 Jeff Gross/Getty Images
By now, many fans can identify when concussion alarm bells are ringing, but Green Bay Packers tight end Jermichael Finley's brought something new to the table.
According to Will Brinson of CBS Sports, Finley suffered his injury when Cincinnati Bengals safety George Iloka delivered a blow to the side of Finley's head. The official Packers Twitter account had the news shortly thereafter, but not before those watching witnessed this terrifying scene, courtesy of @gifdsports.
While the sight of Finley stumbling about is disturbing—and enough to draw up considerable concern for the tight end's well being—loss of balance is just another symptom in the post-concussive spectrum.
Let's take a closer look.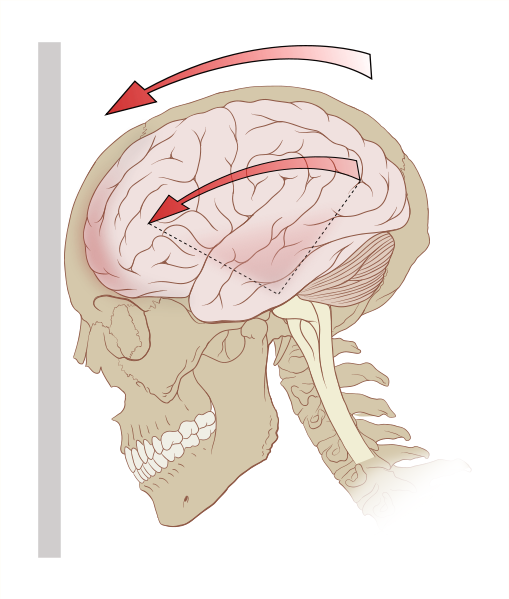 As with all concussions, Finley's troubles began immediately following the moment he impacted Iloka.
While Finley's skull immediately stopped, his brain continued moving within it due to the principle of inertia.
Whether or not Finley's brain contacted the inside of the skull is not entirely relevant. Modern medicine and research debunked the idea that concussions are solely "brain bruises" some time ago, and instead, it's likely the brain's relative motion that counts.
Why?
CNN's Dr. Sanjay Gupta explains the basics of a concussion.
When the brain moves sharply within the skull, neurons—brain cells—begin to change on the cellular level.
First, they fire uncontrollably. They also begin to use glucose—or blood sugar, the brain's fuel source—less efficiently. Blood flow to the brain decreases as well.
While the precise mechanism of a concussion remains relatively obscure to the medical community even to this day, modern theory holds that changes in the brain's angular and rotational momentum are most culpable.
That's exactly what happened to Finley.
A freeze frame of the hit makes it clear that Iloka applied a large amount of rotational stress to the upper-right portion of Finley's head, sending it spinning down and to the left.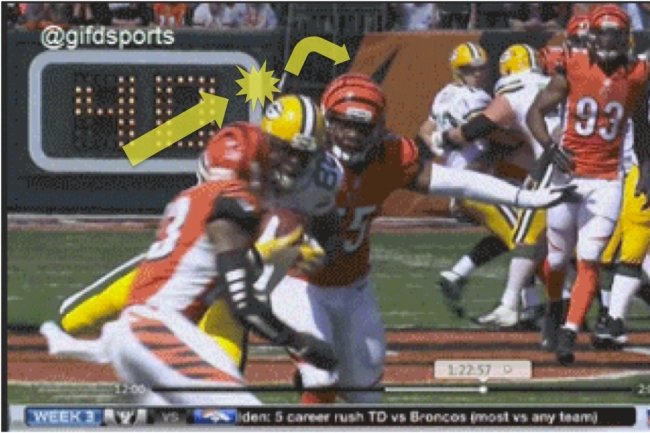 As a result, Finley's brain rotated to the right along the axis running through his nose and to the back of his head.
In other words, in addition to other directions not mentioned here, Finley's brain experienced a large amount of angular momentum shift.
The consequence?
Symptoms.
All concussions produce one or more of a constellation of symptoms including, but nowhere near limited to:
Headache
Nausea
Confusion
Loss of balance
Dizziness
The last two especially pertain to Finley.
In the broadest sense, after a concussion, the brain as a whole slows down.
The injury can also affect all areas of the brain.
For instance, slowed cognitive centers lead to confusion or impaired thinking.
On the other hand, malfunctioning motor centers yield poor balance—easily visible in Finley's case.
How often do you feel like you can diagnose a concussion from the sofa?
Yet why doesn't this show up more often?
Actually, it probably does. It's just usually not as obvious.
For example, much of the time, athletic trainers help an obviously concussed player onto his feet.
Additionally, in Finley's case, rather than lying on the ground after his injury, he attempted to jog off the field.
However, rather than allow for a quicker return to the sideline, Finley's jogging made obvious the unsteadiness and dizziness he was experiencing.
Fortunately, despite the scary visual, the Packers tight end should recover from his concussion just as countless other athletes have in the past.
The exact recovery timetable remains up in the air—as it does with any concussion—but his loss of balance is a mere byproduct of the injury rather than a harbinger of something more serious yet to come.
Dr. Dave Siebert is a resident physician at the University of Washington. Information discussed above is based on his own knowledge and experience evaluating dozens of concussions in the clinic, training room and emergency room settings.
This article is
What is the duplicate article?
Why is this article offensive?
Where is this article plagiarized from?
Why is this article poorly edited?