Road teams had a tough time winning last week, but the Cincinnati Bengals are one team that is a lock to win away from home in Week 4.
Home teams went 11-5 in Week 3 after going 12-4 in the second week of the season. While home-field advantage has been huge this season, talent usually wins games.
There will be several key games this week, especially in prime time. The New England Patriots will travel to the Georgia Dome to take on the Atlanta Falcons, who simply do not lose at home. The Miami Dolphins will head to the Superdome to face the New Orleans Saints on Monday night, and Sean Payton's team rarely loses at home.
Those marquee matchups can go either way, but there are several games in which the home team will have no chance of winning. Division games are tough no matter where they are played, but some of this week's matchups are mismatches.
Below is the full schedule for Week 4, along with a list of teams that are sure to win on the road.
2013 NFL Schedule-Week 4

| | | | | |
| --- | --- | --- | --- | --- |
| Date | Time (ET) | Away | Home | Prediction |
| 9/26 | 8:25 p.m. | San Francisco 49ers | St. Louis Rams | 49ers |
| 9/29 | 1 p.m. | Baltimore Ravens | Buffalo Bills | Ravens |
| 9/29 | 1 p.m. | Arizona Cardinals | Tampa Bay Buccaneers | Cardinals |
| 9/29 | 1 p.m. | Pittsburgh Steelers | Minnesota Vikings | Steelers |
| 9/29 | 1 p.m. | New York Giants | Kansas City Chiefs | Chiefs |
| 9/29 | 1 p.m. | Indianapolis Colts | Jacksonville Jaguars | Colts |
| 9/29 | 1 p.m. | Seattle Seahawks | Houston Texans | Seahawks |
| 9/29 | 1 p.m. | Cincinnati Bengals | Cleveland Browns | Bengals |
| 9/29 | 1 p.m. | Chicago Bears | Detroit Lions | Bears |
| 9/29 | 4:05 p.m. | New York Jets | Tennessee Titans | Titans |
| 9/29 | 4:25 p.m. | Washington Redskins | Oakland Raiders | Redskins |
| 9/29 | 4:25 p.m. | Philadelphia Eagles | Denver Broncos | Broncos |
| 9/29 | 4:25 p.m. | Dallas Cowboys | San Diego Chargers | Cowboys |
| 9/29 | 8:30 p.m. | New England Patriots | Atlanta Falcons | Falcons |
| 9/30 | 8:40 p.m. | Miami Dolphins | New Orleans Saints | Saints |
Kyle Newport
San Francisco 49ers at St. Louis Rams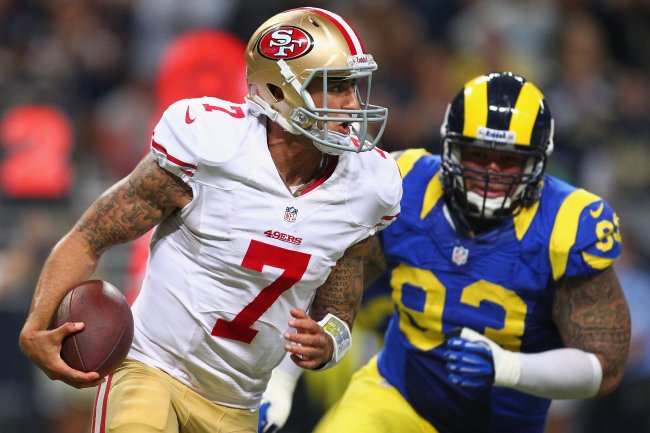 Dilip Vishwanat/Getty Images
The St. Louis Rams played San Francisco tough last season. Despite going to the Super Bowl, the 49ers couldn't find a way to beat the Rams. Both games went to overtime and St. Louis went 1-0-1.
Are the San Francisco 49ers still Super Bowl contenders?
The 49ers enter Thursday night's game on a two-game losing streak, having been outscored, 56-10, in the last two weeks. Colin Kaepernick has thrown for only 277 yards total in the two losses.
For a team that was expected to contend for a Super Bowl title, the 49ers are searching for answers.
Luckily, the Rams rank 23rd in pass defense and 17th against the run. Kaepernick will be able to beat St. Louis with his arm and his legs. Anquan Boldin has been limited to 74 yards in two games since his 208-yard outburst in the 49ers' opener.
The key for San Francisco will be to get the ball to Boldin. If it can do that, Boldin will be able to lead the 49ers to victory.
Cincinnati Bengals at Cleveland Browns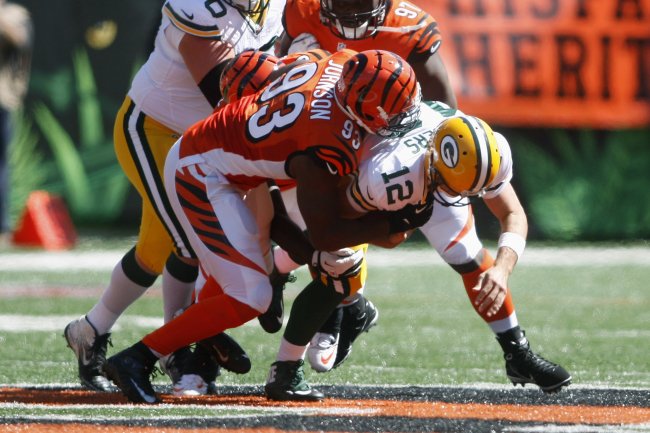 John Grieshop/Getty Images
The Browns won the last meeting between the Ohio rivals in Cleveland, 34-24, last October, but these are two completely different teams from a year ago. The Bengals outgained the Browns, 438-328, in that game, but lost the turnover battle, 4-1.
Before that Browns' win, Cincinnati had won four straight, and six of seven, games in the series.
A lot has changed since 2012, as the Bengals added Tyler Eifert and Giovani Bernard to their offense. Bernard is on a great run right now with 99 yards in his last outing and three touchdowns in two games.
Are the Cincinnati Bengals legitimate contenders in the AFC?
Cleveland, on the other hand, has lost some talent. Trent Richardson is no longer with the team, so this game could turn ugly.
The Bengals at least had to respect Richardson's ability to run the ball, but now the Browns are looking for playmakers at running back. Leon Hall and Adam Jones can contain Josh Gordon, so the passing game will have a hard time moving the ball.
Brian Hoyer looked decent against the Minnesota Vikings, but the Bengals have a much better defense. Geno Atkins, Michael Johnson and Carlos Dunlap lead the NFL's best defensive line, which was able to sack Aaron Rodgers four times and force three turnovers.
The Bengals have a lot of talent on offense. Meanwhile, the Browns won't be able to move the ball the way they did last week. Cincinnati played Chicago tough and has beaten Pittsburgh and Green Bay. The Bengals are playing at a high level and the defense will shut down the Browns' offense.
Indianapolis Colts at Jacksonville Jaguars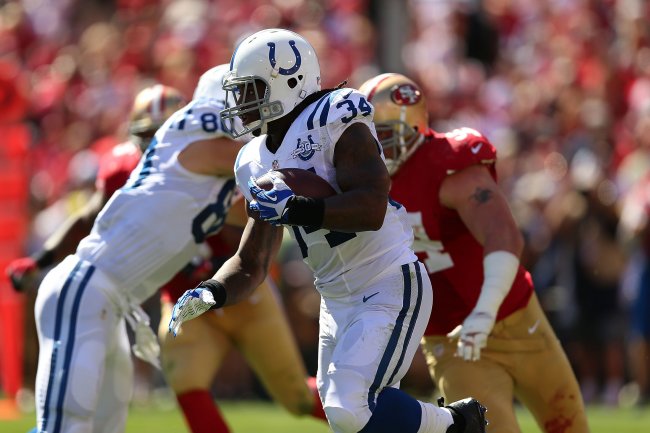 Jed Jacobsohn/Getty Images
The Colts just went into San Francisco and physically dominated the 49ers. A huge win like that could set a team up for a letdown the following week, but the Jaguars have a lot of issues.
Will the Jacksonville Jaguars win a game this season?
New Colts running back Trent Richardson will have a big game this week. He had a touchdown on his first carry for Indy in San Francisco, but finished with only 35 rushing yards in his debut. Now he will go up against the worst run defense in the NFL, so the Colts will be looking to get him involved in the game plan.
This will be a game for Andrew Luck to get into a rhythm with his new running back. The Colts can run the ball at will against the Jaguars and Luck will move his team down the field with his arm when necessary.
Indianapolis just had arguably its biggest win since Luck was drafted. A big win against a Super Bowl contender will have the Colts looking like one of the AFC's best teams.
*All stats are courtesy of NFL.com