Daryl Richardson began the regular season as the St. Louis Rams' starting running back, but a foot injury raises the fantasy value of his backups.
Jim Thomas of the St. Louis Post-Dispatch first reported prior to Sunday's game that the running back was dealing with an injury:
Keep an eye on RB Daryl Richardson. He did very little in practice Friday. I'll be interested to see how much he plays.

— Jim Thomas (@jthom1) September 22, 2013
While Richardson was active and started the game, he did not last long:
RB Daryl Richardson was in for only one play, got his injured foot stepped on, and that was it.

— Jim Thomas (@jthom1) September 22, 2013
The Rams ended up accomplishing very little offensively against the Dallas Cowboys without their lead back, losing 31-7.
Considering the team has a short week before playing Thursday night against the San Francisco 49ers, it seems unlikely Richardson will be able to suit up. This means that either Isaiah Pead or Benny Cunningham will get an opportunity to showcase his ability.
Due to the nature of Sunday's contest, St. Louis was forced to abandon the run early on. Therefore, the two backups only combined for 10 carries on the day, managing only 36 rushing yards combined. However, Nick Wagoner of ESPN provided this important distinction between the two running backs:
Rams RB Daryl Richardson played two snaps before aggravating foot injury yesterday. Pead played 42, Cunningham got 22.

— Nick Wagoner (@nwagoner) September 23, 2013
Additionally, Pead found a big role in the passing game, grabbing catches on all seven of his targets for a total of 43 receiving yards.
The Rams utilized Richardson a lot out of the backfield in the first two games. The second-year player had 10 catches for 78 yards entering Week 3, which helped overcome less-than-stellar numbers on the ground.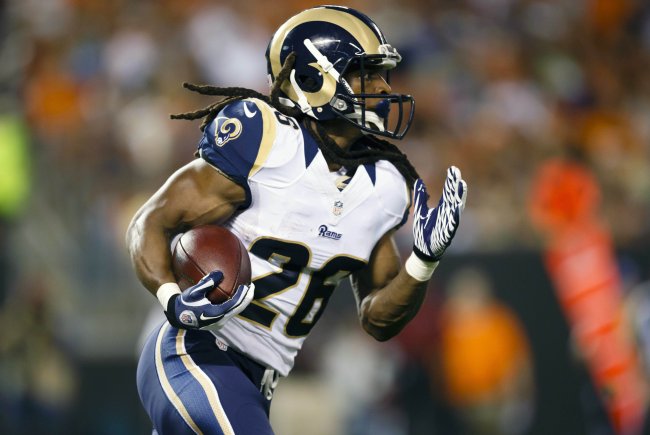 Rick Osentoski-USA TODAY Sports
If Pead is able to step into this role, he could be worthwhile in fantasy as someone who can rack up yards consistently. He also earned a big first down on a 4th-and-1 late in the game, which should give the team confidence in some goal-line carries going forward.
The former Cincinnati player was actually highly touted coming out of college and was selected by the Rams in the second round of the 2012 draft. However, Richardson—drafted in the seventh round—passed him on the depth chart.
This injury could give Pead a chance to finally reach his potential with the offense. He certainly has a bigger likelihood of breaking out than Cunningham, who is still new to the system after going undrafted last April. He has some explosiveness on kickoffs, but he does not yet have the trust of the coaching staff or the strength to be an every-down back.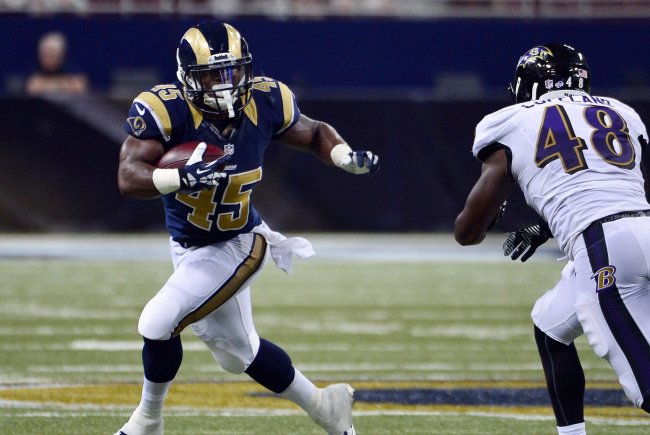 Scott Rovak-USA TODAY Sports
While the rookie might get some touches while Richardson is out, Pead should be the go-to player out of the backfield, and he is worth an add in standard fantasy leagues. Considering the 49ers have allowed 351 rushing yards and five touchdowns in the past two games combined, he is even worth a start in Week 4 if you need a running back.
Even if you keep him on the bench, a strong performance by Pead could give him a bigger role in the Rams offense for the rest of the season, making him a solid fantasy player going forward.
Follow Rob Goldberg on Twitter for the latest breaking news and analysis.