The XI: Picking the Best Test Side Featuring Players over 35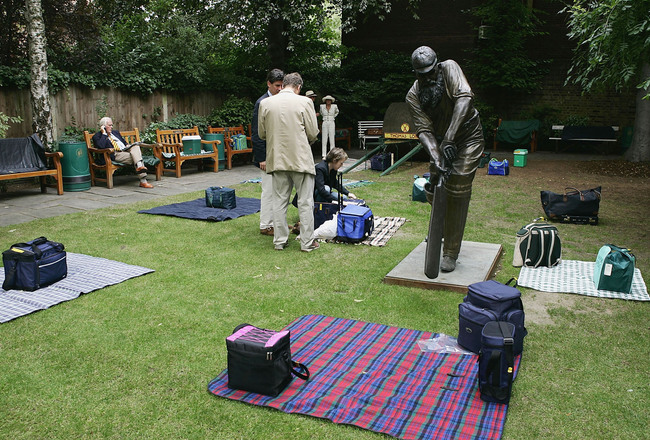 Tom Shaw/Getty Images
Picking a best XI with players currently 35 or older is a near-impossible task. Most fast bowlers have hung up their spikes and the rest will have to be plucked from obscurity from somewhere in county circuits and many have long passed their sell-by date.
Players like Chris Rogers returning to Australia this summer at 35 and suddenly making their mark are rarer than ever.
But that said, there have been, historically, many great players who have turned in fine performances later in life.
Using the criteria of players who were 35 and older while they were still playing makes the task somewhat easier. Although this is probably not an all-time XI of 35 or older, it's an opinion-based best. One of the trickiest aspects of picking a Test XI 35 and older is finding enough fast bowlers to plug the gaps. Cricinfo's list of oldest bowlers to take five wickets in a Test innings came in rather handy.
There are just a few players over 35 still regularly playing at Test level. Sachin Tendulkar, Misbah-ul-Haq, Shivnarine Chanderpaul, Saeed Ajmal, Chris Rogers and Jacques Kallis. In the years gone by, though, many played well past that age and Cricinfo lists some of them.
CricketArchive also has a list for oldest players to make their Test debut. What is age but a number anyway? So many cricketers who have had illustrious and long careers have shown that in the past.
This XI is based solely on opinion, largely in an effort to pick those who still performed to a high standard when their sell-by date probably should have been long gone. There are no doubt a few notable omissions. So please, do add your thoughts of who should have been included in the comments.
Graham Gooch
Graham Gooch famously, or infamously, got better as he got older. You can insert the cliche about a fine wine or cheese here.
Banned from cricket after leading a rebel tour to South Africa, he eventually returned after three years and became better and better as he approached 40. He retired in 1995 with 8900 runs in Tests at an average of 42.58.
Jack Hobbs
Sir Jack Hobbs was the first cricketer ever to be knighted and retired after he was 50. He scored a flurry of runs while he was over 40 and remains the oldest man to score a century in Tests - he was 46. Hobbs retierd in 1930 with 5410 runs in 61 Tests at an average of 56.94.
Don Bradman
Not much needs to be said about Donald Bradman. His average of 99.94 still has cult status in all cricketing circles. He played until he was well into his 40s. With 29 centuries in 80 innings, Bradman still remains unrivalled in his batting prowess.
WG Grace
WG Grace retired at the age of 51 having played 22 Tests and although no one who is still alive can remember seeing him play.
Although his Test stats look somewhat mediocre with 22 Tests, 1098 runs and an average of 32.29, it's his first-class career which makes him so fascinating. With 870 games and over 54,000 runs and once scoring 839 in just eight days, when he whacked a couple of triple centuries, he is unrivalled as one of the greatest all-time first class cricketers.
Rahul Dravid
Rahul Dravid retired from international cricket at the age of 39 in 2012 with a mammoth tally of 13 288 runs in Tests at an average of 52.31. He's still giving it a crack in the T20 format, but will the final curtain will fall on his career at the end of this Champions League T20? Reports indicate it probably will.
For the purposes of this exercise, Dravid also takes up the keeping gloves in the team. He was not a regular wicketkeeper, but did step in to the role whenever asked by his India teammates.
Jacques Kallis
Still going strong at the tender age of 37, Jacques Kallis is one of the finest cricketers and best all-rounders the world has ever seen. it took him two decades to score his first double hundred, but his all-round efforts for South Africa during that time cannnot be matched. With 162 Tests, 13 128 runs at an average of 56.10 and 288 wickets to boot, who knows how his stats will stack up when he eventually hangs up his spikes.
Basil D'Oliveira
Photo credit; http://i.telegraph.co.uk/multimedia/archive/02060/BasilD_Oliveirapa_2060288c.jpg

Basil D'Oliveira or "Dolly" as he was affectionately known was a fine cricketer and a legend of the game for being at the centre of the storm which would lead to a sporting boycott of the South African years. That was largely thanks to what became known as The D'Oliveira Affair.
He played 44 Tests for England, scored 2484 runs at an average of 40.06 and picked up 47 wickets, too, before eventually retiring at the age of 41.
Richard Hadlee
Richard Hadlee remains one of the oldest players to take five wickets in an innings. When he snapped up five for 53 against England in 1990, he was 39 years old. He retired after that Test with 86 Tests and 431 wickets under his belt at an average of 22.29.
Shane Warne
Shane Warne was 37 when he took five for 39 against England in 2006. He was 38 when he retired from Test cricket with 708 wickets at an average of 25.41 in 145 Tests, and played T20 in Australia and the IPL until well into his 40s, with some considerable success.
Lance Gibbs
Lance Gibbs is the eighth-oldest player to pick up five wickets in a Test, at the age of 41. His figures of five for 102 against Australia in 1975 are perhaps somewhat unremarkable, but he had a decent career prior to that. In an era where West Indies fast bowlers ruled the roost, Gibbs was a spinner who applied himself aptly. Said to have "unusually long fingers", he played up until the age of 42. He was the first spinner and only the second ever bowler to pass 300 wickets and did so at a remarkable economy rate of 1.99.
Courtney Walsh
Courtney Walsh soldiered on for the West Indies until he was 39, one of the very few fast bowlers to manage to extend their career quite so long. At the ripe age of 38, he proved he'd still got it when he bagged six for 61 against South Africa at Port of Spain in 2001, and while his pace came down his accuracy and guile rarely wavered. He finished his career with 132 Tests and 519 wickets at an average of 24.44.
Keep Reading