Rashad Johnson Injury: Updates on Cardinals Safety's Finger, Return Date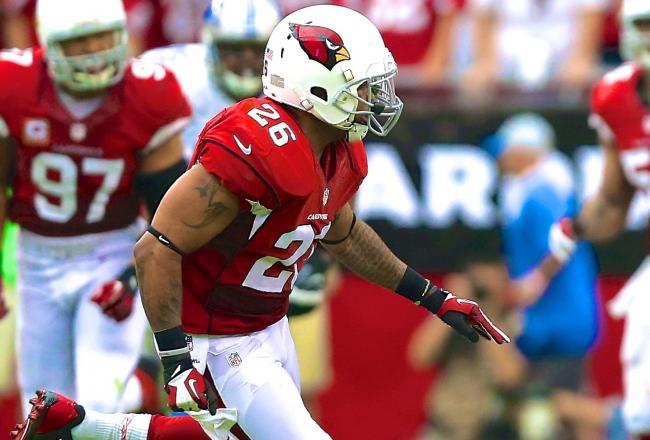 Arizona Cardinals safety Rashad Johnson suffered a bizarre and gruesome injury in the midst of the team's blowout loss to the New Orleans Saints in Week 3. According to Kent Somers of the Arizona Republic, the 27-year-old lost the top of his left middle finger and did not realize it until after he removed his glove.
S rashad Johnson lost top of right middle finger Sunday. Took glove off and finger was still in

— Kent

Somers

(@kentsomers) September 23, 2013
Johnson underwent surgery Sunday night and now has to carefully monitor the finger for infection.
Johnson had surgery yesterday. Bone was exposed so must watch for infection.

— Kent

Somers

(@kentsomers) September 23, 2013
He said he was hopeful he could play in Week 4 against the Buccaneers, but doctors reportedly did not clear him for action. He was inactive for Weeks 4 and 5, but is back for Week 6.
UPDATE: Sunday, Oct. 13
Darren Urban of AZCardinals.com confirms Rashad Johnson is active for Week 6:
#AzCardinals inactives: QB Lindley, RB Williams, LB Minter, LB Demens, T Massie, TE Jefferson, DE Talley. #AZvsSF

— Darren Urban (@Cardschatter) October 13, 2013
UPDATE: Sunday, Oct. 6
From Darren Urban of AZCardinals.com:
G Colledge active. #AzCardinals inactives: QB Lindley, WR Taylor, RB Williams, S Johnson, LB Brinkley, T Massie, TE Jefferson. #CARvsAZ

— Darren Urban (@Cardschatter) October 6, 2013
UPDATE: Wednesday, Oct. 2
Alex Marvez of Fox Sports confirms Rashad Johnson's finger injury is still bothering the Cardinals' safety and passes along a statement from Arizona's head coach Bruce Arians:
"There was a slight infection after the first hit, when they had the cast on," Arians told co-host Bill Polian and me on SiriusXM NFL Radio on Tuesday night.

"There's no telling what germs you're trapping in there when you ball it up and put the cast on. The stitches are still there. He could evidently lose more of the digit if he bangs it too much, and with any infection they could have to take more off. We're going to be careful with it."

Arians described the cast that Johnson practiced with last Thursday as a "mitt." Johnson is being fit with a new cast, but his playing status for Sunday's home game against Carolina remains in question.
Arians went on to explain the decision that went into sitting Johnson in Week 4, courtesy of Marvez:
"Once he felt any pain, I said, 'No way,' '' Arians said. "He is a great leader for us. I was really hoping we could get special teams out of him because he's a dynamic special-teams player.

"We're going to try a different cast this week, but as well as those three young safeties played, we're not going to take any risks with that finger."
UPDATE: Sunday, Sept. 29
From Darren Urban of AZCardinals.com:
#AzCardinals inactives: S Johnson, QB Lindley, LB Minter, RB R Williams, T Massie, G Watford, NT D Williams

— Darren Urban (@Cardschatter) September 29, 2013
UPDATE: Sunday, Sept. 29
From ESPN's Adam Schefter:
Cardinals S Rashad Johnson, who lost top portion of middle finger last week, will not play today vs. Tampa Bay. Doctors did not clear him.

— Adam Schefter (@AdamSchefter) September 29, 2013
UPDATE: Sunday, Sept. 29
ESPN's Josh Weinfuss confirms Rashad Johnson has yet to be cleared by doctors heading into today's contest against the Buccaneers:
Less than a week since he lost the tip of his left middle finger during a game, Arizona Cardinals safety Rashad Johnson is questionable for Sunday's matchup against the Tampa Bay Buccaneers.

Johnson said he hasn't been cleared by team doctors but the pain has improved every day.
Weinfuss continued with a statement from Cardinals head coach Bruce Arians:
"I think he can play in a backup role," Cardinals coach Bruce Arians said. "He definitely can play in special teams and do some things for us. His leadership is something I value and I'd like to have him out there."

[...]

"It's just a fingertip," Arians said. "It could've been a lot worse. I think he's got a football mentality."
Weinfuss followed with a statement from Johnson:
"I was able to move around and do everything I needed to do," Johnson said. "The only thing is just the physical activity on a Friday. Of course there's no pad work.

"It's still just a few more things that we want to look at before I'm 100 percent on it."

[...]

"With the cast and everything the way we plan to do it, [I'm] just going to go out and let it loose and play ball," Johnson said. "Can't really go out and play in fear. That's when you make mistakes and big plays happen. If I'm cleared to play, and I go out and I play, I'm going to play all out the whole time."
UPDATE: Friday, Sept. 26
From AZCardinals.com's Darren Urban:
S Rashad Johnson was practicing during the open portion today. LB Kevin Minter remained off to the side. #AZvsTB

— Darren Urban (@Cardschatter) September 27, 2013
UPDATE: Friday, Sept. 27
ESPN's Greg Garber has the latest on Johnson's plans for Week 4:
"Yes, in my gut, I think I'll play," he told ESPN on Thursday. "But it will really come down to getting cleared by the doctors. They're going to want to make sure everything is OK."

Johnson said he practiced without pads Thursday and got his "heartbeat up to see how the finger responded."

He said he hoped to practice Friday with pads to see whether "the finger can do all the things you need to do in a football game."
UPDATED: Tuesday, Sept. 24
Rashad Johnson thanked fans for their support on Twitter before posting graphic images of his finger injury:
Want say thank u to all the prayers and positive energy for my recovery. Truly appreciate u all! My God is a healer, I'm just a believer!

— Rashad Johnson (@49foyamind49) September 23, 2013
#thefinger Blessed to be able to still go out and do what I love this season. #thankful #trulyblessed #birdgang pic.twitter.com/Z9WYq5TUz1

— Rashad Johnson (@49foyamind49) September 24, 2013
Johnson appeared on The Dan Patrick Show to discuss the injury:
UPDATE: Monday, Sept. 23
Jason McIntyre and Michael Shamburger of The Big Lead provided a GIF of the play where Johnson is to believed to have suffered the injury:
UPDATE: Monday, Sept. 23
Somers alleges that the injury took place during a punt return in the second quarter as the Alabama product attempted to tackle Darren Sproles. There is a possibility that Johnson smashed it into the turf, but it's currently uncertain if that is what actually caused the top of the finger to be removed.
Johnson's injury happened on a punt return, tackling sproles. Not sure what happened, might have smashed in ground. #AZCardinals

— Kent Somers (@kentsomers) September 23, 2013
Johnson initially stayed in the game despite suffering the injury, according to Kevin Patra of NFL.com.
Doctors needed to shave the bone on the safety's hand and then repair it, which Somers says caused him to lose everything down to the first knuckle.
Drs shaved bone on Johnson's finger and repaired. Lost about down to first knuckle

— Kent Somers (@kentsomers) September 23, 2013
As others have clarified, rashad Johnson did not return to game. Had finger repaired at hospital during 2nd half

— Kent Somers (@kentsomers) September 23, 2013
Johnson responded to Paul Pabst of The Dan Patrick Show on Twitter Monday morning discussing the injury:
@PaulPabst lost top portion of it. Had exposed bone and skin shaved down yesterday and stitched up. Prob most painful injury I've had.

— Rashad Johnson (@49foyamind49) September 23, 2013
He also responded to a Twitter user requesting the Cardinals safety post a picture of his injury:
You prob don't want see tht 4real. RT @BMRoyst: Twit pic your finger @49foyamind49

— Rashad Johnson (@49foyamind49) September 23, 2013
It's unknown when Johnson is set to return, but hopefully the team can get him back on the field sooner than later. He's one of three defensive starters who were injured Sunday, a list that also includes outside linebackers Lorenzo Alexander and Sam Acho, per the Associated Press via the Miami Herald.
Original Text
As soon as the news broke, NFL fans worldwide immediately thought of Hall of Famer and San Francisco 49ers legend Ronnie Lott, who infamously suffered a similar injury. Lott once spoke in detail about the situation:
Tim Newsome, who was the fullback at the time for the Cowboys ... I was just going to try and bring him down. And before I could get my hands out, his helmet ran into my pinky and rammed it into my chest. And the tip of my finger, as my buddy said, "exploded" and I lost the front of it and fractured the tip fairly bad.

And the story goes that I cut it off right in the middle of the locker room—which I didn't. But I did get ready for the following week. I wanted to sacrifice to succeed.
Johnny Miller of SFGate.com chronicled Lott's now legendary story:
...doctors looked at the badly damaged finger on Ronnie Lott's left hand and gave him two choices. They could operate, graft a bone from the wrist, insert a pin and have him wear a cast for the next eight weeks. Or they could amputate just above the first joint. Lott made what coaches like to call "the football decision." He told them to cut off the end of his finger. It was a simple procedure. He held out his hand, they numbed it and snipped off the finger tip and put his hand in a cast.
Johnson is listed as the starting free safety on the team's official depth chart, though the third-round pick in the 2009 draft is generally viewed as a key special teams performer, according to the team. Johnson's special-teams abilities allowed him to cash in on a three-year contract worth $4.8 million last March, according to Rotoworld, which included a $1 million signing bonus and $400,000 available through incentives.
Arizona definitely could have used Johnson back in the game after he exited prior to the half, as Saints signal-caller Drew Brees eviscerated the depleted secondary. The veteran completed 29 of 46 passes for 342 yards and three touchdowns with just one interception.
As long as Johnson is out, expect head coach Bruce Arians to utilize Tony Jefferson and Tyrann Mathieu as replacement free safeties.
This article is
What is the duplicate article?
Why is this article offensive?
Where is this article plagiarized from?
Why is this article poorly edited?