NFL Teams That Badly Need Free Agent Help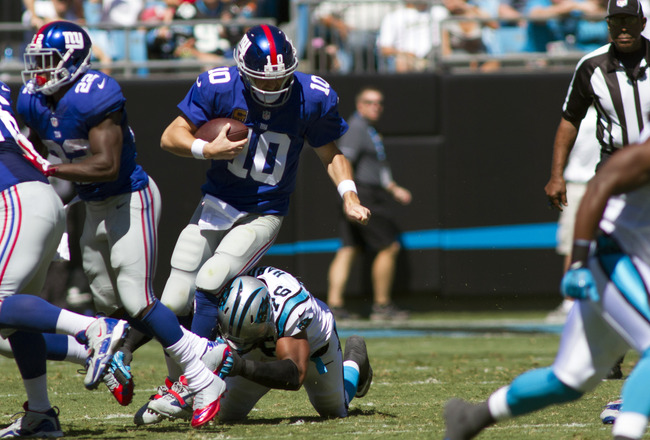 Jeremy Brevard-USA TODAY Sports
We aren't even to October, but for some NFL teams, panic time has begun.
Whether they're 1-2 or 0-3, a handful of positional groups across the league have been ravaged by injury, or have simply played poorly enough to become major liabilities on their respective teams.
Although the free-agent pool is relatively shallow, let's take a look at which organizations could use some free-agent help at this point.
San Francisco 49ers: Wide Receivers
Cary Edmondson-USA TODAY Sports
The San Francisco 49ers are hurting on offense without Michael Crabtree. He exploded with 85 catches in 2012 and was Colin Kaepernick's favorite target down the stretch and in the postseason.
After Kaep's huge day against the Green Bay Packers to start the 2013 season, San Francisco has struggled to move the football aerially.
It's never easy passing the football on the Seattle Seahawks, and it showed in Week 2. Kyle Williams led the 49ers with four receptions for 39 yards and Kaepernick was intercepted on three occasions.
At home against a less stingy Colts secondary in Week 3, Anquan Boldin caught five passes for 67 yards, but the rest of San Francisco's pass-catching contingent was held in check with Vernon Davis sidelined.
The 49ers need to iron out some issues along the offensive line, but now wouldn't be the worst time to look at some free-agent wideouts for Kaepernick.
Possible signees include: Lavelle Hawkins, Laurent Robinson, David Nelson, Derek Hagan
Buffalo Bills: Offensive Linemen and Secondary
Timothy T. Ludwig-USA TODAY Sports
The Buffalo Bills offensive line was cruising until it met the New York Jets defensive front in Week 3. EJ Manuel was sacked eight times, and while some of the takedowns were on him, Muhammad Wilkerson and Co. dominated.
C.J. Spiller was injured in the contest, but he managed only nine yards on 10 carries. Take away Fred Jackson's 59-yard run that came on an extra effort on a 3rd and short, and the veteran runner totaled six carries for 13 yards.
Right guard Kraig Urbik was injured early but came back to play in the second half. Left guard Colin Brown was abused for the third-straight contest.
The Bills could use some reinforcements along the interior of their offensive line, because Sam Young is simply not an effective replacement.
Then again, there aren't a bunch of All-Pro centers and guards waiting to get signed right now, either.
In the secondary, Buffalo's without Jairus Byrd, Stephon Gilmore and Ron Brooks. Leodis McKelvin was injured in the first quarter against the Jets. Kerry Rhodes knows Mike Pettine's defense and remains unemployed.
Possible signees: Antoine Caldwell, Lance Louis, Jake Scott, Kerry Rhodes
New York Giants: Offensive Linemen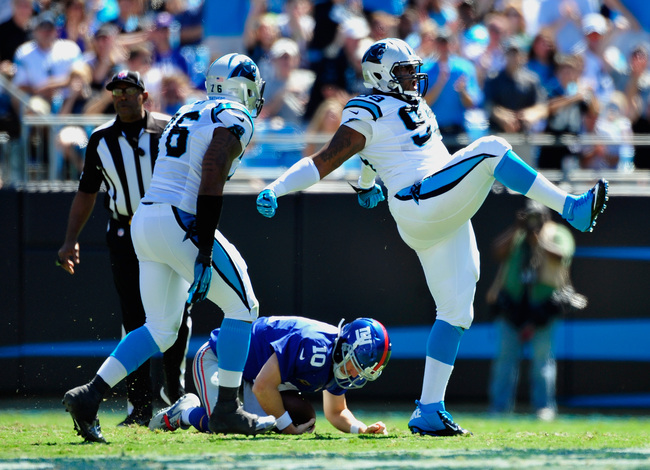 Grant Halverson/Getty Images
The New York Giants were the most pathetic team in Week 3, as an 0-2 Carolina Panthers team destroyed them in every phase of the game en route to a 38-0 blowout victory.
Eli Manning was sacked seven times—which brings his season total up to 11—and without the quarterback's 14-yard scamper, the Giants running backs totaled 46 yards on 15 carries.
There's a chance David Baas, who was injured in the preseason, is not 100% right now.
Something needs to change up front for New York.
Possible signees: Antoine Caldwell, Jake Scott, Demetress Bell, Jeff Faine
Washington Redskins: Secondary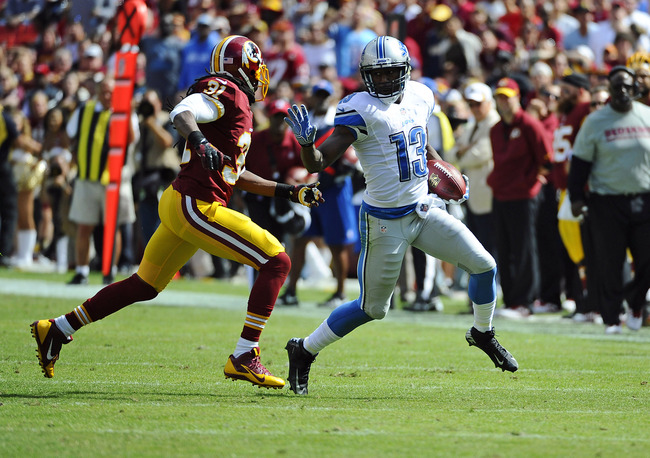 Brad Mills-USA TODAY Sports
The Washington Redskins are allowing 333 passing yards per game and have registered a respectable eight sacks through three games.
Simply put, Mike Shanahan's secondary is not getting the job done.
Rookie David Amerson is allowing a 95.8 QB rating on passes thrown in his direction, Josh Wilson is allowing a 97.9 QB rating, and DeAngelo Hall is allowing a QB rating of 99.5 on his targets, according to Pro Football Focus (subscription required).
Washington needs depth in their defensive backfield. While adding a street free agent won't instantly erase their pass defense struggles, it won't hurt.
Possible signees: Sheldon Brown, Marcus Trufant, Ron Bartell
Jacksonville Jaguars: Running Backs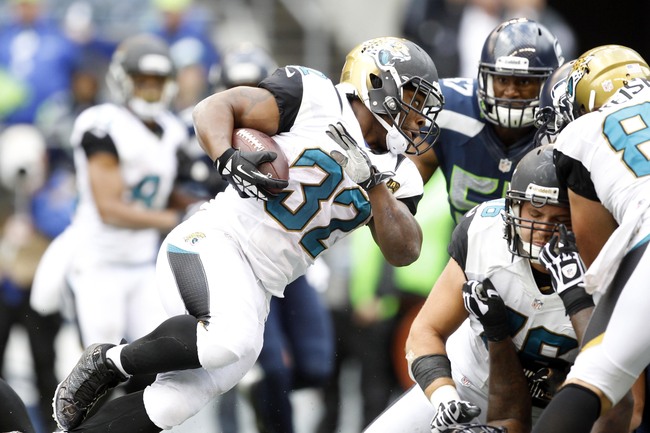 Joe Nicholson-USA TODAY Sports
The Jacksonville Jaguars have been graded as the second-worst run-blocking team by Pro Football Focus (subscription required), something that certainly isn't helping their stable of running backs.
However, that stable isn't very intimidating.
Maurice Jones-Drew has accumulated 115 yards on 44 carries, and his backup, Jordan Todman, has eight carries for 14 yards.
Chad Henne and the offense has, for the most part, sputtered, but the passing game certainly hasn't received any help from the ground game thus far.
Possible signees: Kevin Smith, Delone Carter, Lance Ball, Beanie Wells
Keep Reading