Invicta 7: The Fights We'd Like to See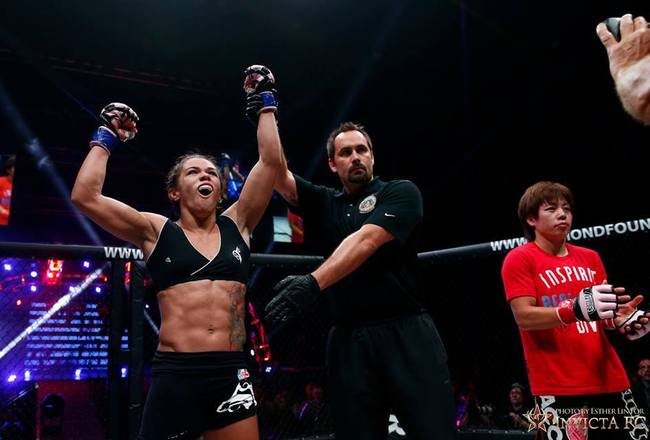 Photo Credit: Esther Lin/Invicta FC

Invicta Fighting Championships announced the date for their next event, and they will be back in Kansas City on December 7th.
Their last event was in July, and with the extended layoff we can almost be assured a stacked card this winter.
The all-women's promotion has delivered six successful events thus far. Invicta's cards have provided a nice mix of newcomers and veterans. New faces of women's MMA have emerged through the upstart promotion. Invicta FC 7 will work to continue the success.
Of all the potential matchups these are the five we like to see most.
Invicta FC Strawweight Championship: Carla Esparza vs. Claudia Gadelha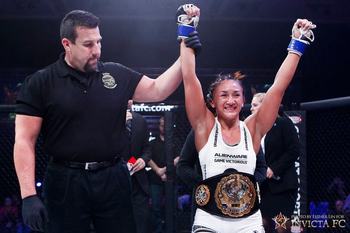 Photo Credit: Esther Lin/Invicta FC
Thankfully, this fight has already been confirmed.
Invicta FC Strawweight Championship holder Carla Esparza will defend her title against Claudia Gadelha. The fight was originally supposed to happen at Invicta FC 4, but Gadelha had to be removed due to injury. Esparza won the inaugural title against Bec Hyatt.
Esparza was set to fight Ayaka Hamasaki at Invicta FC 6, but an injury forced Esparza off the card. Gadleha would defeat the highly ranked Hamasaki to earn her title shot against Esparza. Now we will finally get a chance to see this fight after a year of waiting.
This title fight is an interesting battle of styles. The Nova Uniao product looks to add another belt to the camp's collection.
Felice Herrig vs. Joanne Calderwood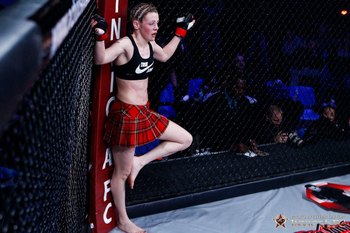 Photo Credit: Esther Lin/Invicta FC
Joanne "JoJo" Calderwood burst on to the MMA scene with her Invicta FC debut. She knocked out Ashley Cummins with a knee to the body. It was a spectacular finish that helped deepen the strawweight talent pool.
After a beating of Livia von Plettenberg, and a TKO over Sally Krumdiack in Cage Warriors, Calderwood had a lot of buzz surrounding her. The hype took a bit of a hit in her last outing. Norma Rueda Center gave Calderwood a tough fight, but one she would ultimately lose to Calderwood.
Felice Herrig has been a big name in the women's MMA world for quite some time, but not always because of her fighting. I will fully admit I have been one of her biggest critics. At the end of 2011 she was only 5-4 as a fighter. Although, that includes losses to Barb Honchak and Carla Esparza.
Herrig has won four straight, and now that she is in Invicta she has the opportunity to prove that she is worthy of her top-10 ranking. The level of competition that eluded her in Bellator is now at her fingertips in Invicta. The winner of this bout could be considered the next title contender.
Regardless, this top 10 battle between fun strikers will help make the rankings in the division more clear.
Katja Kankaanpaa vs. Mizuki Inoue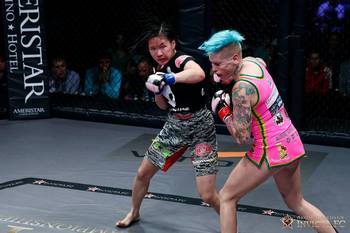 Photo Credit: Esther Lin/Invicta FC
Joanne Calderwood and Felice Herrig are not the only two ranked strawweights we would love to see at Invicta FC 7. No. 7-ranked Katja Kankaanpää and No. 10-ranked Mizuki inoue would be a welcome addition to the card.
Kankaanpaa is undefeated at 8-0-1. The 32-year-old needs a step up in competition.
At only 19 years of age Inoue is already a three-year vet. She picked up a win over Bec Hyatt in her Invicta debut a month before her birthday. Her only loss as a professional is to Ayaka Hamasaki. It is simply incredible to see just how talented Inoue is. Her boxing is already some of the best in the sport.
Typically one would like to see Inoue be built slowly as a teenager, but she is already in the top 10. And she has been in there with some of the best women. There is no turning back now.
If Invicta wants to put on a showcase of the deepest division in women's MMA, the first three fights I have mentioned should all be on the card. The strawweight division is electric.
Invicta FC Flyweight Championship: Barb Honchak vs. Michelle Ould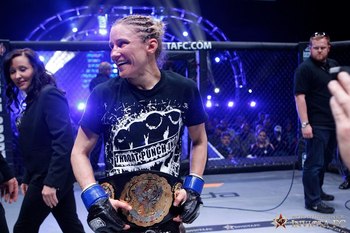 Photo Credit: Esther Lin/Invicta FC
Leslie Smith won in her flyweight debut, and it seemed that she would be next in line. However, Bellator dropped their women's division, leaving some top-flight women on the table.
Unfortunately, Jessica Eye signed with the UFC. Had she been available a fight between Honchak and Eye would be the main event. Regardless, the No. 3-ranked flyweight is still out there unsigned.
Invicta should snatch up Michelle Ould and give her a title shot.
With Eye going to bantamweight, and the UFC, the fight between Honchak and Ould would be a fight between the two top-ranked women in the division. That is what fans want from title fights, and that is what we can all hope to see in December.
First things first, Invicta needs to sign Ould.
Invicta Atomweight Championship: Michelle Waterson vs. Jessica Penne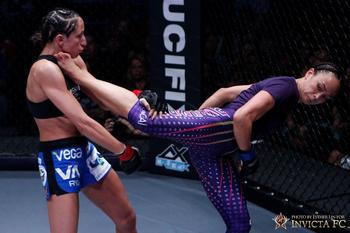 Photo Credit: Esther Lin/Invicta FC
I would have much preferred to let Michelle Waterson defend the title once before granting a rematch to Jessica Penne, but with a shallow division it doesn't seem possible.
And that's not a bad thing.
Waterson vs. Penne is a Fight of the Year candidate. It was a complete MMA fight. High-level action on the feet, incredible grappling, high drama, a title on the line and a surprising finish. Who would not want to see this fight again?
Penne rebounded from losing her title with a submission win over Nicdali Rivera-Calanoc in July, and she wants the rematch. With no better option on the table—give it to her.
If Invicta signs this fight is has to be the main event. A rematch of one of the most spectacular fights of the year deserves that honor. It won't be the final time these two meet, and we may as well get the second fight of the series out of the way to close out the year.
Keep Reading