NFL Power Rankings: Sorting Each Team After Sunday's Action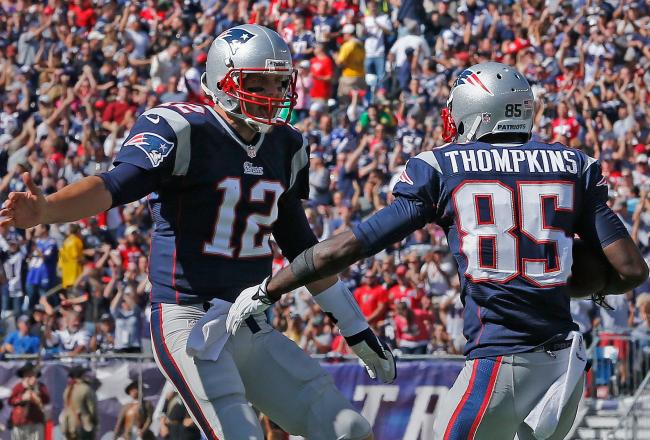 Jim Rogash/Getty Images
There comes a point in the NFL season where teams are what their record says they are, but Week 3 is not yet that time.
While it is always important to come away with wins, that is not the only thing to determine power rankings. It is also necessary to consider level of competition and how the team performed in wins and losses.
Basically, the two-win New York Jets are still not better than the one-win Green Bay Packers.
With this in mind, here is the latest look at the NFL power rankings after most of the Week 3 action.
1. Seattle Seahawks (3-0)
Otto Greule Jr/Getty Images
The Seahawks are obviously great at home, and have proven it yet again this season with two dominant wins over the San Francisco 49ers and Jacksonville Jaguars.
However, they only went 3-5 on the road last season, an issue that could creep up again with four of the next five games away from home.
Based on talent alone, it is hard to argue that Seattle is one of the best—if not the best—team in football. Still, it takes a lot to hold this No. 1 spot. Primarily, the squad must show consistency away from home in the coming weeks.
2. Denver Broncos (2-0)
With a home matchup against the Oakland Raiders, the Broncos should move to 3-0 relatively easily. In reality, the entire schedule has only a few tough matchups.
It will be important for this squad to worry not only about the final score of every game, but also making sure it improves constantly for the playoffs.
Which will be the last undefeated team in the NFL?
3. New England Patriots (3-0)
This is the Patriots offense that we are used to seeing. Well, at least it is closer to a finished product than what was on display against the New York Jets.
As Tom Brady continues to get in sync with his rookie receivers, New England will once again be a force to be reckoned with.
4. Chicago Bears (3-0)
While the offense was not particularly impressive against the Pittsburgh Steelers, the unit continues to come up with big plays when needed.
Also, there comes a point where defensive touchdowns are less about luck and should be expected. The Bears have reached that stage.
5. New Orleans Saints (3-0)
It once again took a long time to get going, but Drew Brees eventually led his offense to 31 points in a blowout win over the Arizona Cardinals.
With a much-improved defense, the Saints are legitimate contenders in the NFC.
6. Cincinnati Bengals (2-1)
Give the Bengals a lot of credit for resolve. A 14-0 lead quickly turned into a 30-14 deficit against the Packers. However, the squad worked its way back to a 34-30 win over a quality opponent.
The talent is there for a successful season, it will be up to Andy Dalton to bring it all together.
7. Green Bay Packers (1-2)
The Packers have lost two games already, but both were against very good teams on the road. There is plenty of time to turn things around, although there is not much that needs to change.
Of course, the upcoming bye week comes at a perfect time to get healthy.
8. Miami Dolphins (3-0)
Andy Lyons/Getty Images
As one of the more unlikely squads to still be undefeated, Miami will have plenty of doubters. However, this is actually a good football team.
Ryan Tannehill might be one of the most improved players in the NFL at any position. He has been more accurate, made fewer mistakes and is doing a better job of using his mobility to keep plays alive, instead of just running for short gains.
Additionally, the Dolphins added a number of weapons around him to make the offense better, including Mike Wallace and Brandon Gibson.
With a defense that can make plays, Miami can go far in a relatively weak AFC.
9. San Francisco 49ers (1-2)
All of a sudden, there are serious problems in San Francisco. The lack of receiving targets is starting to hurt Colin Kaepernick's ability to throw downfield, and the team will be without Aldon Smith for the immediate future, according to Jason La Canfora of CBS Sports:
Aldon Smith will begin counseling and seeking help for his personal problems Monday. No timetable for his return to 49ers

— Jason La Canfora (@JasonLaCanfora) September 23, 2013
The remaining players will have to step up in order to reach expectations this season.
10. Kansas City Chiefs (3-0)
If you can force turnovers and avoid committing them, you will have a successful season.
The Chiefs did the opposite last season and ended up with the worst record in football. Adding Alex Smith to the roster turns things around, and gives the team a chance to win every week.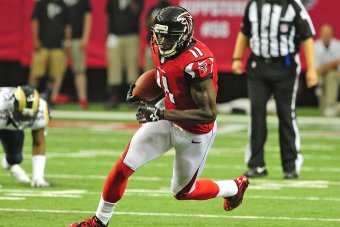 Scott Cunningham/Getty Images
11. Atlanta Falcons (1-2)
This is still a good team, but the Falcons might have to start treading water until they get healthy. As good as Julio Jones has been, the offense is too one-dimensional and relatively easy to stop.
More importantly, the defense will have to learn how to either stop teams or at least force turnovers, because neither is happening right now.
12. Baltimore Ravens (2-1)
Over the first two weeks, the Ravens looked nothing like the defending Super Bowl champions. A big win over the Houston Texans will hopefully get this squad back on track after a poor start.
Then again, Baltimore has a knack for playing to the level of its opponent. It will be important to keep up the solid play next week against the Buffalo Bills.
13. Houston Texans (2-1)
The poor mistakes in every phase of the game finally came back to haunt the Texans with a disappointing loss to the Ravens. With the next two games against the Seahawks and the 49ers, they better correct the issues in a hurry.
14. Indianapolis Colts (2-1)
After looking mediocre in the first two games, the Colts seemed rejuvenated in a Week 3 win over the San Francisco 49ers.
Trent Richardson might not have had a big role in his first appearance, but he will clearly be a big upgrade over the course of the season. He will give the squad balance on offense, while both he and Andrew Luck benefit from reduced attention.
The most impressive part of the win, however, was the pass defense. Colin Kaepernick could not find any open receivers, and he finished with only 150 passing yards while completing less than half of his pass attempts.
If this type of effort can continue, this will be a tough team to beat.
15. Detroit Lions (2-1)
When Reggie Bush is healthy, this is an exciting offense to watch. As long as Matt Stafford avoids interceptions, it will lead to a lot of wins this year.
This feat has been easier said than done over his career, so it is something to keep an eye on.
16. Dallas Cowboys (2-1)
Pretty much everything went right for the Cowboys in their blowout win over the St. Louis Rams. All of a sudden, this looks like by far the best team in the NFC East.
However, the issue in Dallas is always consistency. We will know a lot more about this team after another month of action.
17. Tennessee Titans (2-1)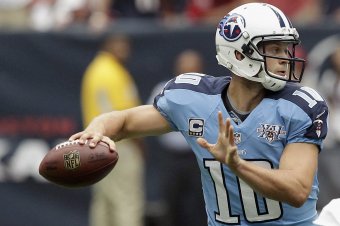 Bob Levey/Getty Images
Jake Locker finally came through for the Titans and led them to an incredible come-from-behind victory in the final 15 seconds. According to Pro Football Reference, this was the first fourth-quarter comeback of the quarterback's career.
You can still expect this to remain a run-first offense until further notice.
18. Carolina Panthers (1-2)
Few people could have expected the 38-0 rout over the New York Giants, but the defense is as good as advertised. The front seven is among the best in football, and it makes things easier on the secondary.
The team only needs Cam Newton to play every game like he did Sunday.
19. San Diego Chargers (1-2)
The Chargers blew an opportunity for a win against the Titans, but Philip Rivers is still playing some of his best football in years. He is currently completing 70 percent of his passes with eight touchdowns and only one interception.
Although the defense might not be elite, the veteran quarterback can lead San Diego to plenty of wins this season.
20. St. Louis Rams (1-2)
St. Louis could barely move the ball against the Cowboys, and the defense was not much better. To make matters worse, the team has a short turnaround before playing on Thursday night.
This squad still has talent, but there are a lot of things to fix before it can be successful.
21. Arizona Cardinals (1-2)
The offensive line issues from last year were not fixed, and the result is a lot of pressure against the immobile Carson Palmer. No matter what the rest of the team does, this problem will not go away.
22. Philadelphia Eagles (1-2)
Maybe everyone got too excited too soon when it came to the Eagles. Chip Kelly's offense looked incredible in the first half of the first game, but things have slowed down since.
Eventually, the question will return: Is Michael Vick really the best person to lead the offense? Until he can start avoiding mistakes and complete passes with more efficiency, the answer is no.
On defense, there have been few positives to take away in any game this year, with missed tackles becoming a huge issue.
This will certainly be a fun team to watch at times this year, but it is hard to imagine Philadelphia being a playoff contender with its roster.
23. New York Jets (2-1)
The two wins were more than many expected the Jets to get all season. Geno Smith displayed a lot of poise in the victory, and he is clearly heading in the right direction.
Still, it is easy for everyone on offense to look good against the Bills. The schedule only gets harder for New York, which will cause a lot more struggle in the coming weeks.
Which 0-3 team has the best chance of making the playoffs?
24. Pittsburgh Steelers (0-3)
While the Steelers did not look as bad Sunday as they did in the first two losses, they are still 0-3 on the season.
With issues on the offensive line and at running back, Ben Roethlisberger cannot afford to make as many mistakes as he did against the Bears.
25. Washington Redskins (0-3)
Like Pittsburgh, the Redskins at least looked better while falling to 0-3. In one of the weakest divisions in football, there is still a glimmer of hope that they will turn things around.
Unfortunately, the defense will continue to hold this squad back, regardless of how well Robert Griffin III plays.
26. Tampa Bay Buccaneers (0-3)
After two narrow losses, the Buccaneers finally changed things up with a 20-point loss to the Patriots. Josh Freeman has now failed to complete even half of his passes in three-straight games, and his job is now very much in jeopardy.
27. Buffalo Bills (1-2)
Buffalo is not a good team, so losing close games should not be much of an issue. However, E.J. Manuel has looked impressive at times, which is encouraging for the future.
Now, the club must do what it can to make sure he does not get killed. The Jets sacked him eight times on Sunday and had 16 quarterback hits. The Bills have to protect their best asset.
28. Cleveland Browns (1-2)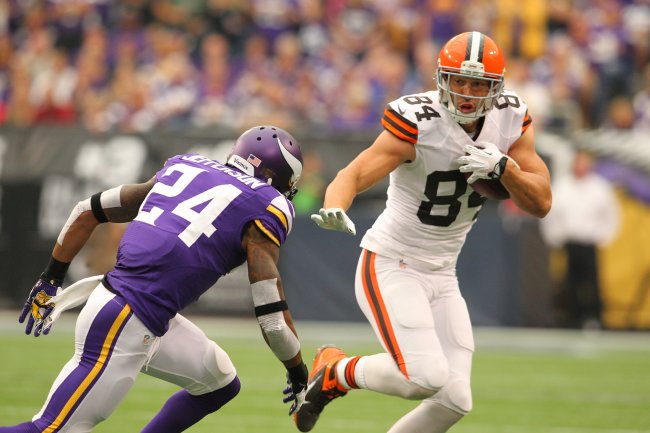 Adam Bettcher/Getty Images
No matter how you feel about the Trent Richardson trade, the team sent a clear message that this season does not matter. The Week 3 win does nothing to change that.
To make matters worse, the Browns are planning on trading Josh Gordon, one of the few productive players left, according to ESPN's Adam Schefter:
Cleveland fielding offers for and open to trading WRs Josh Gordon and Greg Little. At least one team has made a quality offer for Gordon.

— Adam Schefter (@AdamSchefter) September 22, 2013
The good news is, there is plenty of time for evaluations. Each player will get a chance to show that he should be part of the future in Cleveland.
This starts with Brian Hoyer at quarterback, although the chances of him becoming a quality NFL quarterback are not good.
29. Minnesota Vikings (0-3)
The hope was that things would get better when the Vikings returned home, where they were 7-1 last season. That was not the case as the squad fell to the Browns in embarrassing fashion.
As it turns out, Adrian Peterson cannot carry a team by himself two years in a row.
30. Oakland Raiders (1-1)
Oakland is still a mystery, especially with the narrow loss to the Colts looking better after Week 3. Of course, there are still enough holes on both sides of the ball to assume another losing season for the Raiders.
31. New York Giants (0-3)
On talent alone, the Giants should be much higher on the list. However, there are not too many teams who have looked worse over the first three weeks.
New York has turned the ball over 13 times already this season, and the defense has not been able to stop anyone through the air. This is not a good recipe for success in the NFL.
32. Jacksonville Jaguars (0-3)
There were not a lot of positives to take from the loss to Seattle, but few expected a much better showing against one of the best teams in the league.
In reality, it is about time to start thinking about who to select with the first pick in the 2014 draft.
Follow Rob Goldberg on Twitter for the latest breaking news and analysis.
This article is
What is the duplicate article?
Why is this article offensive?
Where is this article plagiarized from?
Why is this article poorly edited?