Manchester United's Senior Players Must Step Up After Derby Disaster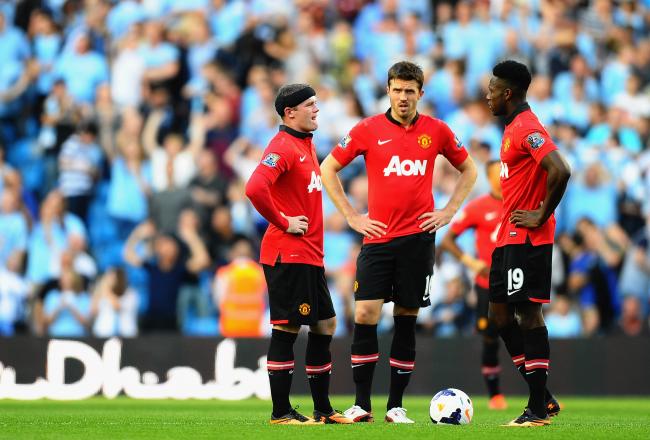 Manchester United must react after a harrowing defeat at the Etihad Stadium
Laurence Griffiths/Getty Images
If David Moyes were so inclined, he could probably present a number of reasons in mitigation for the emphatic defeat suffered in his first city derby as Manchester United manager.
The loss of Robin van Persie to injury so close to matchday would affect any team, especially one set up with the aim (if not the subsequent execution) of being tough to break down—a team that may have seen the Dutchman's capacity for individual brilliance as their best route to victory away from home against one of the Premier League's best sides.
Similarly, the unavailability of Phil Jones (not helped by Rio Ferdinand's increasing difficulty in playing more than twice in a week) weakened United's defensive bond, leaving a unit that soon looked singularly unprepared to face a City attack that was as vibrant and creative as we have seen so far this season.
As it is, Moyes is not one to try and disperse blame elsewhere—unless it is in reference to the fixture list, where he may have something of a point. But United's high proportion of early-season games with big rivals (a side-effect of the ongoing Sky Sports-BT Sport war in British pay television), is not something that has affected the champions alone—even if, as the game's biggest draw, it probably has affected them most.
Instead Moyes focused his attention on the players, suggesting they knew they had not been up to scratch.
"I just told the players, in the same way I would have told players at any other club, if I don't think they're doing it," Moyes said, as reported by the Telegraph.
"They're good players, they're good pros, they know when they're bang at it and when they're not. City were the better team, they were stronger, they got control of the game, and we found it difficult to contain them.
"I'm disappointed we didn't perform. There was no reason for us not to perform."
Moyes has a point—the team he put out, after all, were all Manchester United players and were all capable of getting the required result. You can argue about the overall merits of the squad Ferguson left his successor—there are clearly some deficiencies, compared to their main rivals, in a number of areas—but the Scot nevertheless left Old Trafford as (yet again) a Premier League-winning manager.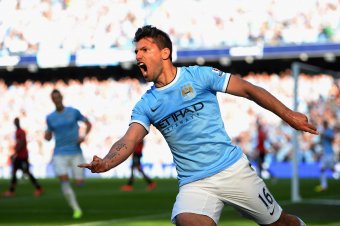 Laurence Griffiths/Getty Images
The squad has the calibre. What it appeared to lack, at the Etihad at least, were leaders.
"Maybe the game meant a little bit more to us than for them," as City captain Vincent Kompany noted to Sky Sports after the final whistle.
United seemed subdued throughout, with Wayne Rooney more than once frustrated by the lack of options around him in the final third. Nemanja Vidic was far from his usual dominant self, while the likes of Ashley Young, Antonio Valencia and Patrice Evra showed too little commitment until long after the result had been settled.
"It could be very big," City manager Manuel Pellegrini said to Sky Sports. "It was a very important result. You normally don't expect to win 4-1 against United, but the most important thing after the win is the way we played.
"Maybe United couldn't play better because we played so well."
Whatever he says publicly, you can imagine Moyes will look inwardly as well. His decision to give summer signing Marouane Fellaini the start alongside Michael Carrick, a central midfield pairing still working itself out, is one he will perhaps admit in the privacy of his own office was not successful.
Fellaini looked utterly abject for much of the 90 minutes, unsure of where to be positioned when defending and struggling to link up with teammates effectively going forward. Carrick, meanwhile, seemed dislodged from his usual deep-lying role by Fellaini's presence, unsettling his rhythm and, by extension, that of his side.
City, in contrast, were propelled by their midfield unit. Much has been made of how Yaya Toure outshone Fellaini in the contest, but Fernandinho and Samir Nasri (drifting in from the left, creating space for Aleksandr Kolarov to bomb forward) complemented the Ivorian brilliantly with their movement and energy.
Not until Tom Cleverley's addition for Ashley Young did United show a bit more cohesion in the middle of the park (admittedly, considering the score was 4-0 at the time, that might just have been a result of City taking their foot off the gas).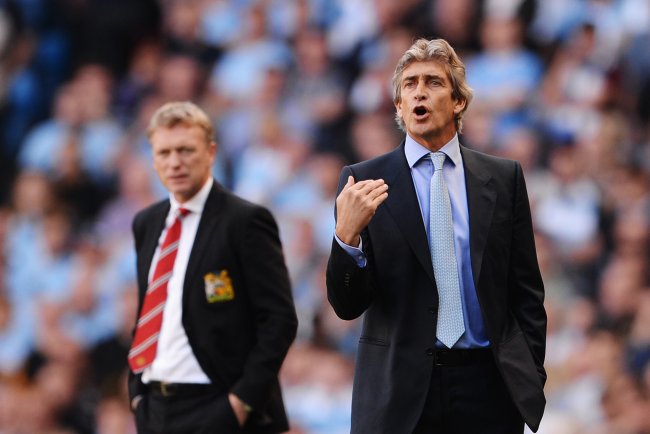 Michael Regan/Getty Images
Add to that Jesus Navas' threat against Evra (still a great player, but one undoubtedly in decline) and the occasionally brilliant link-up between Sergio Aguero and Alvaro Negredo, and it is hard to avoid jumping to immediate and emphatic assertions about the fate of these two sides over the remainder of the season.
"It's too early to say it's a defining game," Kompany added. "You make a statement over the course of the season, but it would be silly to give away three precious points."
And that is what is important for United to remember—ultimately, it is just another three points. The important thing now is to react like champions to this chastening experience.
For so long, United have been used to taking their leadership and direction from Ferguson. Moyes, newly-installed in the biggest managerial job of his career, cannot be expected to fill that vast loss of experience, respect and knowledge—not immediately at least.
Senior players within the squad need to step up, lead by example and prove they deserve to wear the badge on their chests.
"If ever there was a group of players I'd expect a reaction from it would be a group of Manchester United players," Moyes said.
"I think the way they have been brought up, the way they have been bred with the manager previously, they react, that's what they do, and that's what we will do here."
Only time will tell. But if an emphatic derby defeat cannot spark a suitable reaction, then the questions will really start for Moyes and his players.
This article is
What is the duplicate article?
Why is this article offensive?
Where is this article plagiarized from?
Why is this article poorly edited?

Manchester United: Like this team?