3-0... How does that sound New Orleans Saints fans?
After a dominant 31-7 victory over the Arizona Cardinals, the New Orleans Saints sit atop the NFC South's division standings. After the most balanced performance of the season, the Saints have officially re-emerged as a major player in the grand scheme of things.
It's beginning to get a bit redundant, but the defensive unit is playing beyond expectations. Every week I have little doubt that multiple players will step up and produce—in a major way.
The ferocity of the unit may be only superseded by its versatility. The combination of a raucous crowd, and a stout defense, may be too much to handle for the majority of opponents who are charged with such a task. That's not even highlighting the fact that the offense may be the most potent in the NFL.
Simply put, the Saints are back!

Things to Improve Upon
After three games, the Saints are currently ranked fifth and sixth overall in total offense and defense, respectively—according to ESPN. All three teams the Saints have defeated are a combined 2-7. Conversely, the next three teams on the schedule are undefeated—coming out of last weekend's action.
As great as the Saints have been, they need to be firing on all cylinders to maintain their standing among the upper-echelon teams. Moving forward, the Saints need to get in a rhythm running the ball regardless of the result.
A nice variation in the style of runs will go a long way toward establishing that feat.
Taking one running back—and giving him the full array of carries—would also help. Defenses are so advanced in their scouting; they typically can get a beat on a running back's play menu. When it's split up into three or more runners, it becomes even easier.
The Saints could also try running the ball multiple downs in a row. Most fans can see that the Saints will throw the play after a run—can you imagine what opposing defensive coordinators know?
With about four minutes remaining in this past game, the Saints finally inserted preseason star Khiry Robinson in an attempt to run the clock out. What ensued was four carries of absolute magic...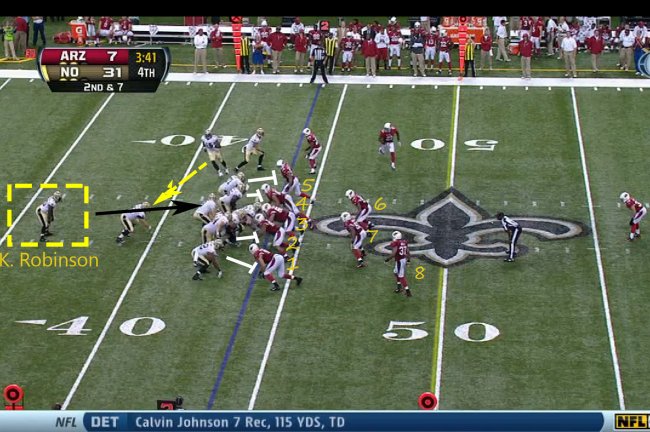 Here we see the diagram of a simple off-tackle run. Before the insertion of Robinson, the run game was insipid to say the least. Runs like this require attitude, tenacity and pride. The line must want to fire off the ball and drive its men into the next level.
The back must diagnose, execute and defeat defenders on his way to the second level. Many people will point to the fact that the Saints were up substantially at this point; I counter with they were going against an eight-man box.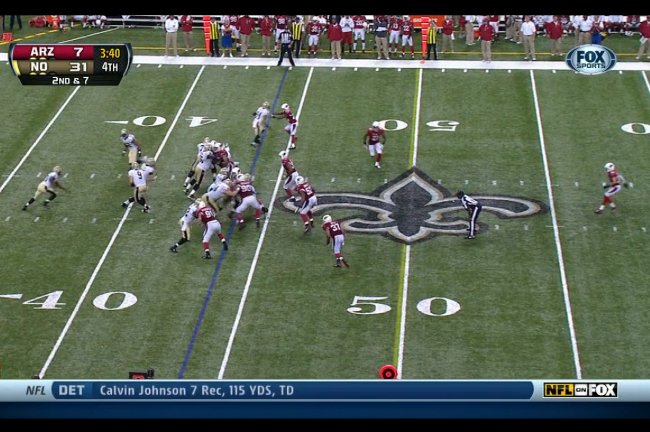 Though the Saints are known to employ a zone-blocking scheme, I believe they are at their best going forward in a power-run scheme. Here we see every member of the line get a hat on a hat—while driving Arizona's linemen backward. They also show a ghost-reverse run that forces the defense to pause slightly.
When the defense is blocked, it becomes the running back's responsibility to defeat the first free defender.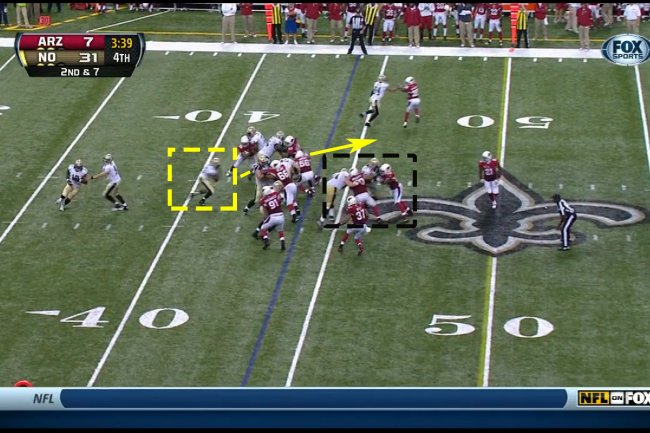 This is attitude at its finest. Right tackle Zach Strief, and center Brian de la Puente, drive their respective assignments extremely far off the line. It's hard not to succeed when you get quality blocking like this.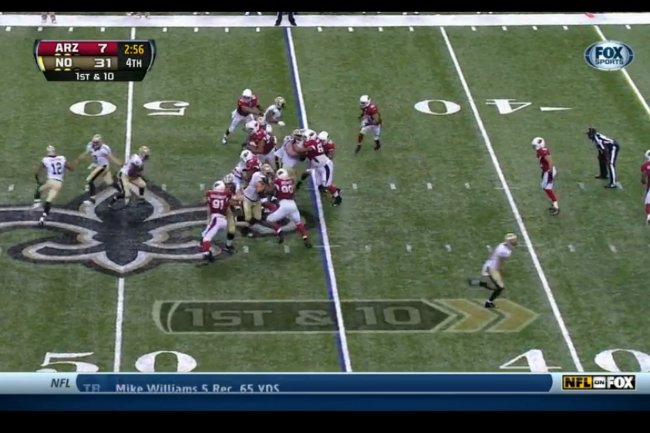 This is the same exact play ran to the right side. This one is blocked so well, Robinson essentially has three different options.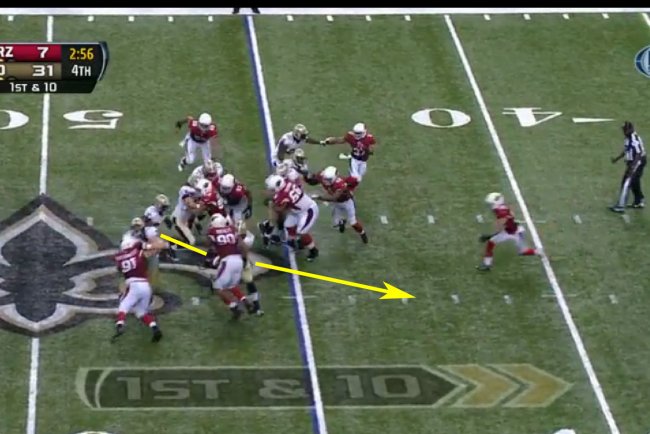 On this one, Strief and guard Tim Lelito provide the physicality; Robinson shows vision, burst and power.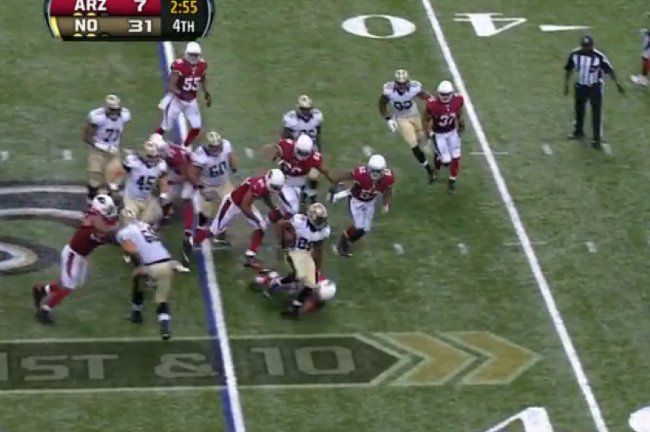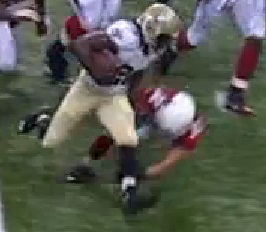 Remember what I said about defeating the first defender? Robinson won't be brought down by the initial defender too many times. The same can't be said about fellow running back Mark Ingram. The combination of Robinson, and veteran Pierre Thomas, could be one the most lethal in the NFL.
Coach Payton has to realize that not running the ball may win you regular-season games. Employing the same strategy in the playoffs will have you sitting at home watching the Super Bowl. Running the ball only three times—for negative yardage—in one half of play will get you beat by teams that execute just as well.

Division Standings
NFC South division standings

| | | | | |
| --- | --- | --- | --- | --- |
| Team | Wins | Losses | Points for | Points against |
| New Orleans | 3 | 0 | 70 | 38 |
| Atlanta | 1 | 2 | 71 | 74 |
| Carolina | 1 | 2 | 68 | 36 |
| Tampa Bay | 0 | 3 | 34 | 57 |
Via ESPN
Though the Saints have a two-game lead on the rest of the division, they can't afford to relax in their pursuit of greatness. Atlanta is coming off a tough loss to New Orleans' next opponent—the Miami Dolphins.
Injuries are starting to pile up for the Falcons, and they just haven't developed the type of depth you need in an NFL season. But they are too talented at the skill positions to be written off.
Carolina was due for a breakout game. Its defense managed seven sacks against the New York Giants, highlighting the strength of the team. When the offense is clicking, they are a tough out for anyone.
Tampa has issues, to put it mildly. The offense can't seem to operate at an adequate level—despite having some legit talent. The defense can't seem to put together a complete game. And the coaching staff seems a bit over its head.
Putting a fork in a team after just three games seems a bit outrageous, but I suggest it's time to start looking in the drawer for one.

Injury Report
Injury Report prior to the Arizona game

| | | | | |
| --- | --- | --- | --- | --- |
| Name | Position | Injury | Practice Status | Game Status |
| Isa Abdul-Quddus | S | Ankle | DNP | Out |
| Brodrick Bunkley | NT | Calf | DNP | Questionable |
| Marques Colston | WR | Foot | FP | Probable |
| Jahri Evans | G | Hamstring | DNP | Questionable |
| Glenn Foster | DE | Ankle | LP | Questionable |
| Junior Galette | OLB | Hamstring | FP | Probable |
| Jabari Greer | CB | Back | FP | Probable |
| Roman Harper | S | Knee | DNP | Out |
| Akiem Hicks | DE | Knee | FP | Probable |
| Mark Ingram | RB | Toe | DNP | Questionable |
| Tom Johnson | DE | Hamstring | DNP | Questionable |
| Curtis Lofton | ILB | Knee | FP | Probable |
| Zach Strief | T | Neck | FP | Probable |
| Tyrunn Walker | DE | Knee | LP | Questionable |
| Martez Wilson | OLB | Elbow | FP | Probable |
Saints.com
The much-anticipated debut of defensive end Glenn Foster didn't disappoint. He picked up where he left off in the preseason—before being injured. His sack of Cardinals quarterback Carson Palmer was a prelude of things to come.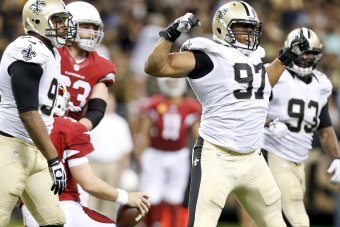 Derick E. Hingle-USA TODAY Sport
When the defensive line is fully restored, there can be an argument that it might have the most depth in the entire NFL.
Guard Jahri Evans dressed for the game but didn't play. This ended his consecutive games streak at 114. Evans has struggled mightily thus far; you have to believe that his injury is a major part of that.
Ingram developed a mysterious toe injury. It was reported—initially by CBS' Jason La Canfora—that he could eventually seek a trade. But this was quickly shot down by Coach Payton—as reported by Nola.com.
I'm looking forward to safety Roman Harper returning, so the Saints can continue to develop their four-safety package. He is being deployed as an outside linebacker a lot in those sub-packages. His skill set is perfect for that particular role. And the more he plays it, the less he defends tight ends.

Looking Forward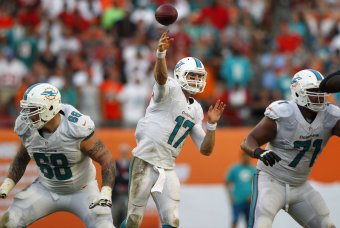 Robert Mayer-USA TODAY Sports
The Miami Dolphins are for real. They play a physical brand of defense and aren't afraid to throw a slew of looks at a QB. The Saints may have caught an early break. According to ESPN's James Walker, defensive end Cameron Wake is in jeopardy of missing the game.
Wake is one of the most underrated players in the NFL; he would give Strief all he could handle in both the run and pass game. The Dolphins have plenty of talent on the line and will be another tough test for the Saints' suspect offensive line.
The Dolphins may have finally found a replacement for former quarterback Dan Marino. Second-year signal-caller Ryan Tannehill is coming into his own. His blend of size, athleticism, accuracy and arm strength is perfect for timing and rhythm-based offenses.
Head coach Joe Philbin is building a team in the mold of his former squad—the Green Bay Packers. His team will undoubtedly come to play on Monday Night Football against the "Black and Gold."
Accept no imitations; follow me on Twitter.
Follow @UptownMurf